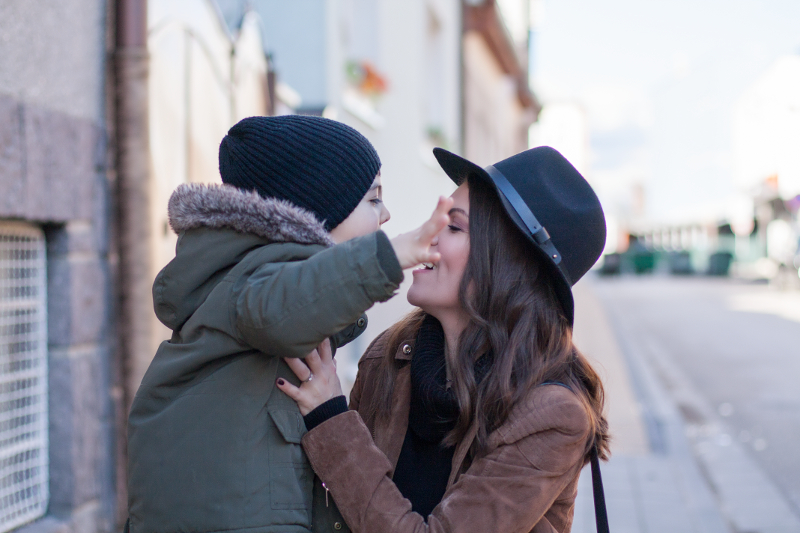 Ahoj a vitajte na blogu.  Dnes je na blogu nový outfitový článok. Verím, že Vás poteší aj pár fotiek s naším drobcom, o ktoré ste si písali. Vačšinou sa nám podarí urobiť pekné zábery, ktoré avšak nie vždy uzrejú svetlo blogu. Všetko s mierou, ako sa hovorí. Dnes sa chcem s Vami  hlavne podeliť o jeho koníček, ktorý ho momentálne veľmi baví.

Tak, ako každé dieťa, aj náš drobec je zvedavý a zaujíma ho všetko, čo sa okolo neho deje. Chce vyskúšať a učiť sa stále nové veci. V poslednej dobe začal prejavovať záujem o fotografovanie, z čoho sa samozrejme veľmi tešíme a podporujeme ho v tom. Zatiaľ síce nevlastní žiadny fotoaparát, tento má požičaný od muža. Nie je to lacná záležitosť, takže aj pri jeho používaní platia určité pravidlá, ktoré sa musia dodrživať. Zatiaľ sa nám to darí, tak snáď to rozhodnutie neoľutujeme. 😀 Fascinuje ma, aké sú dnešné deti vyspelé s porovnaním s dobou, keď som bola dieťa ja. V jeho veku som mala úplne iné hračky, ale to už patrí k dobe, v ktorej žijeme. Každá prináša svoje za, aj proti. Každopádne máme z neho veľkú radosť, pri fotení sa aspoň nenudí a tým pádom aj menej vystrája. Ako je to u Vás? Aké koníčky majú Vaše deti? Viedli ste ich vy, alebo sa k nim dostali spontánne?
Čo sa outfitu týka, tak je úplne jednoduchý, čierny s výnimkou hnedej bundy, ktorá sa už na blogu objavila. Už dávnejšie som niekde čítala, že pokiaľ chcete ladiť all black outfit s jedným hnedým kúskom, nikdy by to nemali byť topánky. Ok. Nepísali, nič o bunde. Tak teda môžem vyraziť! Ja už som zimné kabáty schovala a pevne verím, že ich nebudem musieť znovu vyťahovať. Tak v bundách ma budete vídať častejšie. Ako to máte vy? Stále nosíte zimné kúsky, či tak napoly?
Top: Promod (podobný tu)
Nohavice: Zara (podobné tu)
Bunda: Mango (podobná tu a tu)
Topánky: Stradivarius (podobné tu)
Klobúk: H&M (podobný tu)
Kabelka: Michael Kors (podobná tu)
Fotky: Jefferson Kenji
Ďakujem pekne za prečítanie, dúfam, že sa Vám článok aj outfit páčil. Keď tak mi dajte vedieť dolu do komentu, alebo ma môžete tiež podporiť lajkom na Facebooku, či srdiečkom na Instagrame. Momentálne prebieha súťaž Bloger Roka2015, kde ma môžete podporiť Vaším hlasom. Budem vďačná za každý Váš hlas. Ďakujem všetkým tým, ktorí ste už hlsovali a fandíte mi. Veľmi si to vážim. Majte sa krásne. ♥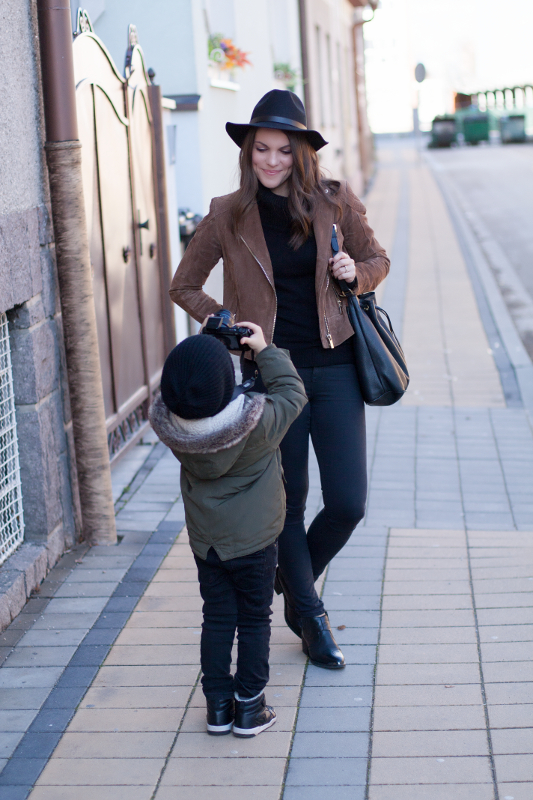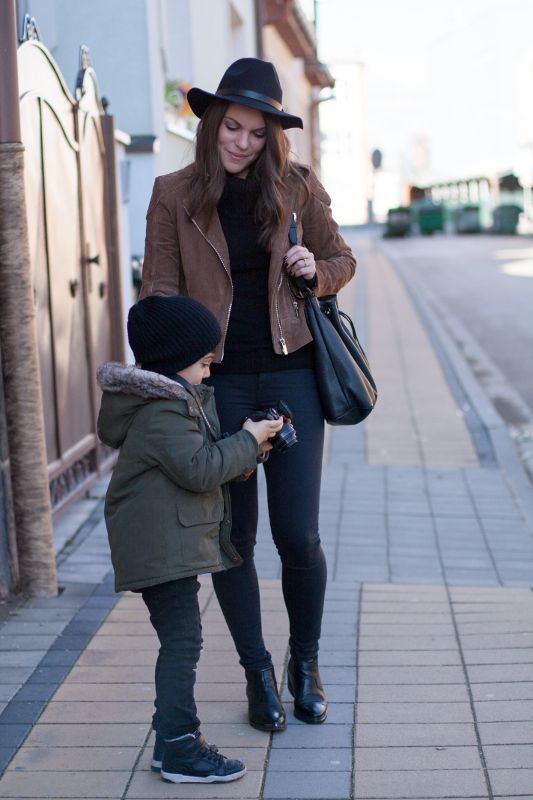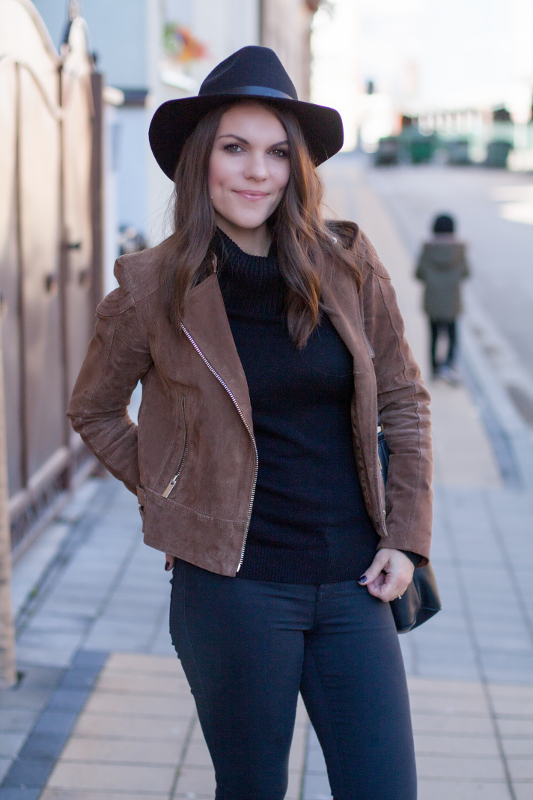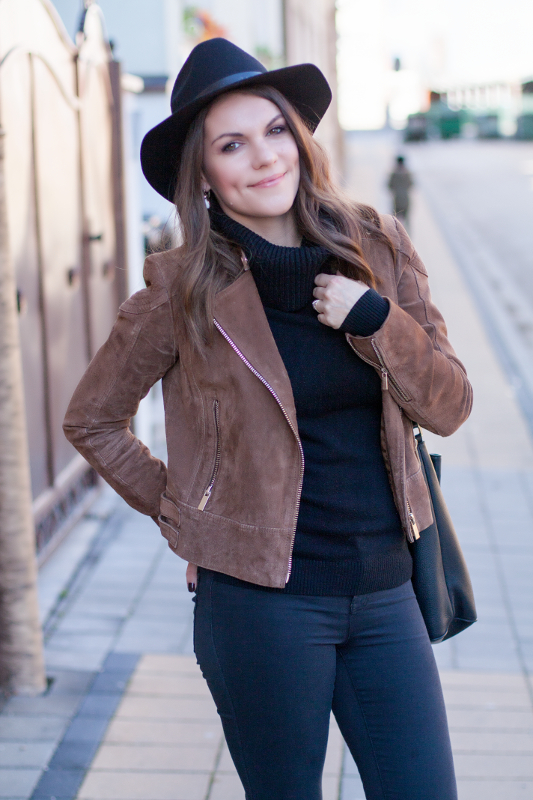 ♦ ♦ ♦ ♦ ♦ ♦ ♦ ♦ ♦ ♦ ♦ ♦ ♦ ♦
Hello guys and welcome to my blog. Today we celebrate International Women's day, so ladies enjoy it! Today I have new outfit on the blog and I hope you will also enjoy a few shots with our little one, which you requested a lot. We always make nice photos while shooting outfits with him, but not always they make it to the blog. I prefer everything in moderation. I want to share with you his new hobby, he enjoys a lot recently.
Like every child, he is very curious and interested in everything around him. He wants to try new things and learn. Recently he started to exhibit interest in photography that makes us very happy and proud. We support him, even though he doesn't have his own camera yet. In a meantime, he borrows one from his dad. We applied some rules while he uses it, so far it works and I hope we won't regret our decision. I'm fascinated by how mature children are in today's world, compare to when I was growing up. I had completely different toys in his age and totally different interest. I'm fine with that, it's a part of today's fast paced world we live in. Every time period has its pros and cons. Good thing about it is, that he won't get bored while we are shooting and acts out less. What hobbies are your kids interested in? Did you lead them to it, or it happened spontaneously?
This outfit is very simple, casual but still put up together. Almost all black with brown suede jacket exception. Some time ago I read in one article that if you want to combine all black outfit with one brown piece, it should never be shoes! Never said anything about a jacket. So I'm good to go then. I already put away my winter coats and I hope I won't need to take them out anymore. How about you? Do you still wear a winter pieces or something in between?
Top: Promod
Trousers: Zara
Jacket: Mango
Shoes: Stradivarius
Hat: H&M
Kabelka: Michael Kors

Photos: Jefferson Kenji
Thank you very much for reading. I hope you enjoyed this article, if so, please let me know in the comment section down below. Or simple give me a thumbs up on Facebook, or heart me on Instagram. If you haven't done that already, you can still support me on the Blogger of the Year2015 with your vote, I would totally love that. Thank you very much to all of you, who already voted, it means a lot to me. Have a great day. ♥