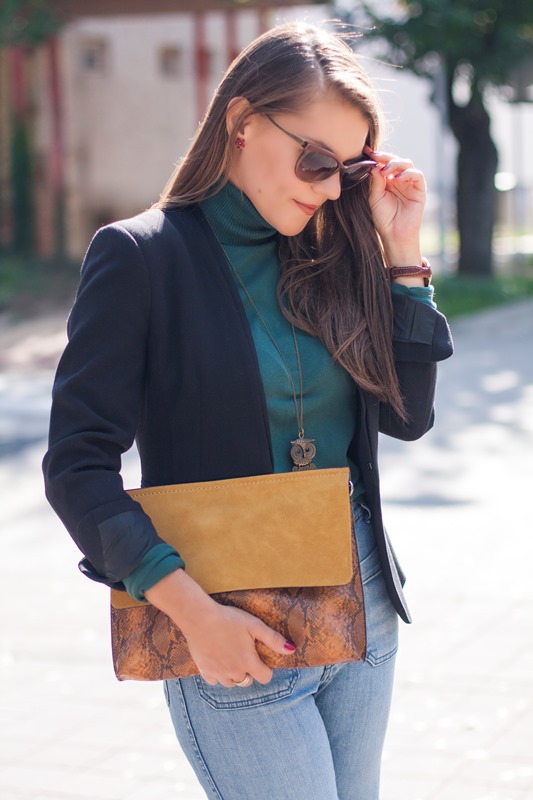 Ahojte a vitajte na blogu. Dúfam, že si užívate pohodový večer. Dnes tu mám pre Vás ďaľší outfitový príspevok s jesenným nádychom a tiež tak trošku 70's. Ja tie farby zbožňujem, jeseň má svoje čaro, až na to premienlivé počasie. Všetko ostatné si veľmi užívam. Kedysi som tieto jesnenné farby vôbec nenosila, zato teraz sa ich neviem nabažiť. A čo vy, tiež si ich radi nosíte, či nie? Aká je Vaša obľúbená?

Štýl 70's je tiež moja srdcovka. Takto niejako si pamätám moju mamu, keď som bola ešte malá a mám k nemu veľmi blízko. Tieto široké denimové nohavice ste už u mňa mohli vidieť napr. tu. Nenosím ich len na festivaly, sú vhodné aj na bežné nosenie do práce, či do mesta, na shopping, či cestovanie. Dajú sa ľahko kombinovať s hocičím. Nosím ich naozaj rada, ale nie je to každého šálka kávy, buď ich miluješ alebo nenávidíš. K nim som zvolila zeleno-modrý rolák, keďže to počasie býva ráno už všelijaké a k tomu čierne sako ako extra vrstvu. Čierne sako pôsobí tvrdo a tak si vždy ovyniem rukávy hore, aby to pôsobilo uvoľnenejšie. Ako doplnok som zvolila horčiovú, listovú kabelku s hadím vzorom, ktoré pekne kontrastuje s rolákom. Náhrdelník som zvolila vysiaci s sovičkou, ktorý tak aspoň trošku oživil jednoduchý rolák.
Top: Promod (podobný tu)
Sako: H&M (podobné tu)
Rifle: H&M (podobné tu)
Topánky: Kati (podobné tu)
Kabelka: Zara (podobná tu)
Náhrdelník: Promod (podobný tu)
Prsteň
Fotky: Jefferson Kenji
Ďakujem pekne za prečítanie a podporu, dúfam, že sa Vám článok aj outfit páčil. Keď tak mi dajte vedieť dolu do komentu, čo radi nosíte na jeseň vy a čo by nemalo chýbať v taktom jesennom outfite? Majte sa krásne. ♥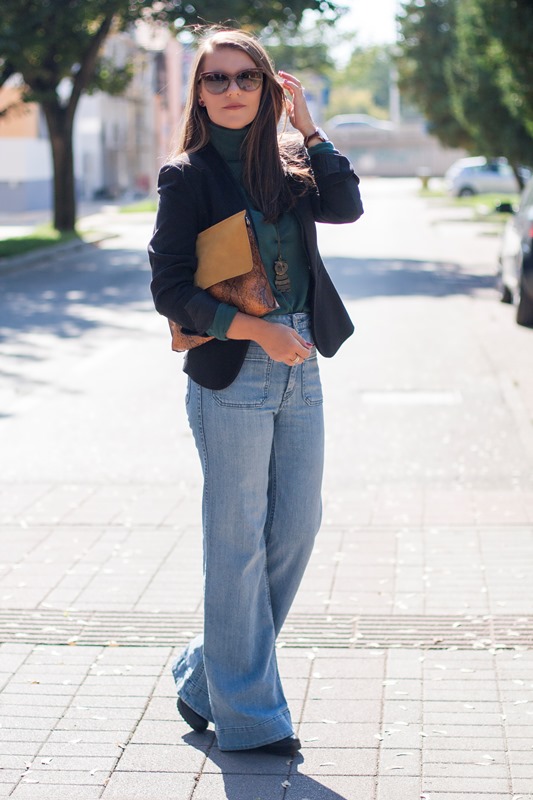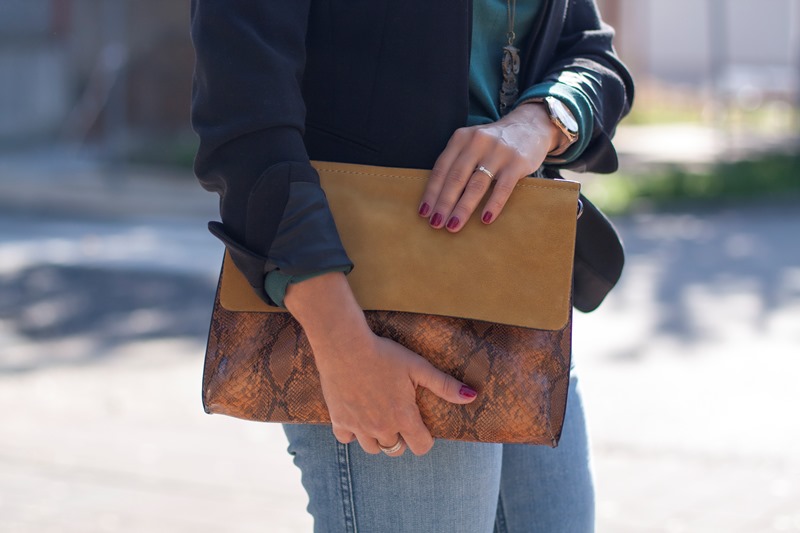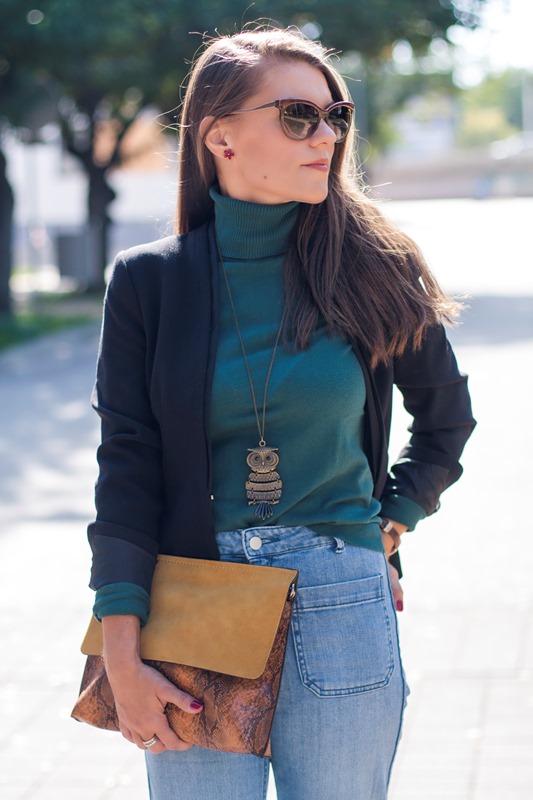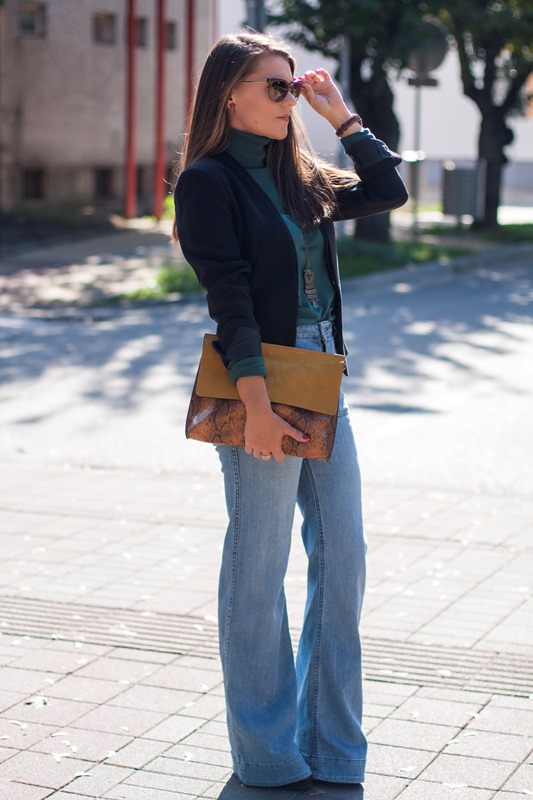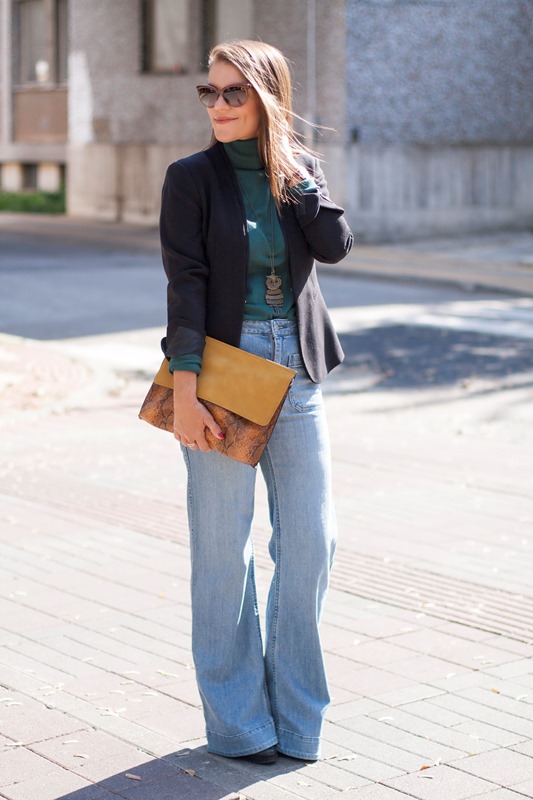 ♦ ♦ ♦ ♦ ♦ ♦ ♦ ♦ ♦ ♦ ♦ ♦ ♦ ♦
Hello everyone and welcome to my blog. I hope you are having a great evening. We are having autumn vibes and 70's too on the blog today. I love the colors of autumn, it has it's charms. I enjoy everything apart from constantly changing weather. I never was keen on these colors in the past at all. Nowadays I can't get enough of it. I guess my taste has changed over the years. How about you? Do you like to wear autumn colors too, which one is your favorite?
70's style is very close to my heart. I remember my mom wearing similar clothes, when I was younger. You could see these flare jeans on the blog few times already e.g here. Not only I wear it on festivals but they are suitable to wear on regular basis, to work, shopping or travel. It's easy to combine with anything really. I love to wear it even tough I know it's not everyone cup of tea. Either you love it or you hate it, there is nothing in between. I combined it with emerald green turtleneck and black blazer because weather can be bit tricky, especially in the morning. I like to roll up the sleeves and give the look kind of laid back attitude. I accessorized it with a long owl necklace that kind of filled up the empty space on a basic turtleneck.
Top: Promod (similar here)
Blazer: H&M (similar here or here)
Jeans: H&M (similar here)
Shoes: Kati (similar here)
Handbag: Zara (similar here)
Necklace: Promod (similar here)
Ring: Bondiamo
Photos by: Jefferson Kenji
Thank you very much for reading and your support. I hope you liked the outfit and article too. If so let me know in the comment section down bellow. Also what do you like to wear in Autumn and what is your favorite Autumn outfit? Until next time. Have a lovely evening. ♥