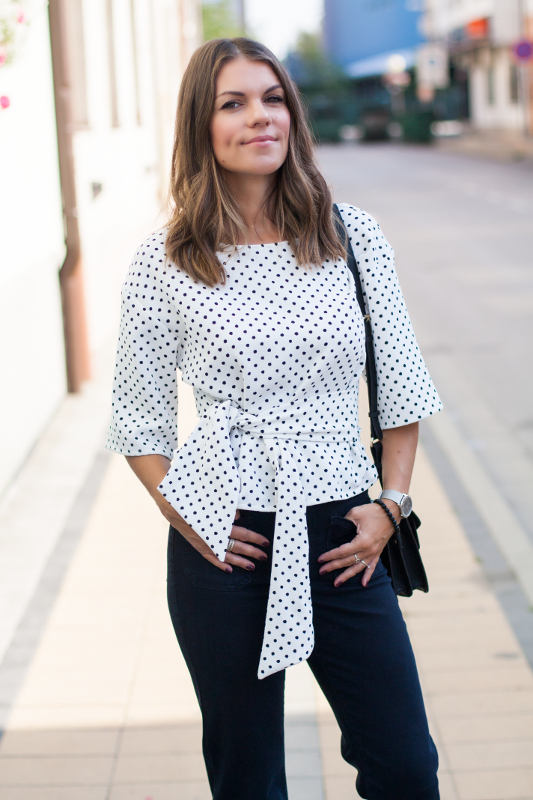 Ahoj a vitajte na blogu. Dnes tu mám pre Vás outfitovú inšpiráciu, jednoduchý, avšak štýlový chic look s nádychom 70-tych rokov, vhodný na rande s priateľom, alebo kamarátmi.
V tomto outfite som skombinovala bodkovaný top so širokými nohavicami z tmavého denimu a sandálkami na opätku. Bodkovaný top s viazaným je novší kúsok, kúpila som si ho asi pred mesiacom a mala som ho na sebe prvý krát. Zaujalo ma to viazanie (moja úchylka), dá sa zaviazať aj dozadu, či na mašličku. Detail, ktorý plní aj funkciu opasku a páči sa mi, ako mi zvýraznil pás. Aj takýmto spôsobom sa dajú zamaskovať niektoré nedokonalosti postavy, v mojom prípade teda nie príliš vytvarovaný driek. Opticky tak vyvára postavu presípacích hodín a tiež predĺži nohy. Celkovo pôsobím štíhlejšie a veľmi žensky. A to chceš! Široké nohavice z tmavého denimu tomu dodali šmrnc a nádych 70-tych rokov. A môžem vyraziť. No nie tak úplne. 🙂
Ďaľším prírastkom, či skôr prírastkami sú aj náušnice a náramok z prírodného minerálu ónyxu. Guličky nosím rada a milujem čierny ónyx. Je to polodrahokam, ktorý Vám dodá silu, prináša šťastie a pozitívnu energiu. Je elegantný a nadčasový. Dokonca podporuje imunitný systém a pomáha pri kožných ekzémoch. Čierny ónyx sa hodí ku každému outfitu a tiež príležitosť, či už si ho zvolíte bežné nosenie, na večer, alebo formálne stretnutie. Aký je Váš obľúbený kameň? Vyberáte si ho podľa jeho schopností, znamenia, alebo preto, že sa Vám jednoducho páči?
Top: Zara (podobný tu)
Nohavice: Forever21 (podobné tu)
Topánky: Stradivarius (podobné tu)
Náramok a Naušnice: KlenotyHematit
Kabelka: Rebecca Minkoff (podobná tu)
Fotky: Jefferson Kenji
Ďakujem pekne za prečítanie, dúfam, že sa Vám outfit páčil. Keď tak mi dajte vedieť dolu do komentu. Podporiť ma môžete aj lajkom na Facebooku, alebo srdiečkom na Instagrame. Majte sa krásne. ♥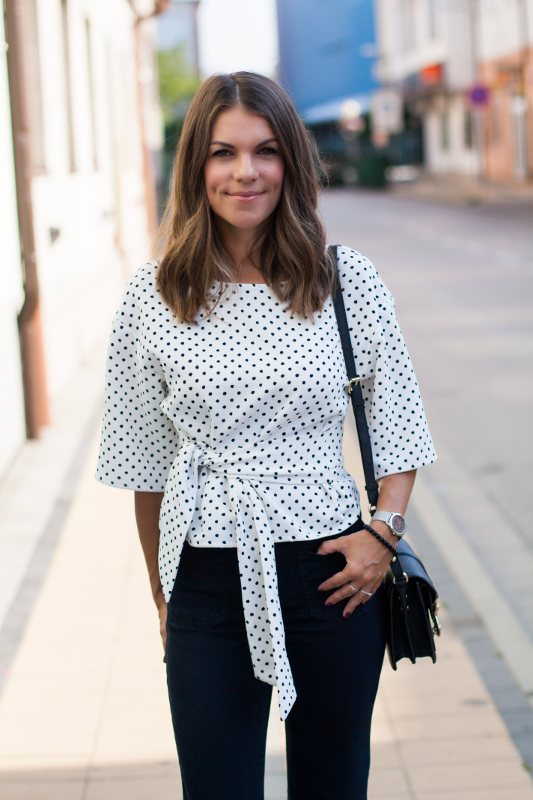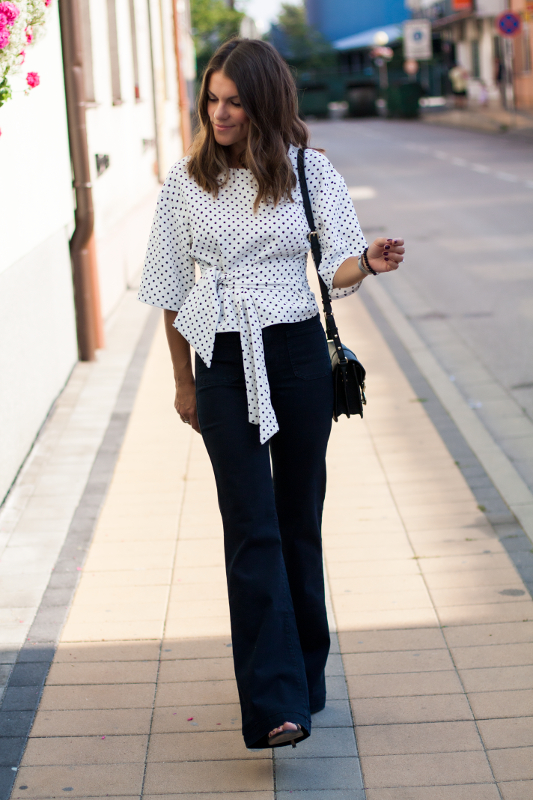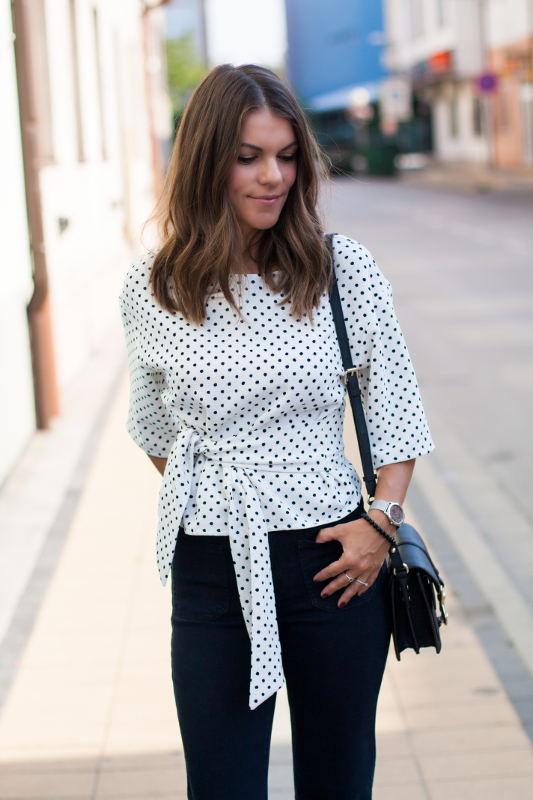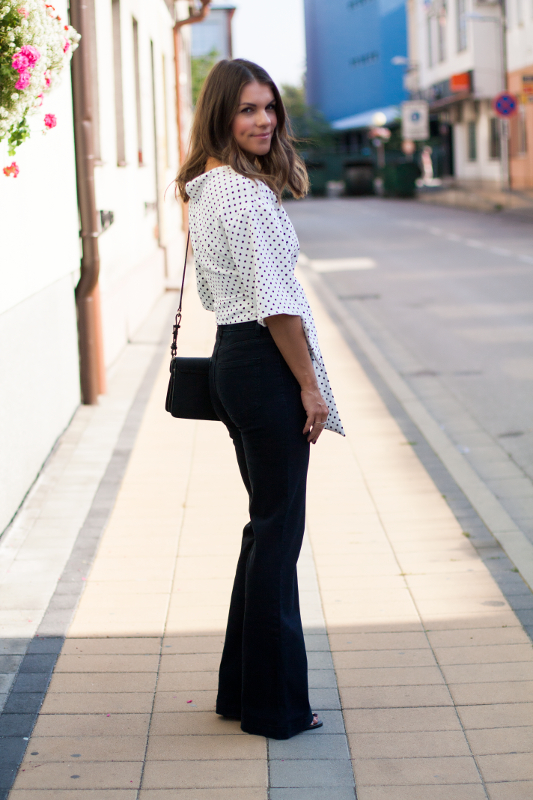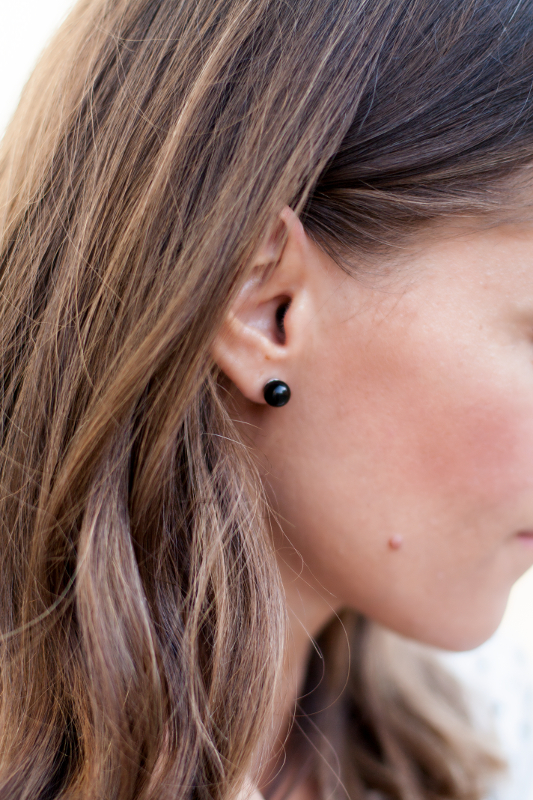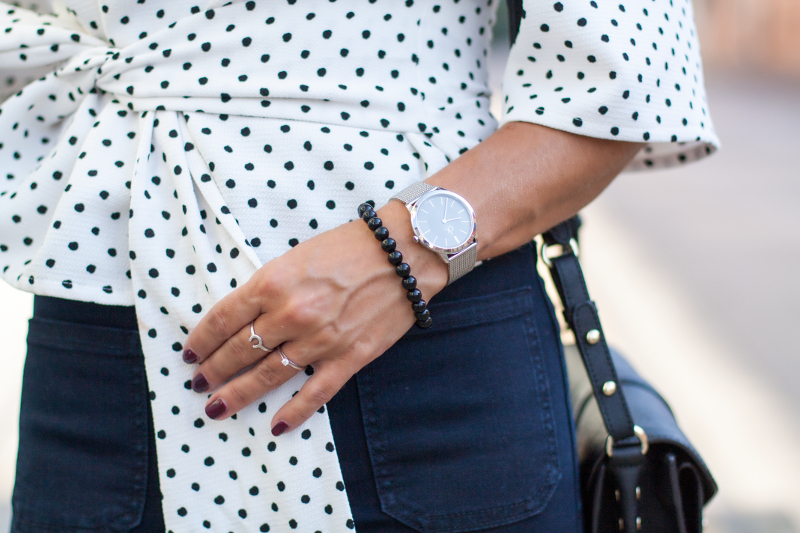 ♦ ♦ ♦ ♦ ♦ ♦ ♦ ♦ ♦ ♦ ♦ ♦ ♦ ♦
Hello guys and welcome to my blog. I hope you had a fantastic weekend. Today I have here an easy but chic outfit with a touch of 70's, recommended for a date with your man or friends.
In this outfit I combined a polka dot top with a flare denim trousers and high heels sandals. Newer addition is polka dot top with a cute detail. I bought it a month ago and I wore it for the first time. I immediately got attracted to the binding, which is possible to tie in the back, you can make a cute ribbon too. This detail is also kind of a belt, I love how it highlighted my waist. This way you can mask some imperfection of your figure, in my case not very defined waist. It also elongate my figure and create an hourglass effect. And you want that! Flare denim trousers adds a touch of 70's and you could see them in few other outfits. And I'm good to go. Oh not quite yet.
Another addition to my jewellery collection are earrings and bracelet from natural mineral black onyx. I love black onyx, it is a semiprecious gemstone, which gives you strength, positive energy and brings luck. It is elegant and timeless. It also support your immune system and helps with a skin eczema. I think black onyx will complete any outfit and is suitable for any kind of occasion whether you decide to wear it with casual outfit, on a formal meeting or evening date. What is your favorite gemstone? Do you choose it by its healing abilities, sign or simply because you like it?
Top: Zara
Trousers: Forever21
Shoes: Stradivarius
Earrings and Bracelet: KlenotyHematit
Handbag: Rebecca Minkoff
Photos by: Jefferson Kenji
Thank you very much for reading. I hope you enjoyed this article, if so, please let me know in the comment section down below. You can also support me on my Facebook page, or heart me on Instagram. Have a beautiful day. ♥