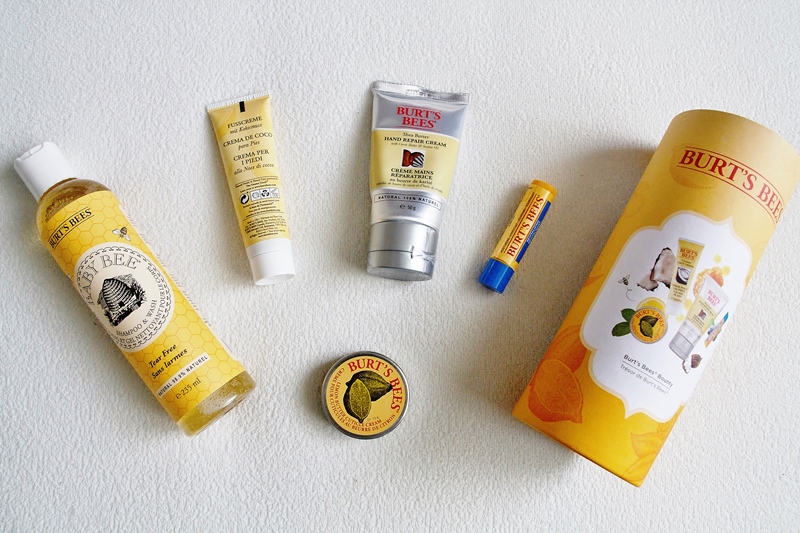 Dnešný článok je o produktových novinkách pre starostlivosť o pokožku od značky Burt's Bees. Ešte z čias, keď som žila v Anglicku, som o tejto značke počula samé chvály a čítala dobré recenzie, ale vyskúšala som od nich len balzám na pery.  Je to taký experiment, ktorý sa dúfam časom osvedčí. Odporučilo mi túto značku aj pár známych, ktorú už s ňou mali dobré skúsenosti. A tak som neodolala.
Vždy, keď zaregistrujem zľavy na stránke, kde si objednávam vačšinu svojej kozmetiky, tak sa v tom dobre prehrabem a pozriem sa, či zrovna niečo nepotrebujem. Čo je skoro vždy. 🙂 Dlhšie som pozerala niejaký vhodný šampónik pre malého, ktorý trpí na suchú až atopickú pokožku. Od malička používame Oilatum, Ovesný kúpeľ a špeciálne mastičky zarobené v lekárni. Šampón, ktorý sme používali, ho síce nevysúšal, ale veľmi ho štípal v očkách a každé umytie vlasov bolo doslova utrpenie, vreskot a plač. A preto som mu v poslednej dobe umývala vlasy len čistou vodou. Nechcela som jeho aj seba pri každom umytí vlasov stresovať. 🙂
Burt's Bees Baby Shampoo & Body Wash – Burt's Bees vlasový a telový šampón pre bábätká na rastlinnej báze, s obsahom Aloe, ovesnej múky a sojových proteínov. Hypoalergický bez suflátov a parabénov. Z tohoto šampónu sa teším najviac. Vonia nádherne a hneď v ten večer, ako nám prišiel balíček sme ho vyskúšali. Keď som mu povedala, že šampón nebude štípať, bol nadšený. A naozaj tak aj bolo. Bez kriku a plaču sme vlasy umyli, takže u oboch maximálna spokojnosť. 🙂
Burt's Been Bounty Collection – Burt's Bees Sada, ktorá obsahuje štyri produkty, krémy na ruky a chodidlá, balzám na pery a krém na kožičku okolo nechtov. Každý produkt sa dá zakúpiť aj zvlášť, ale momentálne som potrebovala aj balzám na pery, krém na ruky, ktorého už mám len na dne a tiež niečo na kožicku okolo nechtov, pretože si ich dosť často lakujem a tak sa veľmi vysúša a hrubne. Toto zvýhodnené balenie mi prišlo docela vhod. Tiež som využila vtedy 15% zľavu na celý nákup.
Burt's Bees Revitalising Lip Balm With Blueberry & Dark Chocolate – obnovujúci čučoriedkovo-čokoládový balzám na pery, je úplná mňamka. Nádherná vôna. Ako niejaký dezert, do ktorého máte chuť sa zahryznúť. Dobre hydratuje popraskanú a vysušenú pokožku na perách. Obsahuje olej z čučoriedkových bobúľ, kakaový  prášok a kakaové maslo.
Burt's Bees Shea Butter Hand Repair Cream – Krém na ruky s obsahom Shea, kakaového masla, slnečnicového a sezamového oleja, ktorý ako jediný vonia zvláštne, aspoň na začiatku. Ako niejaká mastička od startej mamy. 😀 Ale keď sa po chvíli rozloží na rukách, tak je vôňa príjemná. Pekne hydratuje vysušenú pokožku, bez pocitu mastnoty na rukách. Používam ho týždeň, niekoľko krát za deň, ale už badám výsledky, ruky sú na dotyk jemnejšie a hladšie. Výhoda je, že balenie je malé a môžem ho kľudne nosiť so sebou v kabelke.
Burt's Bees Coconut Foot Cream – Kokosový krém na chodidlá pre zhrubnutú pokožkou, tiež slúži na unavené nohy ako masážny krém, tento sa ako jediný nepredáva vo veľkosti ako je v sade 20g, ale len 120g. Nádherne vonia po kokose a tiež rozmarínovým a pepermitovým extraktom, ktorý nohy po dlhom dni regeneruje a osvieži. Zatiaľ som vyskúšala len raz, a bolo to veľmi prijemné. Pokožka bola jemnejšia. Nevýhoda tohto balenia je, že je naozaj malé 20g a vidím to na ešte asi 3-4 použitia.
Burt's Bees Lemon Butter Cuticle Cream – Krém na kožičku okolo nechtov s citrónovým maslom. Ako som už spomínala, nechty si lakujem dosť často, každý druhý, tretí deň. Častým používaním odlakovačov, má kožička tendenciu sa vysúšať a hrubne. Zatiaľ ho používam len týždeň, vždy ráno a večer si tam krém pekne vmasírujem. Po týždni nevidím žiadny rozdiel, uvidíme ako to bude vyzerať po dlhšom používaní.
Ďakujem pekne za prečítanie. Dajte mi vedieť, či sú takéto články pre Vás prínosné, alebo nie. Zajujímalo by ma, či niečo z toho, používate? Ak nie, čo používate vy, s akými značkami, či máte dobré skúsenosti a s akými nie. Rada sa dozviem aj o iných alternatívach a prečítam si názory iných mamičiek, aj nemamičiek. Majte sa krásne.