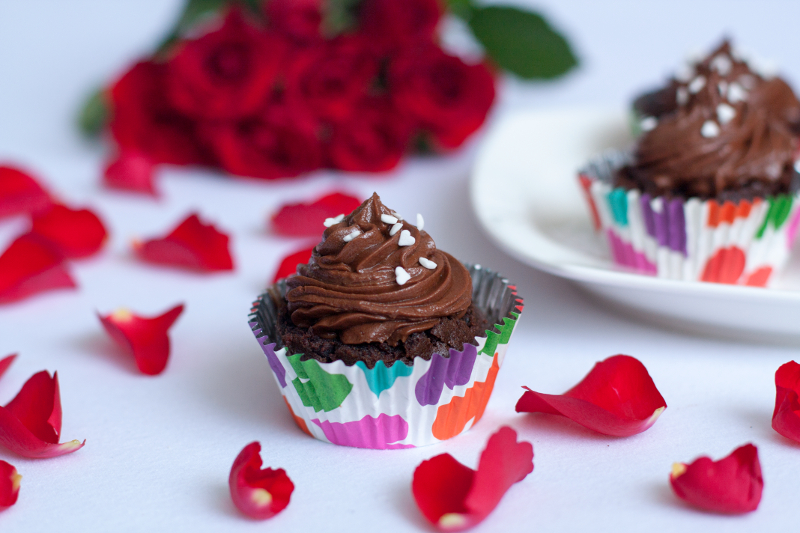 Ahoj, ja Vás zdravím netradične v sobotu, vitajte na blogu. Dúfam, že si užívate pohodový víkend. Dnes tu mám chutný a ľahký recept na čokoládové cupcakes. Vzľadom k zajtrajšiemu dňu zaľúbených, som sa s nimi trošku vyhrala. 🙂 Vy si ich samozrejme môžete urobiť len tak, kedykoľvek. Sú chutné a nadýchané. Odkedy som si kúpila zdobiace trysky ma to dosť chytilo. Moje prvé nájdete v článku Vanilla Cupcakes a všetko, čo na zdobenie potrebujete. Ja osobne nemám rada príliš sladké, tak som cukor obmedzila ako to len bolo možné. Vy si kľudne pridajte.

Ingrediencie:
175g hladkej múky (ja som dala pohánkovú)
125g práškový cukor
30g kakaový prášok
1/2 čl sóda bikarbóna
1/2 čl soľ
100ml vychladnutej kávy (môže byť aj zo stroja, instantná, alebo bezkofeinová)
200ml rastlinný olej
100ml zakysaného mlieka
2 vajíčka
Čokoládový krém:
150g maslo
125g práškový cukor
90g horká čokoláda (ja som dala 70% lindt)
Postup:
Do misky preosejeme všetky suché ingrediencie. V druhej miske zase zmiešame všetky mokré. Potom zmiešame suché s mokrými a naplníme košíčky. Cesto má redšiu textúru, tak aby ste si nenarobili v kuchyni neporiadok, cesto sa lahšie leje z plastovej odmerky. Plníme do mierne väčšej polovice. Pečieme na 160°C cca 15min. Pokiaľ Vám vybehnú ako mne, zrežte vrchy, ktoré môžete potom pomaličky ujedať. 😀
Postup na krém:
Nad parou si rozpustíme čokoládu a necháme vychladnúť. Medzitým si rozmixujeme zmäknuté maslo s cukrom, ktorý pridávame postupne. Vychladnutú, ale stále tekutú čokoládu prilejeme do zmesi masla a cukru a dobre rozmixujeme. Tento krém v chladničke stvrdne, ale keď som ho vytiahla, rýchlo zase zmäkol. Pokiaľ máte radi sladší krém, kľudne si pridajte viac cukru, pretože cukor v každom recepte redukujem.
Dobrú chuť. 🙂

Ďakujem pekne za prečítanie, dúfam, že Vás recpet na čokoládové cupcakes zaujal a že si ho doma vyskúšate. Dajte mi vedieť dolu do komentu, či ich radi robievate a aký je Váš obľúbený recept. Tiež ma môžete podporiť lajkom na mojej Facebook stránke, či srdiečkom na instagrame. Majte sa krásne a užite si víkend. ♥