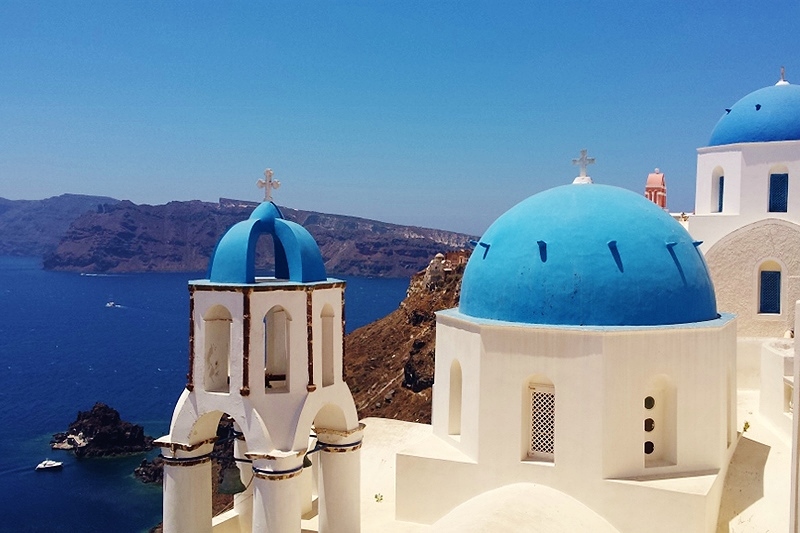 My experience from our latest summer holiday from two Greek islands Crete and Santorini. It was a well-deserved holiday, we had both worked very hard and needed some time off. With our little one growing up fast and needing more attention every day and my fiancé working long hours, holiday break was just what we needed.
We stayed in a village called Stalida or Stalis on the northern coast of Crete. It's a very nice and relaxed place with not very busy night life, it was exactly what we were looking for as a family. Crete is the biggest of the Greek islands and quite mountainous. It's something that influences my decision when choosing a holiday destination. I just prefer to be surrounded by mountains, I like the view and protection it gives to the island. There is something about islands that attracts me – the atmosphere and friendliness of the local people. The weather was gorgeous, sunny most of the time with a breeze and luckily no rain. Cretan people are very warm and friendly, always seem to be in a good mood. Men love to flirt. During the day we went to the beach or stayed by the hotel pool, sunbathing, swimming and interacting with our boy. My fiancé enjoyed playing volleyball and water polo with local guys. Beaches have soft golden sand with shallow waters which we appreciated very much. Our boy was hesitant of the waves at first but he warmed up to them pretty quickly and enjoyed the rest of the holiday splashing around, chasing the waves and fleeing in front of them. Every evening of our stay we spent on the beach looking at the sunset – it was magical and romantic, or we walked around the village and visited local tavern. Stalida has its night life, there are bars, taverns and restaurants from where you can smell a mixture of aromatic Mediterranean flavors. We love Mediterranean cuisine, Greek salad, hummus, moussaka, the sea food you name it we tried everything.
♦ ♦ ♦ ♦ ♦ ♦ ♦ ♦ ♦ ♦ ♦ ♦ ♦ ♦
Moja skúsenosť z našej posledej dovolenky z dvoch gréckych ostrov Kréty a ostrova Santorín. Bola to zaslúžená dovolenka, naším rýchlo rastúcim synčekom, ktorý si každý deň vyžadoval viac pozornosti a vysokým pracovným nasadením môjho snúbenca, dovolenka bola to po čom sme túžili.Boli sme ubytovaní v dedinke Stalida alebo Stalis na severnom pobreží Kréty. Je to veľmi milé a pokojné miesto s nie príliš rušným nočným životom, bolo to presne to čo sme ako rodina hľadali. Kréta je najväčšia z gréckych ostrovov a tiež veľmi hornatá, čo ovplyvňuje aj moje rozhodnutie. Rada som obklopená horami, dáva to ostrovu pocit istoty a samozrejme výhľad. Na ostrovoch ma niečo priťahuje je tým je nepochybne ostrovná uvoľnená amosféra a priateľskosť domácich. Počasie bolo užasné, slnečno s egejským vánkom a žiadny dážď. Kréťania sú veľmi milí a priateľskí, vždy dobre naladení. Muži milujú flirtovať. Deň sme trávili na pláži, alebo bazéne, opekaním na slnku, plavaním a užívaním si s naším synkom. Jeff hrával s domácimi vodné polo a volejbal. Pláže majú jemný piesok a pozvoľný pobyt do mora, čo sme veľmi ocenili. Náš drobec najskôr váhal, ale potom sa osmelil a zvyšok dovolenky strávil špľachotaním, nahaňaním vĺn a utekaním pred nimi. Večeri sme trávili pozeraním sa na západ slnka, bolo to magicke a veľmi romantické. Potom sme sa prechádzali po dedinke, alebo navšívili miestnu tavernu. Stalida má aj nočný život, nachádzajú sa tu bary, rešaurácie a taverny, z ktorých rozvoniava zmes aromatickým mediteranských príchutí. Milujeme mediteranskú kuchyňu a tak sme si prišli na svoje, vyskúšali sme všetko od gréckeho šalátu, morských jedál až po musaku.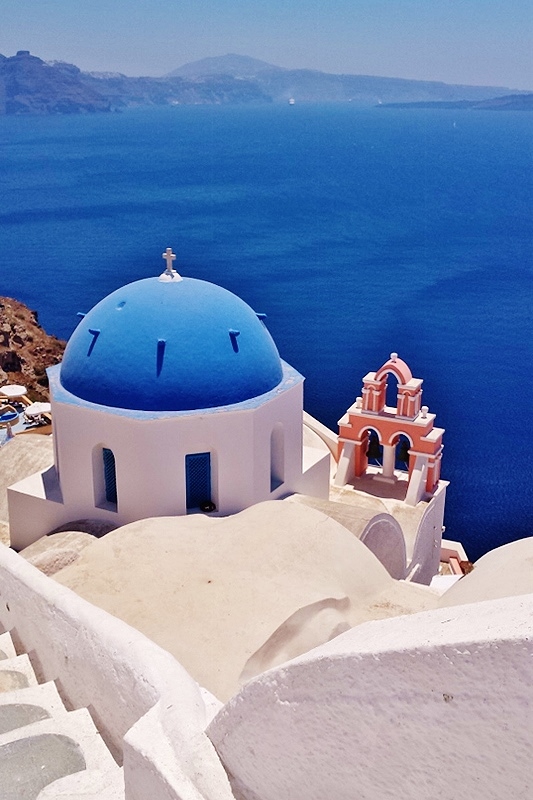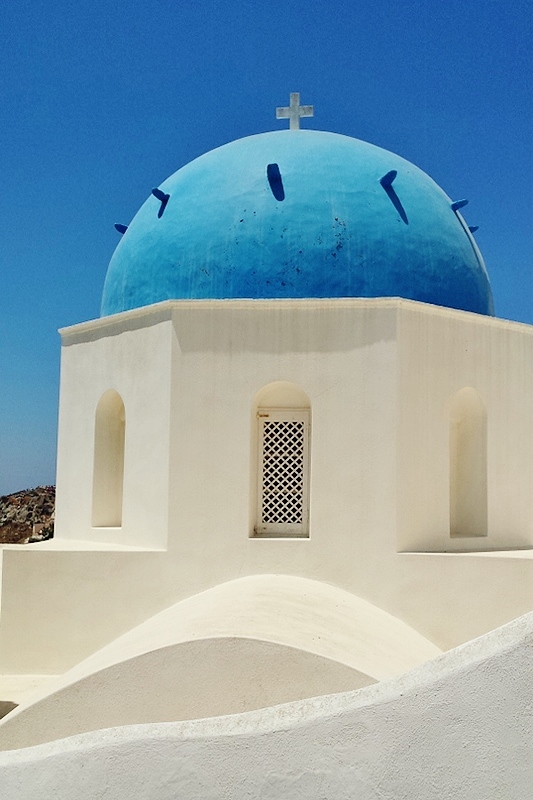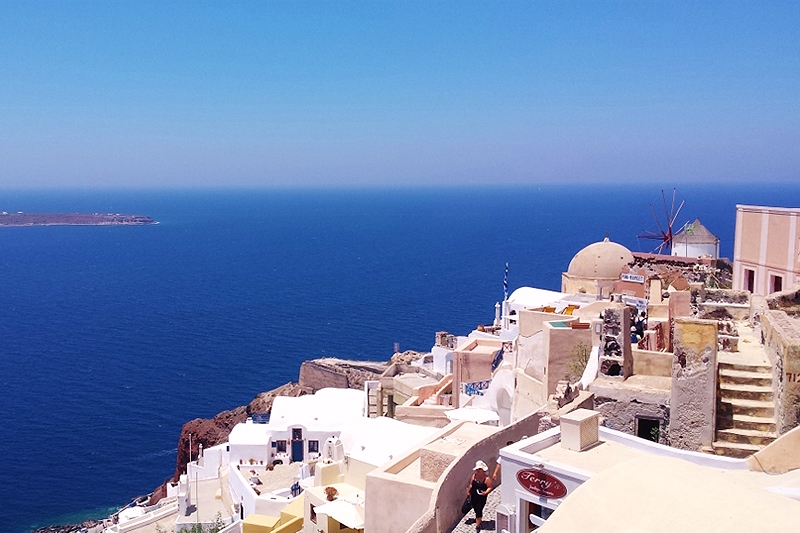 Santorini is a volcanic Island group at the central south end of the Cyclades in the Aegean Sea, Greece. Its visit was only a one day experience for me. We decided not to travel with our son because of its desert climate. It can get extremely hot and humid especially during the high season and there is almost no shadow to hide in. I was traveling from the neighboring island Crete by ferry and it took me approximately two hours to get there. I was enchanted by its panoramic view from the sea straight away and couldn't wait to explore it. I visited historical villages Oia and Fira. Its famous for its charming white and blue chapels and windmills. It must be one of the most photographed places I have been to. When you are in the paradise like this and love taking photographs and you forget your charger at home you are not pleased! Thank God for the quality of my mobile phone. When you visit make sure you have your camera ready and charged! I got completely lost by discovering the historical city of Oia and enjoying view of Santorini's caldera that I forgot to eat. Later I was traveling to Fira where I grabbed an ice cream and could not wait to finish my stay on Perissa, the black sand beach. In the restaurant I liked when they asked me what time I'd like my food ready instead of me waiting in the restaurant I took a dip in the sea. In a meanwhile my agean salad with cold beer was getting ready for me. It had the perfect temperature and was exactly what I needed. I was happy. Later I caught the ferry back and arrived very late. I was glad to see my boys were well and waiting for me to return. We had a great time and are hoping to return one day.
♦ ♦ ♦ ♦ ♦ ♦ ♦ ♦ ♦ ♦ ♦ ♦ ♦ ♦
Santorín je ostrov v Grécku, ktorý sa nachádza na juhu súostrovia Kyklady na rozhraní Egejského a Krétskeho mora. Jeho návšteva bola pre jednodňovou záležitosťou. Rozhodli sme sa necestovať s malým, pretože Santorín má púštnu klímu, extréme horúčavy a vysokú vlhkosť. Cestovala som od neďalekého ostrova Kréta loďou, trvalo to asi dve hodiny. Bola som očarená panoramickým výhľadom na Santorín z mora a nemohla som sa dočkať kedy ho preskúmam. Navštívila som historické mesto Oia a Fira, kde som obdivovala cykladickú architektúru a známe bielo-modré okúzlujúce kaplnky a veterné mlyny. Je to jedno z najfotografovanejších miest na svete a keď som zistila, že som si zabudla nabijačku od fotoaparátu, nebula som nadšená! Našťastie mám kvalitný mobil. Úplne som sa ponorila do objavovania mestečka Oia a užívala si výhľad na Santorínsky kráter. Potom, čo som všetko preskúmala nevedla som sa dočkať kedy ukončím svoju návštevu Perrisou, plážou s čiernym pieskom. Po tom, čo som si objednala jedlo som si skočila do mora a zatiaľ sa mi robil môj egejský šalad s morskými plodmi a pripravovalo sa krásne vychladené pivo. Malo perfektnú teplotu. Bola som šťastná. Neskôr som chytila loď naspäť a som sa nevedela dočkať mojich chlapcov, ktorí ma už vytúžene očakávali. Bola to krásna dovolenka, plná zážitkov aj oddychu a dúfam, že sa jedného dňa vrátime späť.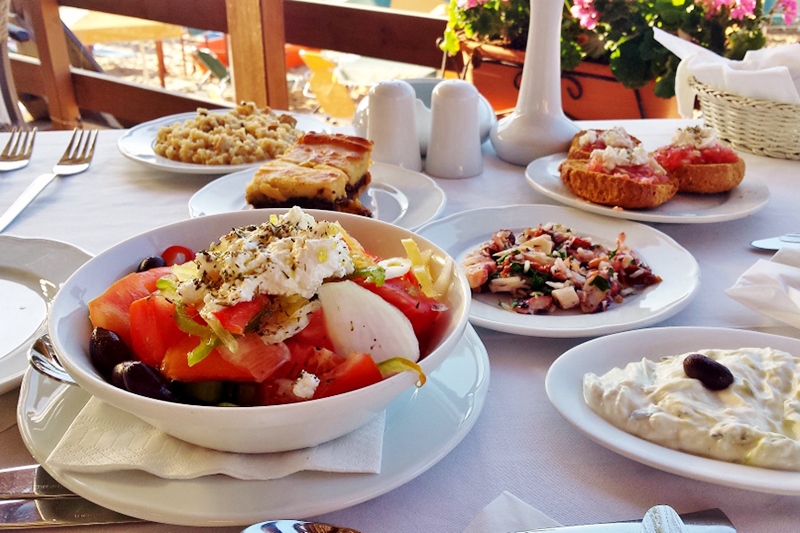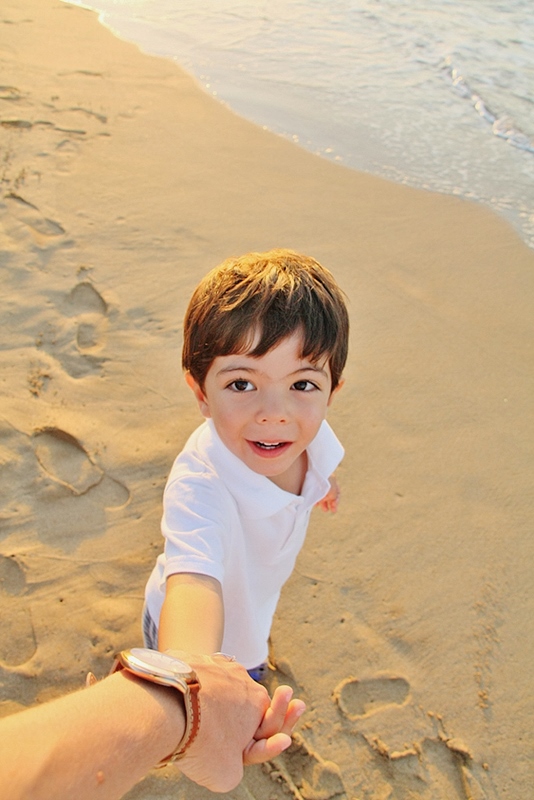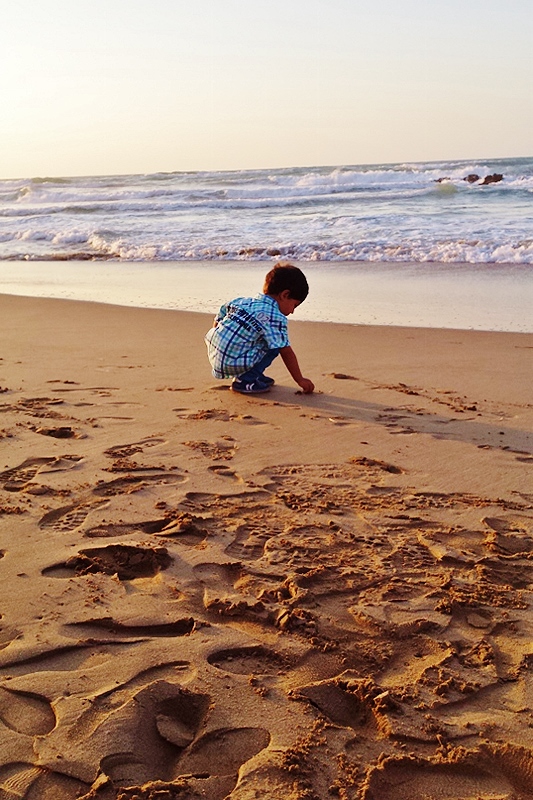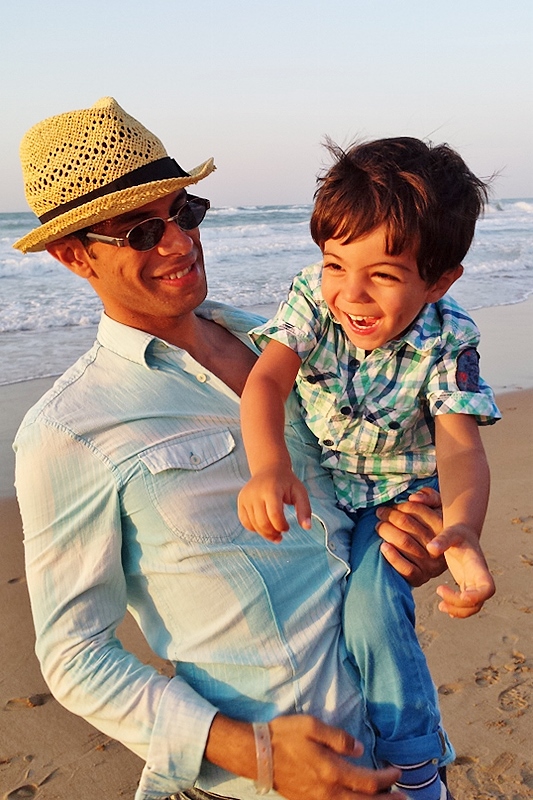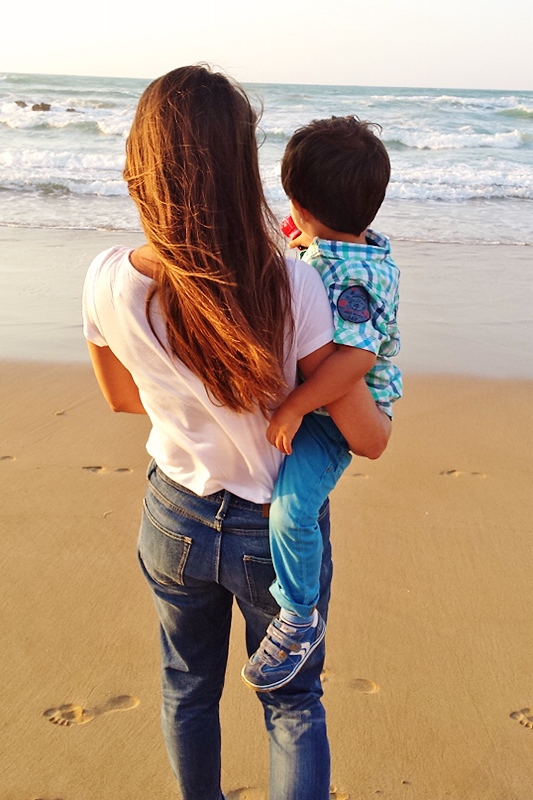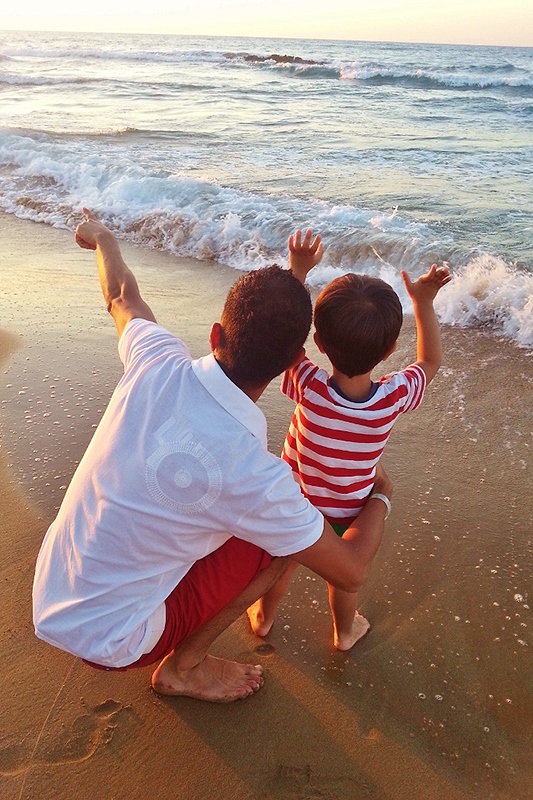 Booked via Cestuj Travel Agency
Tips: be extra careful when travelling with children, charged camera is a must or quality mobile phone, you can visit in low season it's cheaper and less crowded, try local dishes moussaka, tomatokeftes, stifado and taste local products like cherries, selections of wines, olives, nuts and ice cream
Photos by: Me & Jeff
I hope you liked this post. Let me know if you have visited Crete or Santorini and what your experience was like? What kind of holidays do you prefer to go to? What places would you recommend to visit?
♦ ♦ ♦ ♦ ♦ ♦ ♦ ♦ ♦ ♦ ♦ ♦ ♦ ♦
Zabookované via Cestuj
Tipy: buďte extra opatrní pokiaľ berete po pamiatkach deti, môžu sa rýchlo prehriať, klobúčik na hlavu a opalovací krém je nutnosť!!!!! Pokiaľ máte malé deti, ktoré vyžadujú byť v kočíku, určite je lepší vak, alebo nosítko, Santorini má veľa schodov a je to veľmi náročné v sezóne, keď sa to všade hemží turistami! nabitý fotoaparát, alebo kvalitný mobil, môžete navštíviť v nižšej sezóne, je to lacnejšie a nie tak preplnené turistami, určite vyskúšajte domáce jedlá ako musaka, masové guličky, tomatokeftes a ochutnajte tiež domáce produkty ako cherry rajčinky, selekciu vín, pistácie a zmrzlinu.
Fotky: Ja a Jeff
Ďakujem pekne za prečítanie. Dúfam, že sa Vám tento článok páčil. Dajte mi vedieť, či ste už navštívili Krétu, alebo Santorini a aké boli vaše zážitky a skúsenosti. Akú dovolenku máte radi vy? Aké mieste by ste doporučili?