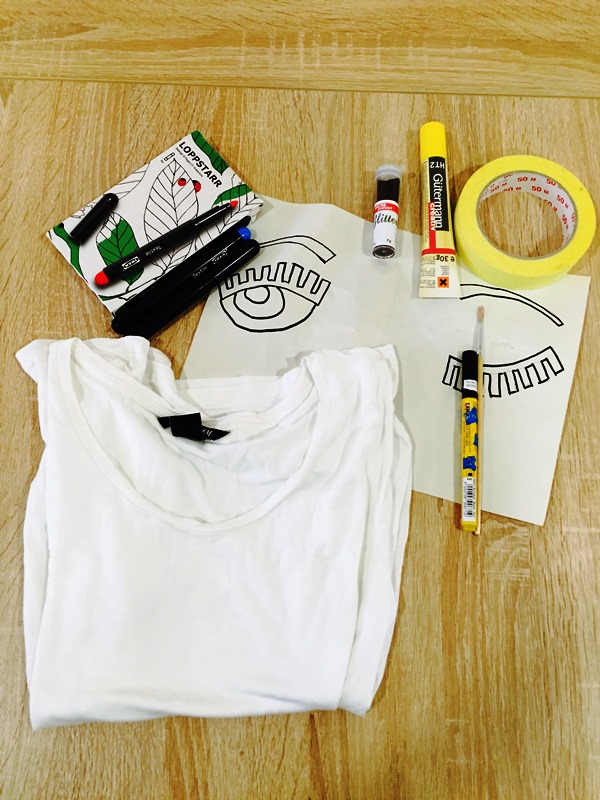 Krásne slnečné ráno a vitajte na blogu. Dnes som pre Vás pripravila špeciálny DIY tutoriál. Na blogu mám totižto hosťa Emily, ktorú som poprosila, či by nám nepriedviedla ako si môžete doma vyrobiť tričko inšpirované kolekciou Flirting Eyes, od známej a úspešnej blogerky Chiara Ferragni.
Ja dúfam, že ste už všetci jarne a hlavne kreatívne nalední a môžme ísť na to. Čo k tomu potrebujeme?
1.obyčajné biele tričko – H&M
2.čiernu a modrú fixku na látku – Ikea
3. výkres A4
4. lepidlo na látku
5. trblietky
Na výkres A4 si najskôr urobíme náčrt ceruzkou, pokiaľ ste spokojný s výsledkom, obtiahnite ho čiernou fixkou, aby ho bolo pod tričkom dobre vidieť.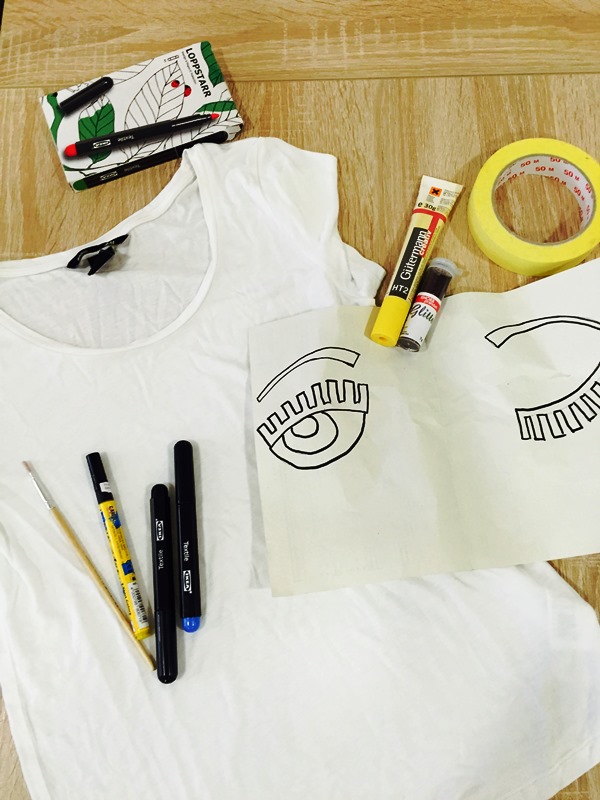 Výkres zasunte do vnútornej strany trička a čiernou fixkou obkreslite línie.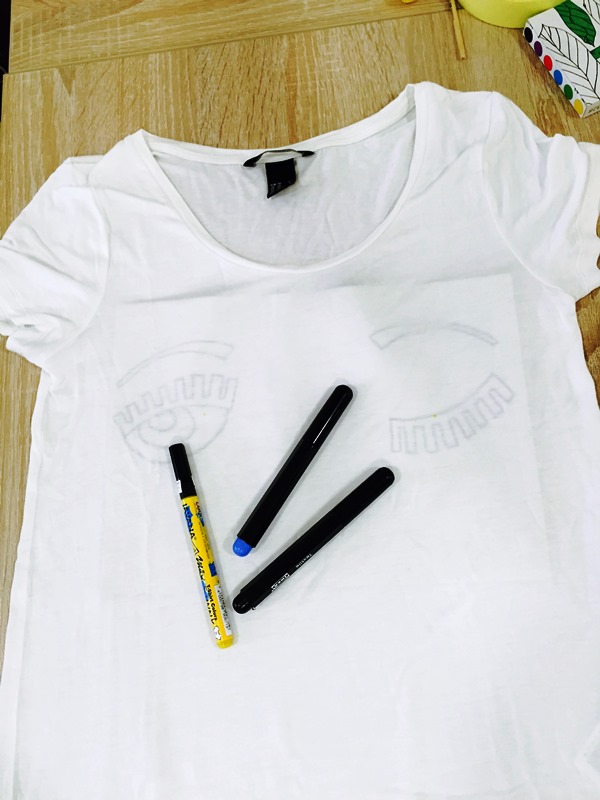 A môžete sa vrnúť na vyfarbovanie! 😉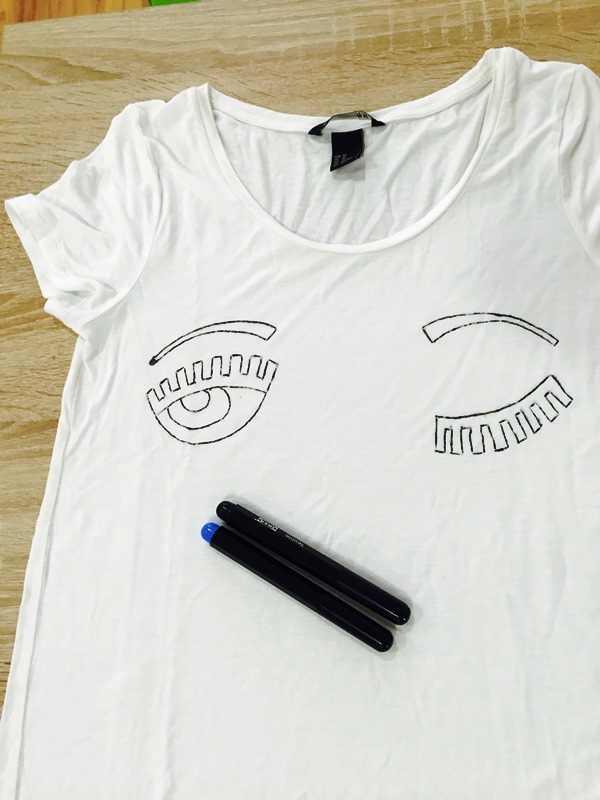 Toto je finálny výsledok. Kto chce si môže nalepiť trblietky, ktoré treba nechať poriadne vyschnúť a potom dobre prežehliť. Môžete prať v kľude na 30°C, mám odskúšané.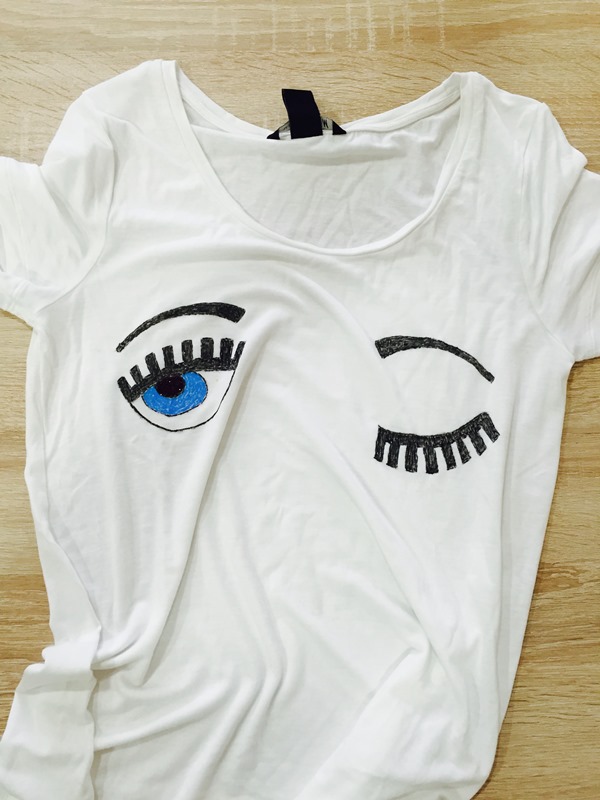 Tričko Flirting Eyes je hotové za menej ako 20min a celková suma nižšia ako 15,- eur. Originál viz. dolu stojí okolo 110,- eur. Ak sa Vám tričko páči, ale nemôžete si ho dovoliť, tak si ho vyrobte doma, teraz už viete ako na to. A určite nám dajte vedieť ako Vám to šlo. 😉
Ďakujem veľmi pekne za prečítanie, dúfam, že sa Vám tento DIY tutoriál páčil, keď tak mi dajte vedieť s čím by ste ho skombinovali vy a možno práve tvoj návrh vyberiem. Majte sa krásne. ♥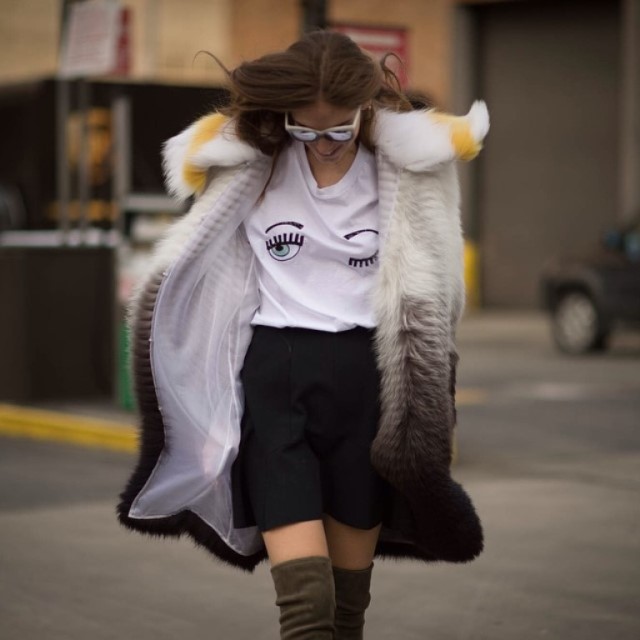 Photo source: Chiara Ferragni – The bond Salad
♦ ♦ ♦ ♦ ♦ ♦ ♦ ♦ ♦ ♦ ♦ ♦ ♦ ♦
Good morning everyone. I hope you are having a wonderful sunny morning like me. I have prepared something special for you today. I have invited a guest on my blog. Her name is Emily and I asked her, if she could show you step by step how you can make at home your own Flirting Eyes T-shirt inspired by famous and successful blogger Chiara Ferragni.
I hope you are already in a spring DIY mood, so let's get started. What do we need?
1. basic white t-shirt H&M
2. blue and black fix
3.drawing paper A4 format4. fabric glue
5. glitters
Draw the design on the paper first by pencil and when you happy with the result outline it with a black fix, so you can see it well under the T-shirt.
Insert the drawing inside the t-shirt and outline the design on the top of the fabric. Once that's done you can start painting. Flirting Eyes t-shirt done! Congratulations! 😉
If you want to take it to the next level you can by using glitters or sequins, glue it and let it dry well. Iron over and you are good to go. Ready in less than 20min and total cost less than 15,- euros. FYI the cost of original one is 110, – euros. You can wash it on 30°C.
So if you can't afford one and really really want one you can make it at home, now you know how. 😉 And let us know we love to hear about it.
Thank you very much for reading I hope you enjoyed this DIY tutorial. Let me know how would you style it yourself and I might recreate your idea. Have a great day. ♥