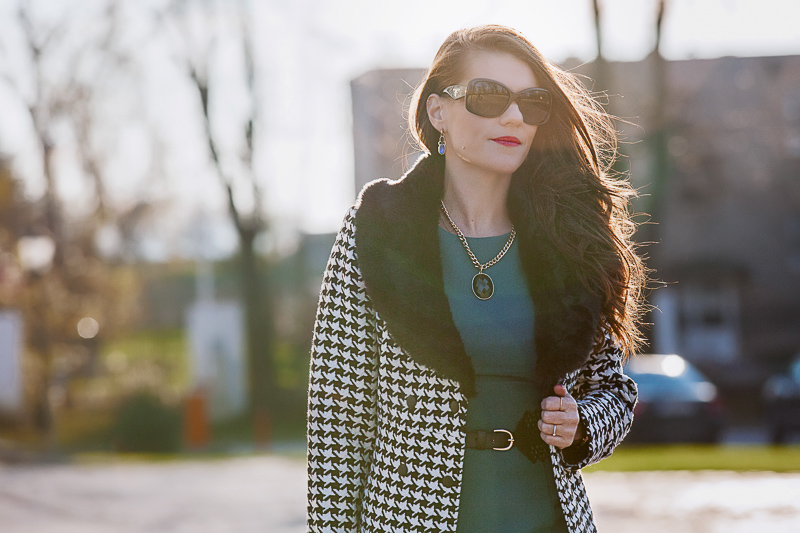 Good afternoon and welcome to my blog. I hope you are having a nice Saturday afternoon. Going out or staying in tonight?
I don't normally post on Saturdays but I had a request to post outfit inspiration to go out for a drink with girls or a date. So here is my slightly "pimped" outfit. 😉 I had so much fun doing this one because I like to go out and party even tough now I do it less often. When going out with girls or bunch of friends, it depends if you are staying in the restaurant or bar only or will party hard till morning. Well, but sometimes you don't know this until the plan going home at midnight turns into coming home at 4am. This is more like going to a more quiet place, drinks only nothing too crazy but nice and comfortable. I'm wearing very plain short sleeve emerald dress it has a lovely detail on sleeves, shame I couldn't show you it was too cold even tough it looks like 17°C outside it wasn't. I accessorize the dress with a chain necklace and belt to highlight the waist. The houndstooth coat and sexy knee boots and I'm good to go! The bag is old and I bought it in London. Time to time I take her out because I like to make a use of my wardrobe to the maximum.
♦ ♦ ♦ ♦ ♦ ♦ ♦ ♦ ♦ ♦ ♦ ♦ ♦ ♦
Dobrý podvečer a vitajte na mojom blogu. Dúfam, že si užívate pohodovú sobotu. Chystáte sa von, alebo zostávate doma? Normálne nedávam outfit post v soboty, ale mala som požiadavku dať sem niečo hodiace sa na večer, na drink s kamarátkami, alebo priateľmi. Zaleží od toho, že kam sa pojde, či do reštaurácie, alebo baru, či party do rána. No ale sa nikdy nevie ako sa to zvrhne, človek mení a pán Boh mieni, či ako to je. 😉 Budem len do polnoci sa mení na príchod ráno o 4hod. Tento outfit je skôr na taký pohodový večer, na pohárik vínka nič bláznivého. Mám na sebe puzdrové, smaragdovo-zelené šaty, ktoré majú krásny detail na rukávoch, ktoré sme bohužial nenafotili, lebo bola zima a fúkal vietor i keď to vyzerá vonku na 17°c. Doplnila som to opasokom aby som zvýraznila pas a náhrdelníkom d čiernym kamienkom. Ozúbkovaný kabátik, to som už hovorila v predošlom článku, že tento vzor mám veľmi rada a sexy čižmičky po kolená tomu dodávajú taký večerný vzhľad. Vinovo červená kabelka farebne, ktorú mám už roky a kúpila som ju v Londýne, raz za čas ju rada vyvenčím. Rada totiž to využívam svoj šatník naplno.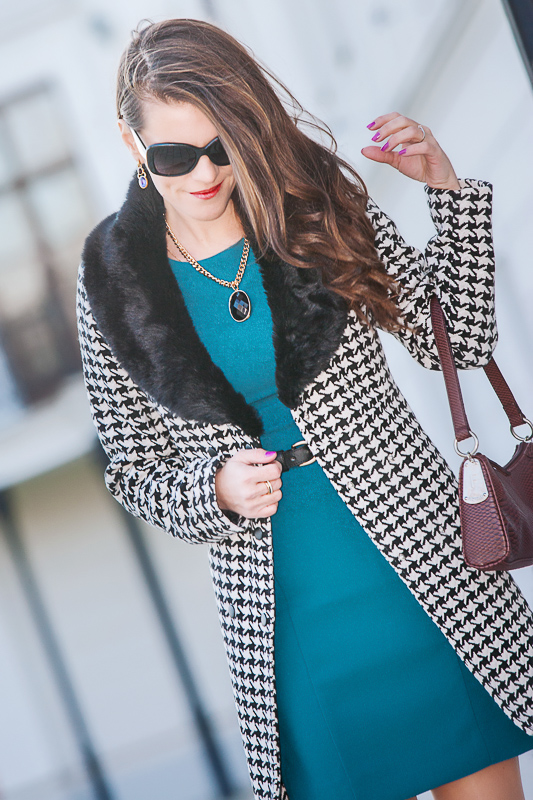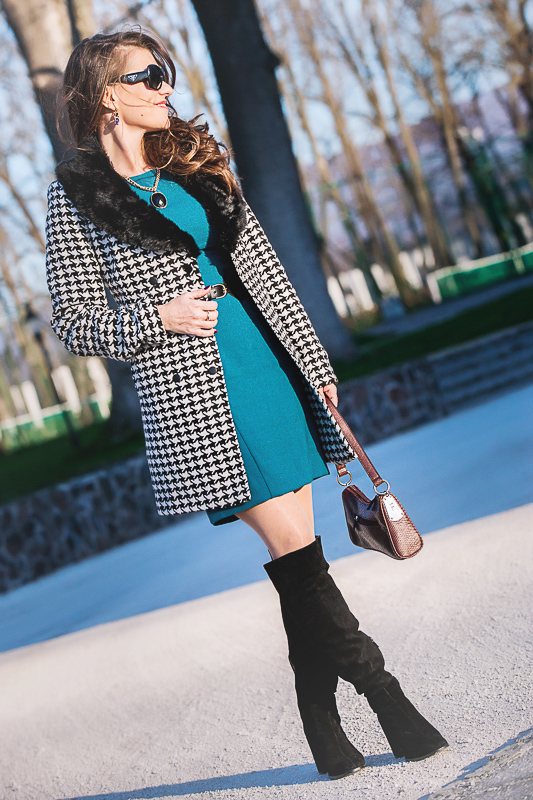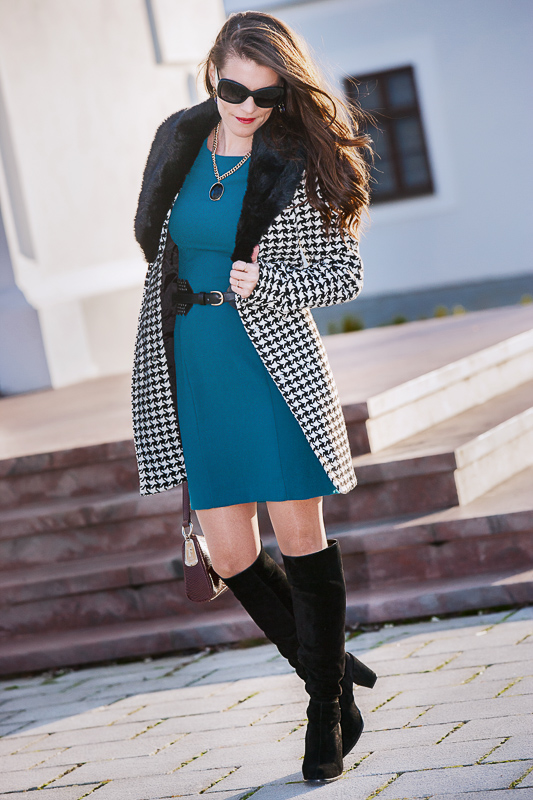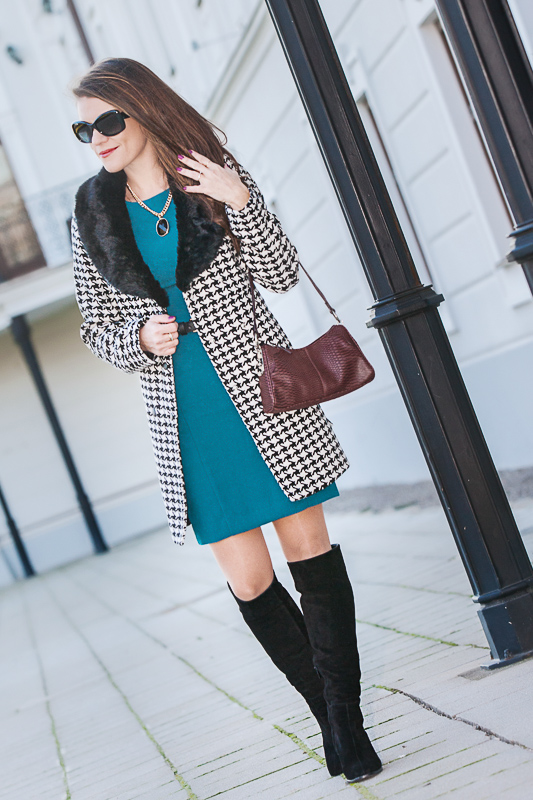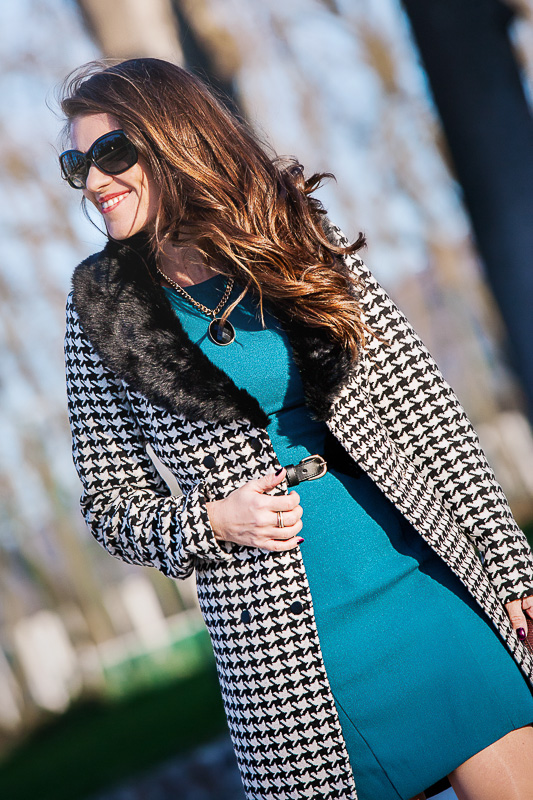 Outfit: Coat:: Orsay, Dress, Belt, Necklace:: H&M, Boots:: Zara, Bag:: Fiorelli, Sunglasses:: Prada
Ocassions: going out for drinks with friends
Tips: don't forget to take a good mood with you and feel comfortable in what you wearing, acessorize your outfit, you can exaggerate a bit and have fun!
Photos by: Romana Chudikova
Thank you very much for reading. I hope you liked this outfit. Let me know what do you like to wear when going out for drinks with friends?
♦ ♦ ♦ ♦ ♦ ♦ ♦ ♦ ♦ ♦ ♦ ♦ ♦
Oufit: Kabát:: Orsay, Šaty, Opasok a Náhrdelník:: H&M, Čižmy:: Zara, Kabelka:: Fiorelli
Príležitosť: večer s priateľmi pri poháriku, či dvoch
Tipy: dôležité je si zobrať so sebou dobrú náladu a cítiť sa pohodlne v tom, čo máte na sebe, doplnky sú dôležité, môžete to trošku aj prehnať veď idete predsa von, nie na pracovný pohovor, tak si to užite!
Ďakujem pekne za prečítanie, dúfam, že sa Vám tento outfit páčil, alebo aspoň niečo z neho. Čo radi nosievate vy na také večere s priateľmi? Dajte mi vedieť, dolu do komentu.