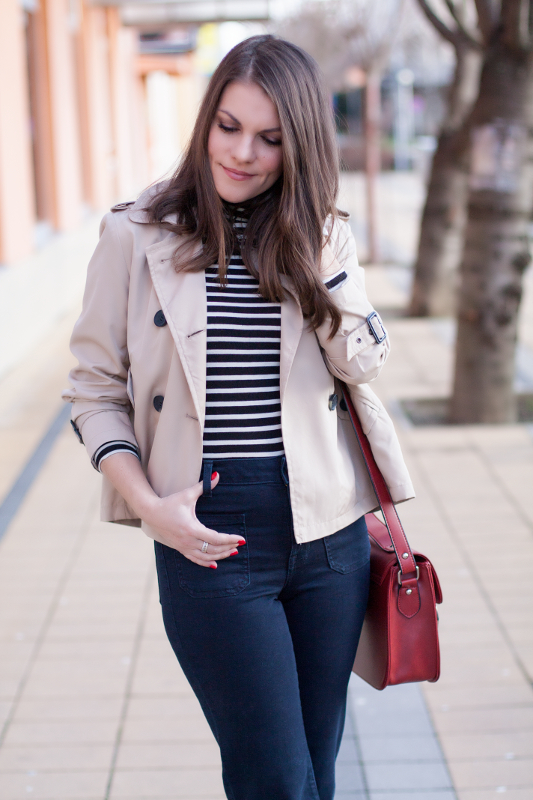 Ahoj a vitajte na blogu, dúfam, že ste si užili pohodový víkend. My si momentálne užívame polročné prázdniny, tak článok nebude príliš dlhý. V posledných dňoch ste určite zaregistrovali príjemné oteplenie a ja mám tendenciu hneď vytiahnuť moje obľúbené jarné kúsky. Tiež to tak máte?
Kto sleduje blog už niejaký ten čas, vie, že tiahnem k móde 70tich rokov. Tá sa vyznačovala predovšetkým zvonovými denimovými nohavicami s vysokým pásom. To je prvé, čo ma napadne, keď sa skloňujú roky sedemdesiate. Zvonové nohavice zvýraznia siluletu, poodhalia krivky postavy a tiež ju opticky predĺžia. Dlho som zháňala zvony v tmavomodrom prevedení, až som konečne na jedny také natrafila v Londýne. Skombinovala som ich s priliehavým pásikovaným rolákom a krátkym trench kabátikom, ktorý postavu opticky ešte viac predĺži. Aj dlhší trench je skvelá voľba. Nie som príliš vysoká a tak si vždy pridám pár centimetrov, kde len môžem. Topánky s desať centimetrovými opätkami mi síce zakrývajú zvony, ale presne takto ich rada nosím, keď z nich vykúkajú len špičky topánok. Kto zvony nepreferuje, tento look je možné skombinovať aj s úzkymi rifľami a vysokými lodičkami. Ktorá verzia je tá Vaša? Tento retro chic outfit som oživila červenou aktovkou a môžem vyraziť.
Top: H&M (podobný tu)
Rifle: Forever21 (podobné tu)
Kabát: Zara (podobný tu)
Kabelka: Pinkhead
Hodinky: Calvin Klein (podobné tu)
Prsteň: Bondiamo
Fotky: Jefferson Kenji
Ďakujem pekne za prečítanie, dúfam, že sa Vám outfit páčil. Keď tak, dajte mi vedieť dolu do komentu, či je to Vaša šálka kávy, alebo si myslíte, že zvonom už odzvonilo? Podporiť lajkom ma môžete na mojej Facebook stránke, alebo srdiečkom na Instagrame. Majte sa krásne. ♥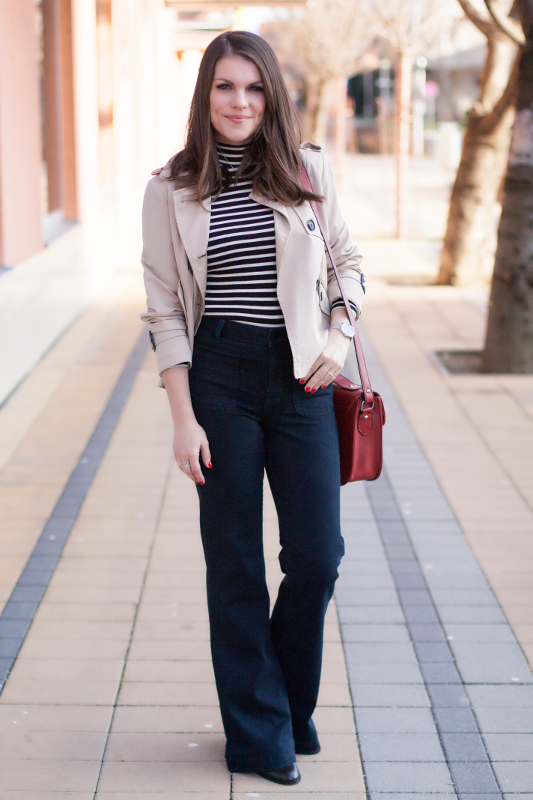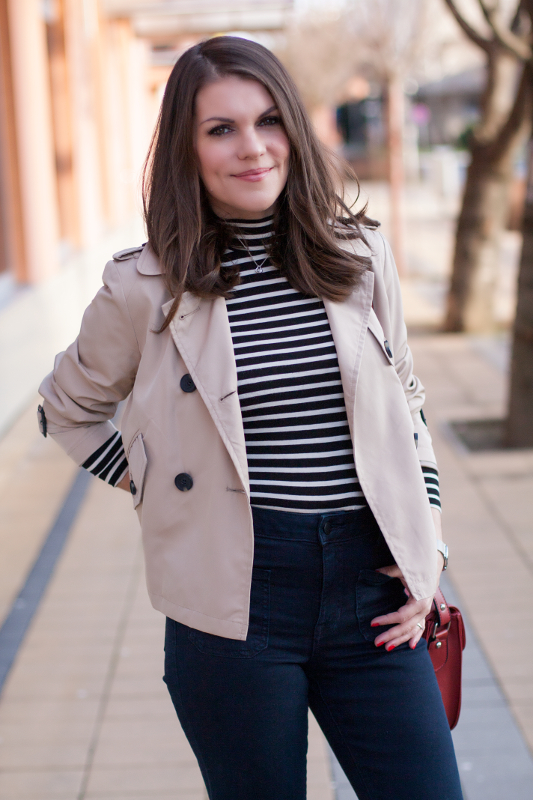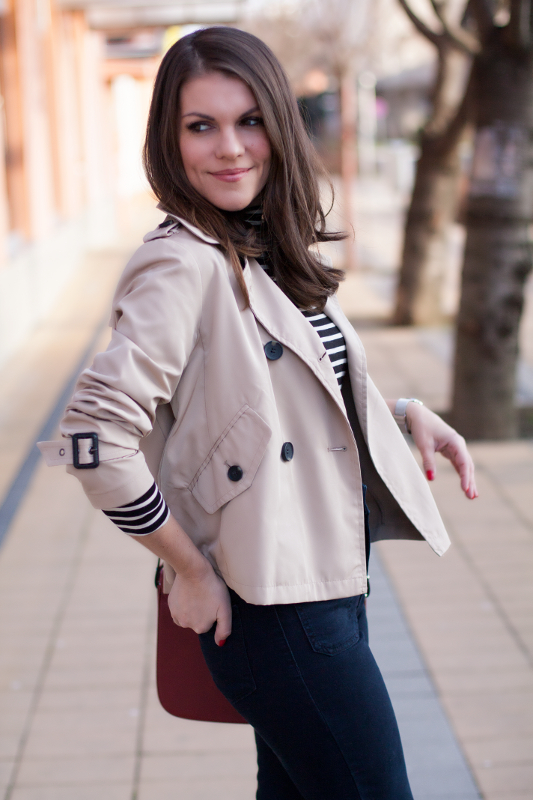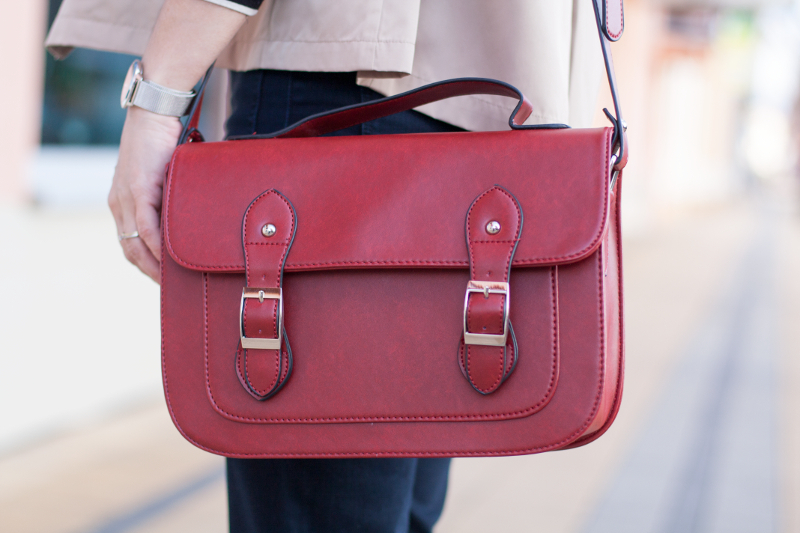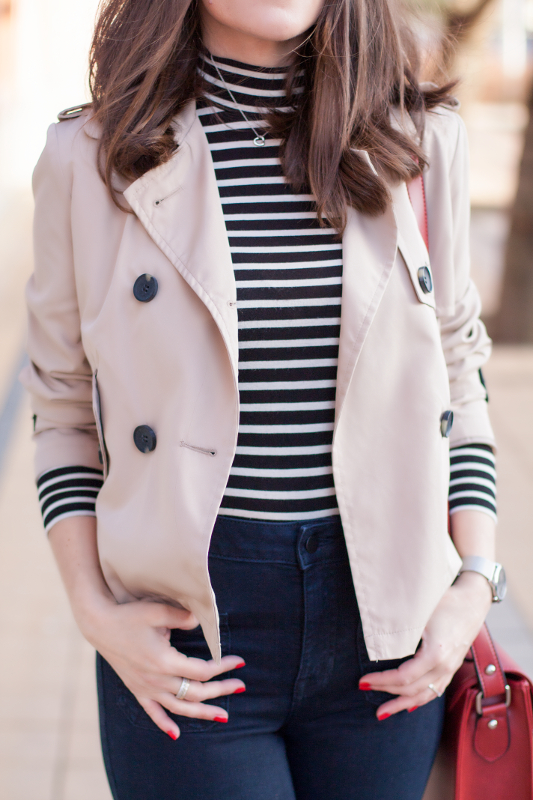 ♦ ♦ ♦ ♦ ♦ ♦ ♦ ♦ ♦ ♦ ♦ ♦ ♦ ♦
Hello guys and welcome to my blog. I hope you had a lovely weekend. We are enjoying half term holiday together with our little one. I'm sure you have noticed a pleasant change in weather and when that happens I like to take out my favorite spring pieces from the closet. How about you?
If you read the blog for some time already, you know I gravitate towards 70's fashion a lot. One of the popular trends in 70's was also high rise flare jeans. It is the first thing that comes to my mind when we speak of  70's. It was all about accentuating the silhouette and showing off the curves. Flare jeans does the job well and it also optically prolongs the figure, which I need. I was looking for a blue washed flares for ages. Finally I found one on my last visit in London. I combined it with a stripe turtleneck and cropped trench coat, which prolongs the figure even more. This look can be worn with longer trench and it looks nice and polished. I'm not one of the tallest people out there and every time I have opportunity to make myself look bit taller, I go for it. High heel ankle boots with ten centimeters long heels are hidden under flare jeans, but it is exactly how I like to wear it. I let only the tip of the shoes peak out. Who is not a big fan on flare jeans, you can wear this look with a skinny jeans and pumps, and it looks great too. Which version do you prefer? I accessorized this retro chic look with a red satchel handbag and I'm good to go.
Top: H&M (similar here)
Jeans: Forever21 (similar here)
Coat: Zara (similar here)
Handbag: Pinkhead
Watch: Calvin Klein (similar here)
Ring: Bondiamo
Photos by: Jefferson Kenji
Thank you very much for reading. I hope you liked this outfit and if so, please let me know in the comment section down below. Or simply support me by liking my Facebook page, or heart me on instagram. Let me know if this is your cup of tea or how would you combine it. Have a great day. ♥