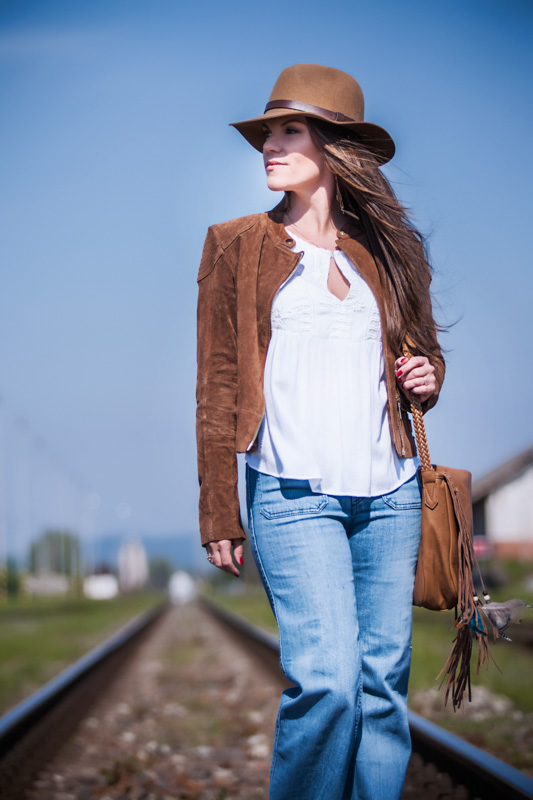 Dobré ráno a vitajte na blogu. Dnes je tu nový outfitový článok Flare jeans a White blouse  široké džíny a biela blúzka. Ako ste si mohli všimnúť, ja som už festivalo naladená.
Ako ste na tom vy? Kam sa chystáte tento rok? Pohoda, či Grape? Dlho som zháňala široké nohavice, až som konečne natrafila na tieto, som rada, že som počkala. A úplne ich zbožňujem. Cítim sa v nich ako ryba vo vode, sú také pohodlné. Majú vysoký pás s vačkami napredu,krásne predĺžia nohy a polichotia každej postave. Teda aspoň tej mojej, pretože som nízka a tých pár centimetrov navyše vždy potrebujem. Zakryjú to čo majú, zvýraznia pás a vyzdvyhnú zadok a boky. I keď tu to až tak vidno nie je, pretože pás zakrýva blúzka. Momentálne sú veľmi trendy i keď si všímam rôzne názory najmä na internete a blogoch. Nie každý je veľkým fanúšikom širokých nohavíc, či riflí. Buď ich miluješ, alebo ich nenávidíš. Ja rozhodne patrím do prvej skupiny. A čo vy? Máte radi široké rifle, či nohavice?
Problém so širokými, či zvonovými riflami je, že niektoré ženy si nevedia vybrať typ strihu, ktorý lichotí ich postave. Pokiaľ má žena príliš široké stehná, nemala by si kupovať obtiahnuté na stehnách a rozširujúce na od kolien, ale skôr také, ktoré sa rozširujú rovnomerne od vrchu ako tieto. Tiež by mali dbať na to, aby neboli príliš krátke, tým pádom postavu skrátia. Aj s topánkami by mali byť tesne nad zemou, už vôbec by sa nemali vláčiť po zemi.
Široké rifle som skombinovala s bielou vyšívanou blúzkou. Má to byť uvoľnení výzor, ktorý je vhodný aj na bežné nosenie. K tomu hnedú bundu, ktorú som si kúpila ešte v zľavách. K širiokým nohaviciam jednoznačne patria sandále na platforme a tiež kabelka so strapcami, ktorá má na boku farebný pierkový detail. Páčia sa Vám strapce, či nie je to Váš sálok kávy? Nesmel chýbať ani klobúk, ktorý mi skoro odfúklo a tak som si ho musela neustále držať. Dlhé naušnice a jeden vačší prsteň, pretože ako som už spomínala v minulom článku tu, nerada som príliš ovešaná a všetkého tak primerane. Určite mi dajte vedieť, ako najradšej nosíte široké nohavice vy?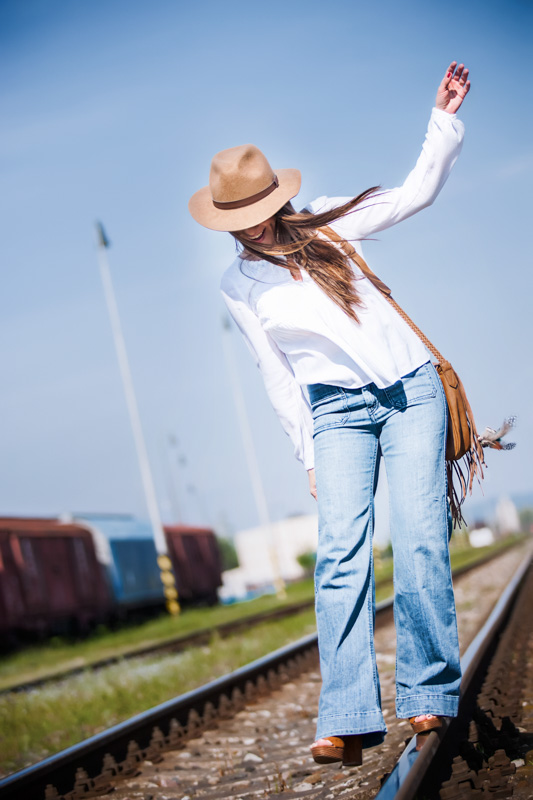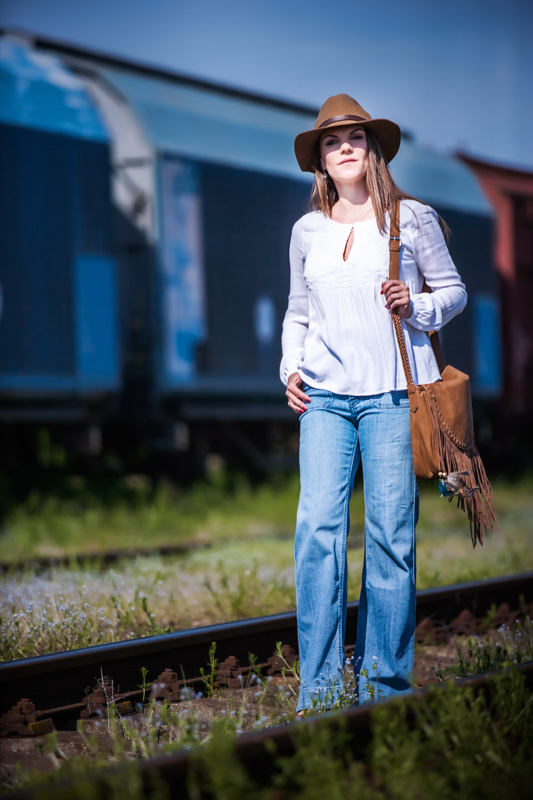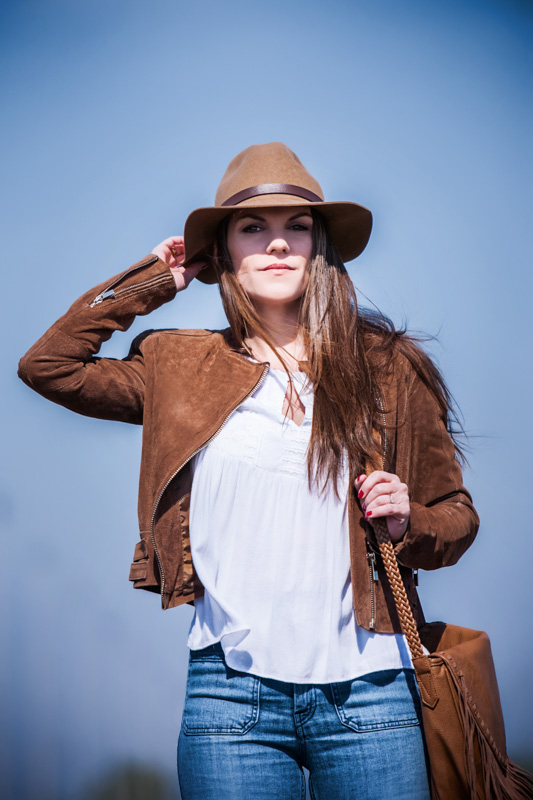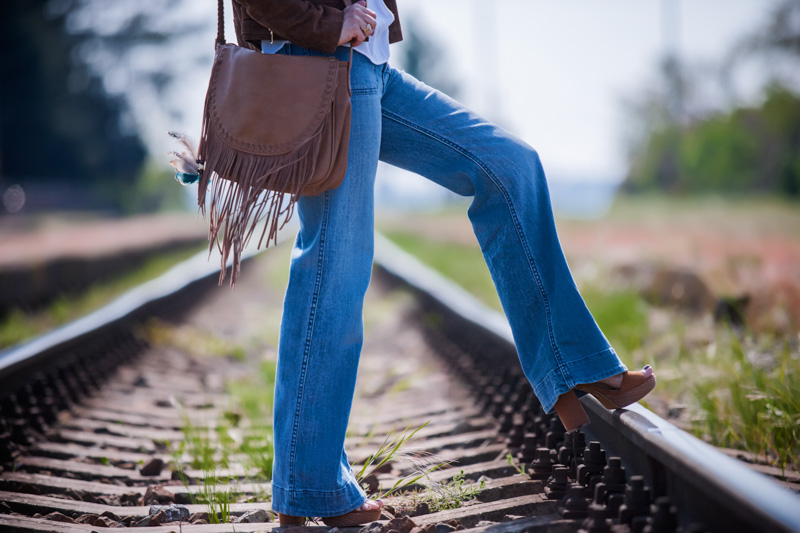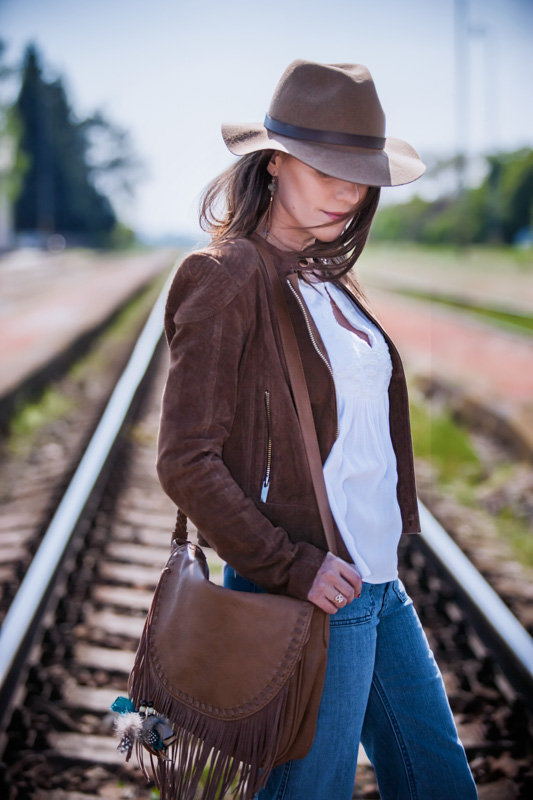 Top:: Zara (podobné tu )
Rifle:: H&M (podobné tu a tu)
Bunda:: Mango (podobná tu)
Topánky:: Stradivarius (podobné tu a tu)
Klobúk:: H&M (podobný tu)
Prsteň (stále platí 15% zľava s kódom MAMA)
Náušnice:: Zara (podobné tu)
Fotky: Romana Chudíková
Ďakujem pekne za prečítanie. Majte sa krásne. ♥
♦ ♦ ♦ ♦ ♦ ♦ ♦ ♦ ♦ ♦ ♦ ♦ ♦ ♦
Good morning and welcome to my blog. Today very relaxed and easy going look with a boho twist. Flare jeans and white blouse. As you can see I"m already in a festival mood. Where are you heading this year? Pohoda, Grape festival?
I was looking for a pair of flare jeans long time. Finally I got these and I'm glad I waited. I absolutely adore them. Super comfortable I feel like a fish in a sea. They have high waist with a front pockets, which is a lovely detail. They prolong and flatter almost every figure. Especially mine, because I'm on a small side so I always need some extra centimeters. It hides what it needs to and highlight bottom and hips. You can't see here much as I'm coveting it with the blouse. But believe me, they make me feel like a model. They are very popular at the moment even tough I see different opinions about flares. You either love it or you hate it! I definitely belong in a first group. How about you? Do you like wide or flare jeans?
The problem with flare jeans is that some women don't choose the right cut that flatters their figure the best. If you have wide tights for example, definitely don't buy skinny on the top and wide from the knees. Good choice is wide from the top as it balances out the bottom and hips with tights. And they are definitely better longer than shorter; it can make you look smaller. Also they should not rub against the floor.
I combined the jeans with white blouse that has sewing detail on the front. It's so cute. It is an easy going look, not only for festival but every day also. I paired it with a platform sandals and brown jacket, which I bought on sales. Fringe handbag, I adore this bag a lot, it has a feather detail on the side and I can fit in a lots of things. How about you do you like fringe at all? I couldn't go without my brown hat even though it was extremely windy and it almost lost it. I do not wear much accessorize here because I don't like to have too much on. So long earrings with feather and beads and one bigger ring is enough for me. Like I said in my previous article here I don't like to wear too much accessorize less is more I think. And I'm good to go.
Top:: Zara (similar here )
Bottom:: H&M (similar here or here)
Jacket:: Mango (similar here)
Shoes:: Stradivarius (similar here or here)
Hat:: H&M (similar here)
Ring:: Bondiamo (15% off with code MAMA)
Earrings:: Zara (similar here)
Photos by: Romana Chudíková
Thank you very much for reading. Have a great day!