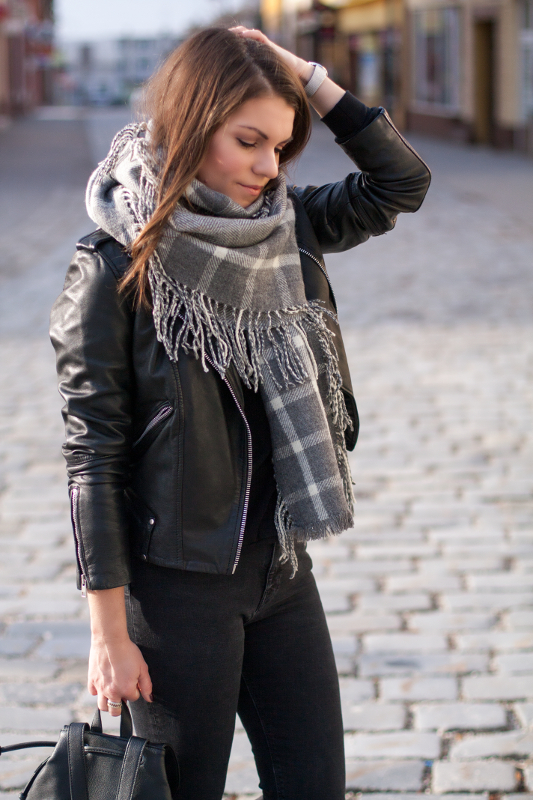 Ahoj a vitajte na blogu, dúfam, že ste si užili krásny Valentínsky víkend. Dnes mám na blogu ďaľšiu outfitovú inšpriáciu na bežné nosenie, keď sa chcem cítiť pohodlne. Vhodný na behanie po meste, shopping, prechádzku s naším drobcom, do detského centra, alebo na kávičku s kamoškami. Jednoducho mamina v pohybe.
Outfit v neutrálny farbách som oživila červenými teniskami, ktoré ste už na blogu, či instagrame určite videli. Klasika. Z niejakého dôvodu, mám vždy potrebu skombinovať čierno-bielo-šedý outfit s červenou. Tiež máte niejakú zaužívanú farebnú kombináciu? Tenisky sú extra pohodlné, dodajú outfitu šmrnc a farebne ho podtrhnú. Červená je moja obľúbená a pre niekoho to môže byť už obohraná pesnička, ale mňa táto kombinácia stále baví. Minule som tak stála pri skupinke troch mladých chalanov a všetci mali obuté červené tenisky podobné týmto. Bolo to úsmevné, ako sme tam všetci stáli a pozerali si na chodidlá. 😀
Ďaľšia perfektná voľba na ulietané dni je môj strapcový batoh. Pôvodne som mala zálusk na tento batoh, ale ako vravím, na všetko sa dá nájsť cenovo dostupnejšia verzia, ktorá stále vyzerá hip a chic. Nahádžem tam všetko, čo potrebujem a môžem vyraziť. A čo vy, uprednostňujete kabelky? Batoh má zaujímavý strapcový detail, bez ktorého by som ho pravdepodobne prehliadla. Dizajnéri sa na strapcoch tentokrát naozaj vyšantili, sú úplne všade! Je to jeden z top trendov jarnej sezóny 2016. Nájdete ich na bundách, topánkach, teniskách, šáloch, kabelkách, kabátoch, náušniciach, pulovroch, kardiganoch, nohaviciach a ja neviem ešte kde všade. Tak, ak žiadny kúsok so strapcami zatiaľ nevlastníte, je pravdepodobné, že im túto jar celkom iste podľahnete. Niečo na tých strapcoch proste je. Celý look som doplnila šedým kockovaným šálom s bočnými strapcami, veď keď už strapce, tak poriadne. 😉 Súhlasíte?
Pulover: Pull & Bear (podobný tu)
Rifle: Zara
Bunda: Mango (podobná tu)
Tenisky: Tory Burch (podobné tu)
Batoh: Mango (podobný tu)
Šál: Asos (podobný tu)
Hodinky: Calvin Klein (podobné tu)
Prsteň: Bondiamo
Fotky: Jefferson Kenji
Ďakujem pekne za prečítanie, dúfam, že sa Vám outfit páčil. Keď tak mi dajte vedieť dolu do komentu, čo by ste na ňom zmenili, ako by ste ho skombinovali vy? A aký kúsok Vás najviac zaujal. Podporiť lajkom ma môžete na mojej Facebook stránke, alebo srdiečkom na Instagrame. Majte sa krásne. ♥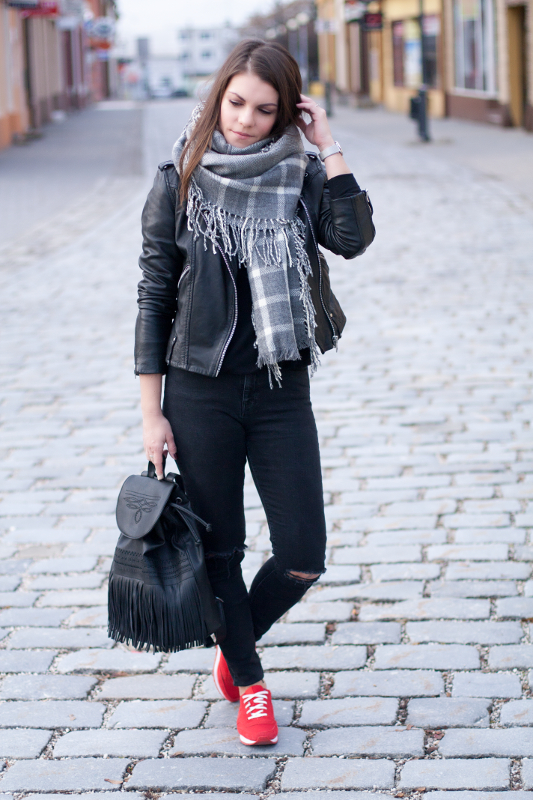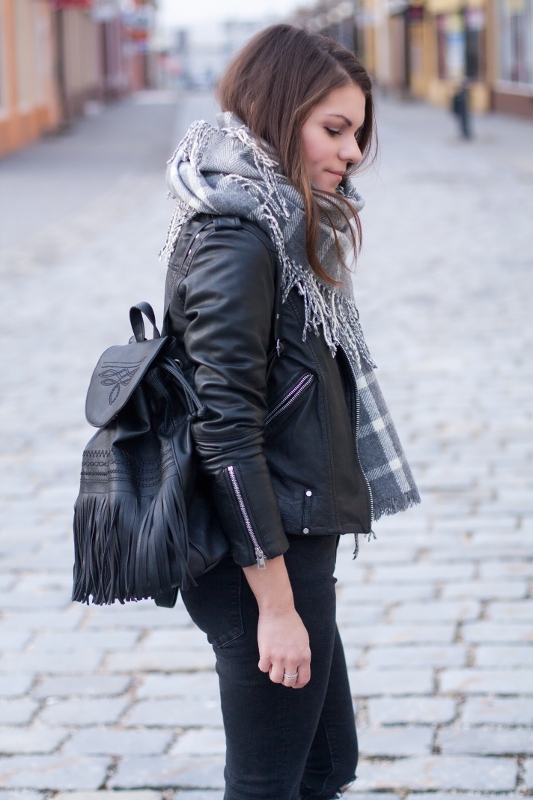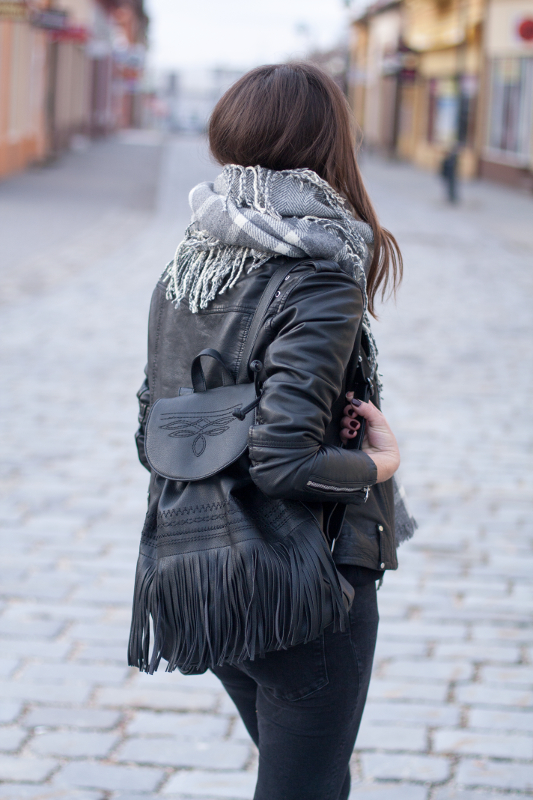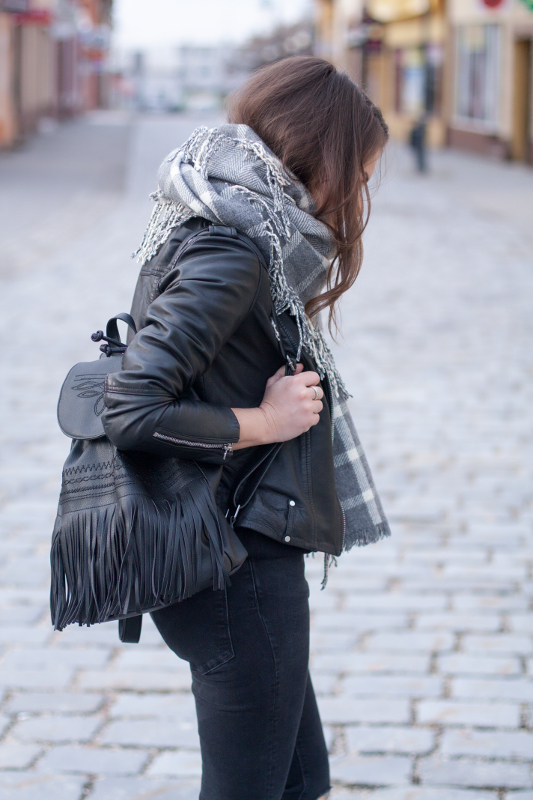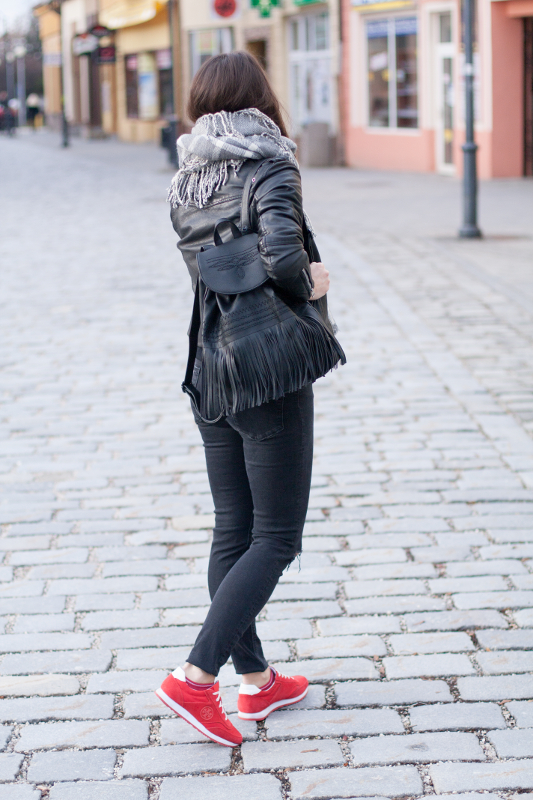 ♦ ♦ ♦ ♦ ♦ ♦ ♦ ♦ ♦ ♦ ♦ ♦ ♦ ♦ ♦
Hello there and welcome to my blog. I hope you had an fantastic Valentine's weekend. Today I have another outfit inspiration for you guys. Something casual for a busy day, running errands, dropping my little one to school or shopping. Something I normally wear when I want to feel really comfortable but still look put together.
I brightened up the whole neutral look by wearing my all time favorite red sneakers, which you could already see on the blog or instagram. Classic. For some reason I tend to combine black-white-grey outfit with a pop of red. Do you also have habitual color combos?I adore this combination, super comfortable, red sneakers add a pop of color and edge to an outfit. Red is one of my favorite colors and it might seem like a broken record, but I love it. Last week I was standing outside and there was a group of three guys next to me, they all have worn red sneakers similar style to these ones here. It was funny we all just stood there, staring and smiling. 😀
Another perfect option for a mom on the go is also my fringe backpack. Originally I was eyeing this one here. 😉 But you know, for everything you can find more affordable version that still looks hip and chic. I throw it all in and I'm good to go! How about you, do you prefer handbags instead? It has an interesting fringe detail at the bottom and it would probably go unnoticed without it. Designers went on fringe even bigger than last year, it's like literally everywhere. One of the top trends of spring season 2016. You will find it on jackets, shoes, scarfs, handbags, earrings, jumpers, cardigans, trousers, coats and I don't know where else. So, if you haven't got any fringe piece yet in your closet, it is very likely you will give in this spring. I accessorized the look with nothing else but skinny check scarf with a side fringe. 😀 There is something about that fringe, you know.
Jumper: Pull & Bear
Jacket: Mango (similar here)
Jeans: Zara (here)
Sneakers: Tory Burch (adore these ones here)
Backpack: Mango (similar here)
Scarf: Asos (similar here)
Watch: Calvin Klein (similar here)
Ring: Bondiamo (love this one here)
Photos by: Jefferson Kenji
Thank you very much for reading. I hope you liked this outfit, if so, please let me know in the comment section down below. How would you combine this outfit, what would you change or which piece you like the most. You can also support me by liking my Facebook page, or heart me on instagram. Have a great day. ♥