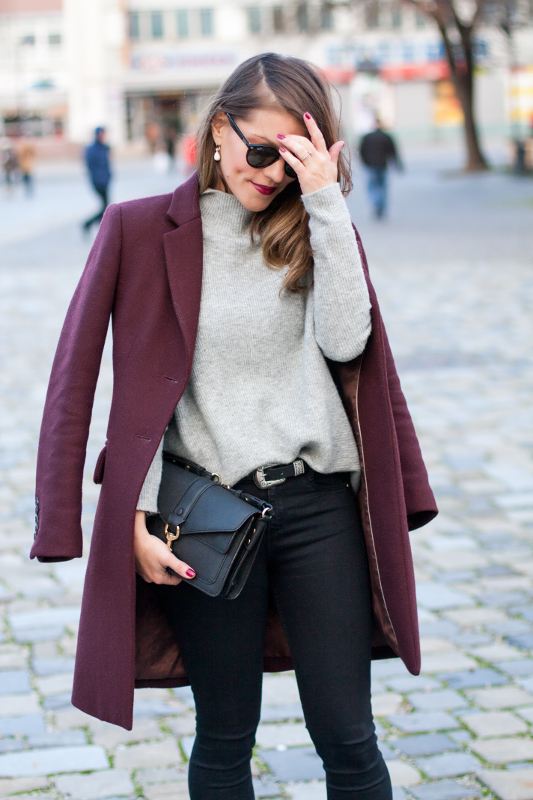 Ahojte a vitajte na blogu. Ako sa máte, ako prežívate tento predvianočný čas? Máte zhon, či pohodičku? A ako ste si užili Mikuláša? My sme si ich užili hneď niekoľkých. Náš drobec sa vôbec nebál a pekne zarecitoval a dokonca chcel čerta vyplatiť po zadku. 🙂 Celá mama! Po krátkej pauze tu mám pre vás outfit z minulého týždňa. Teraz je to s fotením oveľa ťažšie, koľkokrát musím fotenie odložiť kôli počasiu, alebo nepriaznivému svetlu.  Tiež nájsť si čas, je dosť náročné, hlavne teraz pred Vianocami.
Aké farby najradšej nosíte na jeseň, alebo cez zimu? Ja si v poslednej dobe si dosť ulietavam na čiernej farbe a šedej, proste žiadne extrémne farebné kombinácie. Nový kúsok v tomto outfite je šedý pletený rolák, ktorý som si kúpila len nedávno. Skombinovala som ho s čiernymi denimovými nohavicami, ktoré sú momentálne moje najviac nosené. Super sedia, nie sú s vysokým pásom, ktorý mám viac v obľube, napriek tomu sa v nich cítim pohodlne. Nájsť denimové nohavice, ktoré padnú ako uliete je ako hľadať ihlu v kope sena. Asi si pre istotu kúpim ešte jedny. Po dlhom čase som vytiahla aj moje členkové čižmy s leopradým vzorom, nech to má trochu šmrnc. Viem, že nie každá žena ho môže, ale keď sa outfit doplní len jedným kúskom alebo detailom, je to fajn. A chodiť po meste v nich nie je žiadna sranda, tie kachličky sú na zabitie. Do outfitu som skombinovala vínový kabát, ale vhodný by bol aj béžový, hnedý alebo čierny. Kabelka, okuliare a môžem vyraziť. 🙂
Rolák: Promod (podobný tu)
Nohavice: Zara (podobné tu)
Kabát: Mango (podobný tu)
Topánky: Dolce Vita (podobné tu)
Kabelka: Rebecca Minkoff (podobná tu)
Fotky: Jefferson Kenji
Ďakujem pekne za prečítanie, dúfam, že sa vám outfit páčil, keď tak mi dajte vedieť dolu do komenutu, alebo lajk na facebooku, či srdiečko na instagrame. Majte sa krásne. ♥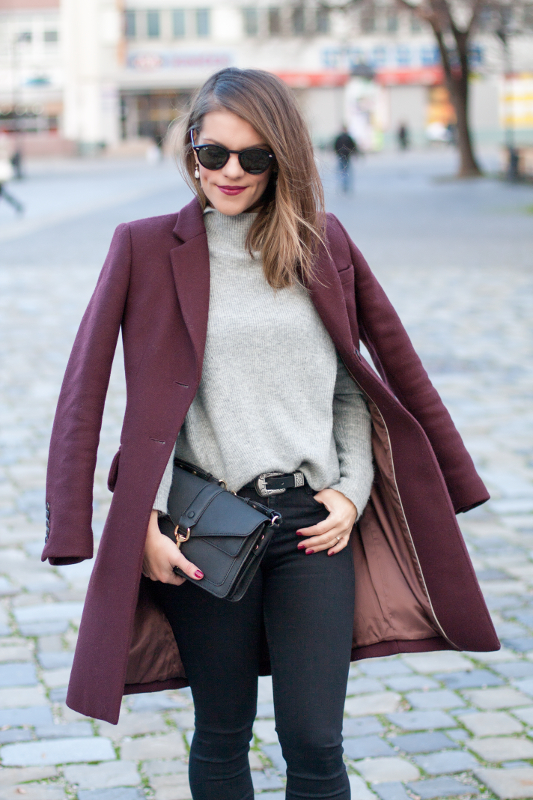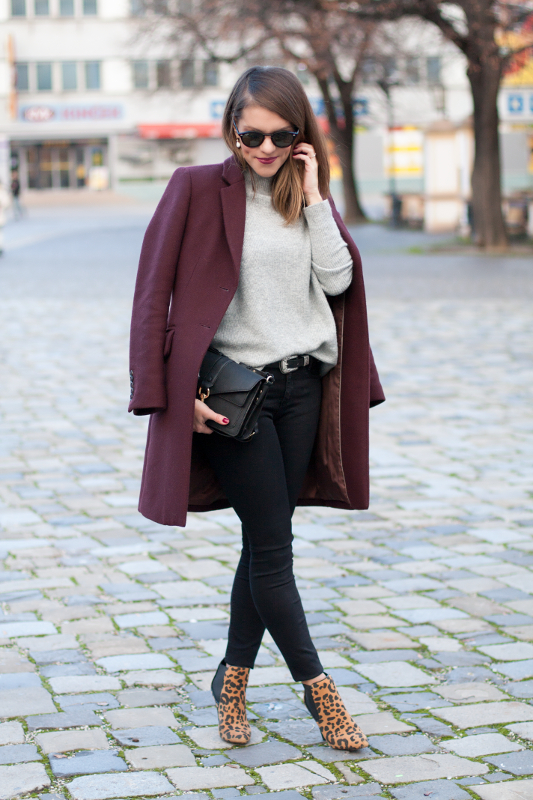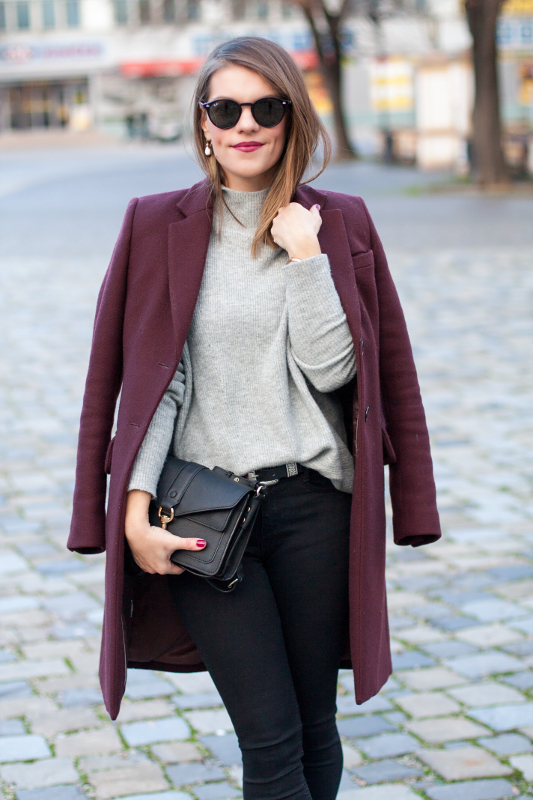 ♦ ♦ ♦ ♦ ♦ ♦ ♦ ♦ ♦ ♦ ♦ ♦ ♦ ♦
Hello guys and welcome to my blog. How are you doing these days? Rushing out or not? Have you enjoyed Saint Nicholas's day with your kids? Were they scared or cool? We enjoyed quite a few, different places and it was nice. Erik recited and wasn't scared at all and he even wanted to beat the Lucifer. It was so funny! Totally me! After a short break I have a new outfit from last week. Lately we have some trouble with shooting, it is either weather or the light outside that is giving us headache. And of course to find time is hard especially now before Christmas.
What colors you enjoy wearing during autumn or winter? I love wearing black and grey lately, no extreme color combos at all. I blame the weather. 😀 So let me tell you abut my new addition the grey jumper that I have bought recently. I combined it with a black jeans, which are my most worn at the moment. To find a good pair of jeans is hard, I consider buying one more. Even tough I prefer high waist I feel very comfy. Long time I wasn't wearing my ankle boots with leopard print, they were in a box for a long time so why not? It brought a little bit of attitude in it, which I like. But let me tell you, walking on these tiles was killing me, seriously. 🙂 I know lots of you can't stand leopard print but when is worn in moderation, it can look really nice. To add some color right there, I styled my look with a wine coat, also camel and black would do it. What else, sunglasses and handbag and I am good to go. 🙂
Jumper: Promod
Jeans: Zara
Coat: Mango
Shoes: Dolce Vita
Handbag: Rebecca Minkoff
Photos: Jefferson Kenji
Thank you very much for reading I hope you enjoyed this article, if so please let me know in the comment section down bellow. Also you can give me thumbs up on Facebook or heat me on instagram too. Have a great day. ♥