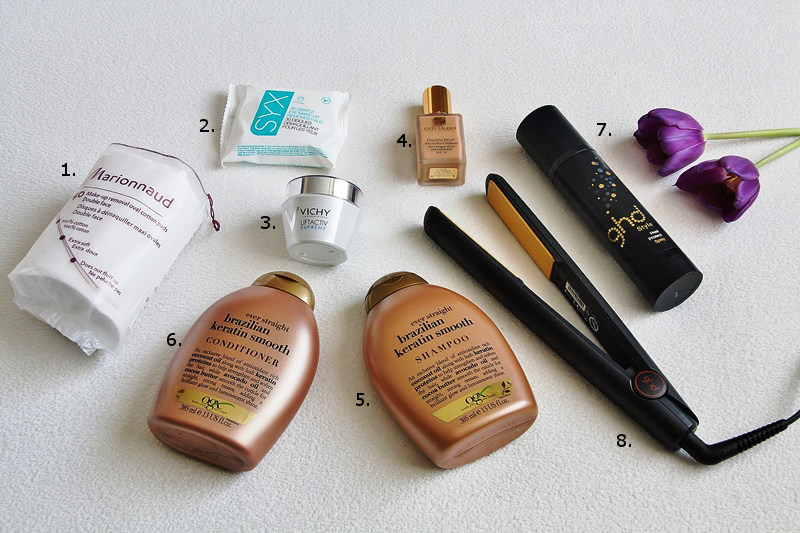 Dobré ráno a vitajte na blogu. Dúfam, že ste si užili krásny víkend. Dnes je tu článok o mojich produktových novinkách, predstavím Vám produkty, ktoré som nedávno objavila, či zakúpila. Sú to najmä produkty určené najmä pre startostlivosť o vlasy a pleť.
1. Marionnaud – Odličovancie tamóny na tvár, ktoré som nedávno objavila v drogérii Marionnaud sú úplne skvelé, veľké, oválne a obojstranné zo 100% bavlny. Na bežné odlíčenie mi stačia dva tampóny. Klasické okrúhle spotrebujem štyri a viac, čím, menej úkonov pri odmaľovaní tým lepšie a hlavne praktickejšie. Sú jemné a šetrné k pleti, konečne nemám pocit ako keby som si prechádzala šmirgľom po tvári. Momentálne veľmi obľúbené, určite doporučujem.
2.SYX – Vlhké odličovacie tampóny na oči, tiež z drogérie Marionnaud, ktoré sú veľmi fajn, šetrné na pokožku okolo očí, na ktorú treba dávať viac pozor, je tenšia a jemnejšia a rýchlejšie starne. Používam ich skôr výnimočne, najmä keď prídem domov unavená z práce a nechce sa mi tráviť ďaľšiu pol hodinu odličovaním,  je to rýchla náhrada za micelárnu vodu. Prvý krát ma trošku zarazila cena, tri eurá za také nič si hovorím, je ich tam len tridsať. Klasicky malé okrúhle, ale sú naozaj kvalitné, takže skončili v košíku znovu.
3. Vichy LiftActive Supreme – denný zpevňujúci krém proti začínajúcim vráskam pre normálnu až zmiešanú pleť. Neobsahuje žiadne parabény, hypoalergénny a tiež sa sa hodí pre citlivú pleť. Dá sa použiť aj na noc, čo mi vyhovuje, nerada mám xy krémov, hlavne keď cestujem, jeden mi úplne stačí.
4. Estée Lauder Double Wear Make up – odtieň Pale Almond C2C dlhotrvácny, stredne krycí make up na tvár s SPF10, ktorý mám krátko, pôvodne som si chcela na odporučenie kúpiť Clarins, no nemali môj odtieň.  Bez olejov, čo mi vyhovuje, pretože mám zmiešanú pleť, ale raz za čas treba aj prepudrovať, je neparfumovaný, neupcháva póry a vydrží naozaj celý deň a vytvorí na pleti matný finish. Určite bude aj recenzia.
5. OGX Brazilian Keratin Smooth Shampoo 385ml– šampón obsahujúci zmes antioxidantov, bohatý na kokosový olej a keratínové proteíny. Objednala som si ho hlavne preto, lebo momentálne používam Tony & Guy, ktorý musím bohužiaľ vyradiť, aj keď konečný výsledok je super, na hlave sa mi začali robiť malé chrastičky a tiež sa mi vlasy rýchlejšie mastnia.  Je pre mňa príliš silný a potrebovala som niečo menej agresívnejšie a hlavne niečo, čo moje vlasy naozaj vyrovná, kedže sa prirodzene vlnia. Zatiaľ som nevyskúšala, pretože mi prišiel len minulý týždeň v piatok, ale pravdepodobne ho vyskúšam dneska a určite o ňom napíšem rezenciu.
6.OGX Brazilian Keratin Smooth Conditioner 385ml – Kondicionér na vlasy s tým istým obsahom keratínových proteínov a kokosovým olejom, ako vyššie uvedený šampón, ktorý tiež obsahuje avokádový olej a kakaové maslo, ktoré zjemní končeky vlasov, pomôže vyroznať zvlnené vlasy a dodá im lesk. Vyzerá veľmi sľubne.
7.ghd Heat Protectant Spray 120ml – Sprej, ktorý chráni vlasy pred poškodením spôsobeným nadmerným teplom, častým žehlením, či fénovaným ako mojom prípade. Obsahuje ghd chrániaci systém. Nezanechá na vlasoch pocit po produkte.  Zatiaľ som nestihla otestovať, ale dnes sa na to vrhnem a dozviete sa niečo viac.
8.ghd IV styler – originálna ghd kermická žehlička, niekoľko násobne ocenná, roky som po nej túžila, už som ju vyskúšala u kaderníka a cez kamarátky, viem, že je dobrá. Potrebujem kvalitu a hlavne rýchlo, aby boli vlasy vyžehlné a rovné. Každá mamina vie aký dôležitý je čas a ja sa vždy snažím byť efektívna, aj keď nie vždy sa mi to darí. Čím menej strávim času s vlasmi tým viacej času mám na niečo iné. Doteraz som používala Remington, naozaj len výnimočne, pretože vlasy sa mi v nej zašklbávali, vytrhávali a žehlenie s ňou mi trvalo večne.
Ďakujem pekne za prečítanie, dajte mi vedieť, či niektorý z produktov používate a aké mate s nimi skúsenosti. Čo trebárs považujete za úplnú zbytočnosť a čo za nevyhnutnosť?
♦ ♦ ♦ ♦ ♦ ♦ ♦ ♦ ♦ ♦ ♦ ♦ ♦ ♦
Morning guys. I hope you had a lovely weekend. Today's article will be about products I have recently discovered or purchased, mainly hair and beauty related.
1. Marionnaud – large make up removal tampons, which I have discovered recently in drug store Marionnaud. Oval, double face 100% cotton. Very gentle to the skin, finally I don't have burning sensation to my skin and it doesn't feel so rough. I use only two tampons for a basic make up removal routine, before I used 4 small ones, it's just less work. My favorite item at the moment.
2.SYX – wet eye make up removal tampons also from drug store Marionnaud, you absolutely need these. I use it on the ocassion tough as a quick fix instead of micelar water when I'm tired and can't deal with the whole make up removing routine.
3. Vichy LiftActive Supreme – daily anti wrinkle and firming cream for normal to combination skin. No parabens, hypoalergenic, suitable for sensitive skin like mine. Can use also during night, which is good I don't like to have xy creams especially when I travel.
4. Estée Lauder Double Wear Make up – shade Pale Almond C2C, long lasting make up, medium coverage with SPF 10. My friend recommended Clarins they didn't have my color type. Next time! No oils, which is good I have combination skin, need to brush with powder time to time. Fragrance fee, doesn't clog pores and creates matte finish.
5. OGX Brazilian Keratin Smooth Shampoo – shampoo contains a blend of antioxidants, which is rich on cocounut oil and keratin proteins. I ordered because my current shampoo Tony & Guy is way too agressive for my sculp. I need something less strong and mainly something that tames my naughty hair that are naturaly wavy. So far I haven't tested it but sure once I do I'll write a review.
6.OGX Brazilian Keratin Smooth Conditioner –  hair conditioner with the same ingredients as above, also contains avocado oil and cocoa butter that softens dry ends and helps straighten wavy and curly hair with a shine finish. It looks promising.
7.ghd Heat Protectant Spray 120ml – heat protect spray which protects hair from overly blowdrying or ironing your hair which is my case I do dry my hair quite often. Simply because I don't have that kind of time to let it dry naturally. My hair is very heavy and doesn't dry easily. It has a special ghd protect system. I haven't tested yet but I can't wait to do it later.
8.ghd IV styler – original ghd ceramic iron, multi award winning I wanted it for ages, used it before so I knew what I was getting. I need my hair to be done fast, I needed straight with no hussle. Every mum know time is precious comodity. I always try to be effective but is not always possible. All I know the less time I spend doing my hair the more time I have to do other things. I used Remington on a ocassion because it pulled my hair out, took me ages to straighten it and it wasn't even straight.
Thank you very much for reading. Let me know if you use any of these products and what is your experience like. What do you consider as a useless and what is absolute necessity. Have a great day.