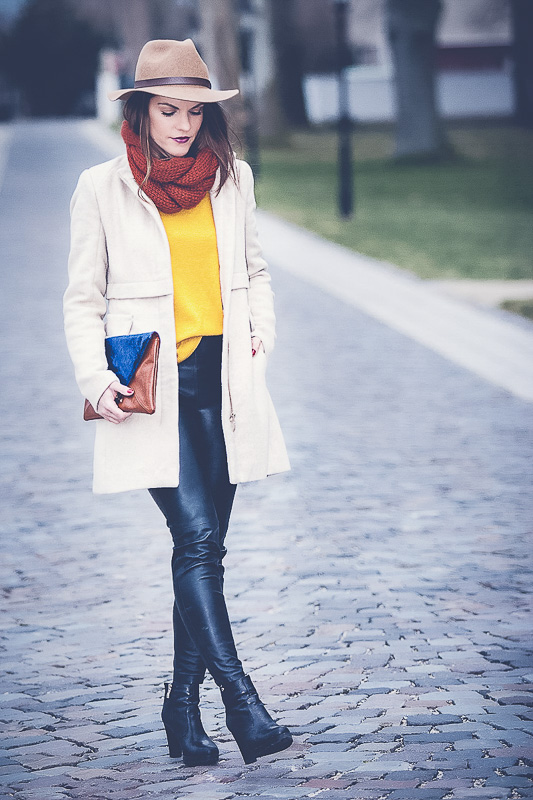 Krásny Pondelok a vitajte na blogu. Dúfam, že ste si užili pohodový víkend, ja rozhodne áno, lebo som ho strávila so svojimi najbližsími na wellness pobyte v Chateau Appony, odkiaľ sme Vám stihli nafotiť aj tento outfit. Viac fotiek nájdete aj na mojom istagrame tu, ktorými Vás budem bombardovať počas dnešného dňa.
Keď si človek predstaví koženné nohavice, každého hneď napadne rock and roll, vybíjané čižmy, koženná bunda, či kockovaná košela, reťaze alebo ovysnutá čiapka. Tieto výzory sú taká klasika, nie že by sa mi nepáčili, práve naopak, ja ich tiež rada nosím na veľa spôsobov, ale chcela som skúsiť aj niečo iné. Naozaj keď som si zadala do vyľadávača leather pants, vyhodilo mi to jednofarebnné vzhľady, väčšinou čierne teda ako som aj predpokladala, maximálne jedna farba. Ja som sa rozhodla koženné nohavice poňať po svojom a trošku ich oživiť horčicovým svetríkom, túto farbu priznám sa nosím málo, ale veľmi sa mi páči. Je to farba jesene, neviem, či som jesenný typ, alebo zimný stále neviem sa rozhodnúť, čo myslíte vy? Hodia sa mi takéto farby? K tejto horčicovej žltej som doplnila, oranžovo-tehlový šál, ktorý ste mohli u mňa vidieť napríklad aj tu a ako zvolila dvojfarbenú modro-hnedú obálkovú kabelku. Béžový kabátik, ktorý som si nedávno kúpila a hnedý klobúčik sú neutrálne. Klobúky sú horúcim hitom, ja mám asi tri, no málo ich nosím väčšinou keď je sychravejšie počasie dobre poslúžia ako dáždnik, ale tiež ako módny doplnok.
Outfit: Kabát:: Stradivarius, Nohvice:: Zara, Sveter:: H&M, Šál:: Promod, Topánky:: Kati, Klobúk:: H&M, Hodinky:: Micheal Kors, Kabelka:: Review
Príležitosť: bežnné nosenie, práca, rande, kino
Tipy: držím sa pravidla, dve susedné farby a jedna protichodná, ktoré spolu ladia, ostatné musí byť neutrálne, i keď nie vždy sa to podarí
Fotky: Romana Chudikova
Ďakujem pekne za prečítanie, dúfam, že sa Vám tento outfit páčil, keď tak dajte mi vedieť, čo si o ňom myslíte, ako by ste to trebars skombinovali vy, či nosíte radi koženné nohavic, či klobúky, alebo to neni úplne Vaša šálka kávy?
Krásny zvyšok dňa. ♥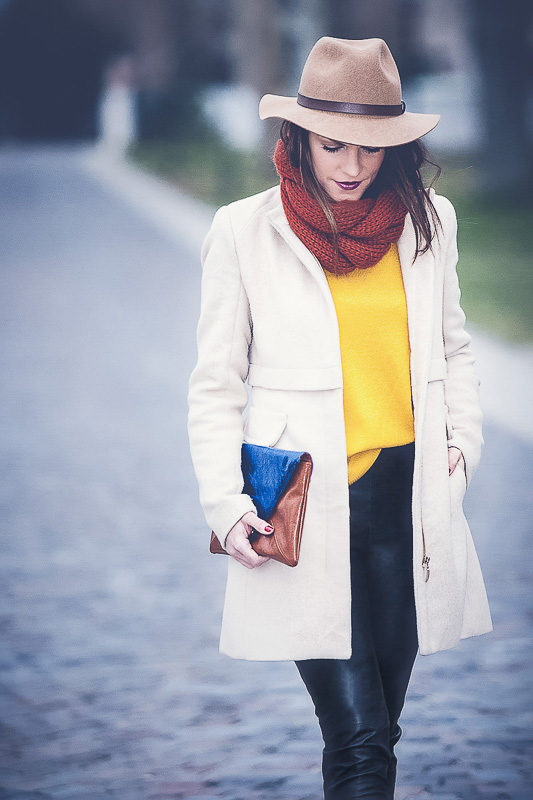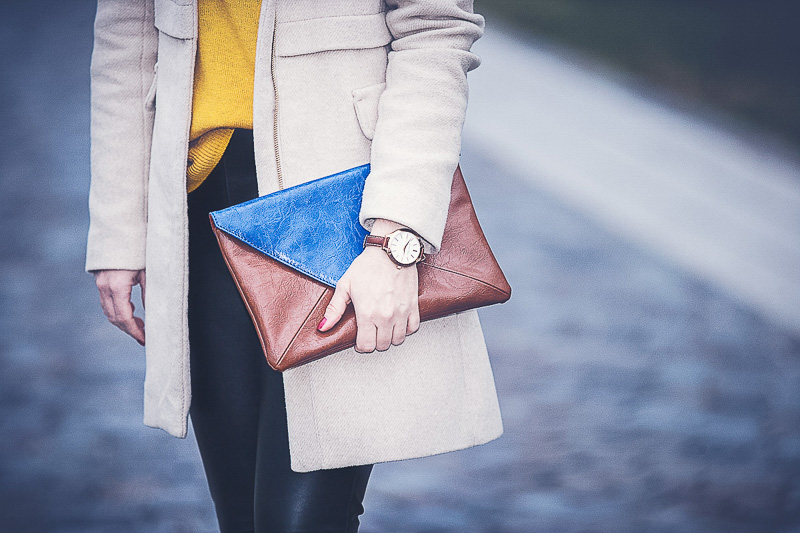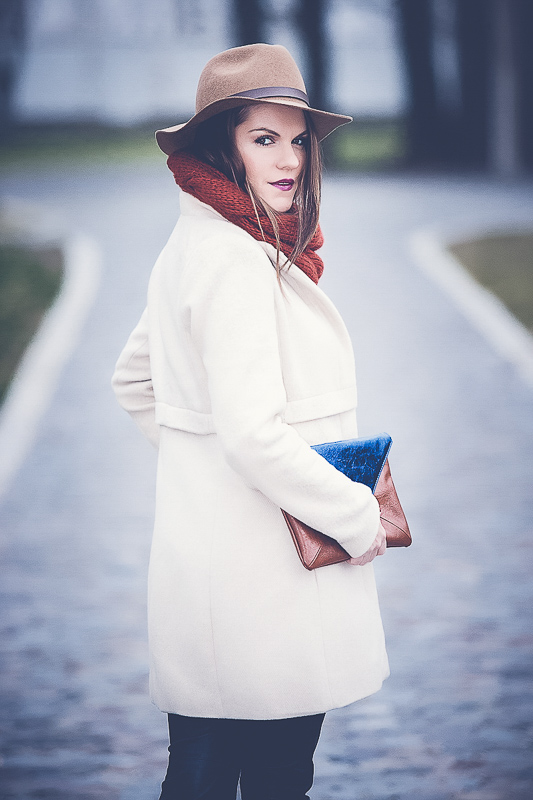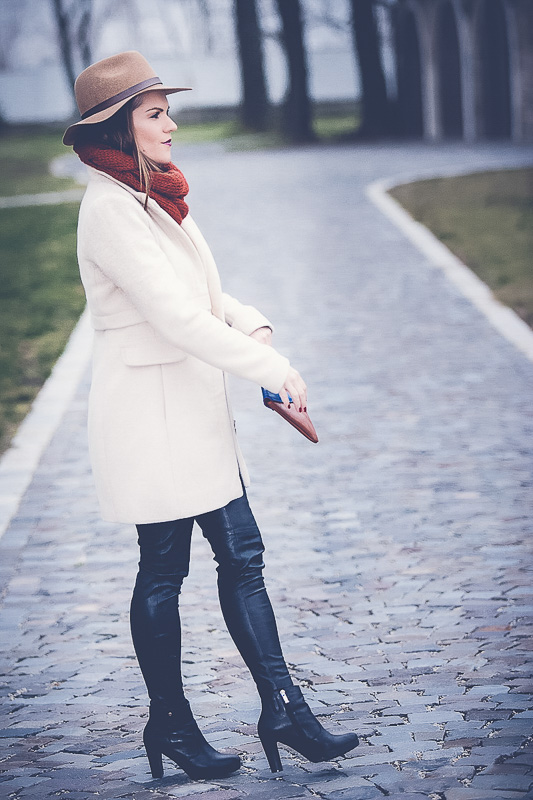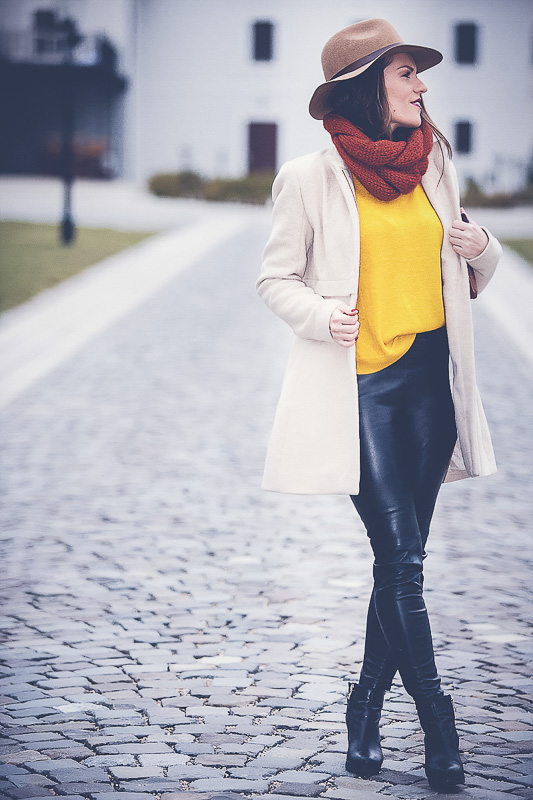 ♦ ♦ ♦ ♦ ♦ ♦ ♦ ♦ ♦ ♦ ♦ ♦ ♦ ♦ ♦
Happy Monday everyone and welcome to my blog. I hope you had a lovely weekend. I certainly did. We have been in wellness spa relaxing weekend in Chateau Appony. Yo can find more pictures on my instagram here, where I will be posting more pictures during the day.
When you think of leather pants the first thing that comes to your mind is rock and roll, you imagine some bad ass girl or guy with studded boots, leather jacket, chains, checked shirt and hat or a beany. All in black of course! Not that I don't like it I love the leather pants and wear them many ways but I have decided to brighten them up a bit and not go for the classic usual looks. When I tried to search for leather pants all that came out was black outfits, no color and if so just one, red (checked shirt)! 🙂 I paired my leather pants with mustard jumper and accessorize with brick orange scarf, you could see it on me in my outfit also here and two color envelope handbag. I love the color of this jumper even tough I can't decide if it's my color really I'm not sure still if I'm an winter or Autumn type. What do you think?  🙂 I wear my new camel coat and brown hat and high heel ankle boots.
Outfit: Coat:: Stradivarius, Bottom:: Zara, Top:: H&M, Scarf:: Promod, Handbag:: Review, Hat:: H&M, Watch:: Micheal Kors
Occassions: casual, date, brunch, work etc.
Tips: I encorporate max 3 colours usual two neighbouring and one opposite, the rest of the outfit is in neutrals
Photos by: Romana Chudikova
Thank you very much for reading. I hope you liked this post, let me know if so in the comments section how would you combine it. If leather pants and hats are your cup of tea or not really?
Have a lovely rest of the day! ♥