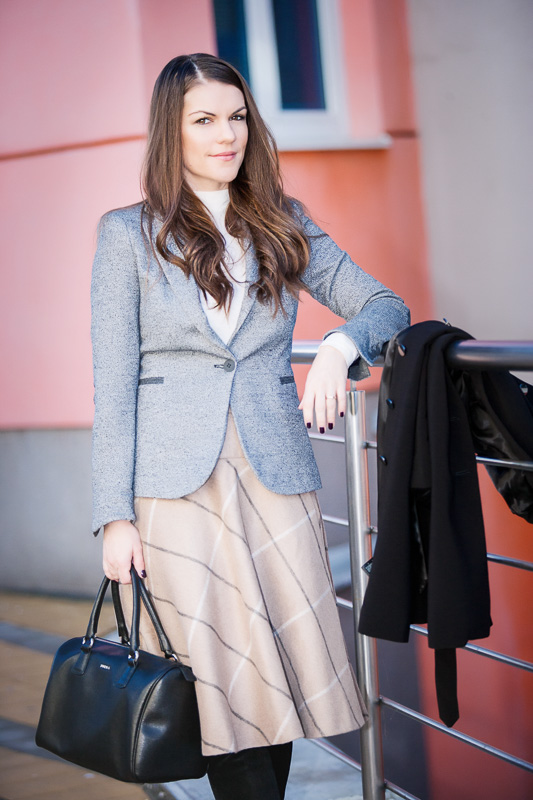 Hello everyone and welcome to my blog. I hope you are having a wonderful Friday.
I started working recently so this is one of my working outfits. We had sunny morning while shooting this which was so nice after snowy, rainy and freezing days. We do not have a strict dress code policy at work and I can wear a pair of jeans with checked shirt but I also like to wear something more conservative and elegant time to time. I wear midi skirt which is very feminine with white turtleneck, blazer with patches on elbows and long black coat. I also wear a over the knee boots which you could already see in my previous post here. I like this look a lot, it make my figure very feminine yet professional. I accessorized the look with my bowler bag where I can fit all my stuff in it.
Outfit: Skirt:: Zara, Blazer:: Zara, Top:: Promod, Coat:: H&M, Boots: Zara, Bag:: Furla
Occasions: work
Tips: wear belt if you wish to highlight your waist more
Photos by: Romana Chudikova
Thank you very much for reading. I hope you liked this post. If so let me know down bellow in the comments section. What kind of clothes do you wear to work. What look do you prefer professional or casual? What is your favorite outfit you to wear to work?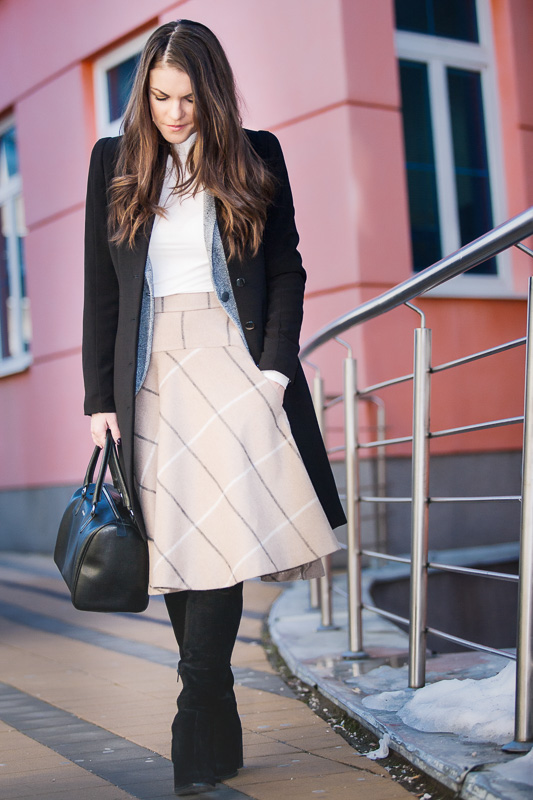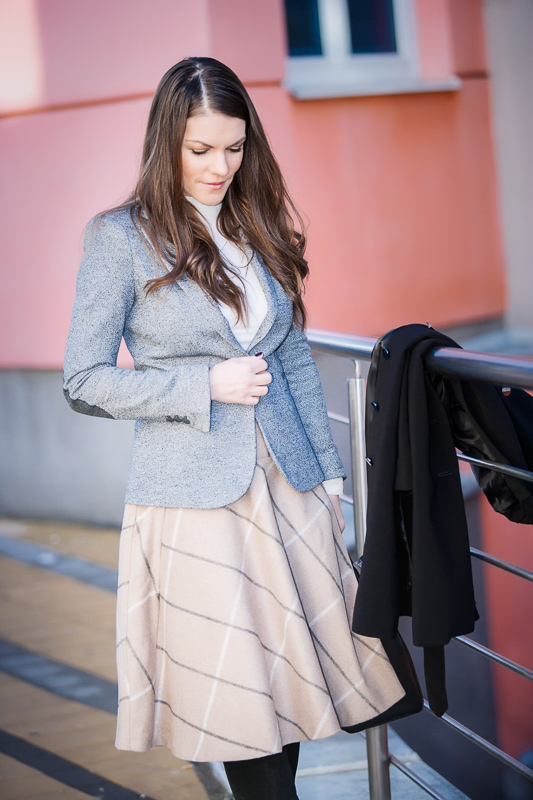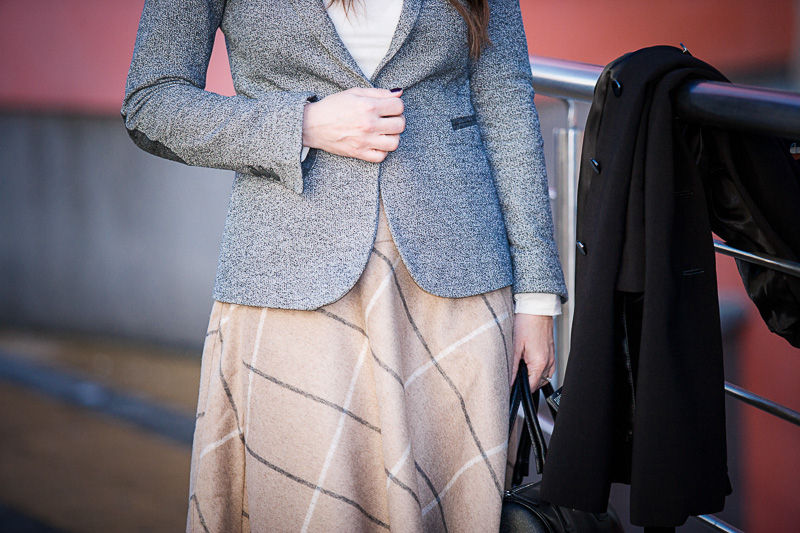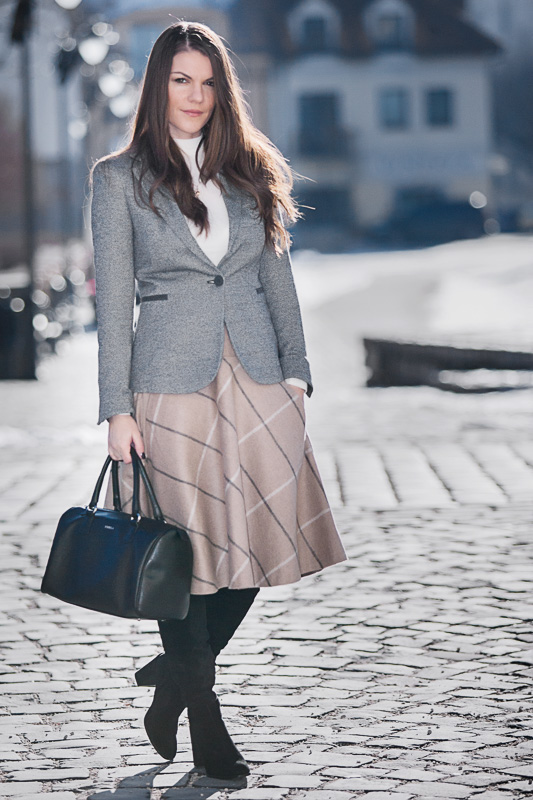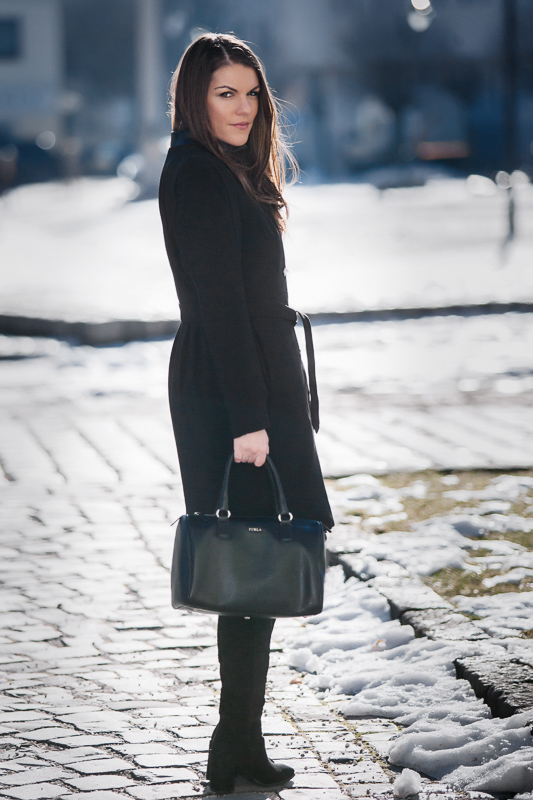 ♦ ♦ ♦ ♦ ♦ ♦ ♦ ♦ ♦ ♦ ♦ ♦ ♦ ♦
Ahoj a vitajte na mojom blogu. Dúfam, že máte krásny piatok, je tu koniec týždna hurááá. 🙂 Víkend môže začať. Aký máte plán na víkend? Oslavujete Valentína, či ani moc nie? Ráno pri fotení nám pekne vyšlo slniečko, aj sa trošku oteplilo, konečne, že? Dneska je to pracovný outfit, vrátila som sa do práce po materskej. V práci nemáme prísny dress code, môžem si obliecť aj rifle, alebo vysoké opätky, ale niekedy mám proste chuť sa obliecť viac konzervatívnejšie a elegantne. Mám na sebe suknu po kolená, ktorá je z teplého materiálu, biely rolák, sako a dlhý čierny kabát. Doplnila som to vysokými čižmami, po kolená, ktoré ste už mohli vidieť tu. Samozrejme nechýbala mojou obľúbená taška, do ktorej sa mi zmestí všetko čo do práce potrebujem. Tento look sa mi veľmi páči, je taký ženský, pritom stále vyzerám profesionálne.
Outfit: Kabát:: H&M, Sukňa:: Zara, Kabát:: Zara, Top:: Promod, Čižmy:: Zara, Kabelka:: Furla
Príležitosť: práca
Tipy: ak chcete ešte viac zvýrazniť pás, môžete doladiť tenkým opaskom
Fotky: Romana Chudiková
Ďakujem pekne za prečítanie, dúfam, že sa Vám článok páčil. Keď tak mi dajte vedieť do komentov, čo najradšej nosíte do práce vy.  Nosíte uniformu, oblek, či niečo pohodolné? Aký je Váš obľúbený pracovný outfit, ak máte niejaký pošlite mi ho.