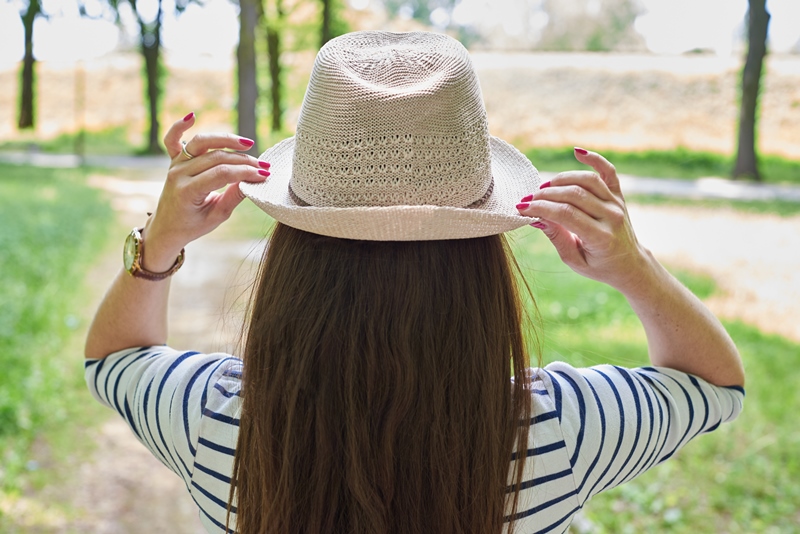 Dnes tu mám jeden z mojich najobľúbenejších outfitov a určite aj jeden z tých najpohodlnejších. Je celkom jednoduchý, ale predsa chic, taký aký rada nosím, keď idem von s malým na preliezky, či na koláčik do mesta, alebo na prechádzku so psom, či do obchodu. Veď nie každý deň sa človek oblieka ako keby išiel na výstavu. Mám dni, kedy chcem viac vyniknúť a dni, kedy chcem splynúť s davom a citíť sa pohodne a byť obyčajnou mamou.
Už ste si mohli všimnúť moju posadnutosť pre klobúky, tak to isté platí aj pre prúžky, ktoré úplne zbožňujem. Celý oufit je ladený do modra, pridala som ružové lodičky, aby som outfit trošku oživila. Tieto som si doniesla z Brazílie pred troma rokmi, stále sa držia. Sú veľmi pohodlné a mám ich veľmi rada. Vždy si tam dobre nakúpim, pretože v marci tam končí leto a to sú veľké zľavy, ktoré vždy využijem. Tiež radi nakupujete v zľavách? Outfit som doplnila o slamenný klobúčik, ktorý tomu dodal šmrnc a tiež môj obľúbený perlový náhrdelník, ktorý ma nikdy nesklame. Kľudne by sa tam hodil aj výraznejší, ružový náhrdelník, či menší ružový šál. Pásiky tiež veľmi rada kombinujem s červenou, červený rúž, alebo kabelka, či šalík pôsobia francúzskym štýlom.
Tričko: Zara (podobné tu)
Nohavice: Lindex (podobné tu a tu)
Bunda: Orsay (podobná tu)
Topánky: Mezzo Punto (podobná tu a tu)
Náhrdelník: H&M (podonný tu a tu)
Klobúk: Brigitte Bijou (podobný tu)
Fotky: Števko Zvala
Ďakujem pekne za prečítanie, dúfam, že sa Vám tento outfit páčil a dajte mi vedieť, čo radi nosíte vy, keď idete s deťmi von, alebo keď sa chcete cítiť pohodlne ako kombinujete pásiky. Tiež máte tendenciu kombinovať s ružovou, či červenou?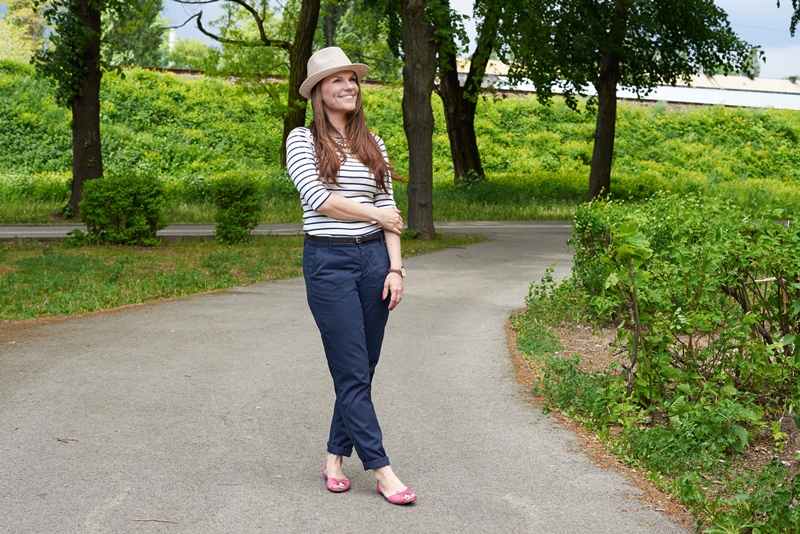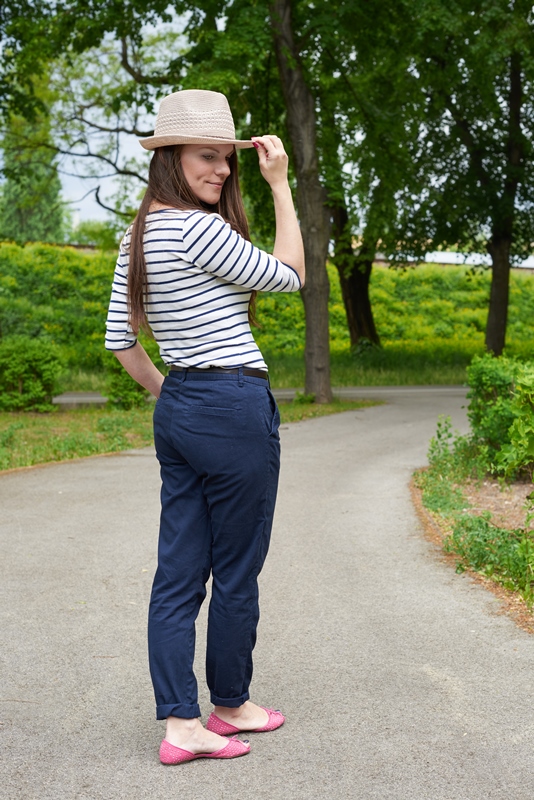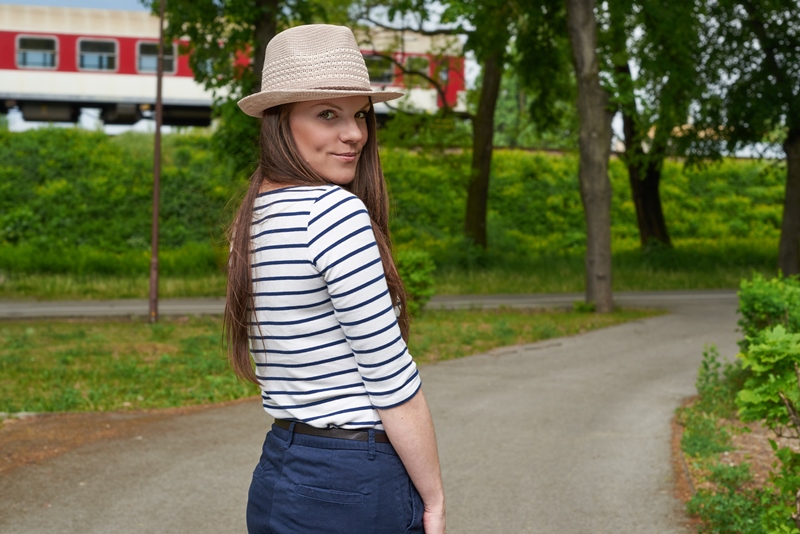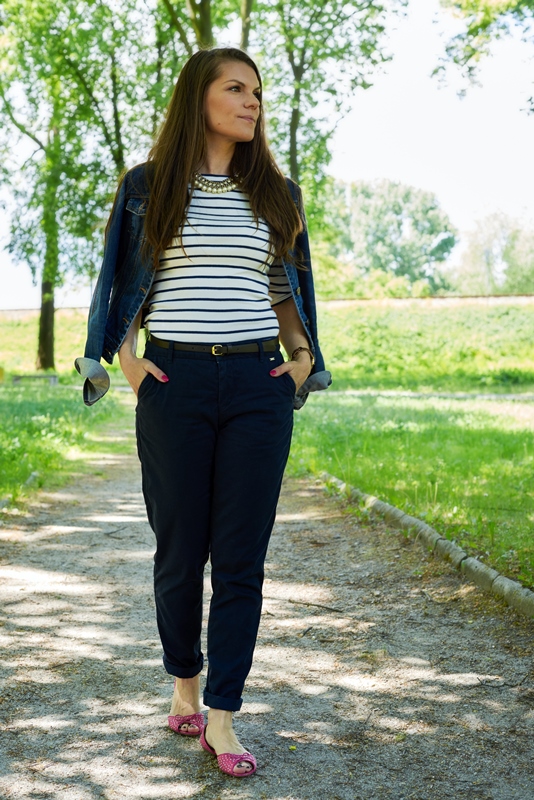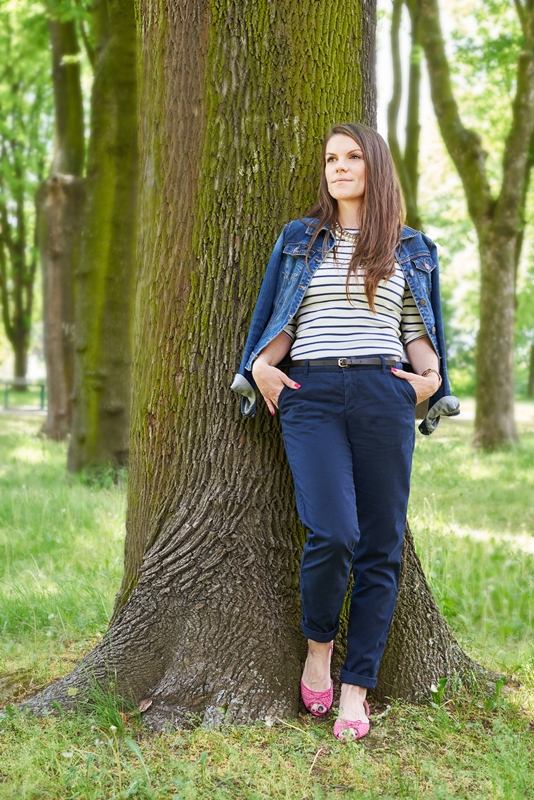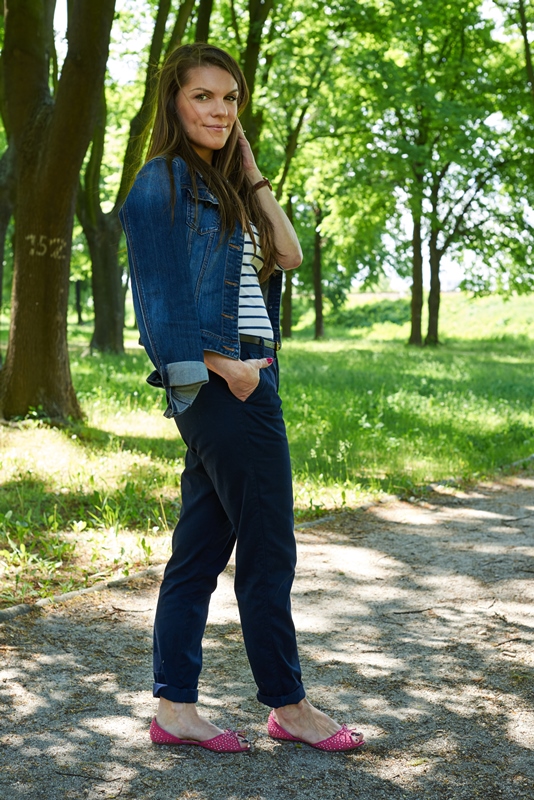 ♦ ♦ ♦ ♦ ♦ ♦ ♦ ♦ ♦ ♦ ♦ ♦ ♦ ♦
Today I wear one of my favorite outfits and definitely one the most comfortable ones. It's pretty simple, casual yet chic. Something I love to wear when I go out with my little one on the playground, walking the dog or coffee shop. Not every day I want to wear something like going for an exhibition. I have days when I want to dress up and days when I want to dress down and feel comfortable, blend with the crowd. Be a ordinary mommy, mommy on the go.
You can tell by now I have a big obsession for hats lately, the same goes for stripes which I absolutely love. The whole outfit is toned in blue, I added pink flats which I brought from Brazil few years ago and they still last! Super comfortable, cute and feminine I adore their shoes. In March when the summer ends, there are big sales which I can't resist. Do you like to shop in sales too? I accessorize the whole look with a straw hat and my favorite pearl necklace that never disappoints. I can imagine wearing pink bolder necklace or a pink scarf also looks very nice. I tend to combine stripes with red, such as red lipstick, nail polish, bag even shoes for more of a French look.
Top: Zara ( here or here )
Bottom: Lindex (here or here)
Jacket: Orsay (here or here)
Shoes: Mezzo Punto (here or here)
Necklace: H&M (here or here)
Hat: Brigitte Bijou (here or here)
Photos by: Števko Zvala
Thank you very much for reading. I hope you enjoyed this article, let me know what you like to wear when going out with kids or simply when you want to feel comfortable.