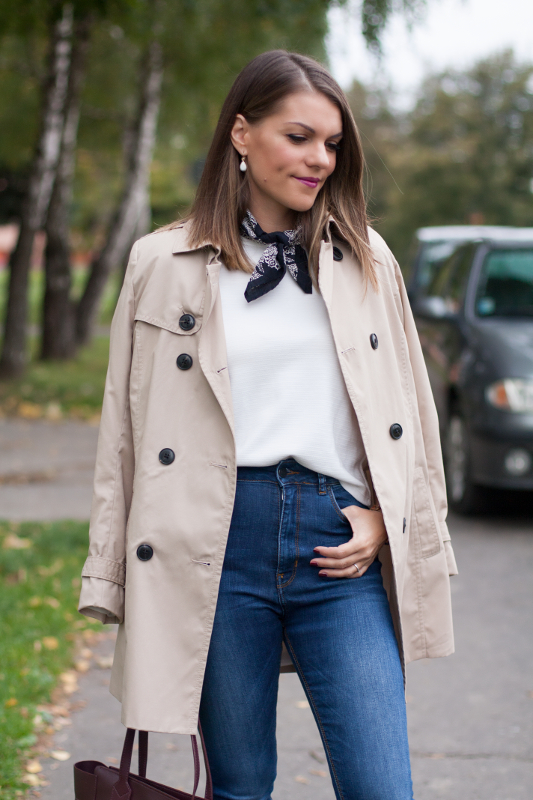 Už som ani nedúfala, že sa mi podarí napísať článok na blog, ale predsa!  Celý týždeň som sa cítila pod psa, mala som niejakú virózu a celkovo výkyvy počasia mi nerobia dobre.  Tiež to tak máte? Našťastie som sa stihla zotaviť akurát pred mojim narodeninovým víkendom.  Vyrážame si to užiť do Prahy. Článok Vám píšem z auta, po ceste som si ešte stihla kúpiť auto nabíjačku na laptop a poviem Vám, je to dobrá vecička. Kiež by som o nej vedela skôr. Aspoň tie hodiny cestovania v aute efektívne využijem.
Keď niekam cestujem, volím pohodlné a praktické oblečenie, ale tiež chcem vyzerať upravene, keď dorazím do cieľovej destinácie. Do úvahy vždy beriem aj naše plány po príchode a určite pozerám aj na počasie. A to nebude zrovna ideálne a tak musím byť pripravená. Tentokrát som zvolila skinny jeans s bielym topom, ktorý som doplnila šatkou zaviazanou na uzlík. K tomu leopardie mokasíny a čo iné ako trench, ktorý som nosila počas celého týždňa. Mne to ale vôbec nevadilo, pretoeže trench je univerzálny kúsok a dá sa kombinovať s hocičím. Akurát som na poslednú chvíľu zmenila kabelku, dala som prednosť môjmu batôžteku, to som celá ja. Okrem cestovania je outfit vhodný hneď na niekoľko príležitostí, do práce, neformálny míting, denné rande, alebo keď idete zaniesť dieťa na krúžok.
Top: Zara (podobný tu)
Nohavice: Zara (podobné tu)
Šatka: Lindex (podobná tu)
Kabát: Stradivarius (podobný tu)
Kabelka: Zara
Hodinky: Michael Kors
Fotky: Jefferson Kenji
Ďakujem pekne za prečítanie, dúfam, že sa Vám outfit páčil, keď tak, dajte mi vedieť dolu do komentu.   Napíšte mi, v čom najradšej cestujete vy? Podporiť ma môžete lajkom na Facebooku, alebo srdiečkom na Instagrame. Majte sa krásne a užite si víkend. ♥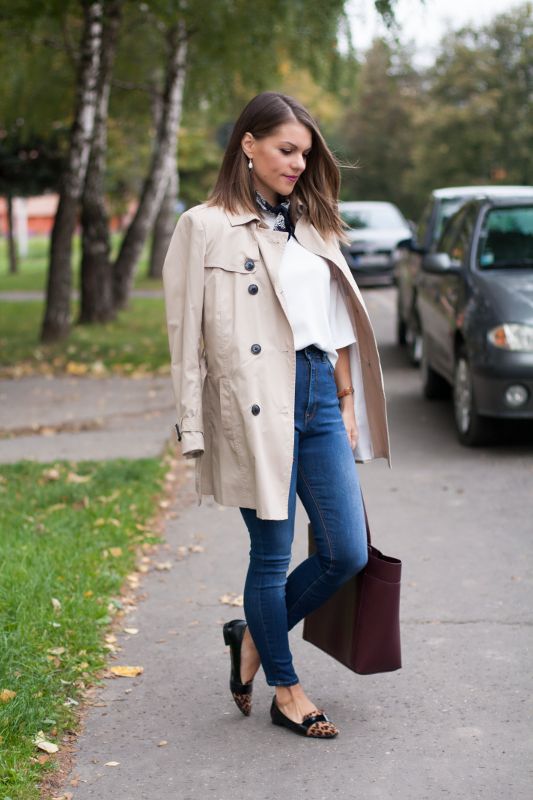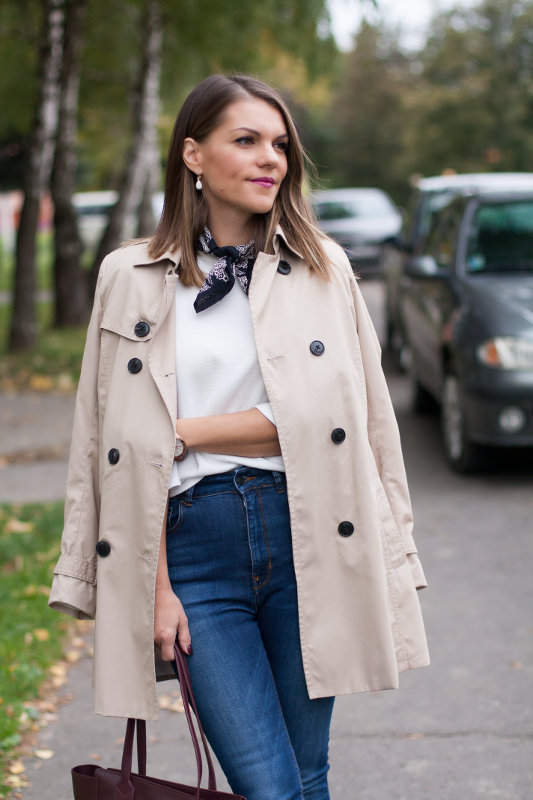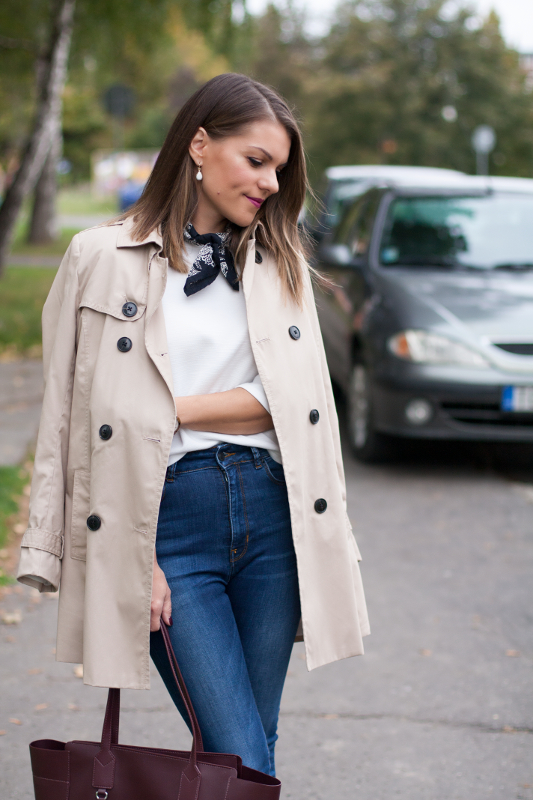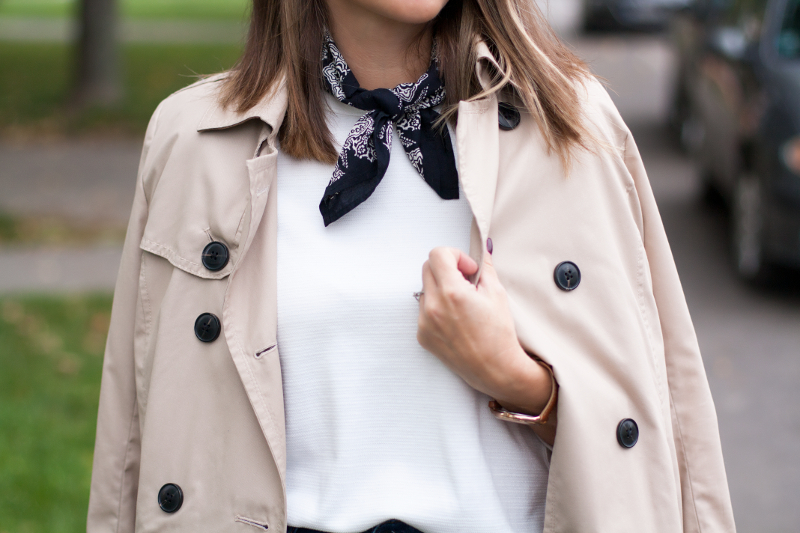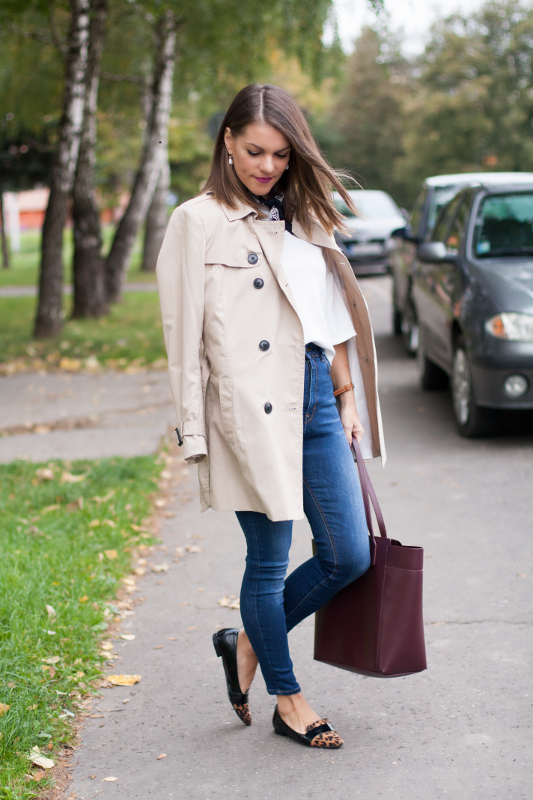 ♦ ♦ ♦ ♦ ♦ ♦ ♦ ♦ ♦ ♦ ♦ ♦ ♦ ♦ ♦
I haven't hoped I manage to write an article on the blog this week, but I did it! From last weekend I wasn't feeling good. I don't take weather changes very well. Fortunately I have recovered just on time before my birthday weekend. We are going to enjoy it to Prague and I am writing this article from a car. I also manage to buy a laptop auto charger on the way and it is a life saver. I wish I knew about it before. At least I use my time effectively while traveling.
When it comes down to traveling I look for comfort and practical side, but I also want to look put together when we reach our desired destination.  I always take into consideration our plans, weather and if there will be any time to change clothes. Denim works for me, so I chose skinny jeans, which are super comfy and combined it with a white top. I accessorized it with a scarf tied in front knot. I paired it with my leopard flats and what else could I wear in this kind of weather. Something I have been wearing all week . Trench coat is such great and versatile piece and works well on everyone. You can style many ways, it is fall must have! At the last minute I changed my handbag and gave preference to my trusted bucket bag. I always do that. This outfit works nicely for many other occasions like work, running errands, lunch meeting, day date, brunch with girls, or dropping to and picking up your little from after school activities.
Top: Zara
Bottom: Zara
Scarf: Lindex
Coat: Stradivarius
Handbag: Zara
Watch: Michael Kors
Photos: Jefferson Kenji
Thank you very much for reading. I hope you liked my travel outfit and if so, please let me know in the comment section down below. Write what do you like to wear when traveling? You can also support me on my Facebook page, or heart me on Instagram. Take care and enjoy your weekend. ♥