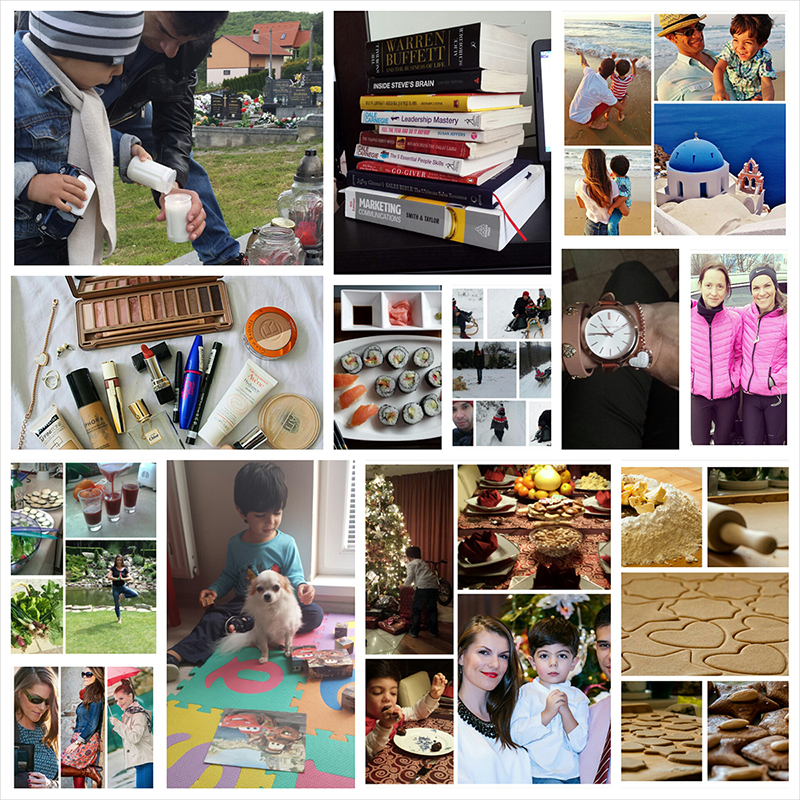 Ahoj a vitajte na mojom blogu. Dúfam, že ste si užili Vianočné sviatky aj oslavu Nového roka.
V prvom rade Vám chcem zaželať všetko dobré v Novom roku, nech sa Vám splnia Vaše sny a túžby a hlavne vždy pamätajte na to, čo a kto je vo Vašom živote naozaj dôležité/ý. Buďte milý, pozitívny k ľuďom aj zvieratkám a snažte sa pomáhať iným, keď viete, že to potrebujú. Nikdy som nebola typ, ktorý by si dával Novoročné predsavzatia. Vždy som veciam nechávala voľný priebeh, nič som nesílila. Keď necháte veci voľne plynúť niekedy sa ocitnete tam, kde zrovna nechcete byť a preto je dobré sa chopiť kormidla a doraziť do vytúženého ciela nikedy aj proti prúdu. Po novom si dávam predsavzatia. Na začiatku minulého roka som si napísala zoznam vecí, ktoré som chcela za rok 2014 splniť, čo sa mi aj podarilo. Nikdy nepodceňujte písanie si vecí na papier, nabere to úplne iný rozmer. Aspoň na mňa to zaberá. Rada si škrtám veci zo zoznamu, dáva mi to význam a na konci ako odmena je krásny pocit spokojnosti a zadosťučinenia. Keď si niečo napíšete stáva sa to viac reálnejšie, než ako keď si len niečo myslíte, že urobíte. Tak aspoň máte prehľad, čo ste už urobili a čo ešte stále máte pred sebou. Tak poďme sa pozrieť na moje predsavzatia z minulého roka, ktoré zostávajú aj na tento rok, pretože to nie je pre mňa len jednorázová zaležitosť, ale stále vyvýjajúci sa proces a tiež som si pridala niejaké nové.
Zariadiť synkovi detskú izbu (v tom čase mal dva roky), pekne sme mu zariadili vlastnú izbu, kde sa mu páčilo, no po pol roku si zmyslel, že chce znovu spávať s nami. Ja si vstávanie s ním každé ráno užívam, takže zatiaľ ho nesílime, aby sa vrátil do svojej izby
Viac sa o seba starať – musím sa priznať, že návštevy u kaderníka, kozmetiky, či manikúry sú u mňa veľmi zriedkavé,tak asi 3 krát do roka, toto by som chcela určite zlepšiť, ani neviem kedy naposledy som mala masáž, asi pred rokom!!
Vyskúšať niečo nové – začala som behať, bolo to pre mňa niečo úplne nové a neobvyklé, pretože som behanie z duše na škole neznášala, no teraz v tom nachádzam potešenie
Viac športovať – ja to so športom buď zanedbávam, alebo preháňam, tento rok som to trošku preháňala, behanie, bicykel, posilovňa, plávanie, korčule a musela som poľaviť, pretože som bola preťažená , nájsť ten správny balanc sa musím stále učiť
Urobiť si vyšší certifikát na Anglický jazyk – nové predsavzatie
Písanie blogu – začala som svoj blog o móde, receptoch, aj zo života niečo a budem v tom tento rok pokračovať a chcem Vám poďakovať za Vašu podporu a povzbudenie, veľa to pre mňa znamená
Naučiť sa niečo nové – písanie blogu je pre mňa učenie sa niečomu novému, písať články, pracovať na stránke, samozrejme stále je čo vylepšovať a tiež som sa naučila ako robiť sushi! Mňam!
Viac čítať – tento rok som naozaj veľa čítala, hlavne knižky pre deti 🙂 romány, motivačnú, spirituálnu a edukatívnu literatúru
Nestrácať čas ľudmi, alebo vecami, ktoré nemôžeš zmeniť – Život je príliš krátky
Naučiť nášho malého lyžovať – nové predsavzatie
Zabehnúť 10km – nové
Ďakujem pekne za prečítanie. Dúfam, že sa Vám článok pačil. Ktoré z týchto predsavzatí sa Vám najviac páči? Dajte mi vedieť, či si i vy dávate Novoročné predsavzatia, alebo nie? Ak áno, aké a či sa Vám ich darí aj dodržať? Aké sú Vaše plány na rok 2015.
♦ ♦ ♦ ♦ ♦ ♦ ♦ ♦ ♦ ♦ ♦ ♦ ♦ ♦
First of all I want to wish you all a Happy New Year, all the best. May all your dreams and wishes come true and always remember who and what really matters in your life, be nice, be kind to people and animals too, stay positive and help others if you know they need it. I never was a type of person to make a New Year's resolution. I was more of a type going with a flow and let's see what happens. Trust the universe kind of thing. But the flow hasn't always brought me where I wanted to be. Sometimes in life you need to direct the flow and paddle to your destination against the flow. At the beginning of the 2014 I wrote down what I wanted to achieve by the end of the year and achieved most of it if not all. Never underestimate the power of writing things down. Well, at least it works for me beautifully. I like to tick the list off it gives me a sense of purpose and at the end of it great deal of satisfaction. Also when you write something down it becomes more real than just a thinking about doing something. This way you can see and control what you did and what still needs to be done. I wrote all my New year's resolution down and it worked perfectly for me so I decided to do the same thing again this year. Let's have a look what were my resolution last year and this year are pretty much the same because it is ongoing process for me and not only one time thing, plus I added some new one.
Decorate our son's room (at that time 2 years old) – we did a lovely room for our little one where he loved to sleep for a about 6 months but then he decided to go back to his old ways and ended up in our bedroom again. I love waking up with him every morning tough, so we are not forcing him to sleep in his room
Pamper myself more – I visit hairdresser (don't have good experience), cosmetics and manicure like three times a year or so. I don't remember when was the last time I had a massage (a year ago just have remembered!!)
Try something new –I did start running, it was something new for me, I always hated in school but somehow I find a pleasure in it now.
Get fit and eat healthy– I ended up doing too much exercise especially towards the end of the year , running, spinning, swimming, gym eventually I had to cut it down a bit because I was so tired and worn out, finding a balnce is something I still need to learn.
Get higher English language certificate – this is my new resolution for this year to accomplish
Write a blog – yes, done that and will keep writing and I want to say thank you for your support and encouragement, it means a lot to me
Learn new skill – writing a blog is actually learning something new, writing blog post and manage the website is something I never done before but there's still room for an improvement and I also learn how to make sushi! Yum!
Read more – I read a lot really, mostly books for children 🙂 and novels,spiritual and educational books
Do not waste time on people or things you can't change – Life's too short!
Teach our son how to ski – new
Run 10km – new
Thank you very much for reading. I hope you enjoyed it, which one do you like the most? Let me know down bellow if you make New Year's resolution and if so, which one? Are you successful in accomplishing? What are your plans and goals for 2015?