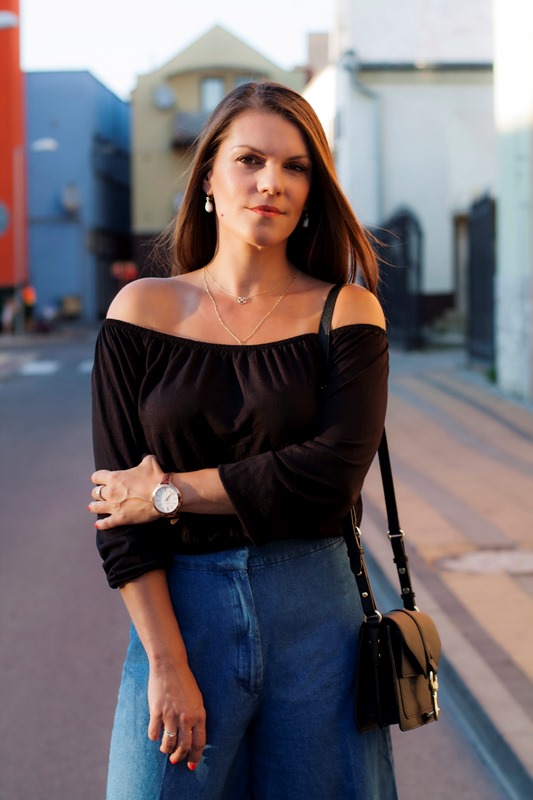 Dobré ráno a vitajte na blogu. Dnes outfit článok, ktorý k Vám ide priamo zo stola. Akurát som ho dopísala. Včera som zaspala pri tom písaní. Je farbne jednoduchý, ale pritom zajímavý a chic. Nehodí sa úplne pre toto dnešné upršané počasie, tak dúfam, že poslúži ako inšpirácia na teplejšie dni. Ako som už písala predtým, mám rada jednoduché outfity, ale niečím výrazné. Tak je to suňa, či nohavice?
Oboje. Táto riflová nohavicová sukňa – culottes, je naozaj veľmi zaujímavý kúsok v mojom šatníku. Vyzerá ako sukňa, ale sú to nohavice.  Podobnú nohavicovú sukňu už mám z minulého roku. Rada ich nosím pretože sú pohodlné a elegantné. A tiež si nemusím dávať taký pozor ako keď mám na sebe sukňu. Pôvodne pochadzajú z viktoriánskej éry a boli vyrobené za účelom, aby ženy mohli obkročmo sedieť pri jazde na koňoch. To ste vedeli?A tiež aby poskytli ženám vačšiu slobodu pri rôznych aktivitách ako jazda na bicykli a podobne. Takže oni sú nielenže zaujímavé a pohodlné, ale sú aj praktické! 😀 A dajú sa kombinovať veľa spôsobmi.
Neviem ako vy, ale ja mám docela nevýrazný pás a preto rada nosím veci zo zvýšením pásom, ktoré mi ho trošku zvýraznia a tiež nohy opticky predĺžia. Jeden z vhodných spôsobov ako ju skombinovať je s vrškom so znížením pásom – crop top. Ja som ešte k tomu zvolila crop top s odhalenými ramenami, aby som celej postave dodala rovnováhu a dojem silulety presýpacích hodín. K tomu vysoké opätky a jednoduchá čierna kabelka. Šperky sú od Bondiamo, určite sa na ne pamatáte zo staršieho článku, navrstvené náhrdelníky, ale kľudne sa tam hodí aj jeden výraznejší. Ich šperky mám som si veľmi obľúbila, sú nádherné a delikátne. K tomu Vám stále platí u nich 15% zľava s kódom "MAMA" ktorá je časovo neobmedzená, tak ak zháňate zrovna niečo podobné, určite to využite.
Ďakujem pekne za prečítanie, dúfam, že sa Vám tento článok páčil aj outfit. Dajte mi vedieť do komentu, či radi nosíte tento typ nohavíc a ako by ste ich skombinovali vy? Majte sa krásne. ♥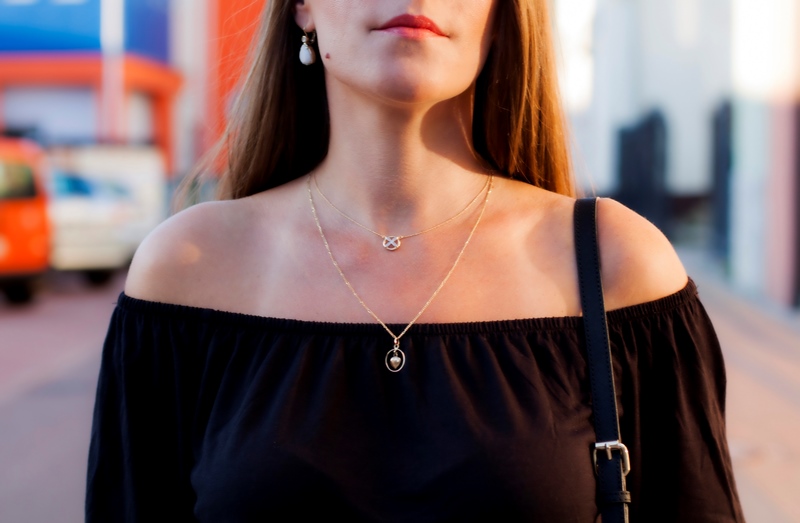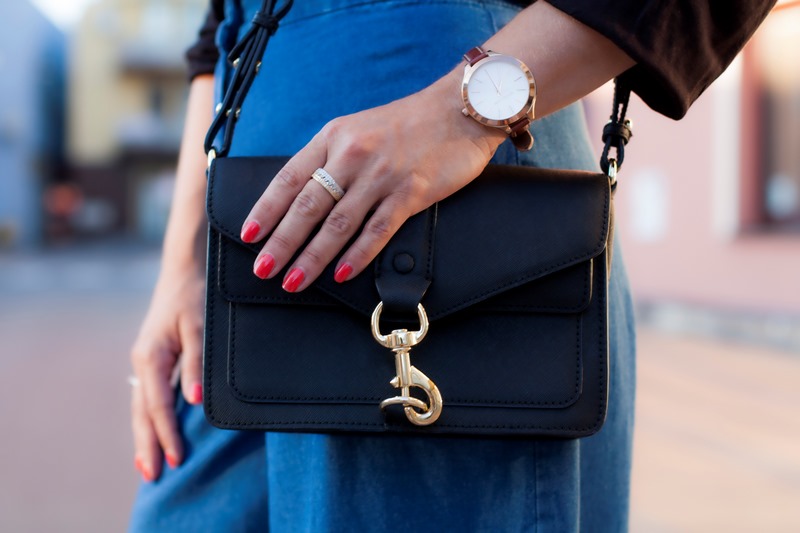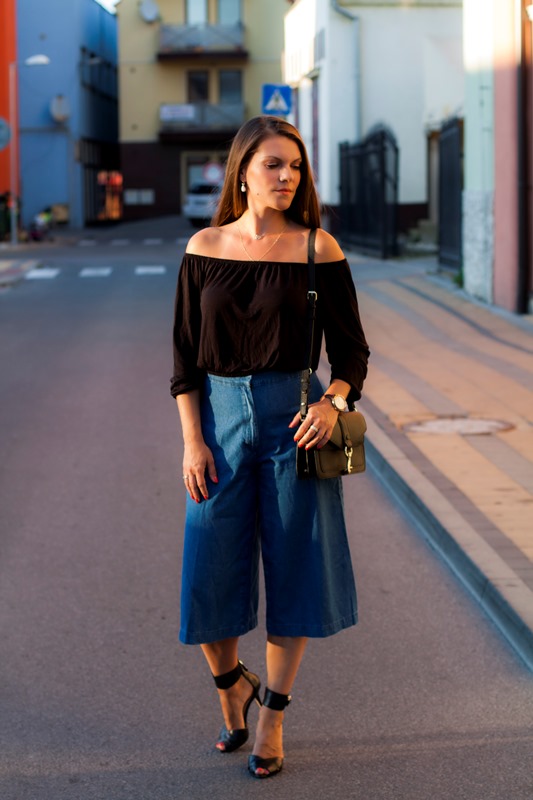 Crop top:: H&M
Nohavicová súkňa:: Zara (podobná tu)
Kabelka:: Rebecca Minkoff via SHOPBOP (bohužial už vypredaná v zľavách, ale podobná tu a tu)
Topánky:: Guess (podobné tu)
Šperky:: Bondiamo
Fotky:: Jefferson Kenji ♥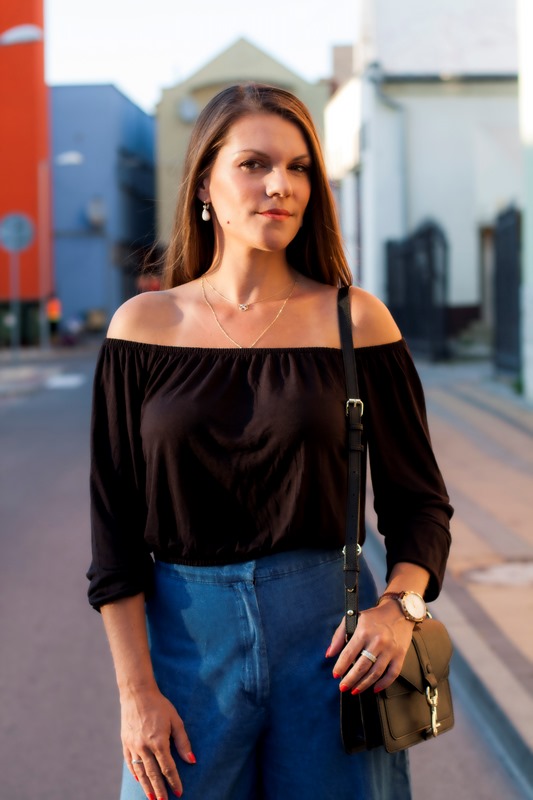 ♦ ♦ ♦ ♦ ♦ ♦ ♦ ♦ ♦ ♦ ♦ ♦ ♦ ♦
Morning guys and welcome to my blog. This article is coming out straight from the table. I know this is not the outfit for today's rainy weather, but as an inspiration for warmer evening days is ok. This outfit is very simple yet chic and interesting. So what do you think is it a skirt or trousers? Well it's something in between.
This denim culottes is very interesting piece in my closet. It looks like a skirt but it's a trousers. I have something similar from the last year already. I love to wear it as it's very comfortable and elegant. Also I don't have to worry about my movements like when I wear a skirt. They were originally designed for a horse riding, to create more comfort for women. Did you know that? And also to give women more freedom while doing activities such as bike riding and so on. So they are not only comfortable, elegant but practical too! 😀 You can combine it many ways.
This is only one of them. I have chosen off shoulder crop top because culottes are already high waist. This way my figure is fairly balanced and gives me highlighted waist and that hour glass shape if you like. I paired it with high heels with black elegant handbag, which I love and some few jewelry from Bondiamo. I'm sure you remember it from article some time ago. I love their products very much, so unique and delicate. Don't forget the offer is still on and it's not limited by any date, if you looking for something similar use code "MAMA" for 15% discount.
Thank you very much for reading. I hope you liked this article and outfit. If so let me know in comments down below or simply like. Let me know if you like to wear this type of trousers skirt or not and how would you combine it yourself. Until next time! Have a great day. ♥