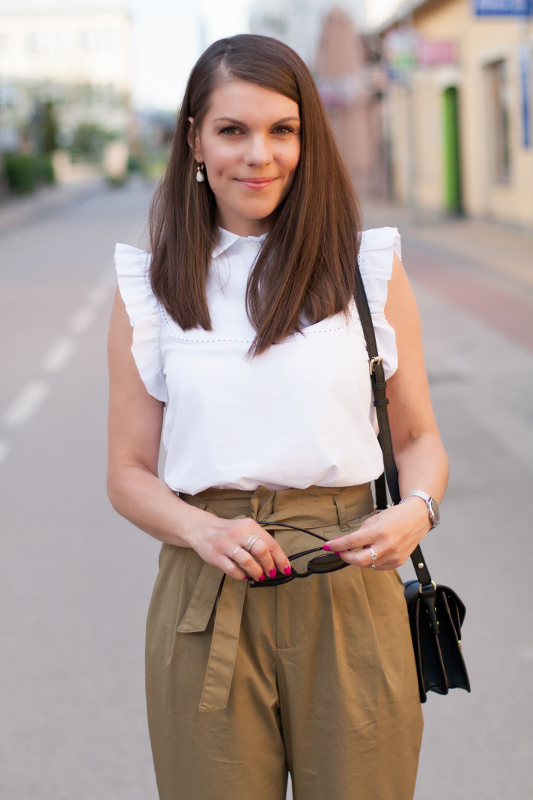 Ahoj a vitajte na blogu. Dnes mám pre Vás ďaľšiu outfitovú inšpiráciu, jedna z tých večerných, keď si vyhodím z kopýtka s priateľmi. Outfit je vhodný taktiež do práce, brunch, či rande.
Na večer som zvolila nohavice s vysokým pásom, ktoré majú zaujímavý detail. Ako som už spomínala v minulých článkoch, som ich zástankyňou, tak asi nepoteším tie, ktoré ich veľmi nemusia. Kúsok, ktorý sa nenosí ľahko, ak sa snažíte zamaskovať problémové partie v oblasti pásu. Avšak, môžu Vám ubrať jednu konfekčnú veľkosť, pokiaľ sa nosia správne a určite by si zaslúžili honosnejší názov ako paperbag. Naozaj strihom v oblasti pásu pripomínajú sáčok, ale názvom sa nenechajte odradiť.
Paperbag nohavice sú momentálne veľmi trendy. Vyhovujú mi jednak vyskokým pásom a tiež tým, že nie sú priliehavé a tak v nich necítim príliš napasovaná. Takisto mi vyhovuje zúžený strih nohavíc, ja som si ich ešte vyhrnula, aby som postavu ešte opticky predĺžila a ukázala sandále s vysokým opätkom. Paperbag nohavice najviac lichotia s niečím priliehavím na vrchnej časti tela, tričkom do pása atď. Nevhodné je ich kombinovať s oversized kúskami, pretože nohavice už majú objem jak nad pásom, tak aj pod ním. Je možné ich nosiť s originálnym opaskom uviazaným na mašľu, alebo s opaskom podľa vlastného výberu, alebo bez neho. Do nohavíc som zapravila biely top s roztomilými rukávmi. Naberané rukávy ho pekne ozvlášntili, tieto ženské detaily ma vždy priťahovali. A môžem vyraziť. 🙂
Top: Zara
Nohavice: Zara (podobné tu)
Topánky: Stradivarius (podobné tu)
Kabelka: Rebecca Minkoff (podobná tu)
Prsteň: Eppi
Hodinky: Calvin Klein
Fotky: Jefferson Kenji
Ďakujem pekne za prečítanie. Dúfam, že sa Vám článok páčil, keď tak mi dajte vedieť dolu do komentu, alebo lajk na Facebooku, či srdiečko na Instagrame. Napíšte mi, či máte podobné kúsky a ako ich kombinujete vy? Majte sa krásne. ♥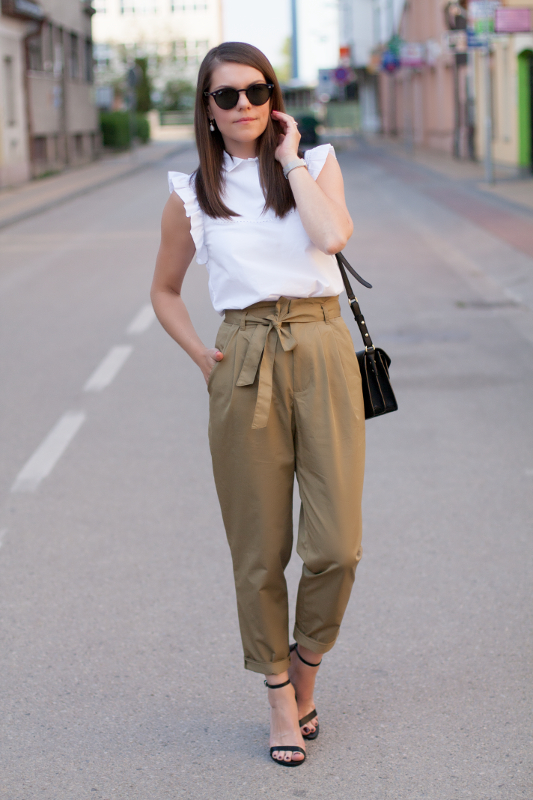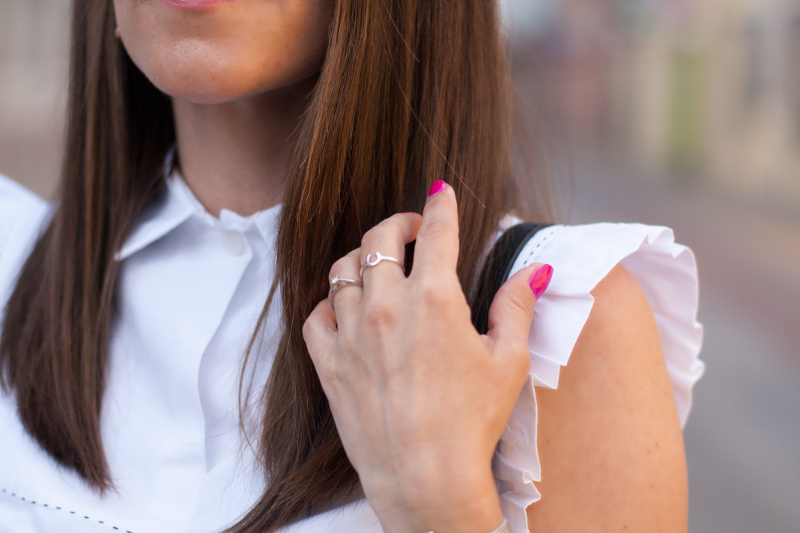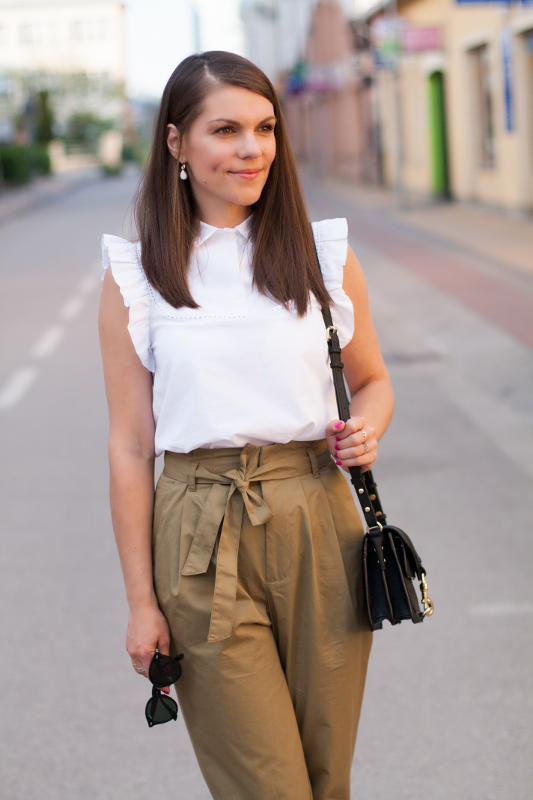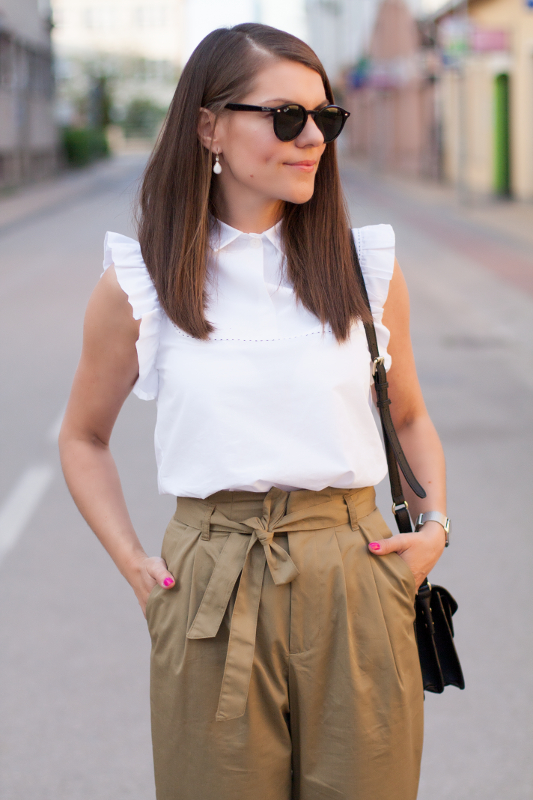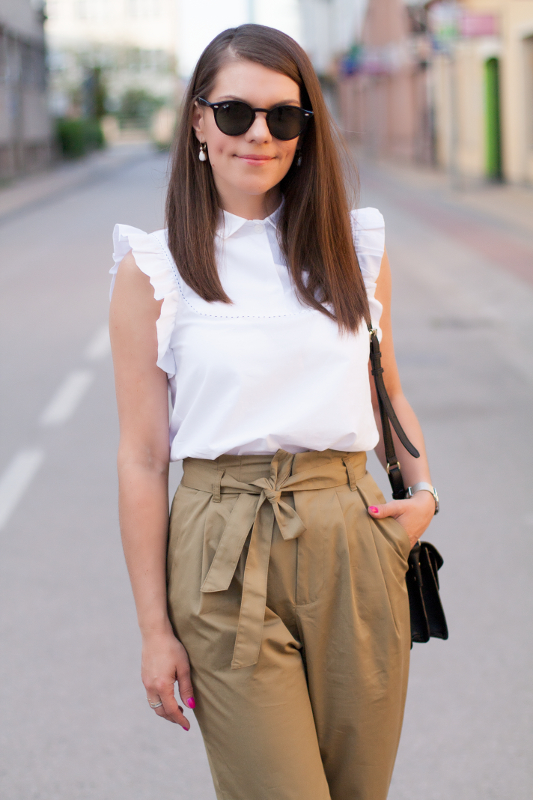 ♦ ♦ ♦ ♦ ♦ ♦ ♦ ♦ ♦ ♦ ♦ ♦ ♦ ♦ ♦
Hello guys and welcome to my blog. Today I have another outfit inspiration for you, one of those I opt for an evening when I go for drinks with friends. It is great for a work, brunch or date too.
For an evening I opted for high waist trousers with an interesting detail. I said many times before I love high waist jeans or trousers, so I probably won't please the ones who can't stand them.  It is not exactly the easiest piece to wear especially if you try to cover up your middle section. However, it can make you a size smaller if you wear it right and I think they deserve a nicer name than paperbag trousers. The cut in waist really looks like a paper bag but don't get discouraged by the name.
Paperbag waist trousers are very trendy at the moment. I like them for many reasons, one of them of course is high waist and I also appreciate some freedom it gives me, as they are not too tight. I also like the the narrow cut on the bottom and I prefer to roll them up. It optically elongates the figure and shows off the ankle strap high heel sandals. Paperbag trousers are most flattering to wear with something tight on the top part of the body, like crop top or well fitted shirt. I don't recommend to wear it with oversized items like baggy shirt, or jumper, because paperbag  trousers adds some volume already under and above waistline. You can belt it with an original belt, or use belt of your choice or simply go without it. I tucked in the white top with frilled sleeves, which I totally adore. I gravitate to details like that, it's very flirty and feminine.  What do you think? And I am good to go.
Top: Zara
Trousers: Zara (similar here)
Shoes: Stradivarius (similar here)
Handbag: Rebecca Minkoff (similar here)
Ring: Eppi
Watch: Calvin Klein
Photos by: Jefferson Kenji
Thank you very much for reading. I hope you liked this article and if so, please let me know in the comment section down below. You can support me with the thumbs up on Facebook, or heart me on Instagram. I always get very happy when you write me, if you have similar pieces and how do you combine it. Have a great day. ♥