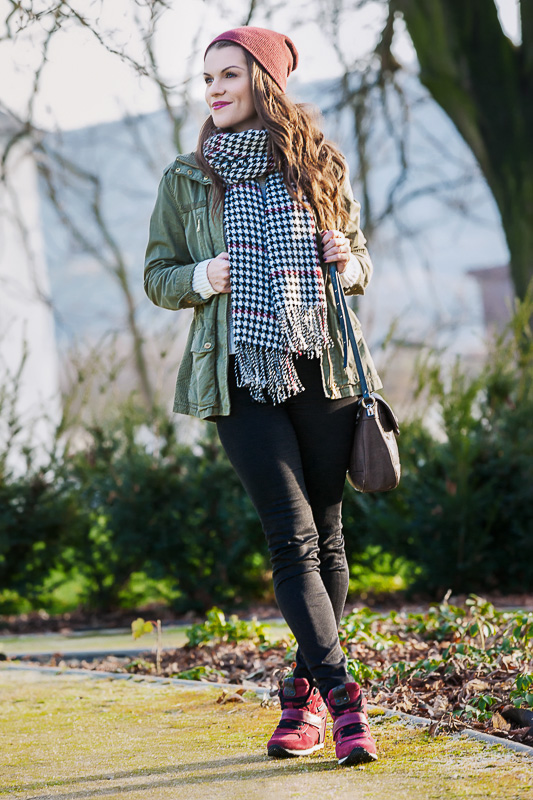 Good afternoon everyone and welcome to my blog. Finally the weekend is here. It's been a while since I posted an outfit. The weather wasn't good these days, so when the sun came out yesterday I was very happy. It was a beautiful and sunny day, I run errands and also started doing light Christmas cleaning. We already put the Christmas tree up last Saturday, this way we can enjoy the Christmas atmosphere a bit longer. 🙂
Today's outfit is very casual. I like to wear it on busy days, when I'm in hurry and want to feel really comfortable and wear beany when my hair is in a total mess. 😉 It's a kind of tomboyish look, so I wore a make-up and added my favorite pearls for feminine touch. People ask me a lot about this parka and I get many compliments on it. I read comments about parka on blogs that is a fashion of homeless, which I found ridiculous. Army is totally rocking it this year. I also love my chunky houndstooth scarf this pattern is absolutely gorgeous! I have quite a few items with this pattern. It's timeless in my opinion. Even our Leo the Chihuahua has one of those cute little coats and looks adorable in it. He is a one trendy dog I must say! 🙂 Maybe I post some pictures of him wearing it next time. I wasn't sure about the high heel sneakers for a long time but when these came on sales! You know the rest.
♦ ♦ ♦ ♦ ♦ ♦ ♦ ♦ ♦ ♦ ♦ ♦ ♦ ♦
Krásne piatkové poludnie všetkým a vitajte na mojom blogu. Po krátkej pauze tu máme outfit. Počasie nám neprialo a keď včera vyšlo slnko, veľmi som sa potešila. Človeku sa hneď zmení nálada a má aj viac energie. Bol to krásny deň, aj keď plný povinností a tiež som sa pustila do ľahkého Vianočného upratovania. Minulú Sobotu sme postavili stromček, vyzerá uchvatne, takto si ho aspoň o niečo dlhšie užijeme.
Dnes mám na sebe úplne bežný outfit, taký ktorý na seba len natiahnem a idem, keď sa ponáhľam a čiapu si dávam, keď sú moje vlasy neposlušné. 😉 Je to viac chlapčenský výzor, dala som si make up aj perly, aby som tomu dodala trošku ženskosti. Ľudia sa ma často pýtajú na túto parku a chvália mi ju. Nedávno som čítala na blogu, že je to móda bezdomovcov a podobne, o čom si myslím, že je to úplne smiešne. Vojenské sa tento rok nosí vo veľkom. Tiež zbožňujem tento obrovský ozúbkovaný šál, je úplne úžasný. S týmto vzorom mám v šatníku hneď niekoľko kúskov. Dokonca aj Leo, naša čivavka psík má taký roztomilý, ozúbkovaný kabátik. Musím priznať, že je to veľmi trendy psík. 😉 Možno sem nabudúce niejaké fotky s ním pridám. Dlho som si nebola istá teniskami s vysokým opätkom, ale keď som tieto objavila v sales! No a zvyšok je Vám už určite jasný.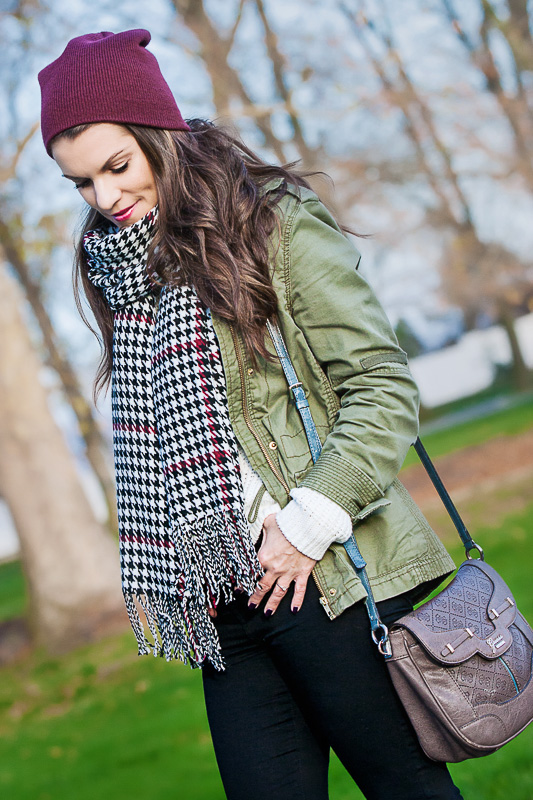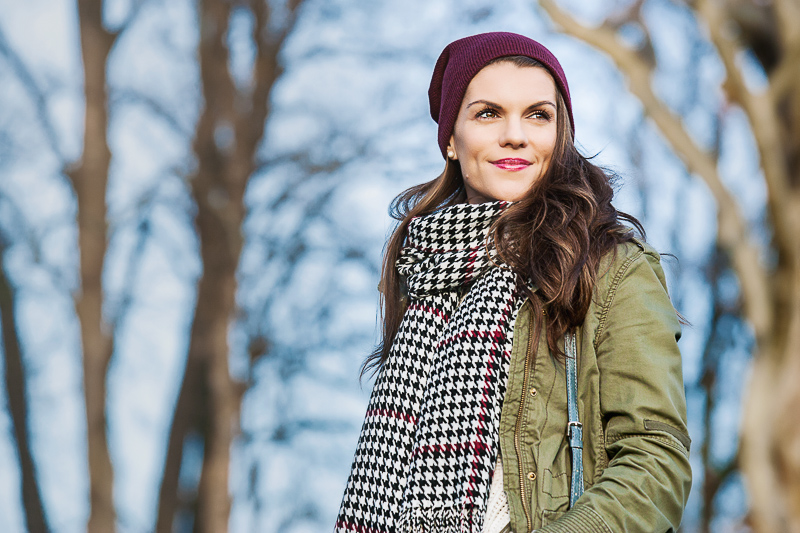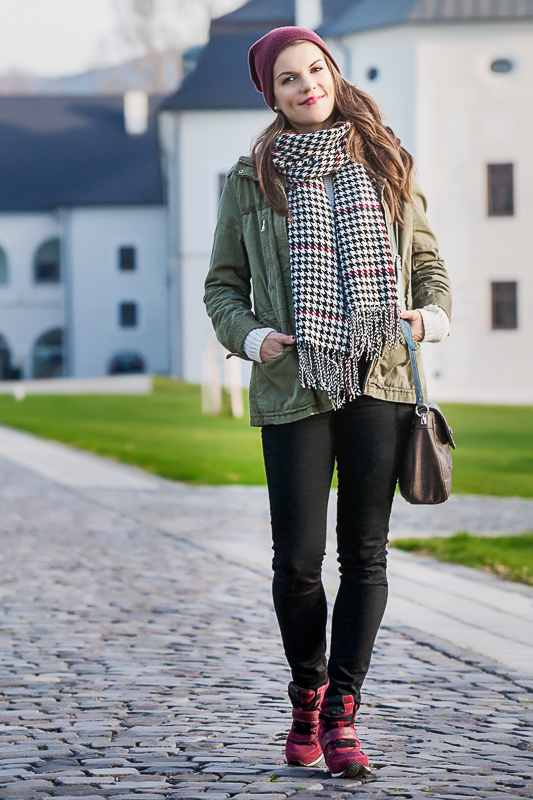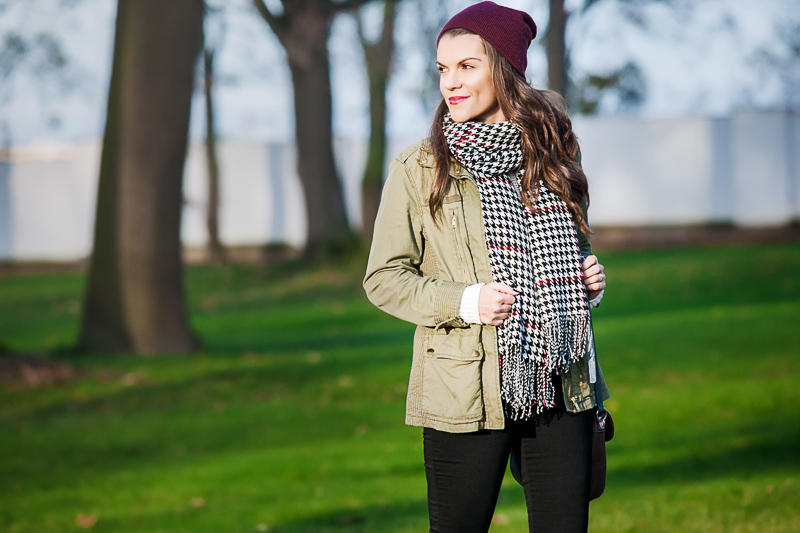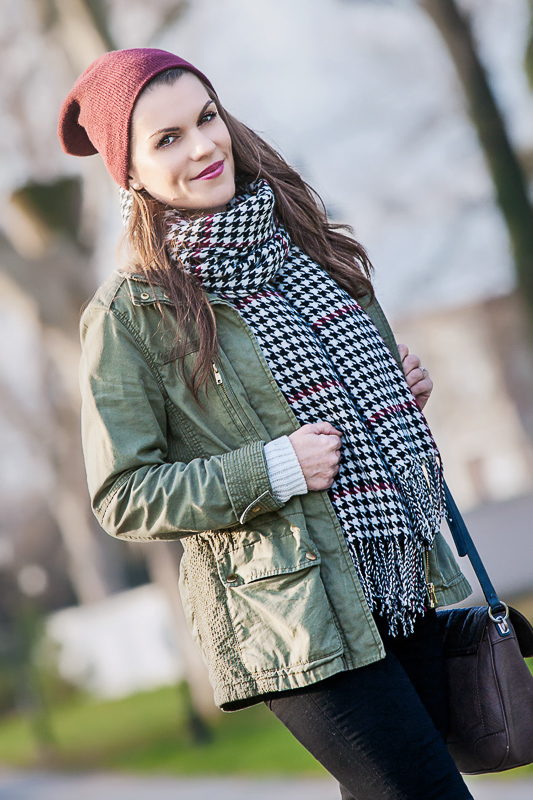 Outfit: Jacket, jumper and beany:: H&M, Sneakers:: Calvin Clein, Bottom:: Zara, Scarf:: Orsay, Bag: Guess
Occasions: running errands, shopping or school
Tips: accessorize your casual and neutral look with a distinctive pattern scarf to make the whole outfit more interesting
Photos by: Romana Chudikova
Thank you very much for reading and your support every like and share on facebook or instagram. I hope you enjoyed this outfit post. Let me know in the comments down below if this is something you would normally wear. Have you put the Christmas decorations yet?
♦ ♦ ♦ ♦ ♦ ♦ ♦ ♦ ♦ ♦ ♦ ♦ ♦ ♦
Outfit: Bunda, sveter a čiapka:: H&M, tenisky:: Cavin Clein, Rifle:: Zara, Šál:: Orsay, Kabelka:: Guess
Príležitosti: vybavovačky, nákupy, alebo škola
Tipy: zlaďte bežný a neutrálny výzor výrazným vzorovým šálom, dodá mu na zaujímavosti
Ďakujem pekne za prečítanie, za podporu, každý palec hore aj zdieľanie na facebooku, či instagrame . Dúfam, že sa Vám tento outfit páčil, keď tak dajte mi vedieť dolu do komentu. Je to niečo, čo bežne nosíte, ako to kombinujete. Máte už spravenú Vianočnú výzdobu?