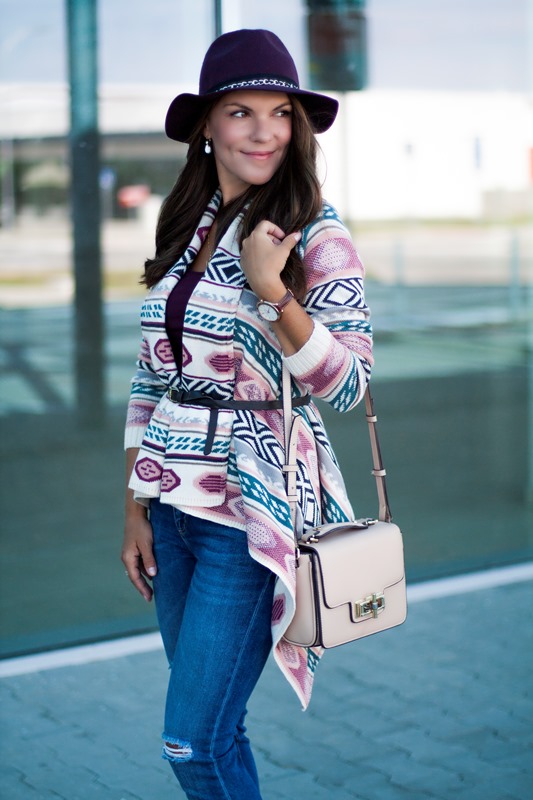 Ahoj a vitajte na blogu. Dúfam, že si užívate pohodový Pondelok. My sme sa už vrátili z dovolenky a práve sa zabehávame do každodenného bežného života. Sme spať v realite. 😀 Dnes je na blogu nový outfit. Počasie sa nám trošku zmenilo a tak som už siahla po svetríku, síce svietilo slnko ale pofukoval silnejší vietor a večery sú už docela chladné na môj vkus.
Svetríky a kardigany vyslovene patria k prechodnému obdobiu a majú v mojom šatníku veľmi obľúbené miesto. Ako je to u Vás, nosíte radi? Tento som si kúpila ešte pred letom, ale nemala som tú možnosť ho nosiť, pretože v Máji už bolo celkom pekne a teplo na takýto kardigan. Je neskutočne krásny, tieto vzory sú teraz veľkým trendom. Rozhodla som sa pre opasok, aby to bolo trošku iné a aby vynikol pás a opticky sa predĺžili nohy. Pod svetríkom mám len základné tielko vínovej farby a obtiahnuté rifle s dierami. K nim som volila telové lodičky aj kabelku, ktoré ste tiež u mňa mohli vidieť. A celý look som vyzvihla vínovým klobúčikom, ktorý asi už tiež poznáte. Vínová je farba jesene a skvele sa dopĺňa s béžovou, telovou farbou. Celý look tak pôsobí čisto, moderne a žensky.
Top: H&M
Kardigan: Review (podoný tu a tu)
Rifle: Zara (podobné tu)
Topánky: Kati (podobné tu)
Klobúk: Promod (podobný tu)
Kableka: Baťa (podobná tu)
Hodinky: Micheal Kors (krásne sú tieto tu)
Šperky
Fotky: Jefferson Kenji
Ďakujem pekne za prečítanie, dúfam, že sa Vám článok aj outfit páčil. Keď tak mi dajte vedieť dolu do komentu, vždy ma to nesmierne poteší. Alebo ma podporte lajkom na Facebooku, či na instagrame srdiečkom. Majte sa krásne.♥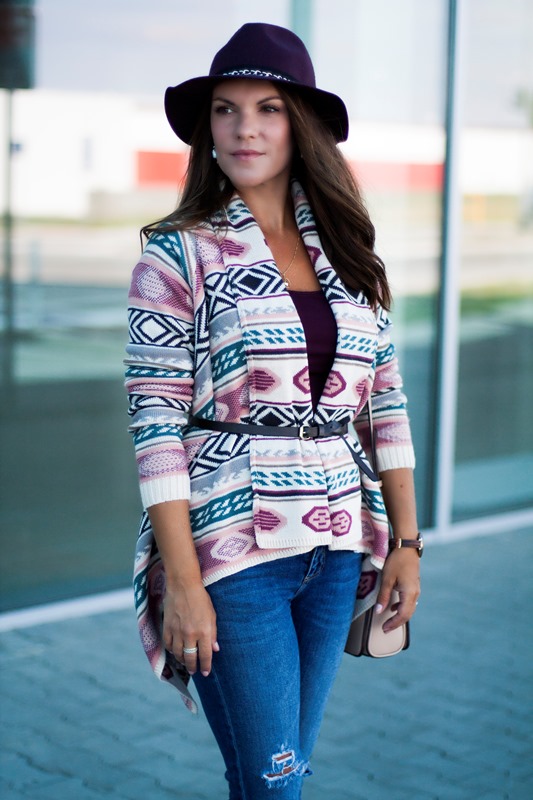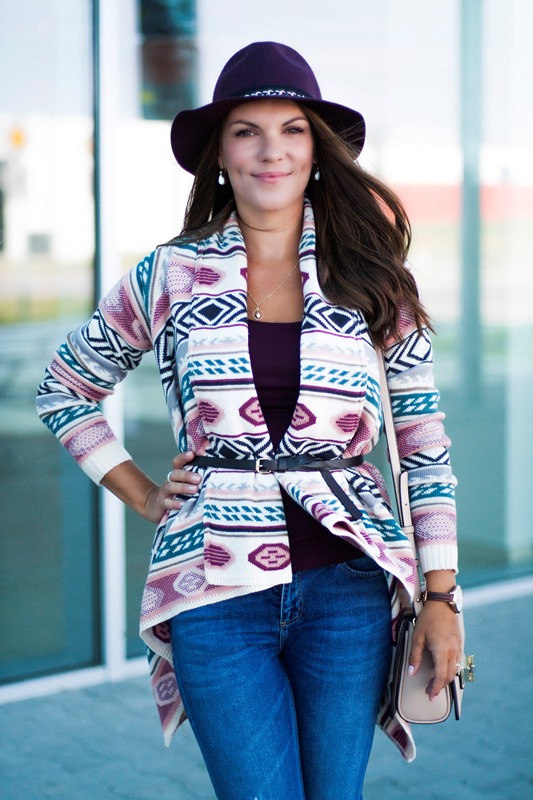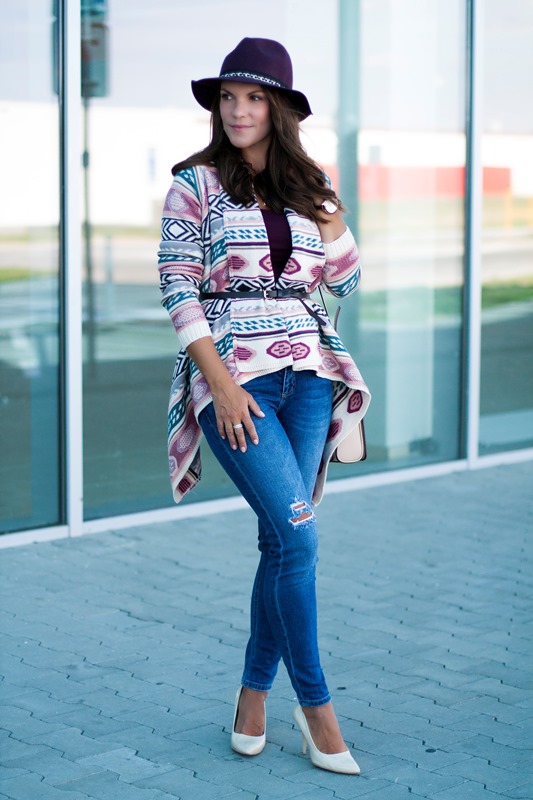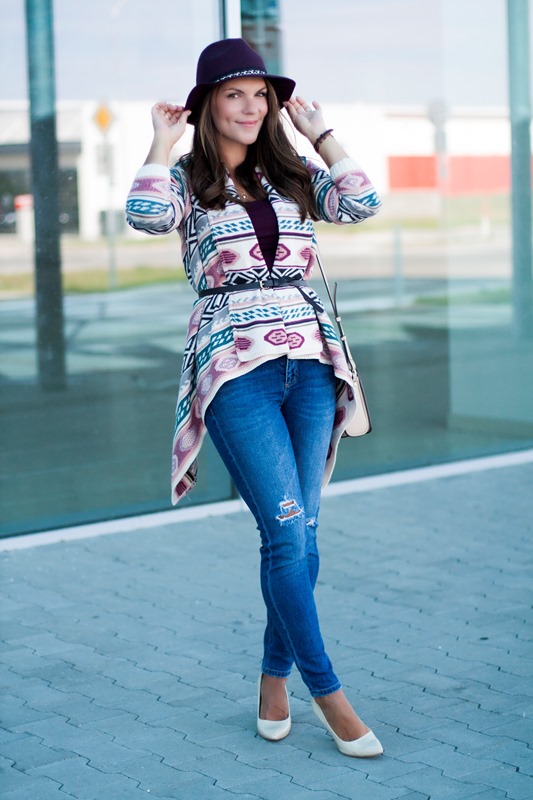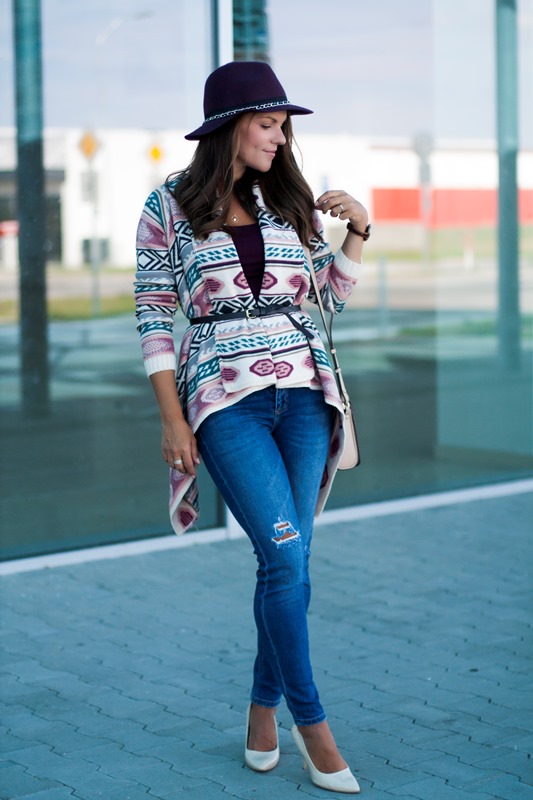 ♦ ♦ ♦ ♦ ♦ ♦ ♦ ♦ ♦ ♦ ♦ ♦ ♦ ♦
Hello everyone and welcome to my blog. I hope you are having a peaceful Monday. We are back from our holiday and slowly getting back on track with our daily routine. 😀 Today there is another outfit with autumn flavor. The weather has slightly changed so I opted for a pattern cardigan. It was sunny but windy and evenings are quite cold for my personal taste.
Jumpers and cardigans are ultimate pieces for a transition period like autumn or spring and have their favorite place in my closet. How about you? I bought this pattern cardigan before summer has started but haven't had a chance to wear it yet. In May the weather was nice and warm for such a piece. It is incredibly cute and warm and pattern cardigans are hot trend at the moment. I decided to wrap the belt around to define the figure and optically elongate the legs. I have wine basic vest underneath and ripped skinny jeans. I wear my favorite nude heels and accessorized it with a nude handbag also. The whole look is highlighted by the wine hat, which you could see already on my blog. Like I said before, wine is a perfect autumn color and gets on well with nude or beige. The whole look is polished, modern and feminine.
Top: H&M
Cardigan: Review (similar here or here)
Jeans: Zara (similar here)
Shoes: Kati (similar here)
Hat: Promod (similar here)
Handbag: Baťa (similar here)
Ring: Bondiamo
Watch: Micheal Kors (adore these)
Photos by: Jefferson Kenji
Thank you very much for reading and your support. I hope you like this article and pattern cardigan and ripped jeans outfit also. If so let me know in the section comment down bellow, it always makes me happy. Let me know if you like to wear cardigans and what is your favorite combination. You can support me by liking my Facebook page or give me heart of instagram. Have a great day. ♥