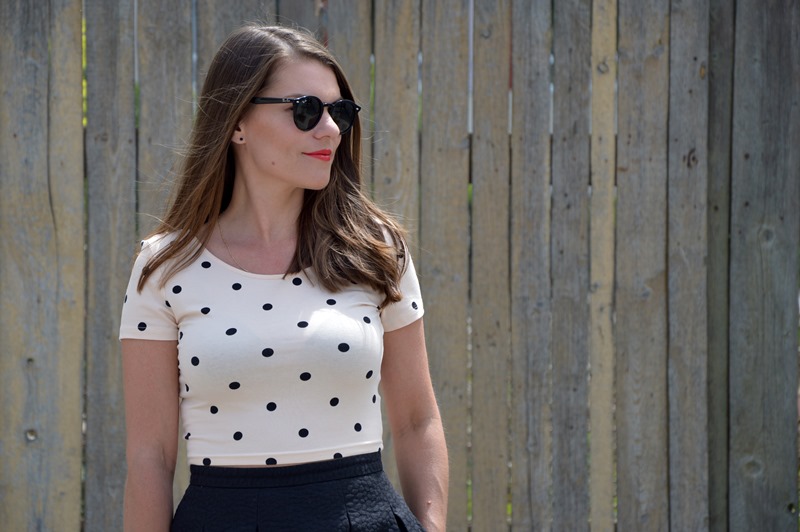 Ahoj a vitajte na blogu. Po dlhej dobe nový outfitový článok. Ak ste premýšľali, kam som zmizla, čo sa so mnou stalo a prečo som nepísala, tak čítajte dalej.
Bohužiaľ moja šikovná fotografka Romana Chudíková, ktorej fotky sa Vám vždy tak páčia, bola pracovne vyťažená a momentálne si užíva niekde pri mori. 🙂 Pozdravujeme. Pokiaľ sa nám Romanka nevráti, musíme trošku improvizovať. A tak sme pokúšali niečo nafotiť sami. Veľmi sa nám teda nedarilo, aj keď sme sa naozaj snažili a už sme boli z toho trošku frustrovaní. Konečne sa nám niečo podarilo nafotiť, tak šup sem s tým na blog. Dnes city chic, jednoduchý, letný outfit. Mám na sebe bodkovaný crop top a sukňu po kolená, ktorú som doplnila vysokými opätkami a kabelkou do ruky. Crop top nosím rada a môžem si ho dovoliť len vtedy, pokiaľ mám niečo s vysokým pásom, kde neodhaľujem príliš. Tiež ich radi ich nosíte? Outfit ladí v neutrálnych farbách a tak som ho oživila červeným rúžom, ktorý sa perfektne hodí na večer.
Top: H&M (podobný tu a tu)
Sukňa: H&M (podobná tu)
Topánky: Guess (podobné tu)
Kabelka: Guess (podobná tu)
Okuliare: Ray-ban (podobné tu)
Hodinky: CK (podobné tu)
Rúž: Essence All you need is red
Fotky: Lucia Petríková
Ďakujem pekne za prečítanie a podporu. Dúfam, že sa Vám dnešný look páčil, keď tak mi dajte vedieť, či radi nosíte podobné kúsky, alebo ako ich kombinujete vy. Krásny Pondelok Vám prajem a ďakujem za to, že mi ostávate verní. ♥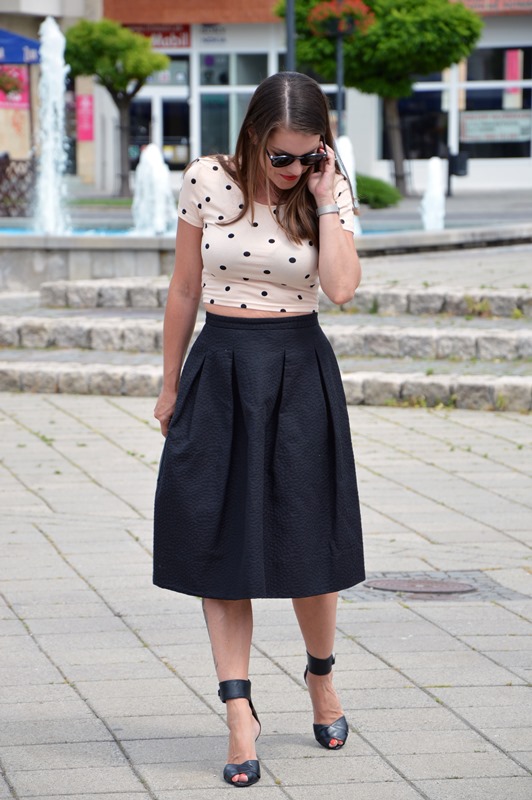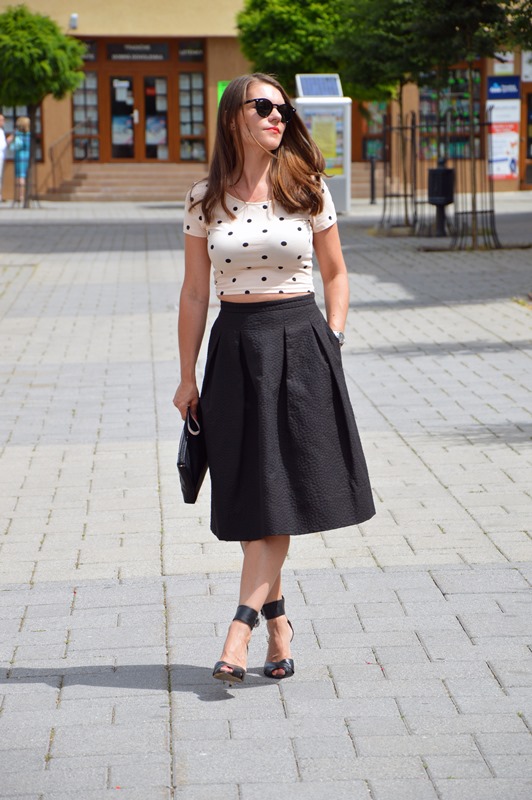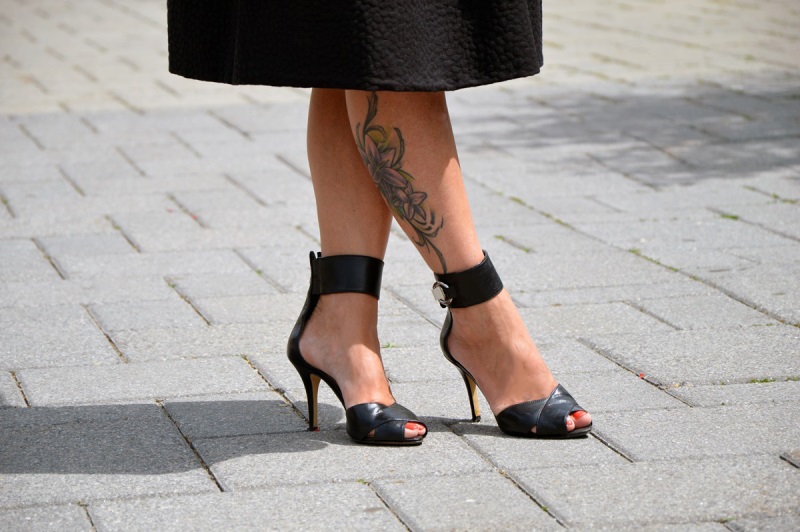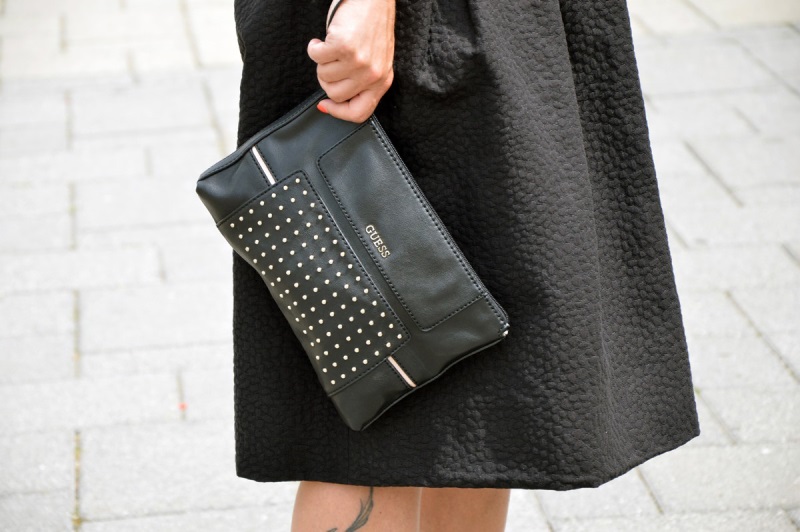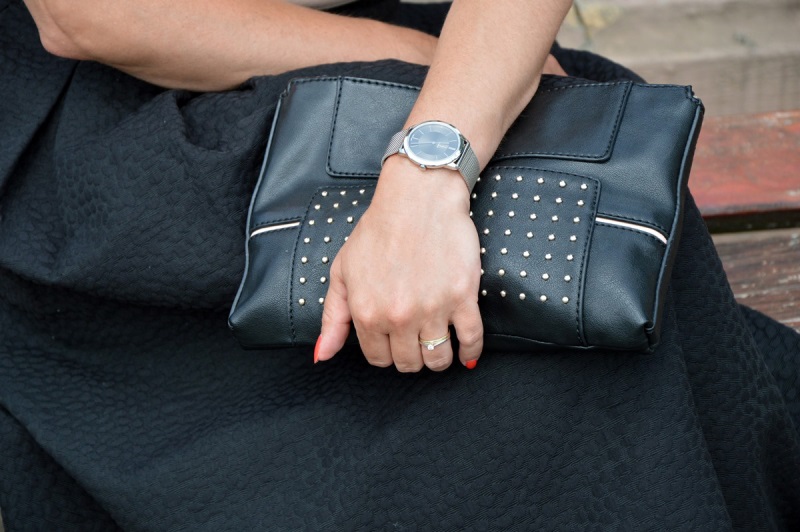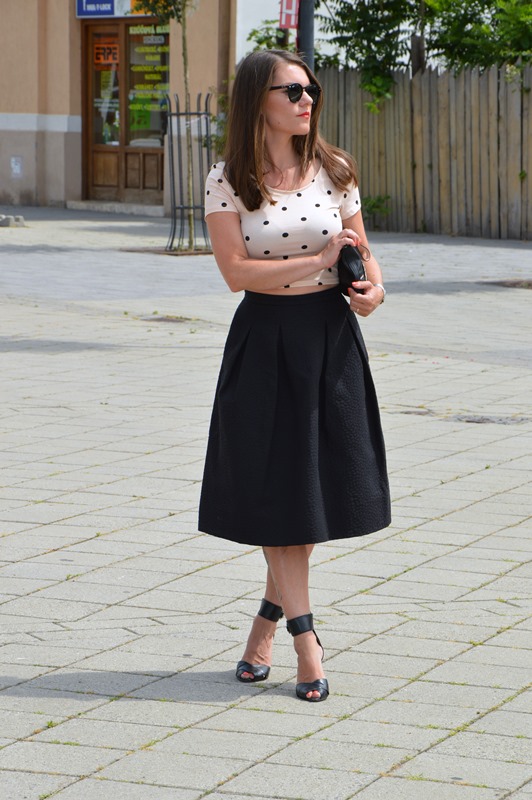 ♦ ♦ ♦ ♦ ♦ ♦ ♦ ♦ ♦ ♦ ♦ ♦ ♦ ♦
Hello guys and welcome to my blog. Finally today new outfit post polka dot crop top and midi skirt. If you have wondered where have I disappeared and why haven't been posting for a long time read further.
Unfortunately my lovely photographer Romana Chudíková who photos you like so much was busy working and at the moment is enjoying her holiday by the sea. Greetings from us. 🙂 Until she comes back we have to improvise a little. We have been trying hard for the past weeks to shoot outfits but pictures weren't coming out nicely. It was bit frustrating. Finally we managed to shoot some decent ones. I hope you will like it. Today city chic look, very simple in neutrals. Polka dot crop top with midi skirt. I accessorize the look with a wrist bag and high heels. What do you think of crop tops? Fan or not? I only like to wear it with high waist items like this skirt or high waist jeans, where I don't show too much of a skin. I wear also one of my favorite red lipstick. It's perfect for the evening and adds that glam look to any outfit.
Top: H&M (similar here)
Skirt: H&M (similar here or here)
Shoes: Guess (similar here and here)
Handbag: Guess (similar here)
Sunglasses: Ray-ban (similar here)
Watch: CK (here)
Lipstick: Essence All you need is red
Photos: Lucia Petríková
Thank you very much for reading and your support. I hope you like this look and let me know if you like to wear similar items. Or how do you combine it. Have a great Monday everyone. ♥