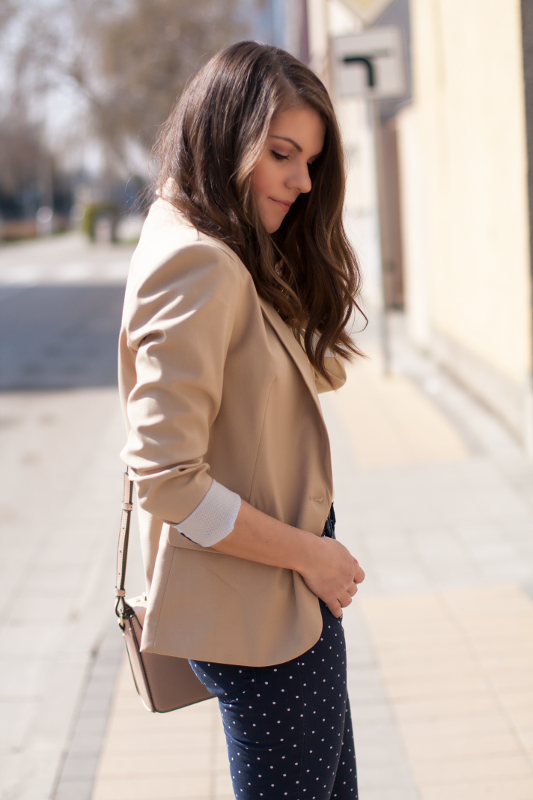 Ahoj a vitajte na blogu. Ako ste si užili víkend? Ja Vám o našom víkende napíšem v ďaľšom článku, tak zostaňte naladení. Tento outfit sa dostal do obehu skôr, ako som ho stihla dať na blog. Ak ste ho márne hľadali, ospravedlňujem sa. Outfit som mala na sebe oblečený nedávno, na rande s Jeffom. Pre mňa vhodný outfit na denné rande, kávičku, alebo dobrý obed na terase. Je nežný a ženský.
Vždy aspoň jeden krát počas víkendu s Jeffom vyrazíme na rande. Nie sme spolu často, vždy len cez víkendy a tak sa snažíme aj z toho mála vyťažiť čo najviac. Je fajn odreagovať sa od bežných povinností a práce. Napriek tomu, že na Slovensku máme len jednu babku, vždy ochotne postráži, pokiaľ nejde na koncert Erosa Ramazzottiho, za čo sme veľmi vďační. 😀  Po deviatich rokoch spolu sa snažíme od randenia neupustiť,  tak ako je pre nás  dôležitý čas, ktorý trávime všetci spolu ako rodina, tak isto je pre nás dôležitý čas, ktorý trávime spolu sami dvaja. Aspoň ja to tak mám. Ako to máte vy?
Na radne som volila bodkované nohavice, ktoré mi sedia ako uliate. Som vždy nesmierne rada, keď natrafím na nohavice, alebo džíny, ktoré nemusím dávať nijako upravovať. Poznáte to? Mám pocit, že to už potom nie je ono. K nim  som zvolila žltú blúzku a béžové sako, ktoré je momentálne mojim obľúbeným kúskom. Doplnky som tak isto volila v neutrálnej béžovej farbe. Ako sa Vám páči tento look? V čom vyrážate na rande najradšej vy?
Top: Zara (podobný tu)
Sako: Stradivarius (podobné tu)
Nohavice: Stradivarius (podobné tu)
Topánky: Kati (podobné tu)
Kabelka: Baťa (podobná tu)
Fotky: Jefferson Kenji
Ďakujem pekne za prečítanie. Dúfam, že sa Vám článok páčil, keď tak mi dajte vedieť dolu do komentu , alebo lajk na Facebooku, či srdiečko na Instagrame. Majte sa krásne. ♥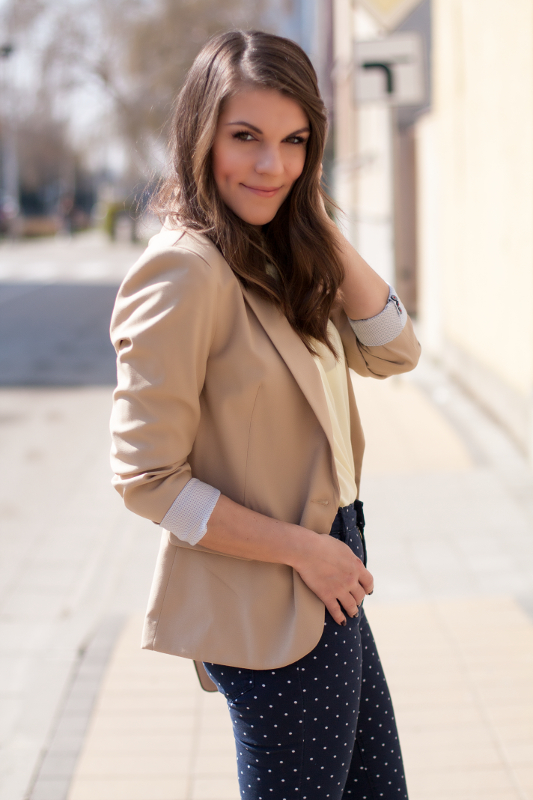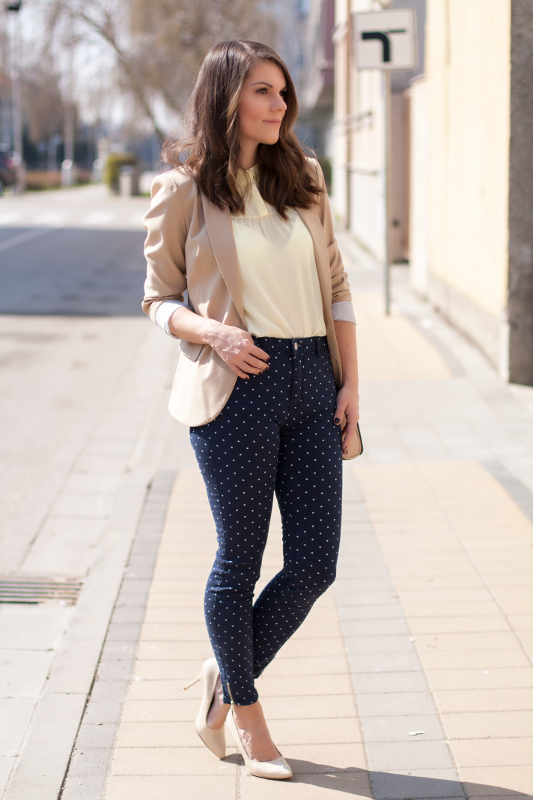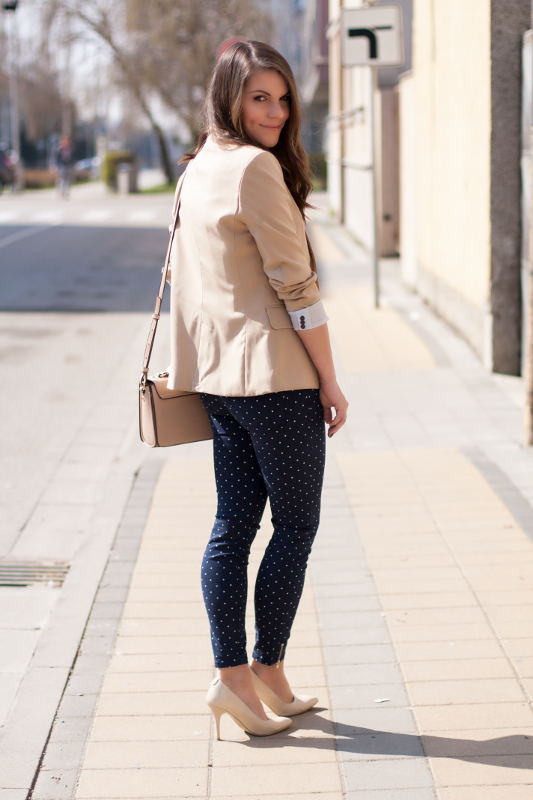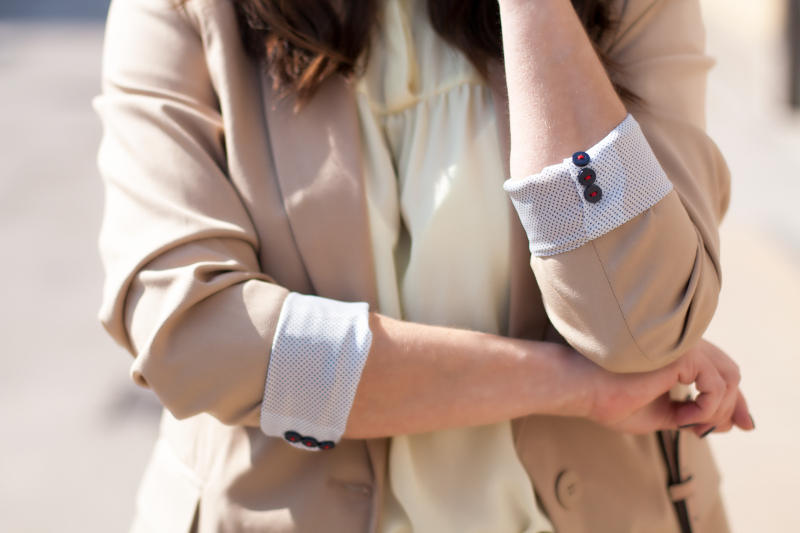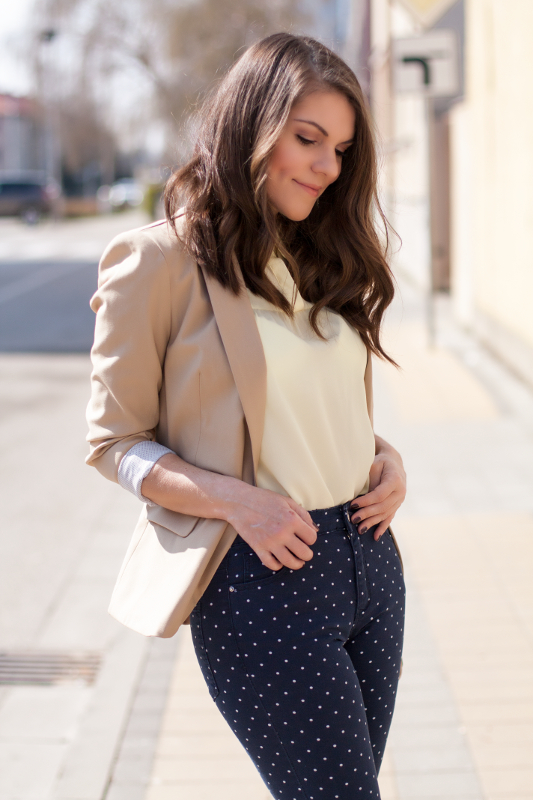 ♦ ♦ ♦ ♦ ♦ ♦ ♦ ♦ ♦ ♦ ♦ ♦ ♦ ♦ ♦
Hello guys and welcome to my blog. How was your weekend? I tell you all about mine in the next article, so stay tuned. This outfit circled around  the internet before I was able to post it on the blog. So those, who were looking for it and didn't find it, I apologize. I have worn this outfit recently, when I went for a daytime date with Jeff. Perfect outfit for a daytime date, lovely brunch on the terrace or coffee. It's very soft and feminine.
At least once during the weekend we like to go out for a date. You know, spending some quality time together, being alone just two of us. It's nice to be away from home, work and other every day responsibilities sometimes. Despite the fact we have only one grandma here in Slovakia, she is always willing to babysit, if she doesn't go to concert of Eros Ramazzotti or something similar. Granny cool. 😀 And of course we are very grateful for that. After nine years together dating is something we didn't give up on, because the time I spend with my partner is as much important as time we spend it together as a family. At least I feel this way. It's always worth an effort to find time for each other. How do you feel about dating?
For a date I opted for a polka dot jeans that fits me perfectly. I am always super happy when I find jeans I don't have to tailor it, because of my height. Can you relate? I feel it's not the same after that. I combined it with a yellow blouse and beige blazer, which is one of my favorite pieces at the moment. It's very easy to combine with anything really, you can dress it up or dress it down. I accessorized the look with a similar soft palette accessories. Do you like this look? What do you like to wear for a date? I will be more than happy to hear all about it.
Top: Zara (similar here)
Blazer: Stradivarius (similar here)
Jeans: Stradivarius (similar here)
Shoes: Kati (similar here)
Handbag: Baťa (similar here)
Photos by: Jefferson Kenji
Thank you very much for reading, I hope you like this article. If so, please let me know in the comment section down below, or give me thumbs up on Facebook, or heart me on Instagram. Have a great day. ♥