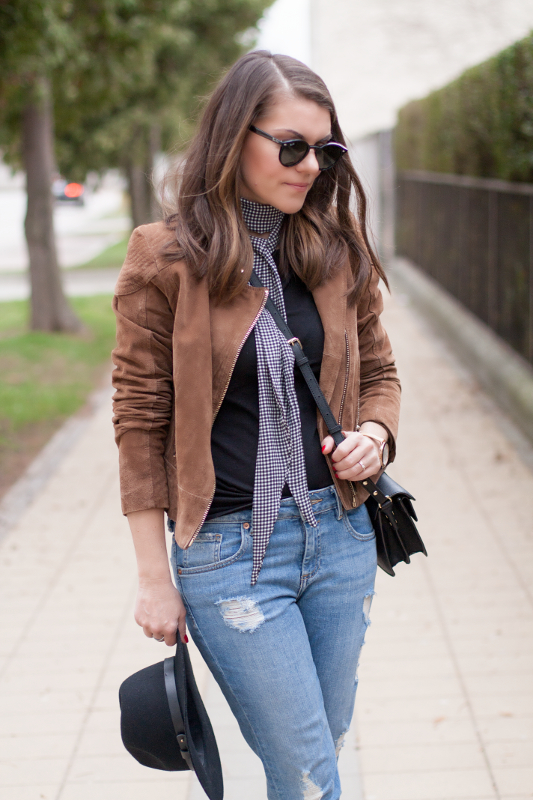 Ahoj a vitajte na blogu. Dúfam, že ste si užili pohodový víkend. Dnes mám pre Vás ďaľšiu outfitovú inšpiráciu zo soboty. Vonku bolo príjemné počasie a ja som vytiahla moje červené šnurovacie balerínky, ktoré ste už na blogu určite zaregistrovali v článku tu. Keďže som vedela, že sa nebudem pohybovať príliš dlho vonku, tak som si ich mohla dovoliť. A čo vy? Už nosíte svoje jarné kúsky?

Možno ste si všimli, že niektoré kúsky sa na blogu opakujú častejšie. Chcem Vám ukázať, ako sa daný kúsok dá nosiť viacero spôsobmi. Tiež si myslím, že nie každý si môže dovoliť kupovať stále nové veci a niekedy stačí aj maličkosť a zrazu máte iný outfit. Zaujímavý doplnok, ktorý outfit oživí, ako napríklad takýto štvorčekový šál, ktorý som dostala k príležitosti sviatku žien. Pre mňa sú doplnky dôležité, dodajú outfitu šmrnc a ucelia ho. Tieto dlhé, tenké šáliky sú momentálne veľmi trendy. Tiež sú veľmi populárne kovbojské šatky v rôznych farbách, modrá, červená a čierna, aj ja ich mám v šatníku. Dobre sa kombinujú napr. s denimom, kožennými kúskami k jednoduchým outfitom. Roztrhané rifle sú stále in, tieto sú veľmi pohodlné na brázdenie po obchodoch, alebo kávičku s kamoškami, či brunch je to pre mňa outfit ako stvorený. Čo myslíte?
Top: H&M
Rifle: Asos (podobné tu a tu)
Topánky: Topshop (podobné tu)
Šál: Zara (podobná tu)
Klobúk: H&M (podobný tu)
Kabelka: Rebecca Minkof (podobná tu)
Hodinky: Michael Kors (podobné tu)
Okuliare: Ray-ban (podobné tu)
Fotky: Jefferson Kenji
Ďakujem pekne za prečítanie a Vašu podporu na Bloger Roka 2015, kde ma stále môžete podporiť Vaším hlasom. Nesmierne si to vážim a ďakujem. Ja dúfam, že sa Vám outfit páčil. Keď tak mi dajte vedieť dolu do komentu, či niečo podobné nosíte, alebo ako by ste to skombinovali vy? Majte sa krásne. ♥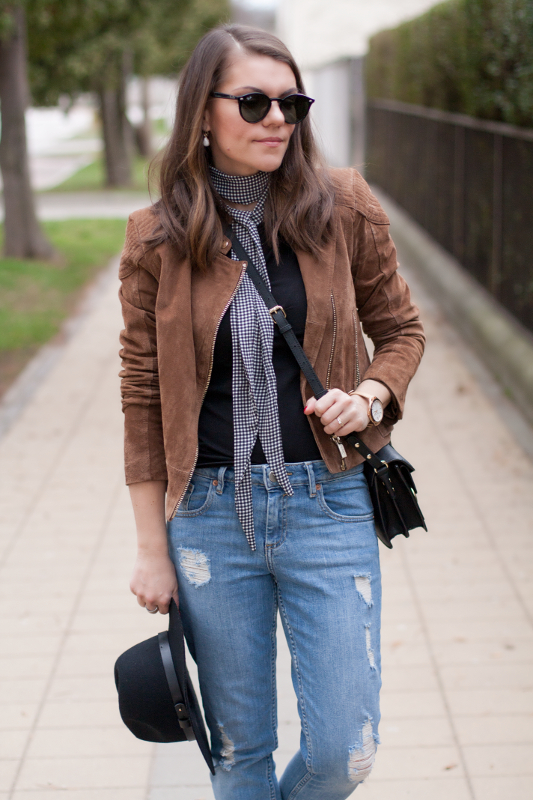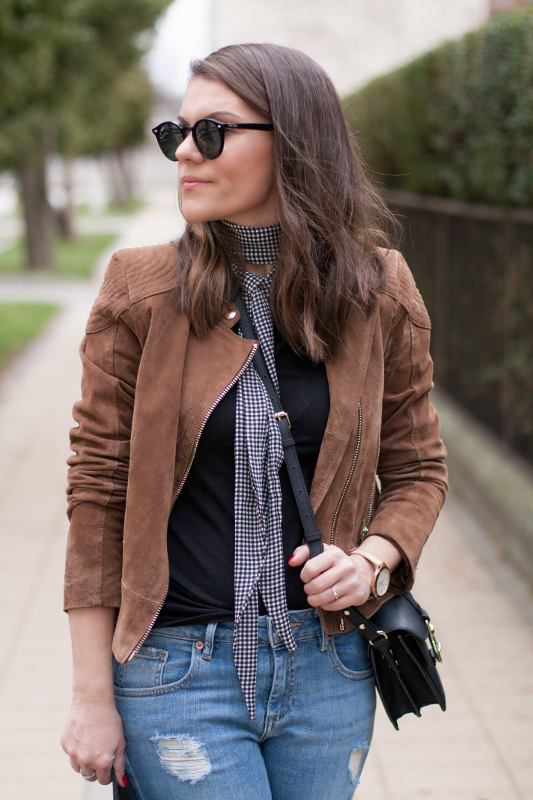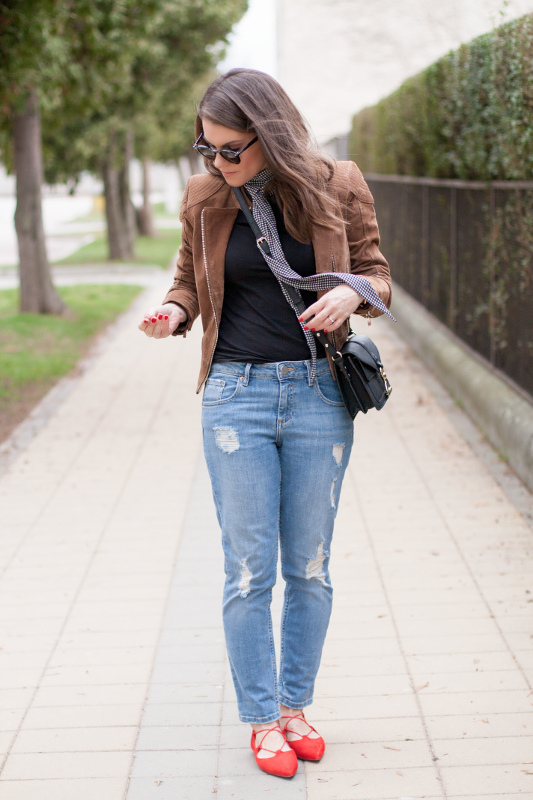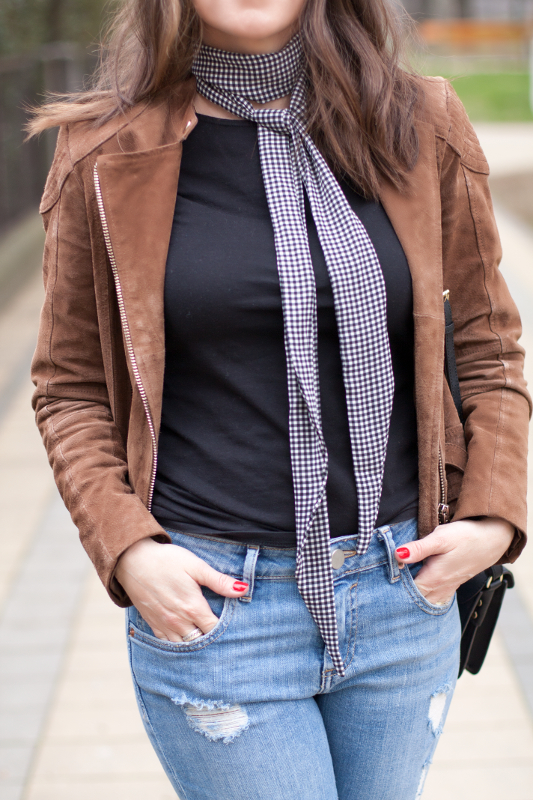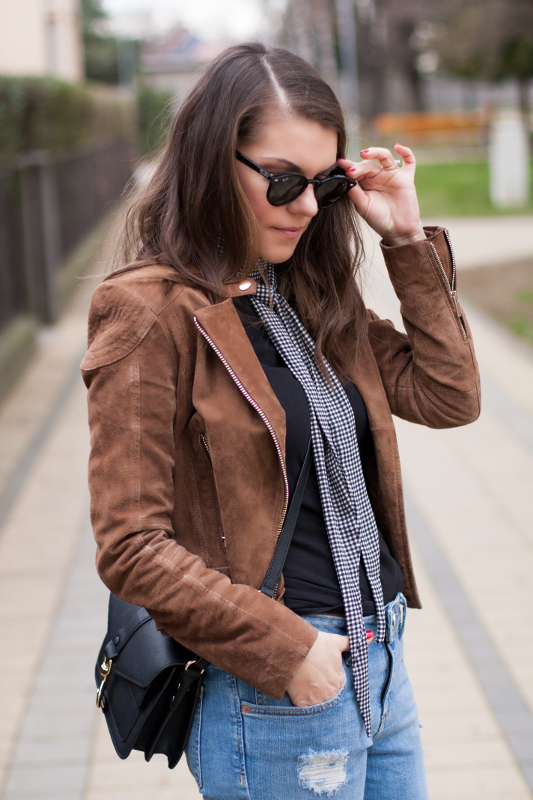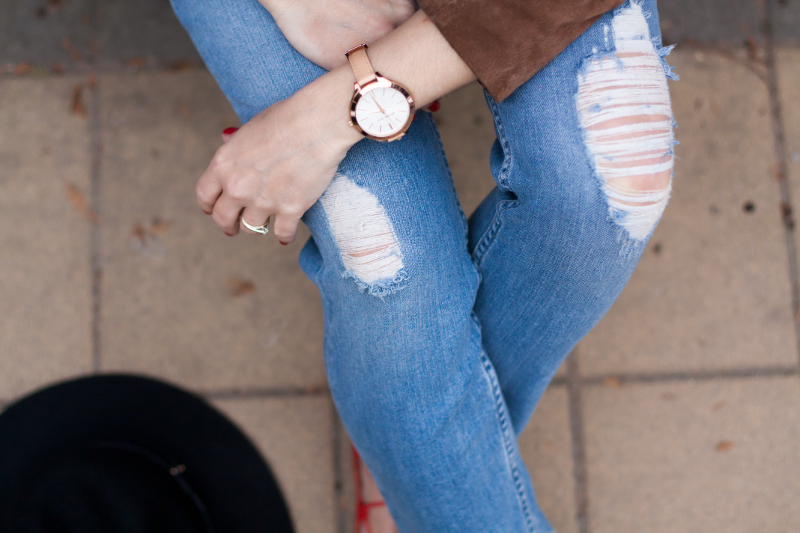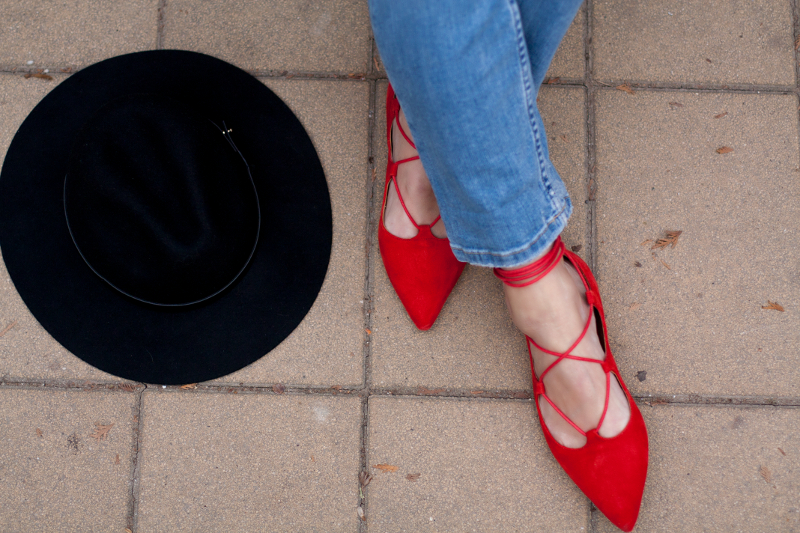 ♦ ♦ ♦ ♦ ♦ ♦ ♦ ♦ ♦ ♦ ♦ ♦ ♦ ♦ ♦
Hello guys and welcome to my blog. I hope you had a lovely weekend. I have another outfit inspiration from Saturday. The weather was pleasant and I took my lace red ballet flats out, which you could see on the blog already here. Since I knew I won't be spending much time outside, I was comfortable wearing it. How about you? Have you started wearing your spring pieces yet?
Maybe you have noticed that some pieces repeat itself on the blog. I want to show you how to can wear one item in a different ways and make the most of it. Also not everyone can afford buying new clothes all the time and sometimes it can be a new accessorize and suddenly you have a new outfit. Interesting gingham long narrow scarf I got to a Women's Day occasion. Accessorizes are important to me, it takes the outfit to another level and completes it.These long scarfs are very trendy at the moment. Also very popular are cowboy neckerchiefs in different colors, blue, black and red. I also have one of these in myself. There are easy to combine with simple outfits, denim and leather pieces. Ripped jeans are still in and these are super comfortable. For me it is an ideal outfit for a shopping, brunch or coffee with girls. What do you think?
Top: H&M
Jeans: Asos (similar here and here)
Shoes: Topshop (similar here)
Scarf: Zara (similar here)
Hat: H&M (here)
Handbag: Rebecca Minkof (love this one here)
Watch: Michael Kors (similar here)
Sunglasses: Ray-ban (similar here)
Photos by: Jefferson Kenji
Thank you very much for reading and your support on a Blogger of Year 2015, you can still vote for me if you like to. It means a lot to me and thank you. I also hope you liked this outfit and if so, please let me know in the comment section down below. If this is something you would wear or how would you combine it yourself. Have a beautiful day. ♥