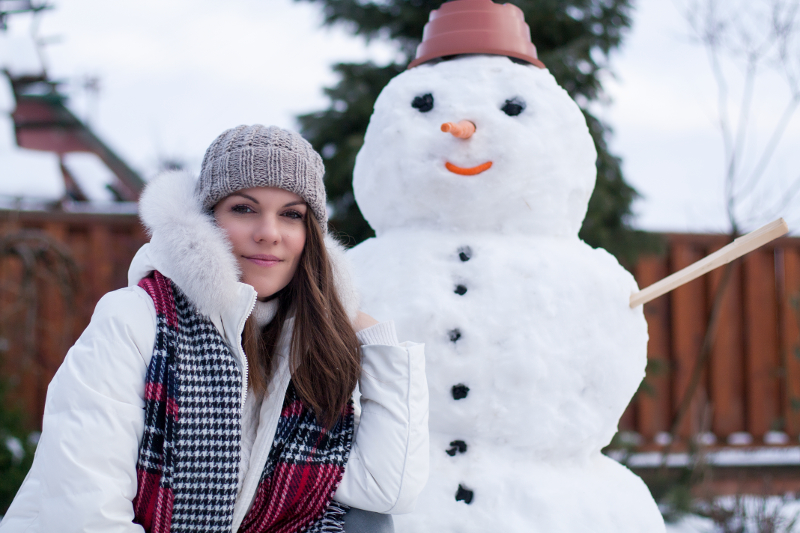 Ahoj a vitajte na blogu. Dnes mám pre Vás pár záberov z našej nedele, ktorú sme trávili na chalupe. Ako vidíte o zábavu sme mali postarané. Krásne nám napadol sneh a my sme sa poriadne vyšantili. Nechýbalo ani stavanie snehuliaka, či guľovačka. Taká nedeľná pohodička. Škoda len, že tá zima už nie je to, čo bývala a sneh nám dlho nevydrží. Druhý deň po ňom nezostala ani stopa, teda vlastne len čľapkanica. To milujeme, že? Aký ste mali víkend vy? Dúfam, že ste si ho poriadne užili.
K zime neodmysliteľne patrí aj teplé, nepremokavé oblečenie, ktoré je základom. Kvalitnú bundu a snehule považujem za nevyhnutnosť a určite by nemali chýbať v žiadnom šatníku. Tu som ochotná aj zainvestovať, pretože viem, že ma pred chladom ochránia a vydržia aj niekoľko rokov. Ale vždy si ich vyčíham v zľavách. A samozrejme čiapku, bez ktorej sa jednoducho nezaobídem. Túto zimu najradšej nosím ručne pletené čiapky Andy Tomek, ktoré zbožňujem. Zbierka sa mi rozrástla o túto krémovú čiapku s bombrlcom. A nutne potrebujem ďaľšie! 😀 Určite mrknite na jej profil. Zistila som, že som nielen topánková maniačka, ale aj čiapkový úchyl. Ale to sa asi opakujem. Jediné, čo v zime veľmi nenosím, i keď viem, že by som mala, sú rukavice. Dôvodom je, že ich nikdy nemôžem nájsť aj keď viem, že sa tam niekde ukrývajú. Potvorky. A keď nájdem, tak vždy len jednu. Ten istý problém mám aj s ponožkami. Znie to povedome? Tento zimný, nenáročný outfit som ozvláštnila tartanovo-ozúbkovaným šálom, ktorý ste už mohli na blogu vidieť. A môžem vyraziť.
Tielko: H&M (tu)
Pulover: Lindex (podobný tu a tu)
Rifle: Review (podobné tu)
Bunda: Dolomite (podobná tu)
Snehule: McKinley (podobné tu a tu)
Šál: Primark (tu)
Čiapka: Andy Tomek
Foto: Jefferson Kenji
Ďakujem pekne za prečítanie, dúfam, že sa Vám článok páčil, keď tak mi dajte vedieť dolu do komentu, alebo ma môžete podporiť lajkom na facebooku, či sridečkom na instagrame. Napíšte mi čo najradšej na hory, či podobné príležitosti nosíte vy? Do čoho naviac investujete pri kúpe a čo trebárs neradi v zime nosíte? Majte sa krásne. ♥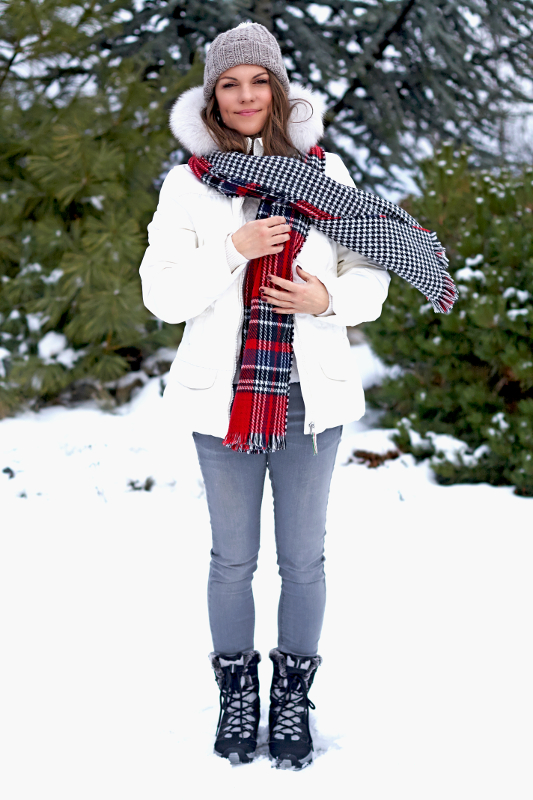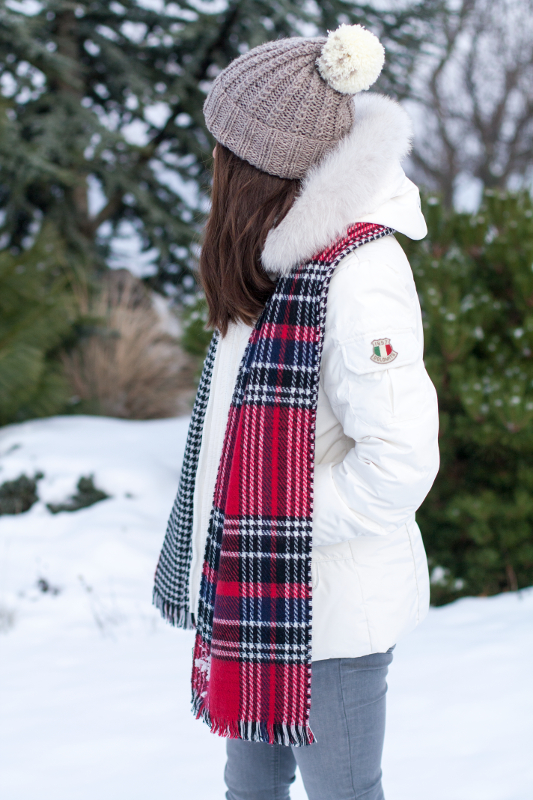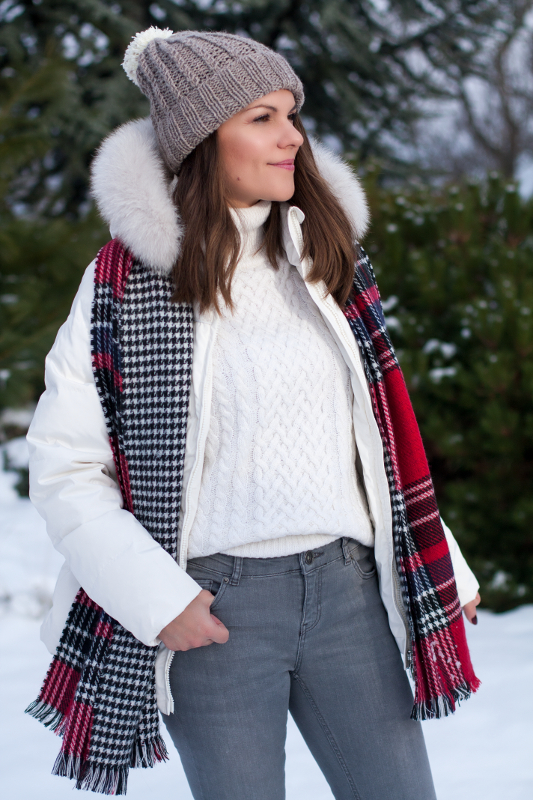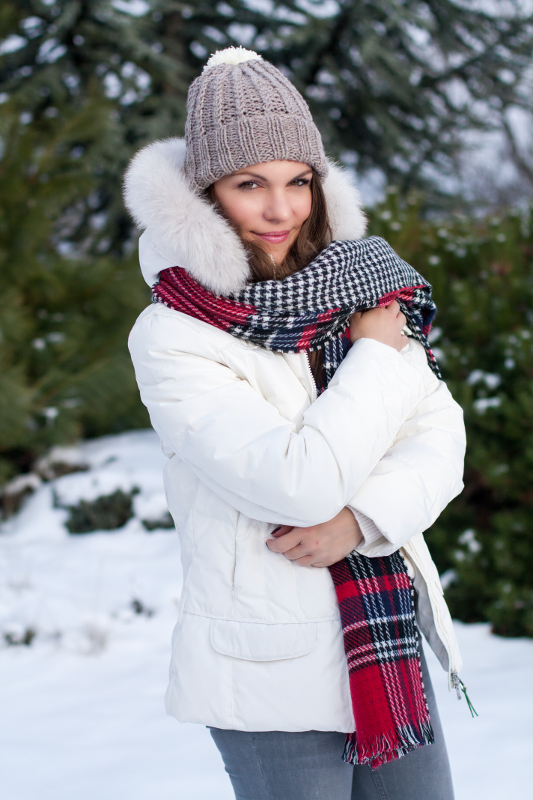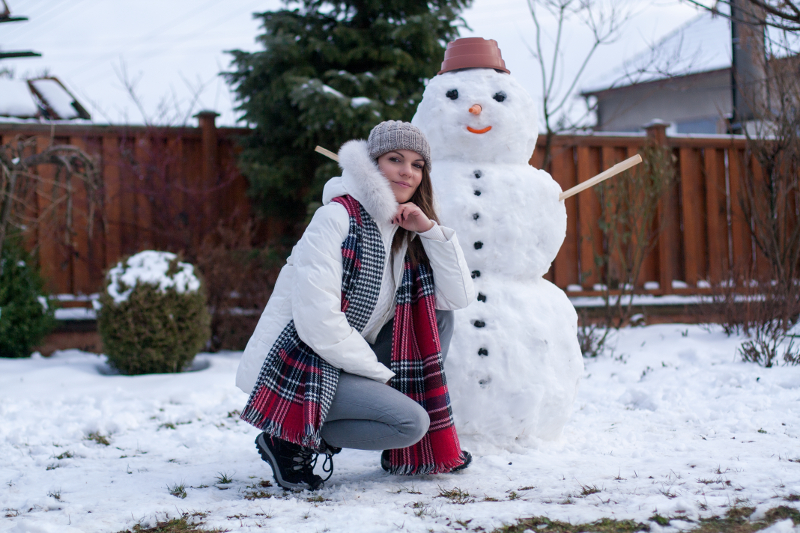 ♦ ♦ ♦ ♦ ♦ ♦ ♦ ♦ ♦ ♦ ♦ ♦ ♦ ♦ ♦
Hello there and welcome to my blog. I have a few shots from our Sunday on the blog today, which was very entertaining by the way. We spent it at a cottage, built up a snowman and of course it wouldn't be such a fun without a snow fight. Right? Just a casual Sunday, you know. It's a pity that our winter is nothing like it used to be and snow doesn't last here for a long time. Next day it was all gone and left us with wet muddy streets. We love that. Not!
My must have winter items for a cold and snowy weather are: good quality ski jacket and a snow boots. I'm more willing to invest in these items than anything else. Not only I get a good amount of a protection from an unpleasant weather but also these items will last with me through the years. However, I still buy them on sales. Another piece I can't do without are definitely knitted beanies. This winter I love wearing Andy's Tomek handmade knitted beanies. It keeps me warm and cozy and I need more! Definitely check her out. Not only I am a shoe maniac but also a beanie obsessed person. I might be repeating myself tough. The only thing I don't wear during the winter are gloves. I know I should have because my hands are super dry. I never seem to find them when I need. And if so, I find only one. The same problem goes with socks. Sounds familiar? By accessorizing this outfit with a tartan-hounds- tooth scarf I made this look more interesting and colorful too. And I'm good to go!
Vest: H&M (here)
Pullover: Lindex (similar here a here)
Jeans: Review (similar here)
Ski Jacket: Dolomite (similar here)
Snow Boots: McKinley (similar here and here)
Scarf: Primark (here)
Beanie: Andy Tomek
Photos by: Jefferson Kenji
Thank you very much for reading. I hope you enjoyed this article. If so, please let me know in the comment section down below. You can support me on Facebook by liking my page or heart me on Instagram. Let me know what do you like to wear or don't like to wear during the winter time. Have a lovely day. ♥