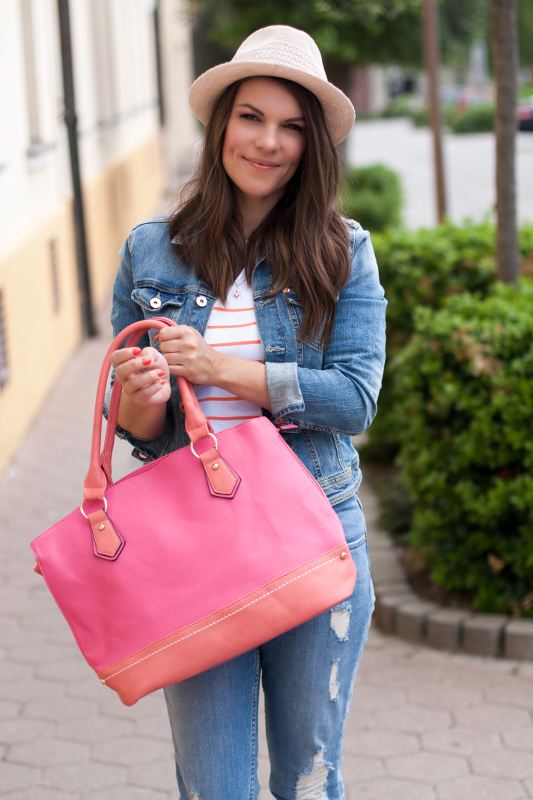 Ahoj a vitajte na blogu. Aký ste mali víkend? Dúfam, že si užili naozaj krásne slnečné počasie. Dnes som si pre Vás pripravila nový článok, moja skoro každodenná uniforma počas týždňa, jeden z mojich "mommy on the go" outfitov, keď sa chcem cítiť pohodlne a nechce sa mi rozmýšľať, čo na seba. Veď to poznáte. Denim na denim, k tomu jednoduché tričko, pohodlné topánky a som vybavená na celý deň. 🙂

Outfit je veľmi jednoduchý, ale stále pekný a pôsobí upravene. Náš drobec má cez týždeň krúžky a som dosť vyťažená tak sa chcem sa cítiť hlavne pohodlne, ale aj dobre vyzerať. Túto kombináciu denim na denim zbožňujem, tiež rada kombinujem tmavý denim so svetlým.  K roztrhaným rifliam som zvolila farebne podobnú riflovú bundu, ktorá mi vyhovuje strihom do pása. A pásikované tričko s trojštvrťovými rukávmi, je z príjemného materiálu a zodpovedá veľkosti S.
Outfit som doladila ružovou kabelkou, o ktorú budete súťažiť v nasledujúcom článku v spolupráci s internetovým obchodíkom Just Play, veľmi pekne ďakujem. Keď tak mrknite na ich stránku, majú tam fajn vecičky za rozumnú cenu. Chcela som Vám ju ukázať v akcii a jednu z možností ako ju skombinovať. Čo na ňu poviete? Je priestranná a vhodná práve pre takú zaneprázdnenú maminu. Zmestí sa tam všetko, čo potrebujete, dokonca aj menší notebook. Vhodná je aj na menšie nákupy. Topánky som volila pohodlné, zlaté espadrilky, ktoré outfitu dodali lesk a slamenný klobúk zase šmrnc. A môžem vyraziť. 🙂
Top: Just Play
Rifle: Asos (podobné tu)
Bunda: H&M (podobná tu)
Topánky: London Rebel (podobné tu a tu)
Klobúk: Brigitte Bijou (podobný tu)
Kabelka: Just Play
Fotky: Jefferson Kenji
Ďakujem pekne za prečítanie, dúfam, že sa Vám článok páčil. Keď tak mi dajte vedieť dolu do komentu či podobné kúsky vlastníte a ako ich najradšej kombinujete vy? Podporiť ma môžete tiež lajkom na Facebooku, či srdiečkom na Instagrame, vždy ma to veľmi poteší. Majte sa krásne. ♥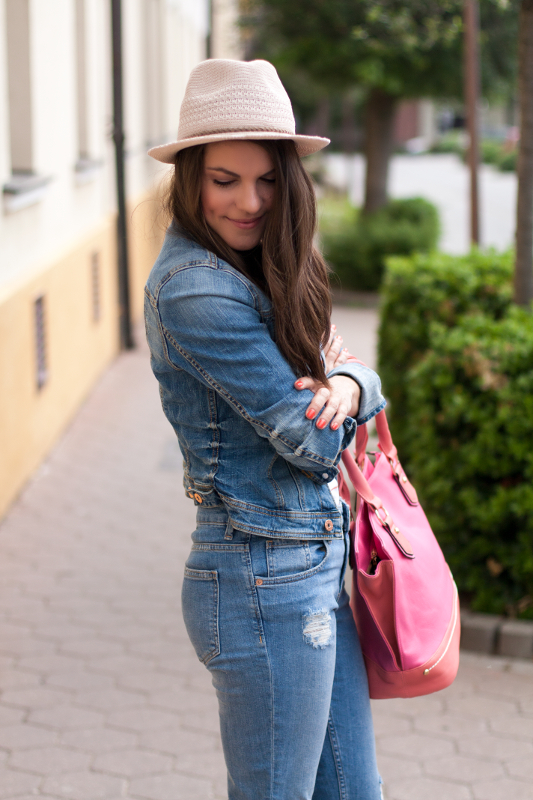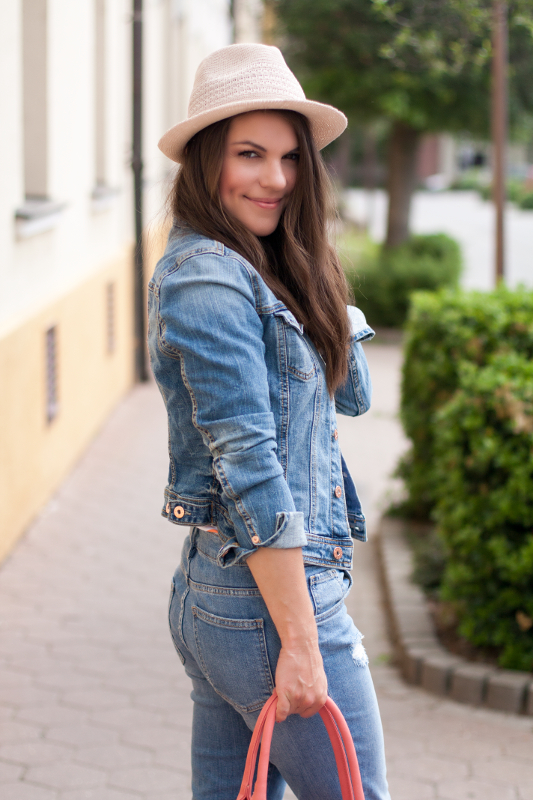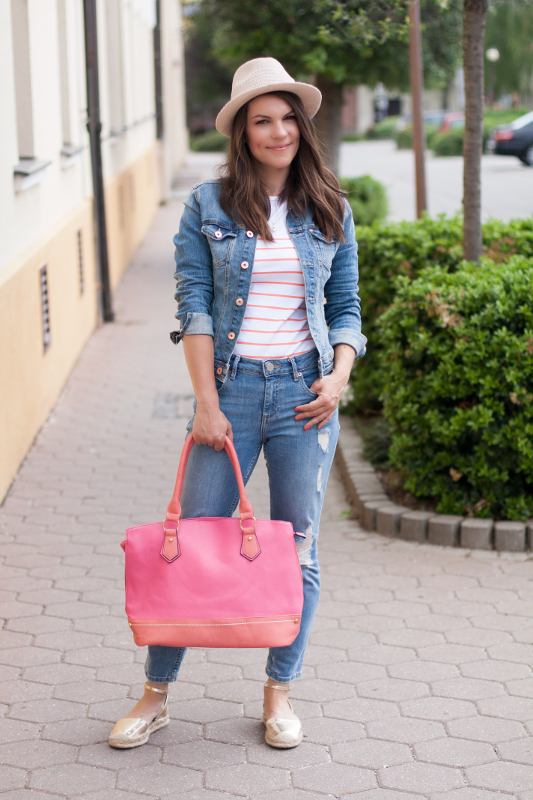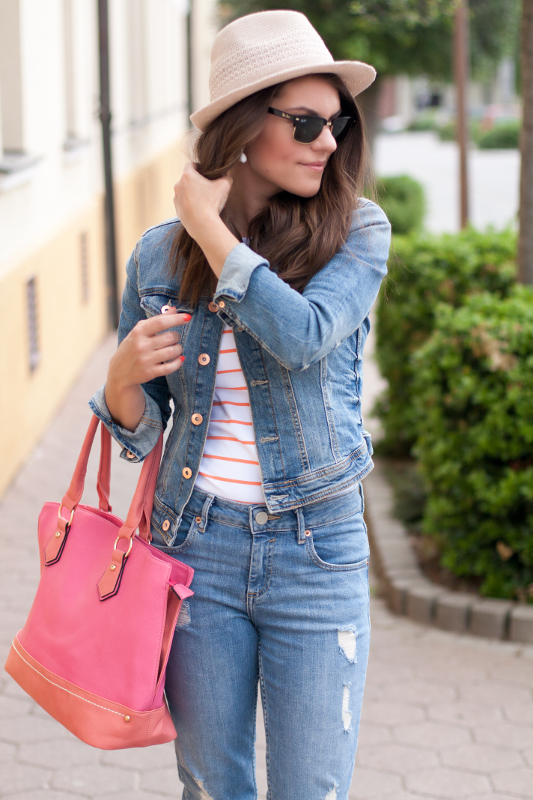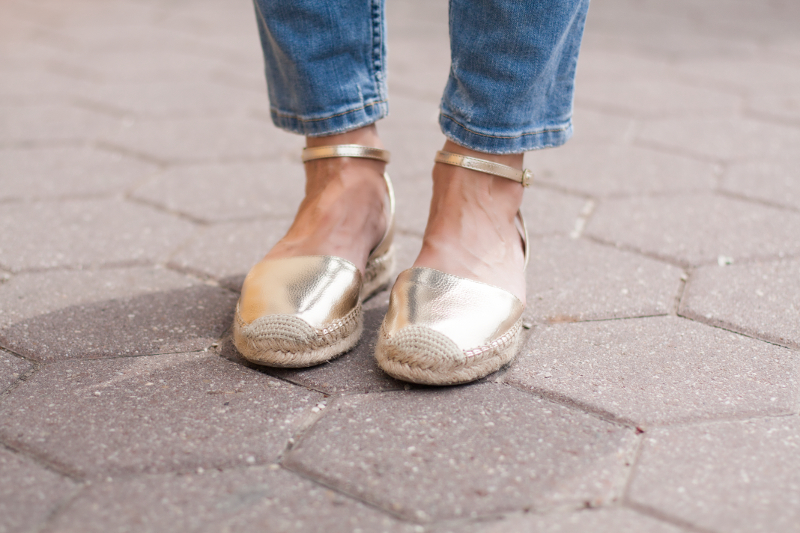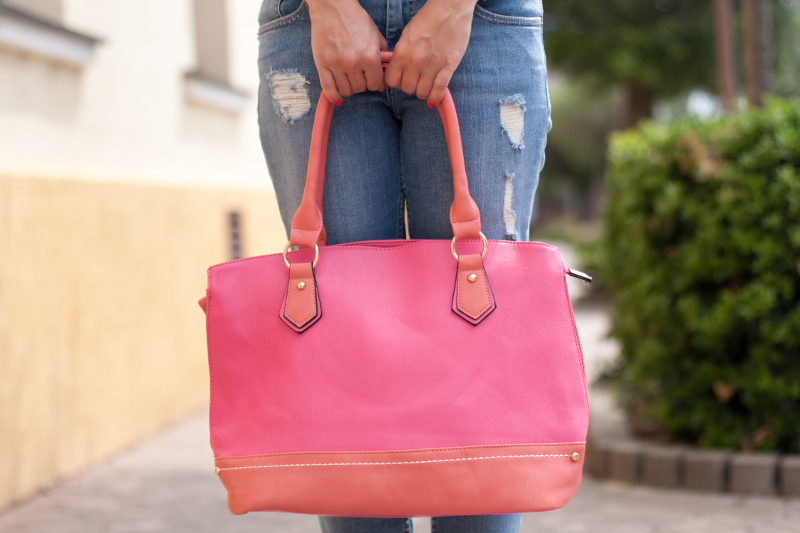 ♦ ♦ ♦ ♦ ♦ ♦ ♦ ♦ ♦ ♦ ♦ ♦ ♦ ♦
Hello guys and welcome to my blog. Did you have a nice weekend? I hope you enjoyed this beautiful weather. Today I have another outfit for you, my weekly uniform. One of these mom on the go outfits, when I want to feel super comfy and don't want to waste time on thinking what to wear. Denim on denim, simple stripe shirt, comfortable shoes and I am all set for the day.
It's a very simple outfit but still nice and put together. This is a perfect option for running errands, dropping my little one to and from after school activities etc. I love denim on denim combination and I also like to combine dark washed denim with light washed denim. I combined my ripped boyfriend jeans with a similar washed denim jacket this time. I love the waist cut of the jacket, it fits me really well. Stripe shirt with a three-quarter-sleeve shirt is a good quality, from a pleasant material and true to size S.
I brightened up the whole look with a pink handbag that is meant to be for an giveaway for you guys, in collaboration with Just Play e-shop, thank you very much. Check them out, they sell a nice variety of clothing and accessories for a reasonable price. I wanted to show you this pink handbag in action and one of the options, how you can style it. What do you think? It is spacious and great for a busy mom. You can fit everything you need for the day, even a small notebook or make a small shopping too. I will post more details about a giveaway in the next article, so stay tuned. I wear my golden metallic espadrilles wedges that add a bit of shine to an outfit and straw hat I wear almost every day and I am good to go. 🙂
Top: Just Play
Jeans: Asos (similar here and here)
Jacket: H&M (similar here)
Shoes: London Rebel (similar here)
Hat: Brigitte Bijou (similar here)
Handbag: Just Play

Photos by: Jefferson Kenji
Thank you very much for reading. I hope you liked this outfit and if so, please let me know in the comment section down below. Write me if you have similar pieces yourself and how do you style it? You can support me on Facebook, or heart me on Instagram, it always makes me very happy. Have a great day. ♥