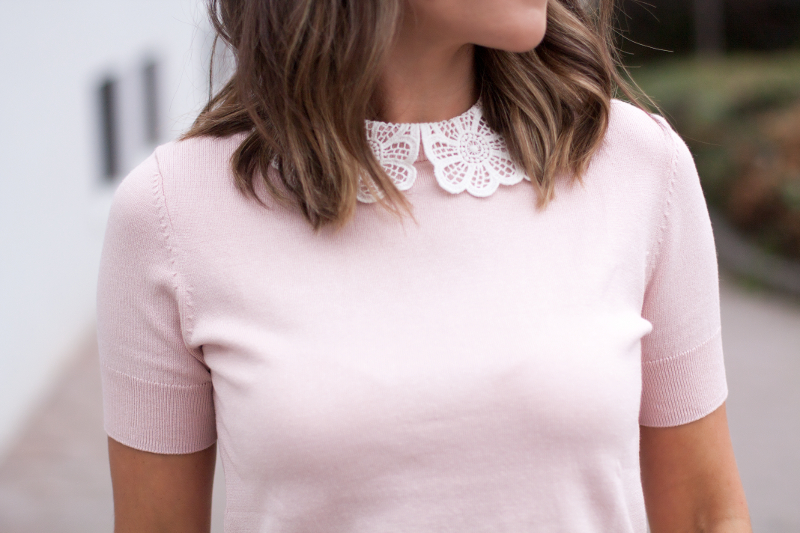 Využila som asi poslednú teplú nedeľu na to, aby som si mohla obliecť môj predčasný narodeninový darček, svetloružový sveter s golierom, ktorý som dostala od maminy. Ja určite patrím medzi tých ľudí, ktorí sa len veľmi ťažko lúčia s letom a preto aj tento outfit je mierne odľahčený. Jeseň mám rada, ale nie som ešte pripravená na teplé kabáty a bundy. Ako to máte vy?

V outfite som skombinovala svetloružový sveter s golierom a bola to láska na prvý pohľad. Je vyrobený z ľahkej pleteniny a je veľmi jemný na dotyk. Vždy ma priťahujú kúsky so zaujímavým detailom, zase sa opakujem. Golier z čipky s retro nádychom, bolo presne to, čo rozhodlo. Svetloružový sveter som skombinovala so žltou sukňou, ktorá je starší kúsok. Farebná kombinácia citrónovo-žltej a svetloružovej farby je jesenný trend, tak pokiaľ máte v šatníku kúsky v týchto farbných odtieňoch, určite si tento trend vyskúšajte. Je to príjemná kombinácia na pohľad. Svetloružovú tiež veľmi rada kombinujem s červenou, čiernou, šedou, vínnovou, hnedou, či pastelovo-modrou farbou. Keďže išlo o denné rande, obula som si moje šnurovacie oxfordky, na večer by som pravedpodobne volila lodičky. Na dnešné sychravé počasie by sa viac hodil trench coat (béžový, prípadne čierny). Ak nie ste príliš dáždnikový typ ako ja, vždy si ho niekde zabudem, tak môžete outfit doplniť baretkou, myslím si, že to bude vyzerať  dokonale.
Hravý a zároveň nežný outfit, ktorý je vhodný na denné rande s mužom, či priateľkami na neskoré raňajky, alebo do práce. Pôsobí veľmi žensky, až dievčensky a viete čo? Presne tak som sa v ňom aj cítila a o tom móda je. 🙂
Top: H&M (podobný tu)
Sukňa: Zara (podobná tu)
Topánky: Zara (podobné tu a tu)
Kabelka: Baťa (podobná tu)
Hodinky: Michael Kors
Fotky: Jefferson Kenji
Ďakujem pekne za prečítanie, dúfam, že sa Vám outfit páčil, keď tak mi dajte vedieť dolu do komentu. Podporiť ma môžete aj lajkom na Facebooku, či srdiečkom na Instagrame. Napíšte mi, či Vás táto farebná kombinácia zaujala, prípadne ako by ste to skombinovali vy? Majte sa krásne. ♥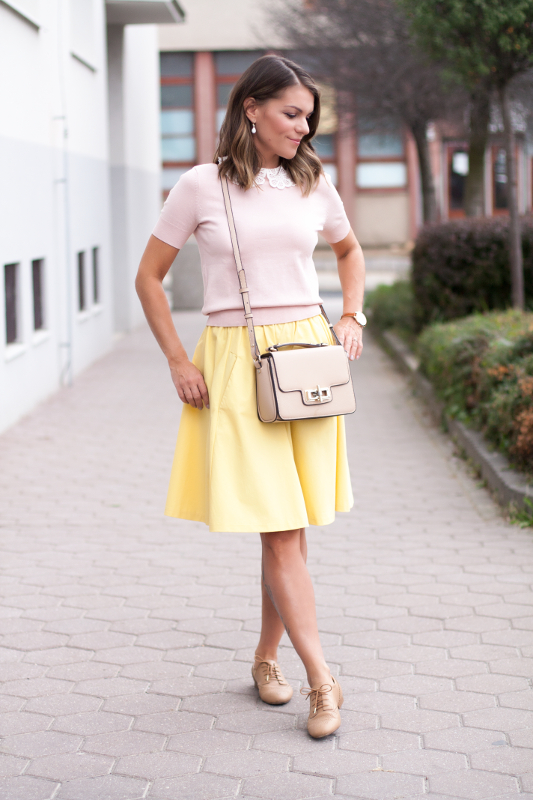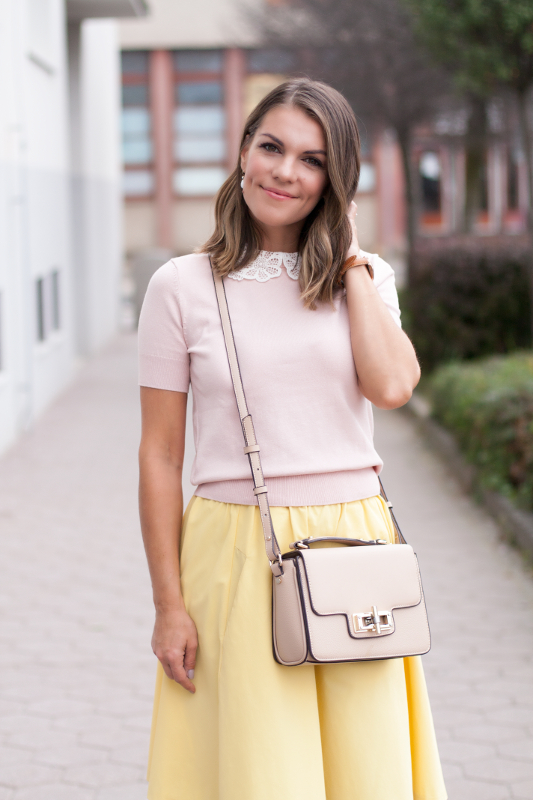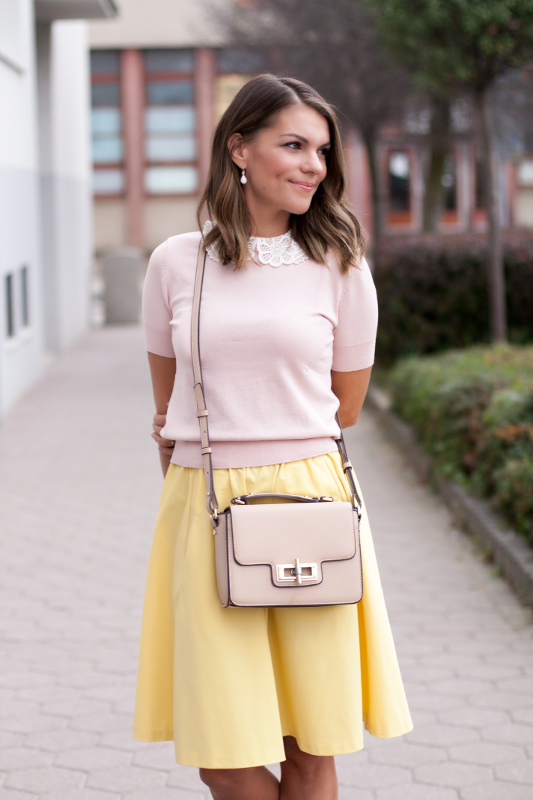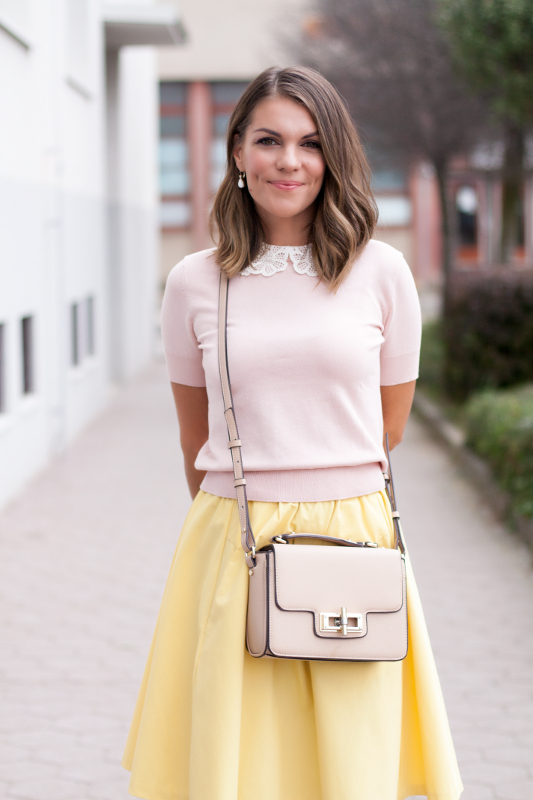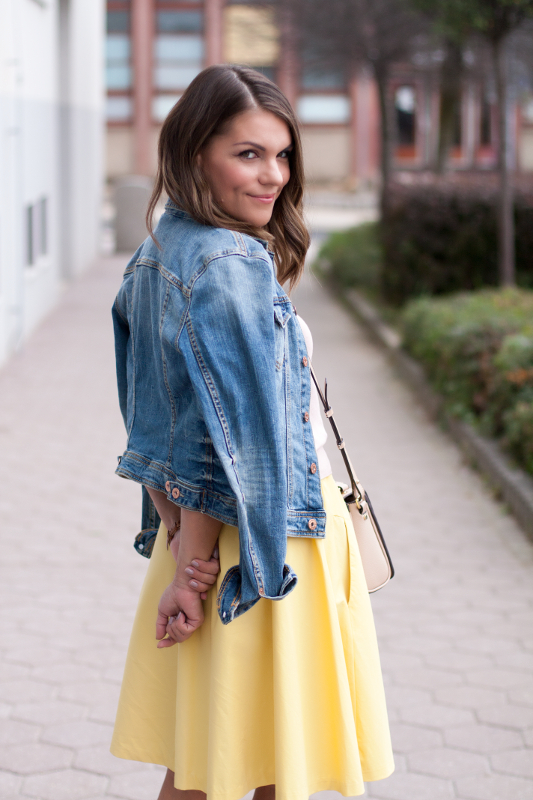 ♦ ♦ ♦ ♦ ♦ ♦ ♦ ♦ ♦ ♦ ♦ ♦ ♦ ♦
I took advantage of probably the last warm weather, so I could dress in my early birthday present. Blush pink sweater with a lace collar, which I received from mom and absolutely love. I definitely belong to those people who can't say goodbye to summer just yet and therefore the outfit is slightly lightened. I love fall, but I'm not ready for warm coats and jackets. I'm not too keen on the sweating part. 😀 How about you?
In this outfit I combined a blush pink sweater with lace collar and it was love at the first sight. It is constructed from a lightweight knit and it is very soft at touch. I have always been attracted to pieces with an interesting detail, I repeat myself again. Detailed lace collar had me right away. I combined a blush pink sweater with a lemon yellow skirt, which is an older piece. I bought it on sales last year. Blush pink and lemon yellow color combination is one of fall trends, so if you have similar pieces yourself, try this trend. It's very pleasant to look at. I also love to combine blush pink with red, black, grey, wine-red, brown or baby blue.  Since it was a day date I slipped on my oxford shoes  and for a night date I would go for pumps. For this rainy weather I recommend a trench coat (beige or black). And if you are not an umbrella type like me, I always loose it, try accessorize this look with a beret. I think it would look gorgeous.
Very playful and soft outfit, which is great for a day date with your man, brunch with your girls or even work. It looks very feminine, even girly if you like and you know what? That's exactly how I felt and it is what fashion is about.
Top: H&M (similar here)
Skirt: Zara (similar here)
Shoes: Zara (similar here a here)
Handbag: Baťa (similar here)
Watch: Michael Kors
Photos by: Jefferson Kenji
Thank you very much for reading. I hope you like this article and if so, please let me know in the comment section down below. You can also give me thumbs up on Facebook, or heart me on Instagram. Write me if you like this color combination, or how would you style it yourself? Have a great day. ♥