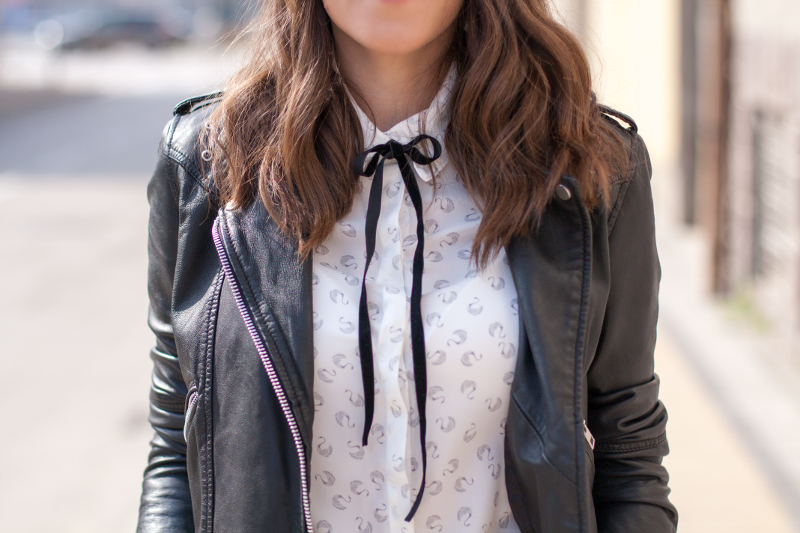 Ahoj a vitajte na blogu. Dúfam, že ste si užili pohodové Veľkonočné sviatky s rodinou a blízkymi. Dnes mám na blogu novú outfitovú inšpiráciu, outfit, ktorý som mala na sebe v piatok. Článok bude kratší, pretože sú stále prázdniny a vonku to vyzerá na krásny deň, ktorý si treba užiť.

Nedávno som natrafila na túto blúzku s labutím motívom a sametovou stužkou, hneď som sa do nej zamilovala. Mám rada zvieracie motívy, mám už aj pudlíkovú blúzku. 🙂 Sametová stužka je príjemný detail, nosím ju uviazanú na mašličku, alebo len tak spustenú. Stužku si inak môžete zakúpiť v akejkoľvek galantérii a dať si ju na Vašu obľúbenú blúzku, outfit pekne oživí. Skombinovala som ju zo roztrhanými boyfriend rifľami a kožennou bundou. Urobila som dve verzie, jednu s klobúkom a jednu bez. Ktorá sa Vám páči viac?
Top: Reserved (podobná tu a tu a tu)
Rifle: Asos (podobné tu)
Topánky: Stradivarius (podobné tu)
Klobúk: H&M (podobný tu)
Kabelka: Michael Kors (podobná tu)
Hodinky: Calvin Klein (podobné tu)
Fotky: Jefferson Kenji
Ďakujem pekne za prečítanie a Vašu podporu na Bloger Roka 201, veľmi si to vážim. Dúfam, že sa Vám outfit páčil, keď tak mi dajte vedieť dolu do komentu, alebo palec hore na Facebook, či srdiečko na Instagrame. Napíšte mi ako by ste skombinovali podobný outfit vy? Majte sa krásne. ♥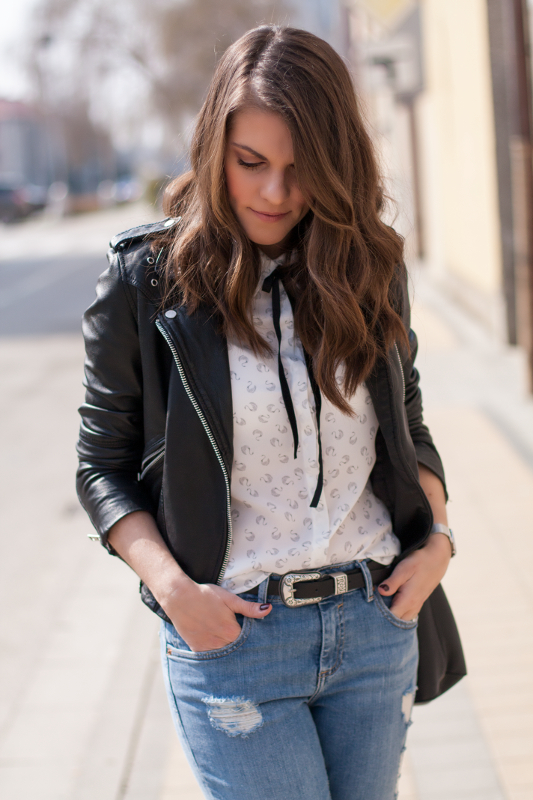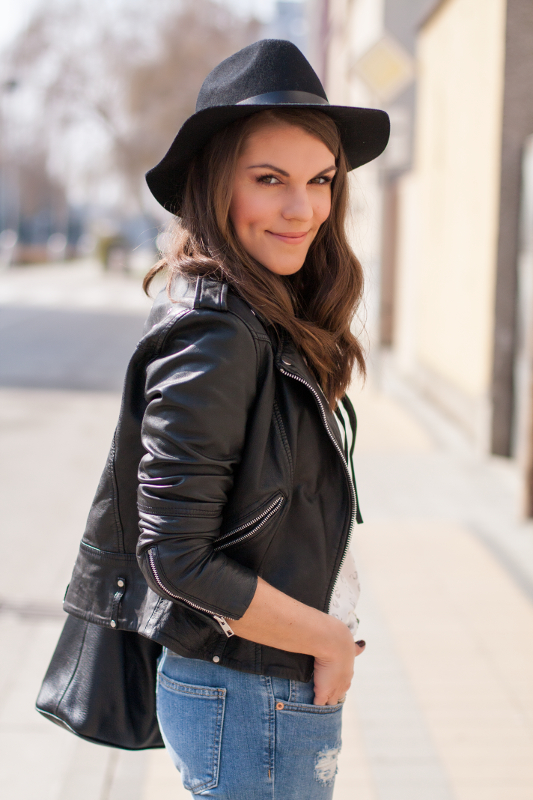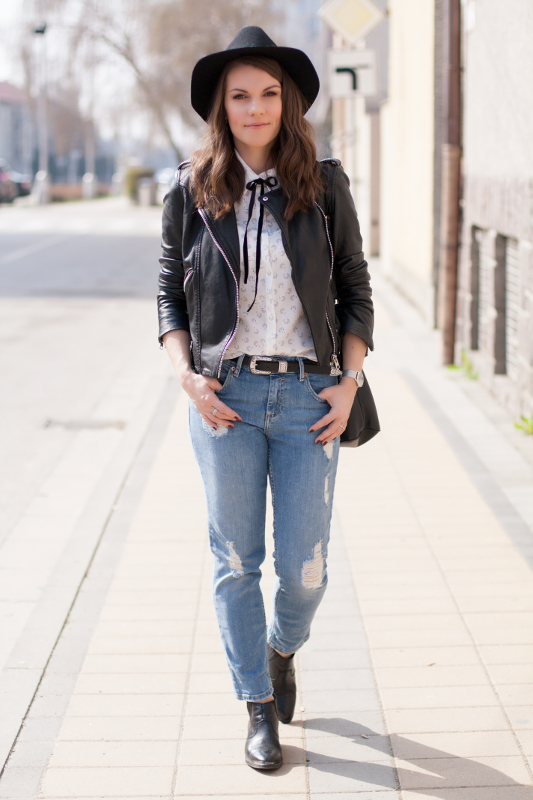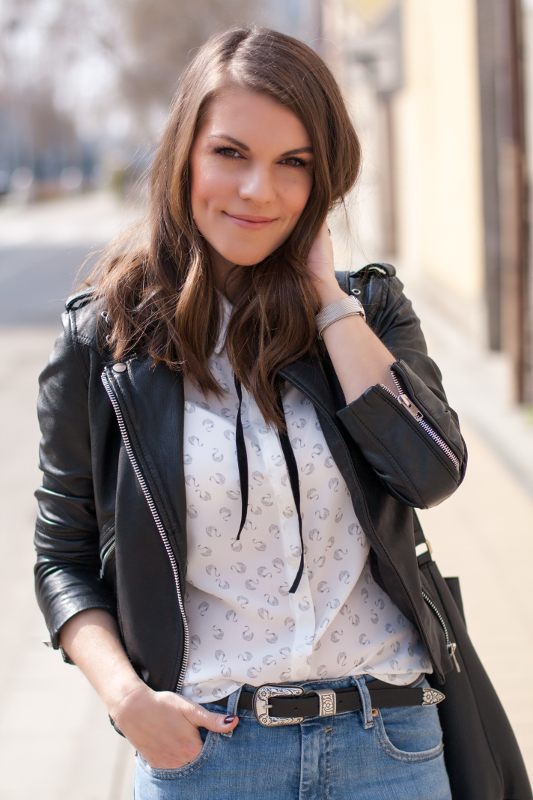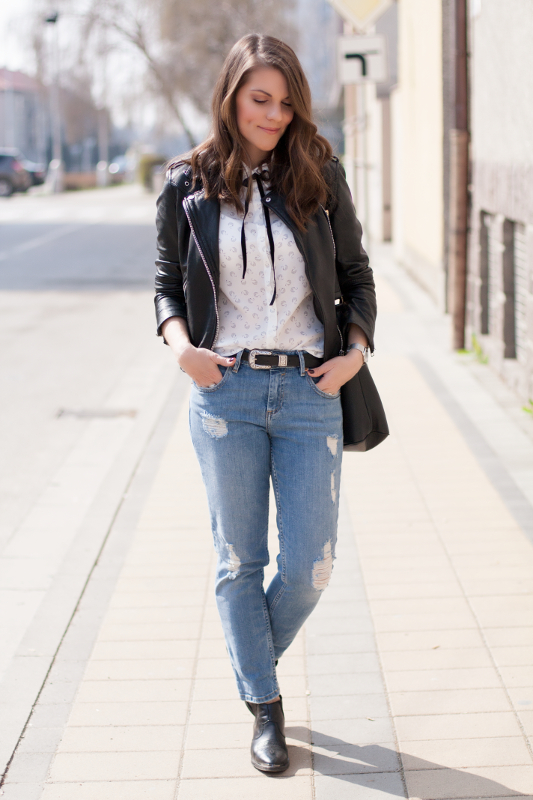 ♦ ♦ ♦ ♦ ♦ ♦ ♦ ♦ ♦ ♦ ♦ ♦ ♦ ♦
Hello guys and welcome to my blog. I hope you had a lovely Easter break and enjoyed with your family. I have another outfit inspiration on the blog for you. Outfit I was wearing on Friday. The article will be very short, it's still holiday here and the weather is gorgeous. perfect day to enjoy outside.
Recently I have found this swan blouse that I felt in love immediately. I love animal motives I already have something similar, a poodle blouse. I think they are fun. It has a velvet ribbon, which is a lovely detail on the blouse. I like to wear as you can see in this outfit or hanging untied. You can buy a velvet ribbon in any shop with sewing material and wear your favorite blouse like that. I think it adds a little extra to your outfit. I combined it with my favorite ripped boyfriend jeans and leather jacket. I did two versions, one with hat and one without? Which one is your favorite?
Top: Reserved (similar here)
Jeans: Asos (love this one here)
Shoes: Stradivarius (adore these here)
Hat: H&M (similar here)
Handbag: Michael Kors (similar here)
Watch: Calvin Klein (similar here)
Photos by: Jefferson Kenji
Thank you very much for reading and your support on the Blogger of the Year 2015, I really appreciate it. I hope you liked this article, if so, please let me know in the comment section down below, or give me thumbs up on Facebook, or heart me on Instagram. Have a lovely day. ♥