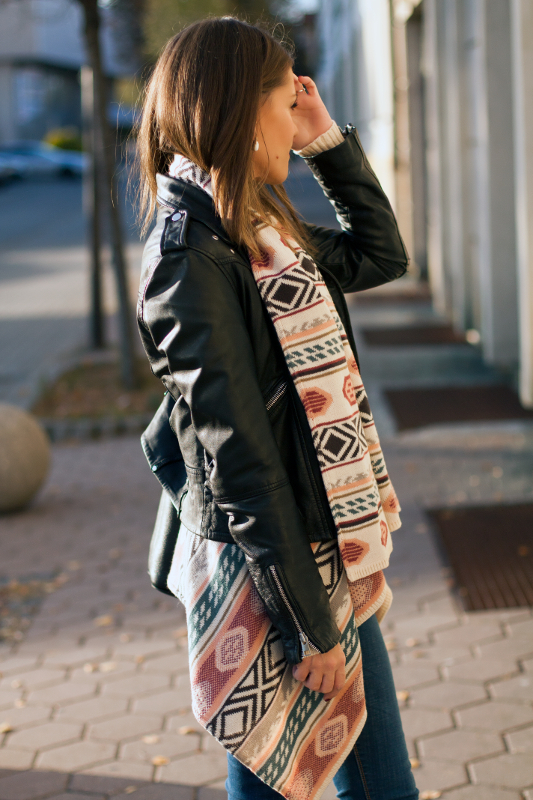 A ja zas dobieham jeden zameškaný outfit, ktorý je jedným z mojich obľúbených, nosím ho naozaj často a vôbec, čudujem sa, že sa na blogu neobjavil už skôr. Čo už ste na blogu určite mohli vidieť, je asymetrický vzorovaný kardigan, na ktorý sa ma často pýtate. Bohužial je to minuloročný úlovok. Je zhotovený zo vzorovaného hrejivého úpletu bez zapínania s asymetrickými okrajmi. Ako som ho skombinovala asi pred rokom si môžete pozrieť tu. Ktorý outfit sa Vám páči viac?
V tomto outfite som skombinovala vzorovaný kardigan s úzkymi denimovými nohavicami, pretože tie nosím najradšej. K nim som zvolila jenoduché kotníkové čižmy, ale rada tento outfit kombinujem aj s vysokými čižmami nad kolená a vyezá to skvele. Čo je super na takom viacfarebnom kardigane je to, že sa v outfite dá využiť celá jeho farebná škála. Je tam zelená, šedá, ružová, fialová, čierna, béžová a tak môžete obmienať rifle, tielka, alebo doplnky podľa nálady a podľa toho, čo zrovna máte v šatníku. Pod kardiganom mám ešte svetloružové tielko, ktoré tiež farebne ladí s kardiganom a úplne mi to stačilo, pretože ten kardigan je naozaj veľmi teplý a okrem toho má ohrnutý límec, ktorý poslúžil aj ako šál. Jednoduchý outfit na bežné nosenie, na potulky mestom, do školy, či do detského kútika s drobcom, kde hrá hlavnú úlohu viacfarebný vzorovaný kardigan. A môžem vyraziť.
Top: Stradivarius
Kardigan: Review (podobný tu)
Nohavice: Zara (podobné tu)
Bunda: Mango (podobná tu)
Topánky: Stradivarius (podobné tu)
Kabelka: Michael Kors (podobná tu)
Fotky: Jefferson Kenji
Ďakujem pekne za prečítanie, dúfam, že sa Vám článok páčil, keď tak mi dajte vedieť dolu do komentu. Napíšte mi, či máte podobný vzorovaný kardigan v šatníku tiež a s čím ho najradšej kombinujete? Podporiť ma tiež môžete lajkom na Facebooku, alebo srdiečkom na Instagrame. Majte sa krásne. ♥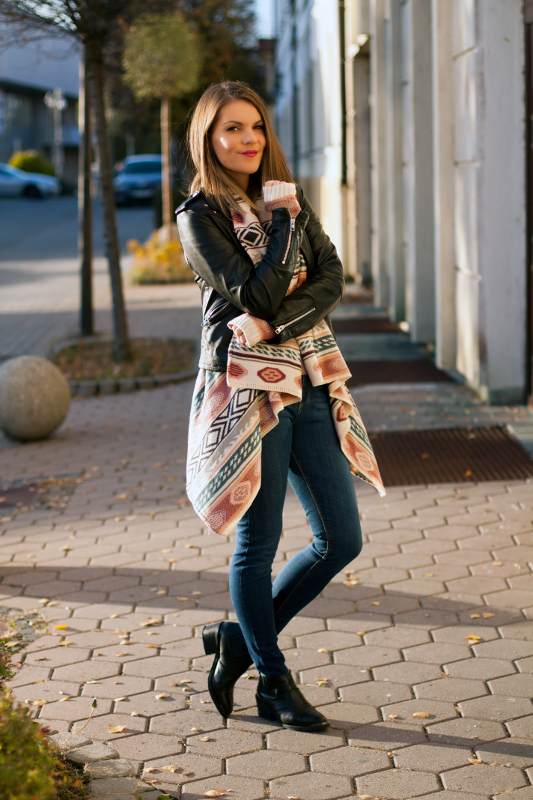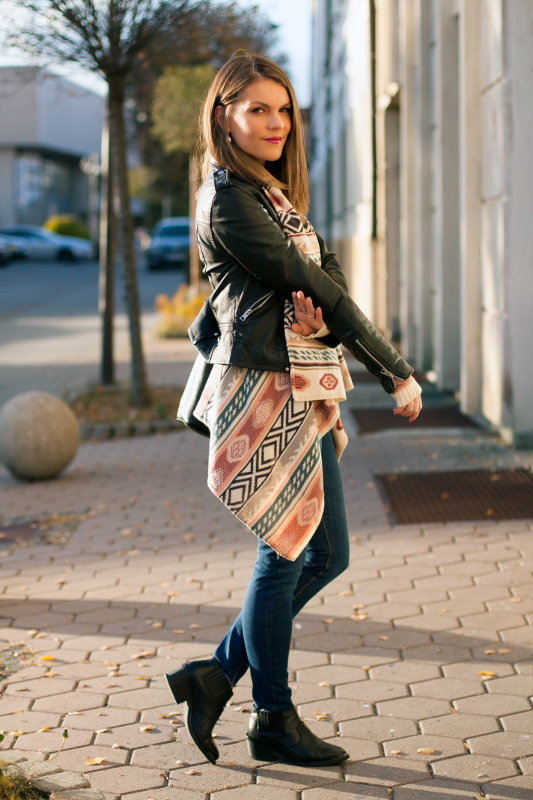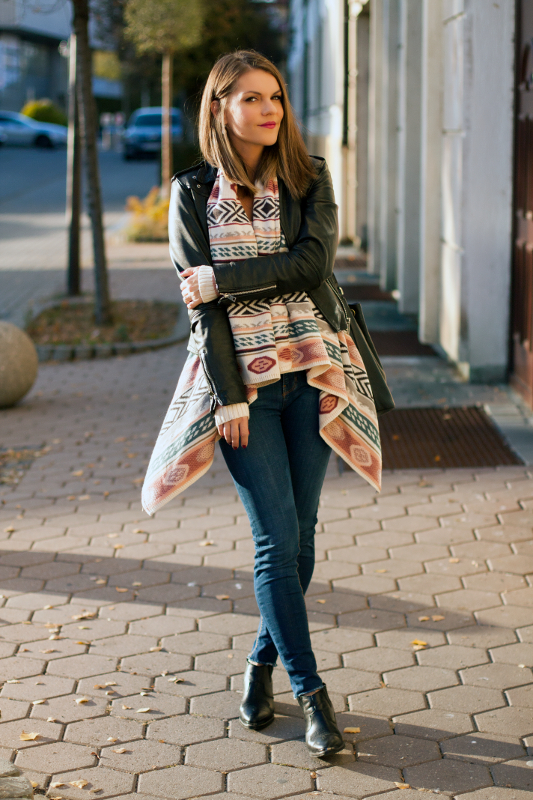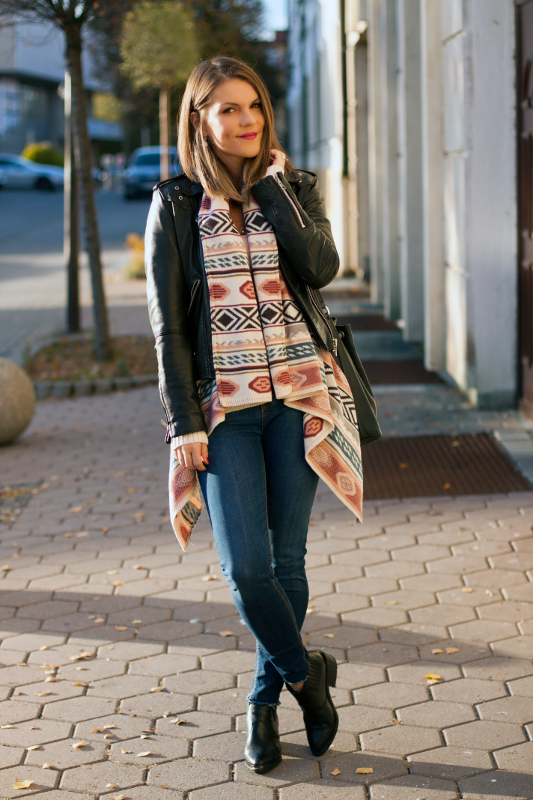 ♦ ♦ ♦ ♦ ♦ ♦ ♦ ♦ ♦ ♦ ♦ ♦ ♦ ♦
I am again catching up on one delayed outfit that is one of my favorite ones, I wear it quite often and I am surprised it hasn't appeared on the blog already. What you could already see on the blog was asymmetric pattern cardigan, you ask me a lot about. Unfortunately it is last year's purchase. It is made from warm pattern knit with asymmetric edges without closing. You can see how I styled it a year ago here. Which one do you like more?
In this outfit I combined a pattern cardigan with a nice pair of skinny jeans, which I love. I added simple ankle boots, but I like to style this outfit with over the knee boots too and it looks great. What I like about this multi-color cardigan is that you can use its color scheme. It has grey, green, pink, black, beige and you can change the color of your jeans, basic vest or accessories to your mood and what you currently have in your closet. I have also under the carding a blush pink basic top, which is similar color to cardigan and it was enough for me because the cardigan is really warm. It is a casual outfit, which you can wear running errands, school or playground with your little one, where the main role plays the pattern cardigan. And I am good to go.
Top: Stradivarius
Cardigan: Review
Jeans: Zara
Jacket: Mango
Shoes: Stradivarius
Handbag: Michael Kors
Photos by: Jefferson Kenji
Thank you very much for reading, I hope you like this outfit and if so, please let me know in the comment section down below. You can also support me by giving me a thumbs up on my Facebook page or heart me on Instagram. Have a great day. ♥