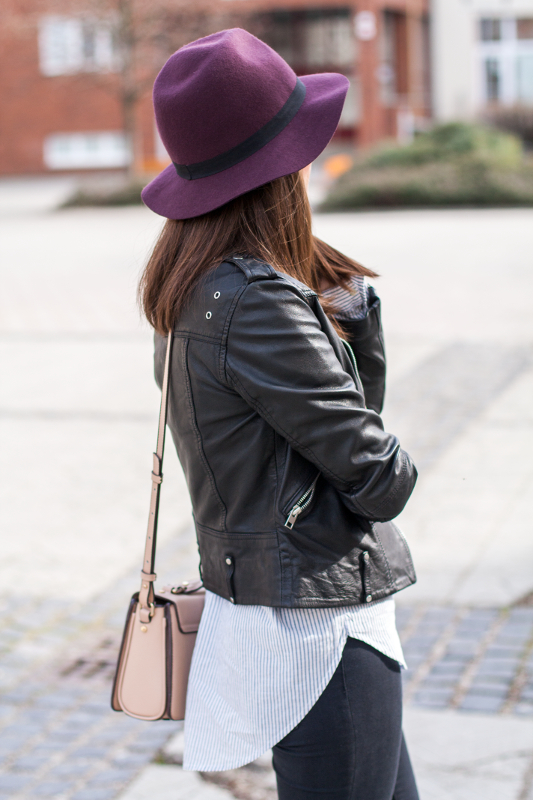 Ahoj a vitajte na blogu. Dúfam, že ste si užili pohodový víkend a tiež prázdniny s Vašimi ratolesťami. 🙂 My sme mali docela rušný týždeň, veľa aktivít, tak písať články na blog bolo nad ľudské sily. Večer som už padala únavou, veď to poznáte. 🙂 Dnes je na blogu môj outfit zo soboty. Vybrali sme sa na nákupy do Ikei a tak som nechcela byť príliš naobliekaná, kedže som vedela, že vnútri strávime pomerne dlhý čas. A vonku bolo príjemné počasie, nie ako dnes.

Novším kúsokom v mojom šatníku, je pásikovaná košeľa. Na pásiky mám slabosť, to už iste viete a budú aj dnešnou témou na blogu. Vertikálne, horizontálne, jemné, výrazné, čierne, modré a čo ja viem, ešte aké, všetky sú dobré. Jedným z hlavných trendov tohtoročnej sezóny jar/leto sú práve výrazné a veľmi odvážne pásiky, ktoré sa tiahnu buď vertikálne, horizontálne, alebo šikmo po tele. Každopádne sú oveľa pevnejšie ako po minulé sezóny a vyznačujú sa sýtou farebnou škálou a už z diaľky pútajú pozornosť. Pokiaľ ste milovníci, či milovníčky pásikov, túto sezónu si určite prídete na svoje. Dôležité je vybrať si tie správne tak, aby lichotili Vašej postave. Horizontálne pásiky postavu môžu rozširovať, ale, pokiaľ potrebujete na určitých partiách pridať, dokážu postavu pekne vyformovať. Vertikálne pásiky, ak sú nosené správne, opticky postavu predĺžia, prípadne zakryjú jej nedostatky. Ja sa už neviem dočkať leta, pretože pár kúskov s výraznými pásikmi sa u mňa určite nájde. Pokiaľ výrazné pásiky nepreferujete, menej výraznými určite nič nepokazíte. A čo vy, aký máte vzťah k pásikom? Nosíte, máte radi?
Košeľa: H&M (podobná tu)
Top: Forever21
Rifle: Zara (podobné tu)
Topánky: Stradivarius (páčia sa mi tieto tu)
Klobúk: Promod (podobný tu)
Kabelka: Baťa (podobná tu)
Prsteň: Bondiamo
Ďakujem pekne za prečítanie, dúfam, že sa Vám článok aj outfit páčil. Keď tak mi dajte vedieť dolu do komentu, alebo ma podporte lajkom na Facebooku, či srdiečkom na Instagrame. Majte sa krásne. ♥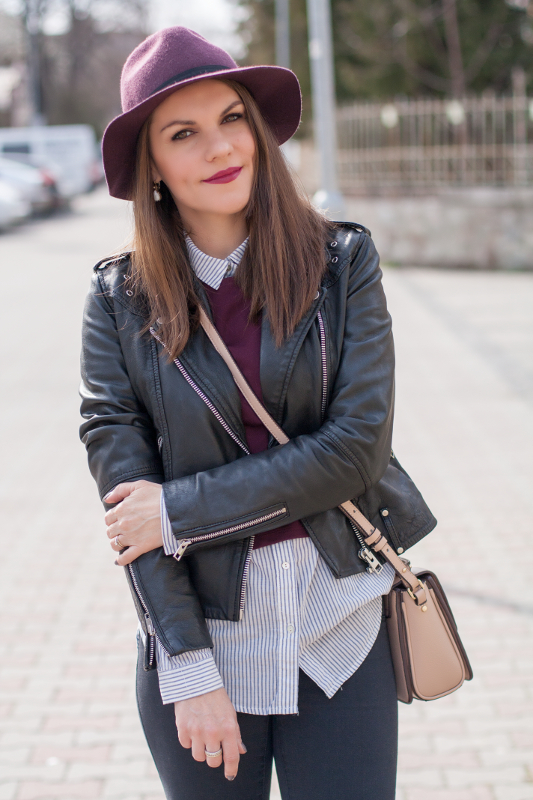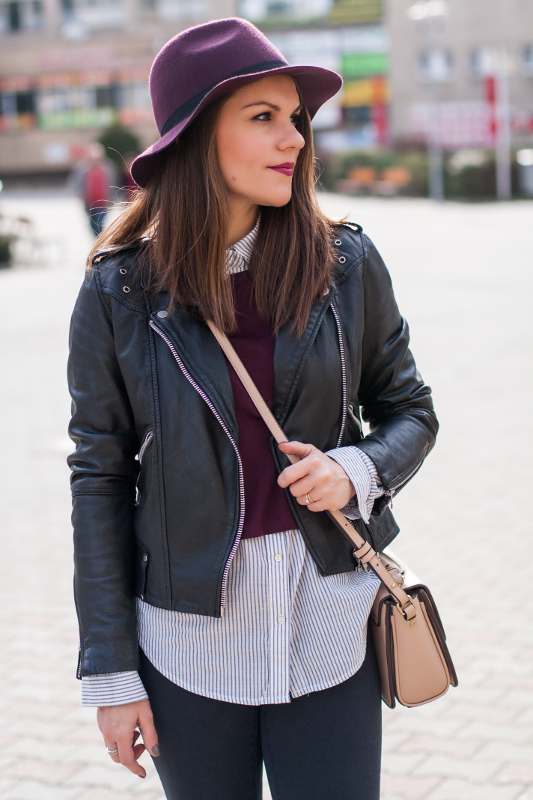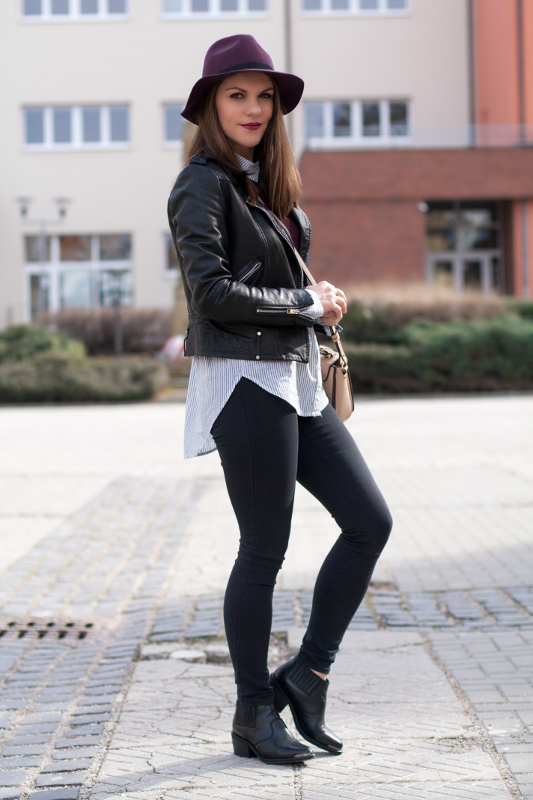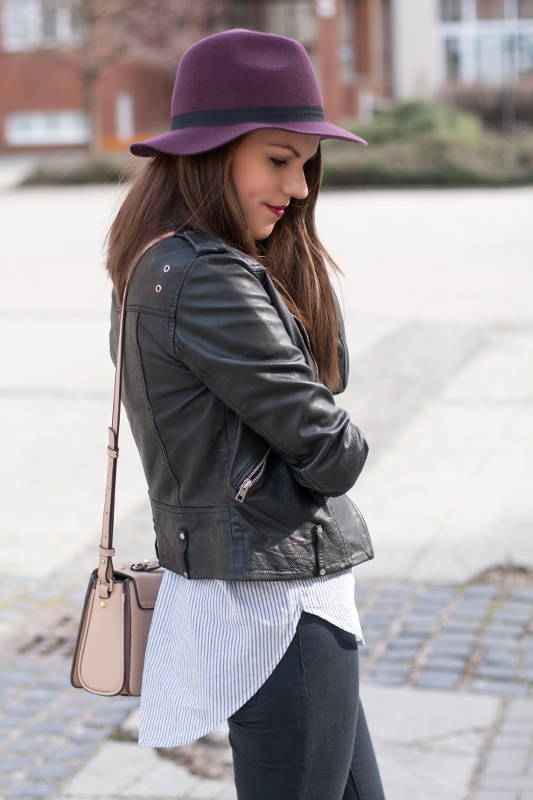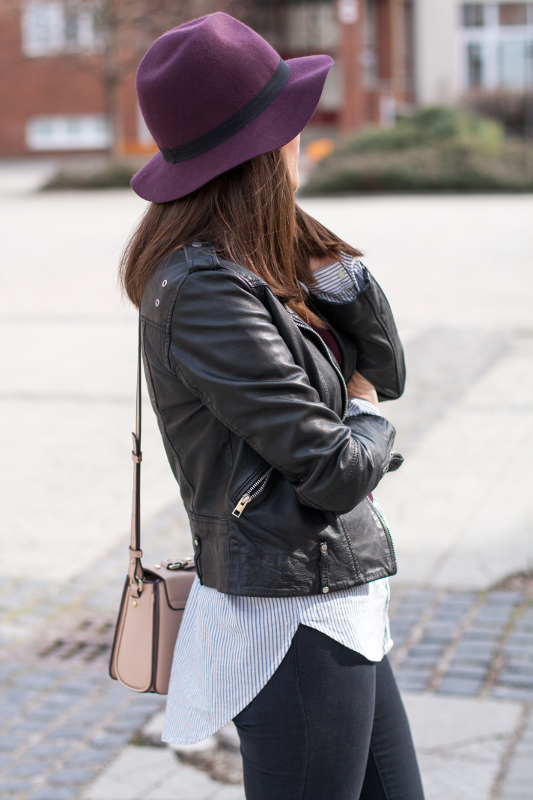 ♦ ♦ ♦ ♦ ♦ ♦ ♦ ♦ ♦ ♦ ♦ ♦ ♦ ♦
Hello guys and welcome to my blog. I hope you had a lovely weekend and enjoyed a half term holiday with your kids. We had a quite busy week, lots of activities and there was no time for writing articles. In the evenings I was totally worn out. I'm sure you can relate. Today there's my outfit from Saturday, we went to Ikea for some household shopping. I knew I will spend a majority of time indoors, so I wanted to be super light and comfy. The weather was gorgeous too, nothing like today.
Latest addition in my closet is a stripe shirt with long sleeves. You know I have an obsession with stripes, so it's going to be today's theme on the blog as well. Designers went wild on stripes and it's one of the main trends this spring and summer. Bold and solid stripes are very trendy and majority is either horizontal, vertical, or across the body with full of rich colors, but still nice and neat. So if you are a stripe lover like me, you will enjoy this trend a lot. Important thing is, to choose the right stripes for you, which flatter your figure. Horizontal stripes can add a few centimeters here and there, but if it's necessary it can nicely balance out the frame. Vertical stripes can elongate the figure and make you look taller and somehow slimmer if worn correctly. Also it can hide the little imperfections of your figure. To be honest, I can't wait for a summer to wear my bold stripes. How about you, do you like to wear stripes? Which ones do you prefer?
Shirt: H&M (similar here)
Top: Forever21
Jeans: Zara (similar here)
Shoes: Stradivarius (love this one here)
Hat: Promod (similar here)
Handbag: Baťa (similar here)
Ring: Bondiamo
Thank you very much for reading. I hope you liked this article and if so, please let me know in the comment section down below. Or give me thumbs up on Facebook, or heart me on Instagram. Have a great day. ♥