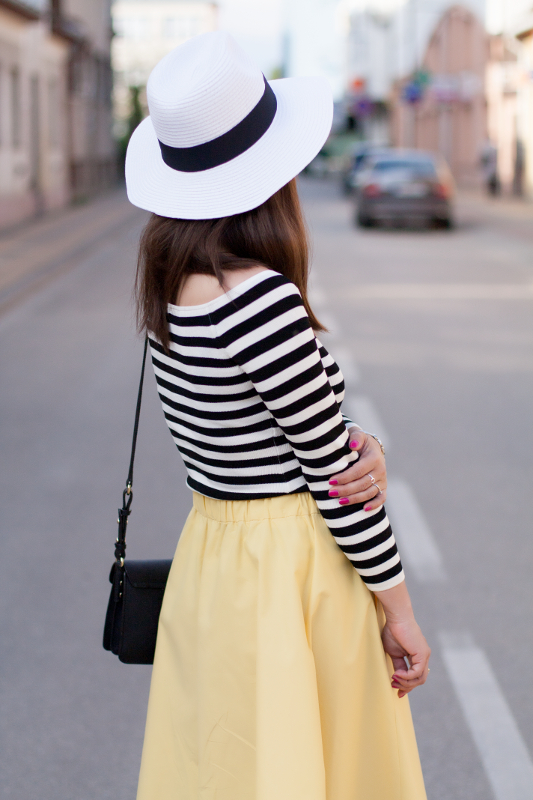 Ahoj a vitajte na blogu. Dúfam, že ste si užili pohodový víkend a mamičky Deň Matiek so svojimi ratolesťami. My sme mali krásny víkend, aj keď celkom vyťažený, tak sme ho zakončili nedeľnou grilovačkou na záhrade a stihli sme nafotiť môj nedeľný, večerný outfit. Išli sme na prechádzku do mesta a zmrzlinu, ja som dostala krásnu kyticu orgovánov od maminy a ruže od nášho drobca, ktorý ich aj sám vyberal. A k tomu mi zarecitoval aj basničku, ktorú sa naučil v skôlke. Je to zlatíčko. ♥

Do mesta som volila povedala by som sviatočný outfit, žltú sukňu a moje obľúbené pásiky, i keď nie som si istá, či mi zrovna tento typ širokých pásikov pristane, alebo strih topu. Sviatočný bol aj preto, že sukne často nenosím. 😀  Nemám na to nohy, ale raz za čas si rada niejakú oblečiem. Preferujem kratšie, alebo maxi sukne. Aký typ sukní rady nosíte vy? Sukňa je starší kúsok, kúpila som ju v zľavách ešte minulý rok. Páčila sa mi hlavne farba, outfit krásne oživí a je to vyslovene letný kúsok. Jedinou nevýhodou je príliš krčivý materiál. Doplnky som zvolila klobúk, vysoké sandále a obľúbenú messenger kabelku.
Samozrejme k outfitu patria aj šperky a môj najnovší kúsok je minimalistický strieborný prsteň z internetového obchodu Eppi.sk, ktorý som dostala v rámci spolupráce a veľmi pekne zaň ďakujem. Krásne balenie a celkový milý prístup vedenia firmy na mňa urobili veľký dojem. Je vidieť, že si vážia svojich zákazníkov, aj prácu blogeriek, za čo majú môj obdiv a rešpekt. Aké sú Vaše skúsenosti? Ak zatiaľ žiadne nemáte, vrelo odporúčam. Ja som si vybrala podkovičku veľ.52 a padla mi ako uliata, čo na ňu hovoríte? Prečo práve podkovičku? Pretože nosí šťastie a kto má pozná vie, že som poverčivá. Minimalistické prstienky sú tiež momentálne trendy. Ja si veľmi nepotrpím na veľké prstene, ako mamina z praktických dôvodov, i keď pár sa ich u mňa nájde, preferujem jemnejšie šperky. V čínskom horoskope som v znamení Koňa a tak sa perfektne ku mne hodí. Aké znamenie ste vy v čínskom horoskope? Veríte na niečo z toho? Ja áno a veľa z toho na mňa sedí. 😀
Top: H&M (podobný tu)
Sukňa: Zara (podobná tu)
Klobúk: Reserved (podobný tu)
Topánky: Stradivarius (podobné tu)
Kabelka: Rebecca Minkoff (podobná tu)
Prsteň: Eppi.sk
Ďakujem pekne za prečítanie, dúfam, že sa Vám outfit páčil, keď tak mi dajte vedieť dolu do komentu. Podporiť ma môžete tiež lajkom na Facebooku, alebo srdiečkom na Instagrame. Vždy ma to veľmi poteší. Majte sa krásne. ♥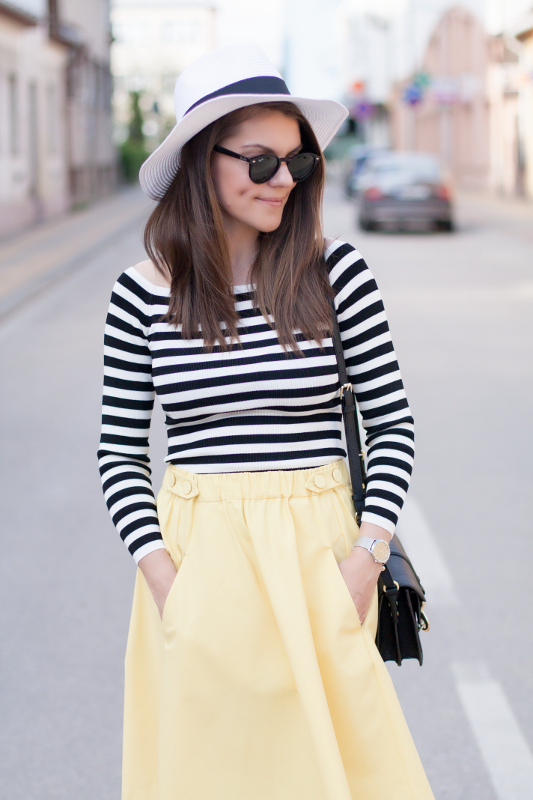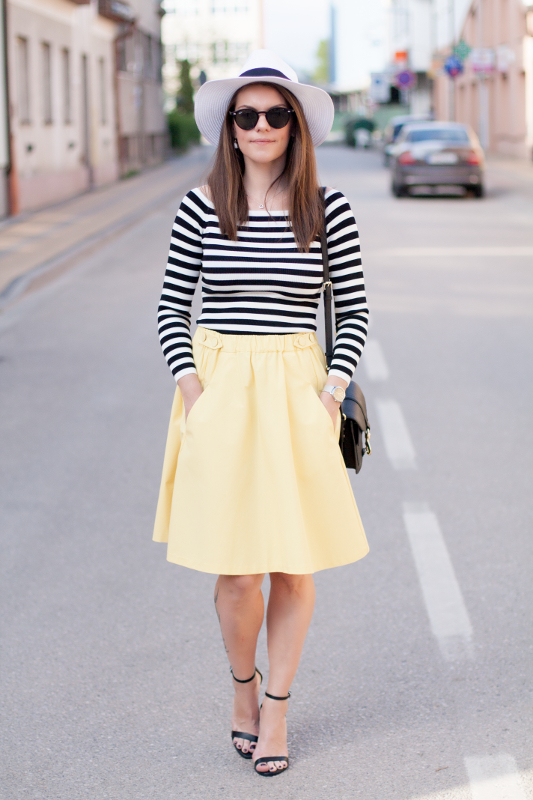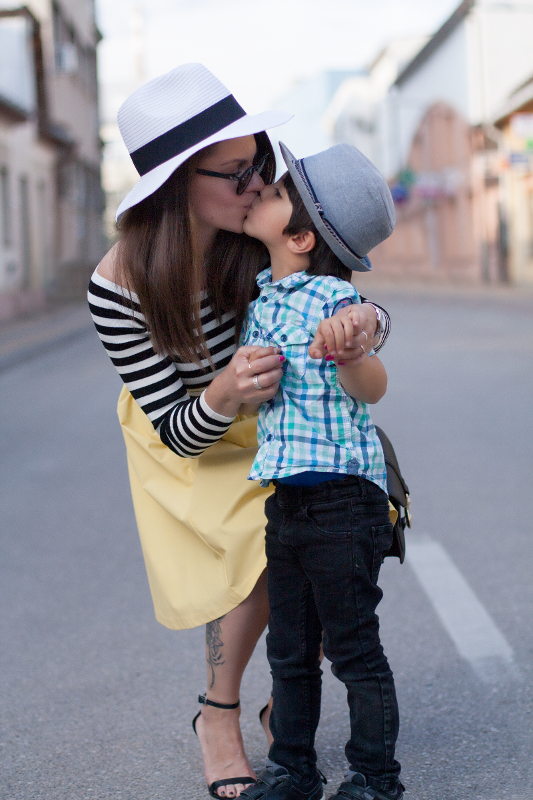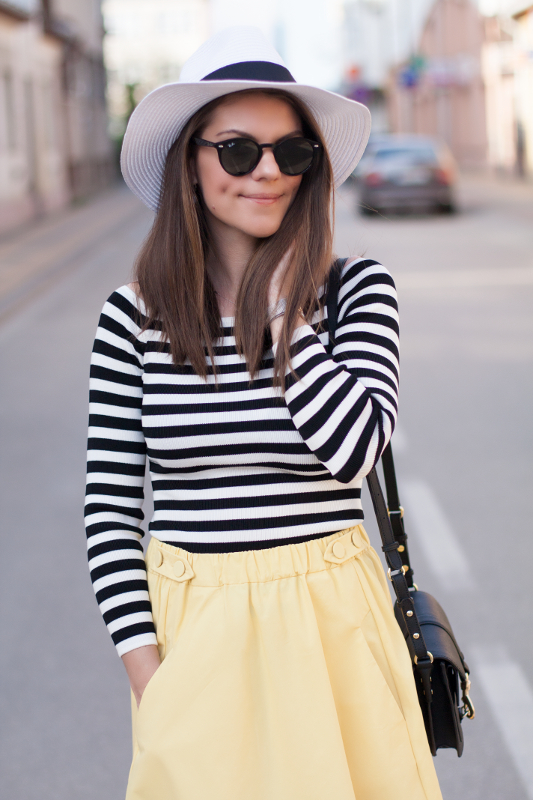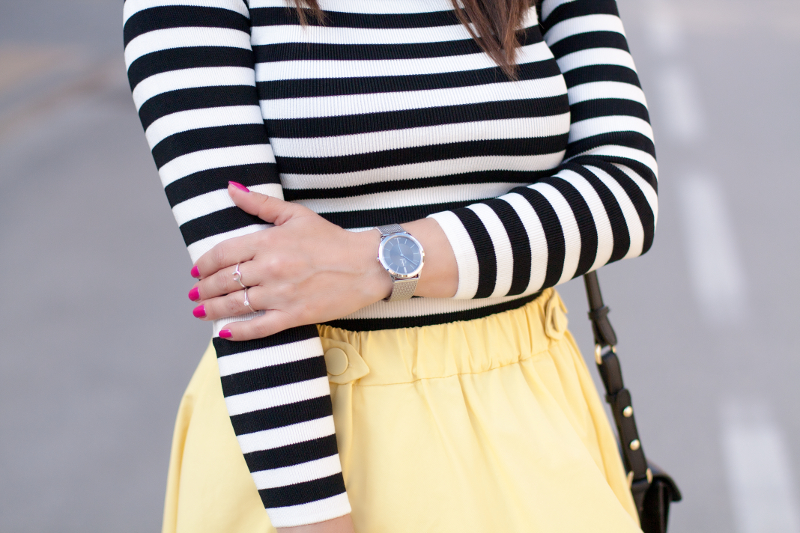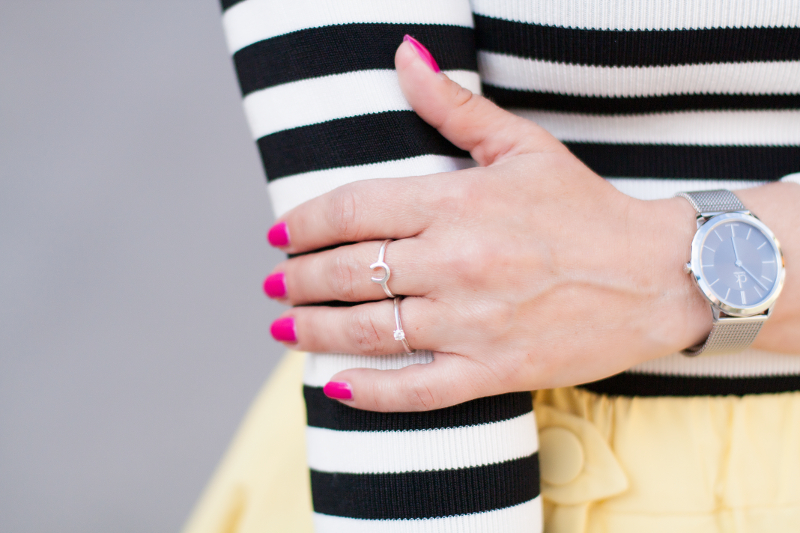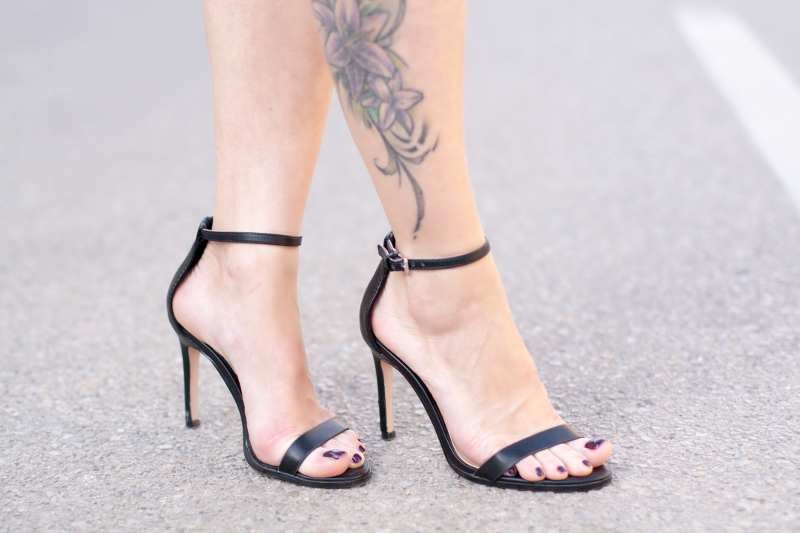 ♦ ♦ ♦ ♦ ♦ ♦ ♦ ♦ ♦ ♦ ♦ ♦ ♦ ♦ ♦
Hello guys and welcome to my blog. I hope you had a lovely weekend and all moms enjoyed Mother's Day with your kids. We had a very nice weekend, quite busy but we ended it with a Sunday BBQ and later we managed to shoot my Sunday's evening outfit. We went for a walk (not a long one) to the center and had an ice-cream. I got nice flowers of lilac from my mom and roses from our little one, which he has chosen for me all by himself. He also recited a poem for me. He is such a sweetheart. ♥
On Sunday evening I opted for a festive outfit, not only because it was Mother's day and I wanted to look nice and polished but also because I don't wear skirts that much. I don't have legs for it, but once in a while I like to wear one. I prefer either shorter or maxi skirts. What type of skirt do you like to wear? Skirt is older piece that I have bought last year in sales. I love the color and how it brightens up the whole outfit. It is definitely a summer piece and the only disadvantage is that it creases easily. I accessorized the whole look with a hat, high heel ankle straps sandals and a messenger bag.
I didn't forget about jewelry and my new addition is minimalist silver ring in collaboration with internet shop Eppi.sk, thank you very much. I absolutely love it. Beautiful packaging and overall nice approach and communication with team made a big impression on me. Pleasant experience indeed. I can tell the company value its customers and also the work of bloggers and for that they have my admiration and respect. What was your experience like? If you don't have any, I can only recommend it. I have chosen a horseshoe size 52. Why a horseshoe then? Because it brings luck and who knows me can tell you that I am a superstitious person. Minimalist rings are also trendy at the moment. I prefer dainty jewelry from a practical reasons as a mom or none, even though you I have a bigger statement pieces too. I do not wear them that often. In Chinese horoscope I am a Horse, so it is a perfect fit for me. What sign in Chinese horoscope are you? Do you believe anything it says about you? I do.
Top: H&M (similar here)
Skirt: Zara (similar here)
Hat: Reserved (similar here)
Shoes: Stradivarius (similar here)
Handbag: Rebecca Minkoff (similar here)
Ring: Eppi.sk
Thank you very much for reading. I hope you liked this article and if so, please let me know in the comment section down below. You can also give me thumbs up on Facebook, or heart me on Instagram. It always makes me very happy. Have great start of the week. ♥