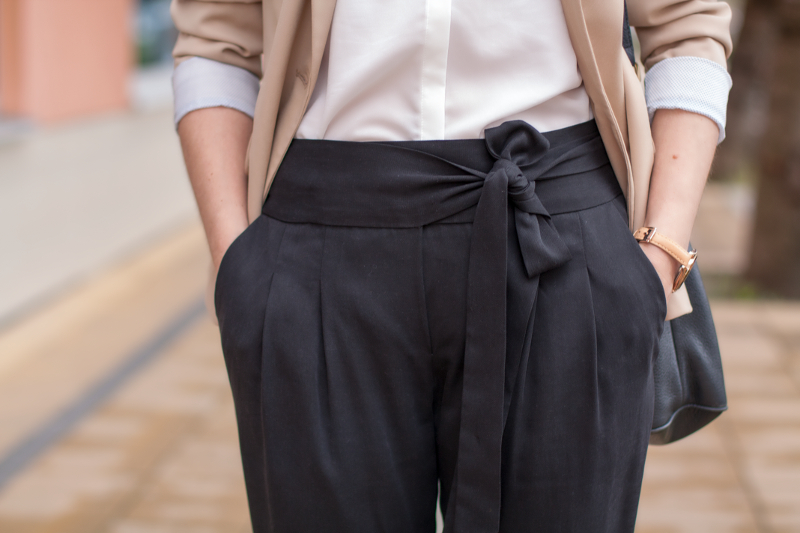 Ahoj a vitajte na blogu. Dúfam, že ste mali pohodový víkend. Dnes by som sa s Vami chcela podeliť o jednu novinku, z ktorej mám neskutočnú radosť. Dostala som sa do finále Bloger Roka 2015 a to len vďaka Vám a Vašim hlasom. Včera som to celý deň predýchavala a musela som sa štipnúť, aby som sa presvedčila, že je to vôbec pravda. Som vďačná, že ste mi fandili, obetovali minútu Vášho času, zahlasovali a vydolovali finále pre môj blog. Nielenže ste ma nabili pozitívnou energiou, ale dodali ste mi aj motiváciu, ktorú som práve v poslednej dobe veľmi potrebovala. Rok 2015 bol pre mňa náročný z mnohých dôvodov. Mala som aj chvíle, kedy som to chcela vzdať, ale som rada, že som tak neurobila a prekusla sa cez to a blogovala ďalej. Keby som to vzdala, tento post by som nikdy nepísala a nič z tohoto by sa nestalo. A v tom je celá pointa. Nikdy to nevzdávaj, rob to čo ťa baví, choď si za svojím cieľom, drž sa toho, čomu veríš a nikdy sa neotáčaj späť.
A tiež mám pre Vás ďaľší outfit post, sú to moje obľúbené staršie kúsky. Vrecové nohavice s viazaným a blúzka s golierovým náhrdelníkom. Stále aktuálne a nositeľné kúsky, ktoré sa dajú pekne zladiť a skombinovať, či už do elegantného, alebo uvoľneného štýlu. Je to panský look, ktorému práve tá mašlička dodala aj trošku ženskosti. Zamilovala som sa do nového prírastku v mojom šatníku a tým je béžové sako. Všetky saká mám v neutrálnych farbách, ľahko sa kombinujú, ale kľudne môžete kombinovať aj s farebným červeným, zeleným, alebo žltým. Ako som spomínala v minulom článku tu, na dlhé chodenie,nosím rada mokasíny.  Hovorí sa, že pre krásu sa trpí, ale ja uprednosňujem skôr pohodlie pred krásou. Ako to máte vy?
Top: Mango
Nohavice: Mango (podobné tu)
Sako: Stradivarius (podobné tu)
Topánky: Pieces
Kabelka: Michael Kors (podobná tu)
Hodinky: Michael Kors
Ďakujem pekne za prečítanie. Dúfam, že sa Vám článok páčil. Keď tak mi dajte vedieť dolu do komentu, alebo ma môžete tiež podporiť lajkom na Facebooku, či srdiečkom na Instagrame. Napíšte mi, či máte vo svojom šatníku staršie veci, ktoré stále radi nosíte. Majte sa krásne. ♥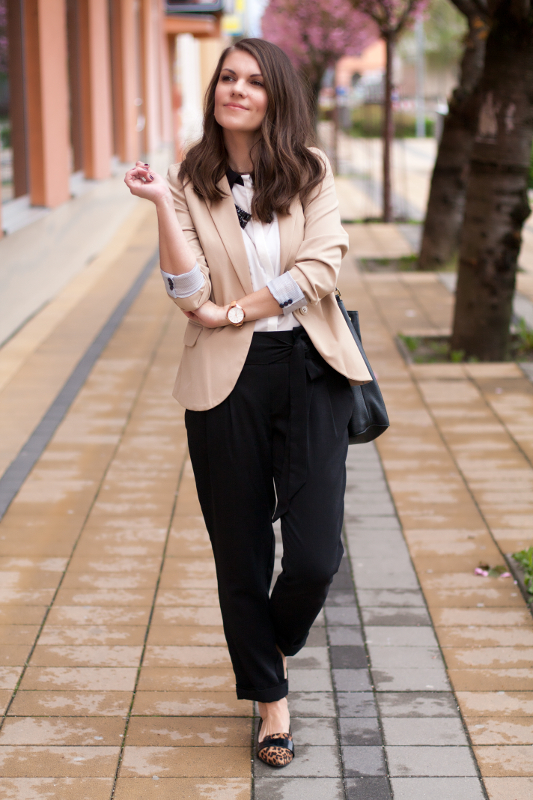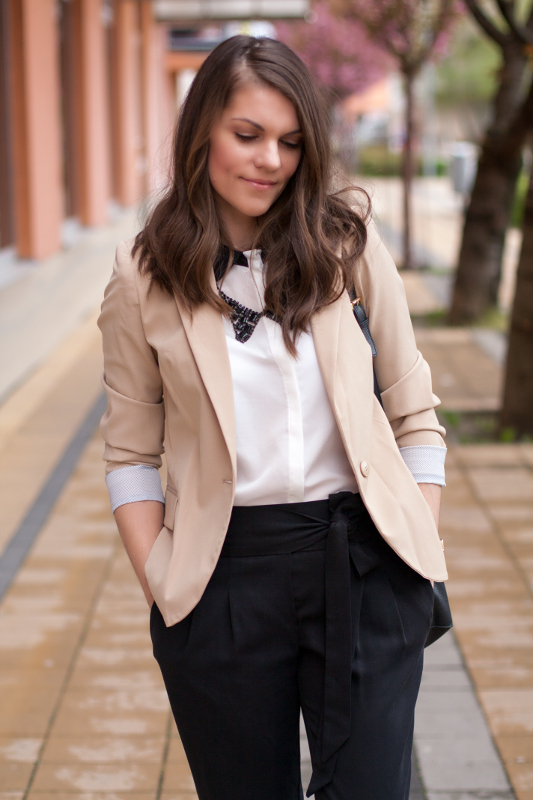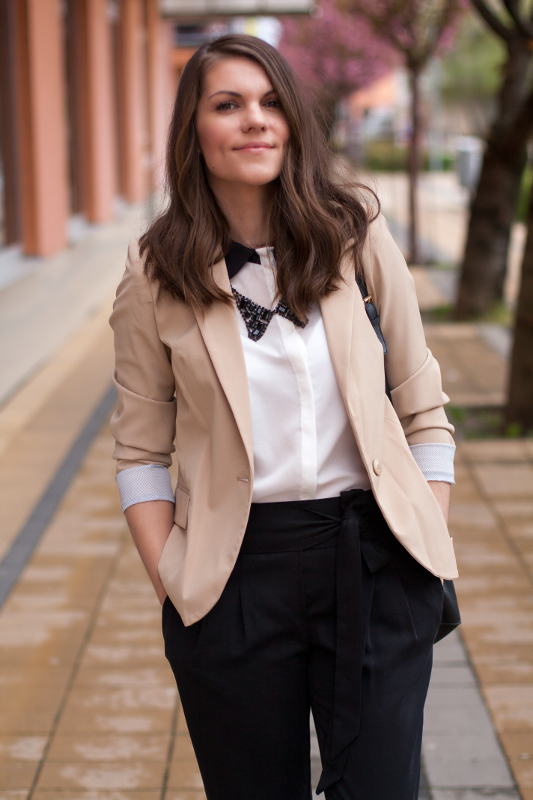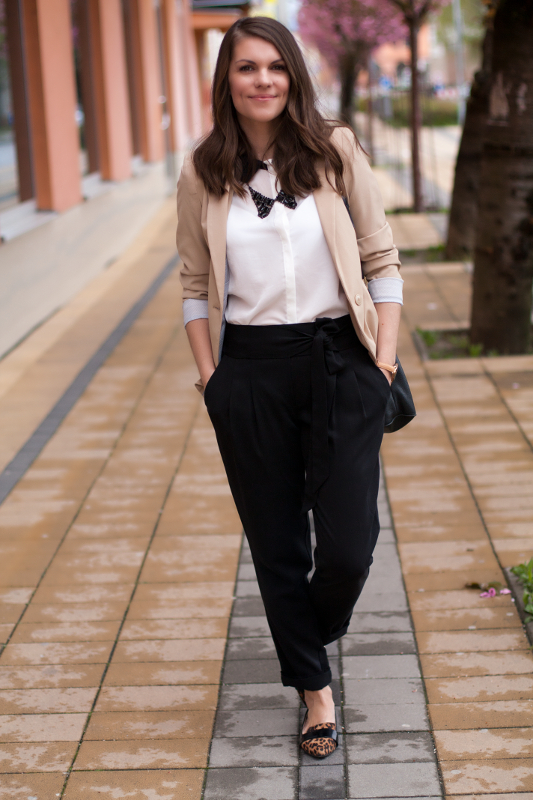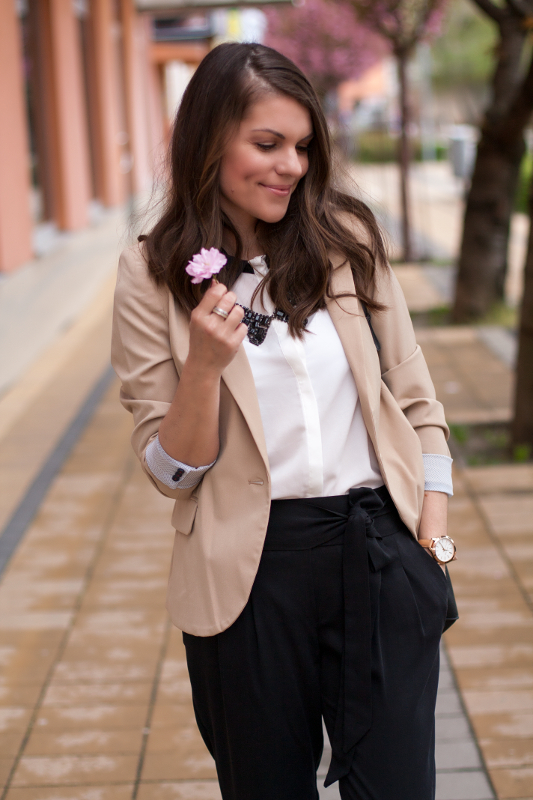 ♦ ♦ ♦ ♦ ♦ ♦ ♦ ♦ ♦ ♦ ♦ ♦ ♦ ♦
Hello guys and welcome to my blog. I hope you had a lovely weekend. Today I would like to share with you an amazing news. I have made it to the Blogger of the Year 2015 final competition, thanks to you and your votes. Yesterday I had to pinch myself to ensure it really happened. I am grateful for your support, for investing a minute of your time to vote means a lot to me. Not only you have sent me a positive energy, you also gave me a motivation I so much needed lately. Year 2015 was a tough one for many reasons. There were moments when I wanted to give up and I'm glad I haven't and kept on kicking, sorry blogging. If I give up, I wouldn't be writing this post right now and none of this would have happened. That's the whole point. Never give up, do what you love, achieve your dreams, hold on to what you believe in and never look back.
I also have an another outfit post, my old favorite pieces. Wrap front tie waist baggy trousers and blouse with a collar necklace are still current and perfectly wearable pieces. Easy to combine with anything really. Either to an elegant or more casual relaxed style. It is a kind of masculine look with a touch of feminine. I love my latest addition, which is beige blazer. All my blazers are in neutral colors and it will go with anything I already have in my closet. If you are more on colorful side, I'm sure it will look great with orange, green,or yellow blazer also. Like I said in my last article here, I like to wear flats when I know I will have to walk a lot. They say we have to suffer for beauty, but I personally prefer comfort instead. How about you?
Top: Mango
Trousers: Mango (similar here)
Blazer: Stradivarius (smililar here)
Shoes: Pieces
Handbag: Michael Kors (smiliar here)
Watch: Michael Kors
Thank you very much for reading, I hope you liked this article. If so, please let me know in the comment section down below, or you can give me thumbs up on Facebook, or heart me on Instagram. Have a great day. ♥