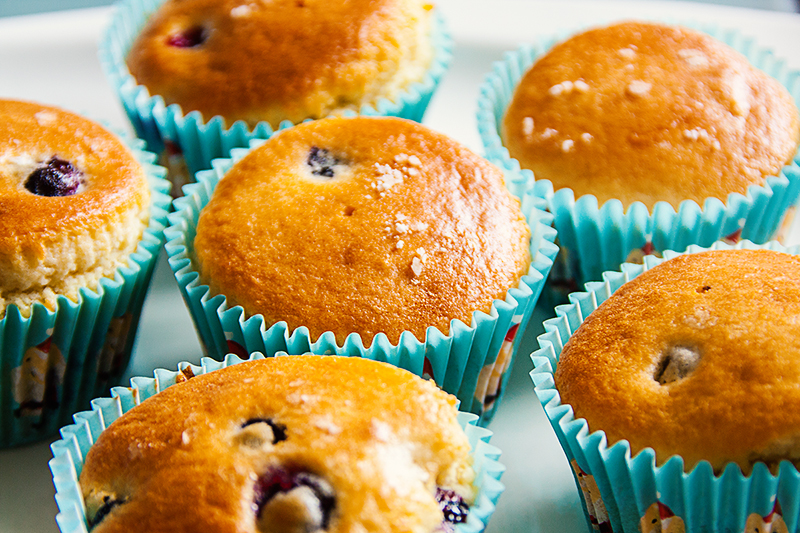 Good morning everyone and welcome to my blog. I hope you had a nice weekend. Yesterday we baked these delicious blueberry muffins and I want to share this quick and easy recipe with you.
Prep: 15min > Cook: 20min > Ready In: 35min
Ingredients
200g spelt flour (you can use plain white I tried it, same amount)
100 g caster sugar
120g butter
2eggs
1 baking powder
1 vanilla sugar
1,5dcl milk
pinch of salt
2 handful blueberries or any other berries
Directions
You need a tray for 12 muffin pieces and large paper cases, I used Santa design 12,5cm from Tesco but you can also use smaller 2,5 x 6cm it works just fine. In one bowl mix caster and vanilla sugar with soften butter and add 2 eggs. In other bowl mix spelt flour with baking powder and add pinch of salt. Mix the bowls together and add milk. Add washed and dried blueberries into the dough and mix lightly. Start filling the large paper cases in half, if you are using smaller cases until the top. Preheat the oven to 180 °C and bake until golden approx. 15-20mins. Enjoy.
Tips: coat the blueberries in flour to avoid the sogginess in muffins, if you use paper cups you don't need to smear the tray with butter
Thank you for reading. I hope you liked this post. Let me know when you try this recipe.
♦ ♦ ♦ ♦ ♦ ♦ ♦ ♦ ♦ ♦ ♦ ♦ ♦ ♦
Dobré ráno a vitajte na mojom blogu. Dúfam, že ste mali krásny víkend. Včera sme piekli tieto chutné čučoriedkové mufinky a ja by som sa chcela s Vami podeliť o tento ľakhý a rýchly recept.
Príprava: 15min > Pečenie: 20min > Hotové: 35min
Suroviny
200g špaldová múka (môžete použiť aj bielu, tá istá hodnota)
100 g práškový cukor
120g maslo
2 vajíčka
1 kypriaci prášok
1 vanilkový cukor
1,5dcl mlieko
štipka soli
2 hrste čučoriedok, alebo iné bobuľové ovocie
Návod
Budete potrebovať plech na 12 mufinov a veľké papierové mištičky, ja som použila Vianočný dizajn 12,5cm z Tesca, ale kľudne môžete použiť aj menšie 2,5 x 6cm. V jednej miske zmiešajte práškový a vanilkovy cukor so zmäknutým maslom a pridajte 2 vajíčka. V druhej miske zmiešajte múku s kypriacim práškom a pridajte štipku soli. Zmiešajte zmes z oboch misiek a pridajte mlieko. Umyté a vysušené čučoriekdy pridajte do cesta a zľahka premiešajte. Napľňte veľké papierové mištičky do polky, ak používate menšie doplna. Pečte na 180 °C dozlatova, približne 15-20min. Dobrú chuť.
Tipy: obaľte čučoriedky do múky, tým sa vyhnete mokvaniu z ovocia, ak použijete papierové mištičky tak nemusíte potierať plech maslom.
Ďakujem pekne za prečítanie. Dúfam, že sa Vám tento recept páčil, ak ho vyskúšate, dajte mi vedieť.