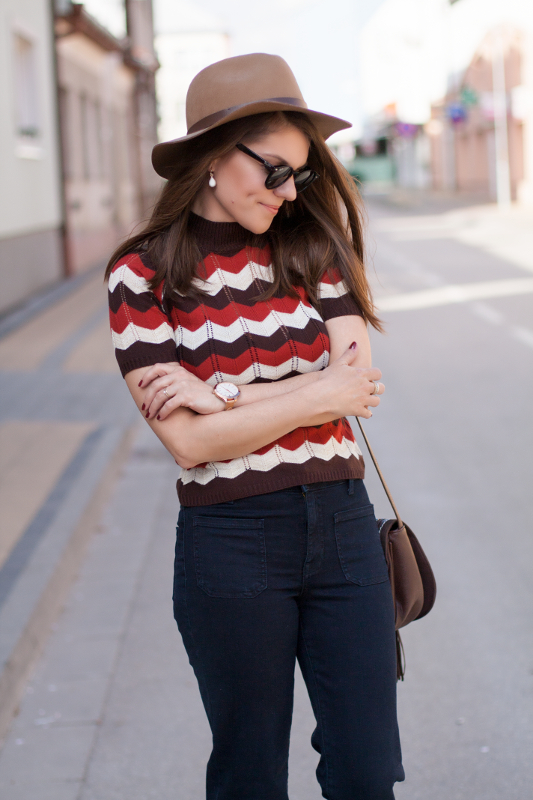 Ahoj a vitajte na blogu, dúfam, že ste si užili krásny slnečný víkend. Dnes v retro štýle, alebo v outfite inšpirovaným 70-tymi rokmi, ktorý mi je blízky. Široké nohavice, klobúk, strapce, platformy, lenonky, to všetko nám pripomína 70-te roky, aj napriek tomu, že sú to aktuálne trendy kúsky, ktoré nemám po mame. 😀
Rada by som vyzdvihla farebný rolák so ševronovým vzorom, ďaľší odkaz 70-tych rokov, ševron trend bol tiež veľmi populárny. Možno ste sa tiež stretli s výrazom zig-zag pásiky. Kúpila som si ho ešte minulý rok na konci leta. Zaujal ma práve kôli tomu vzoru, ktorý často vidím v rôznych aktualizovaných prevedeniach na oblečení, či doplnkoch, ale aj v iných odvetviach ako napr.interiérový design a podobne. Tento pulzujúci vzor určite oživí každý outfit a skvele dokáže zoštíhliť určité nelichotivé partie tela, ak sa nosí správne. Možno o ňom spravím extra článok s inšpiráciami, čo poviete?
Top: Boohoo
Rifle: Forever21 (podobné tu)
Topánky: Stradivarius (podobné tu)
Kabelka: Stradivarius (podobná tu)
Klobúk: H&M (podobný tu)
Hodinky: Michael Kors
Fotky: Jefferson Kenji
Ďakujem pekne za prečítanie, dúfam, že sa Vám outfit páčil. Keď tak mi dajte vedieť dolu do komentu, či sa Vám ševron páči, či máte tiež podobný kúsok a s čím ho najradšej kombinujete? Majte sa krásne. ♥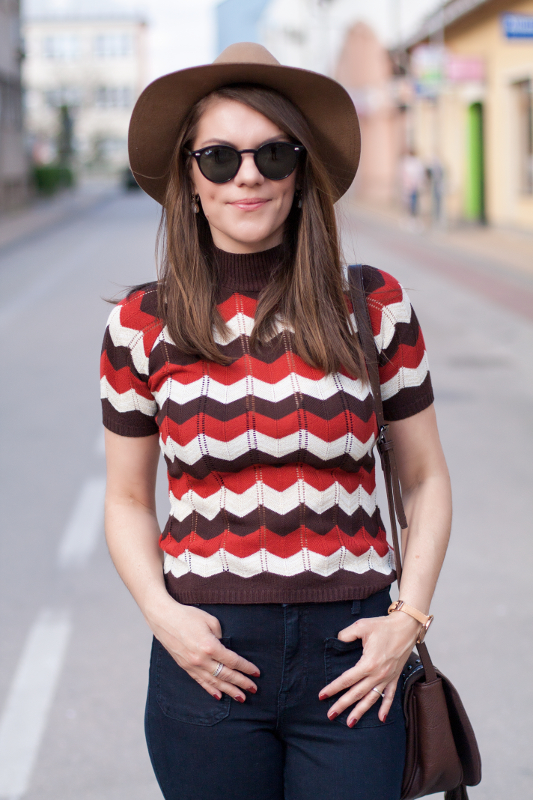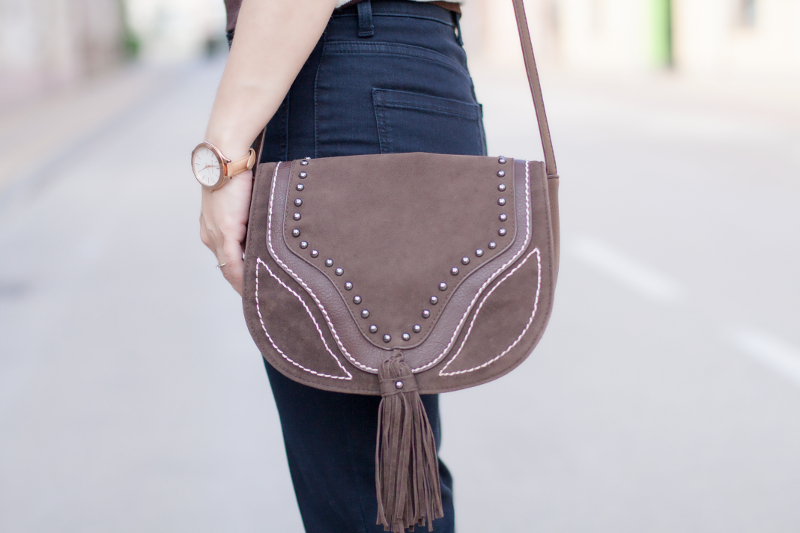 ♦ ♦ ♦ ♦ ♦ ♦ ♦ ♦ ♦ ♦ ♦ ♦ ♦ ♦
Hello guys and welcome to my blog. I hope you had a lovely weekend. Today in retro style or 70s inspired outfit, which is close to my heart. Flares, hats, fringe, platform shoes all reminiscent of an earlier age, even tough I'm wearing trendy pieces that I haven't inherited after my mum. 😀
I would like to highlight this chevron turtleneck I was wearing, another 70's trend that was very popular. Maybe you have also heard an expression zig- zag stripes or chevron stripes. I bought last year at the end of summer. It caught my eye because of its pattern that I see a lot on clothes and accessories in more updated version, but also in other fields like interior design etc. This vibrant pattern will bring life to any outfit and if worn correctly, it can slim down some unflattering parts of the body. I might do an extra article on it with more inspirations, what do you think?
Top: Boohoo
Jeans: Forever21 (similar here)
Shoes: Stradivarius (similar here)
Handbag: Stradivarius (similar here)
Hat: H&M (similar here)
Watch: Michael Kors
Photos: Jefferson Kenji
Thank you very much for reading. I hope you liked this outfit and if so, please let me know in the comment section down below. Also write me if you have any chevron piece yourself and what is your favorite way to wear it. Until next time. ♥