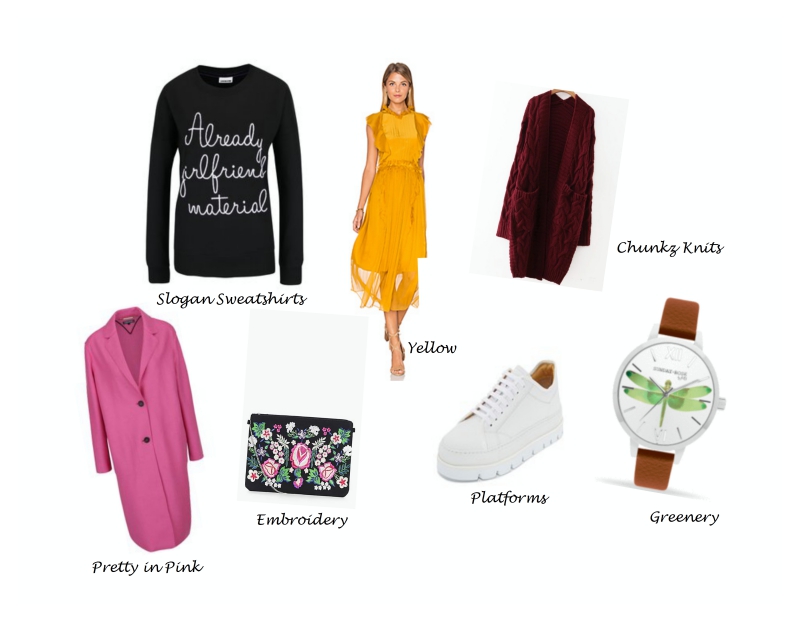 Ahojte a vitajte na blogu. Dnes mám pre vás jeden tématický článok plný jarných inšpirácií, keďže jar nám už klope na dvere. Dozviete sa v ňom o trendoch jarnej sezóny, farebné trendy a čo by vo vašom jarnom šatníku určite nemalo chýbať, ak sa ho chystáte obnoviť sviežmi kúskami, ktoré sú trendy a zároveň nositeľné.

Yellow
Nič nekričí viac jar ako žltá farba symbolizujúca slnečné lúče a teplo. Minulý rok dominovala horčico – žltá, tento rok je ňou o pár odtieňov bledšia prvosienková žltá. Žltá farba vám dodá dávku optimizmu a rozžiari nie len váš outfit, ale aj vaše okolie a určite by nemala vo vašom šatníku chýbať.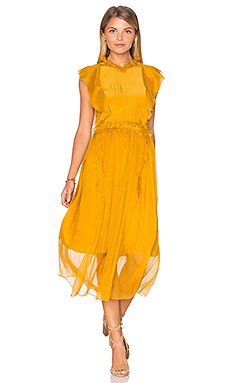 Hodvábne žlté šaty, Marrisa Webb
Slogan Sweatshirts
Momentálne sú trendy tričká alebo mikiny s nápisom, vtipné tričká ich tiež volajú. 🙂 Aj u mňa sa ich pár nájde, skôr jedna ako pár, ale páčia sa mi, hlavne keď pobavia. Rada podobné mikiny kombinujem s denimom, mokasínami a jarnou parkou. A čo vy, nostíe podobné kúsky?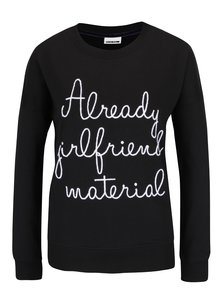 Mikina s nápisom, Noisy May Change
Platforms

Biele ttenisky a k tomu ešte na platforme! To chceš! Čokoľvek, čo mi prídá pár cenrimetrov k dobru, berem. Topánky na platforme sú ďalším z trendov jarnej sezóny najmä tie, s nádychom 70 rokov, tak ak ich máte v šatníku, práve teraz je čas ich vytiahnuť. Tie veľmi nenosím, pretože by som sa na nich asi zabila, i keď niejaké sa u mňa nájdu. 🙂 Odporúčam nosiť k zvonovým denimovým nohaviciam, alebo širokým nohaviciam.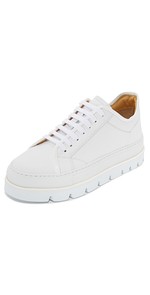 Tenisky na platforme

Embroidery
Výšivka všade kam sa pozrieš! Kvety, zvieracie motívy sú častým námetom dizajnérov, je to jarný trend, ktorý s nami naďalej pobudne. Objavuje sa nie len na doplnkoch, ale aj košeľách, denim. Moja obľúbená kombinácia je s prúžkami. Aká je vaša? Ja som sa naučila vyšívať ako malá od babky, ktorá náruživo vyšívala po celé dni a aj mňa to bavilo. Rozmýšľam, či by som si na niejakú výšivku ešte trfúla. A čo vy, vyšívate?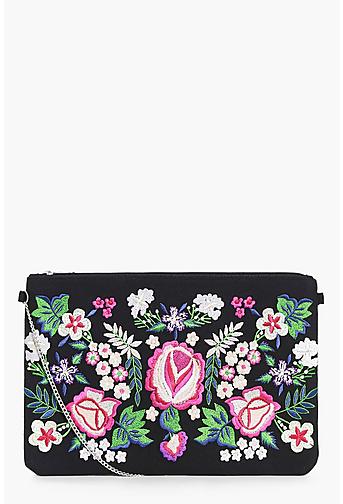 Chunky Knits
Pletené Svetre sú neodmysliteľnou súčasťou jarnej sezóny, ráno nás krásne zahrejú a poobede je v nich už na nevydržanie, znie to povedome? Ale aj tak by sme ich nevymenili za nič na svete, že? S čím ich najradšej kombinujete? Ak s bielym tričkom, pod kožennú bundu, s denimom, alebo previazané opaskom, tak sme na tom podobne.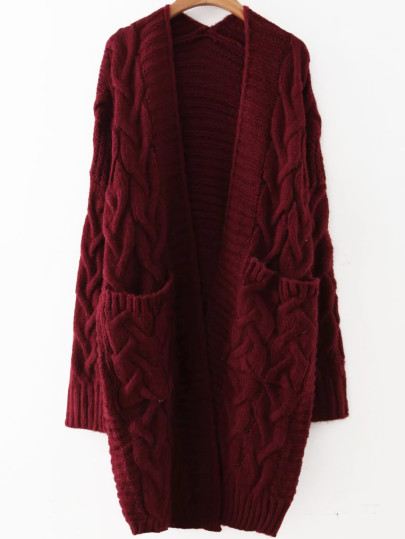 Pretty in Pink
Výrazná lízatkovo – ružová farba bude dominovať počas jarnej sezóny a je možné, že zatlačí aj zbožňovanú pudrovo-ružovú do úzadia? Ktorej by ste dali prednosť vy? Vyzerá skvele v kombinácii s fialovou, alebo červenou farbou. Ja rada používam rúže v tomto odtieni, i keď aj ten kabátik by stál za hriech. Čo poviete?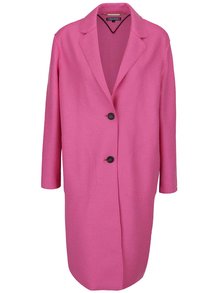 Greenery
Ako už iste mnohí viete, farbou roku 2017 sa stala Greenery – Zeleň, hravý žlto-zelený odtieň, ktorý vo mne jednoznačne evokuje jar. Je to farba prírody, svieža, omladzujúca a ten, kto ju nosí je spätý s prírodou. Dá sa nosiť na väčších plochách odevov, v prípade, že vám táto farba nelichotí, môžete si ňou oživiť outfit vo forme doplnkov, prsteňov, slnečných okuliarov, alebo hodinkami. Takýmto doplnkom zabijtete dve muchy, alebo skôr vážky jednou ranou, pretože aj zvieracie motívy sú stále trendy!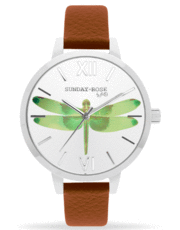 Dámske hodinky Sunday Rose, Dragonfly
Ďakujem pekne za prečítanie, dúfam, že sa vám čl článoch páčil a inšpiroval vás. Napíšte mi, ktoré trendy vás zaujali, ktoré nie, čo už v šatníku máte a na čo sa ešte len chystáte? Majte sa krásne. ♥