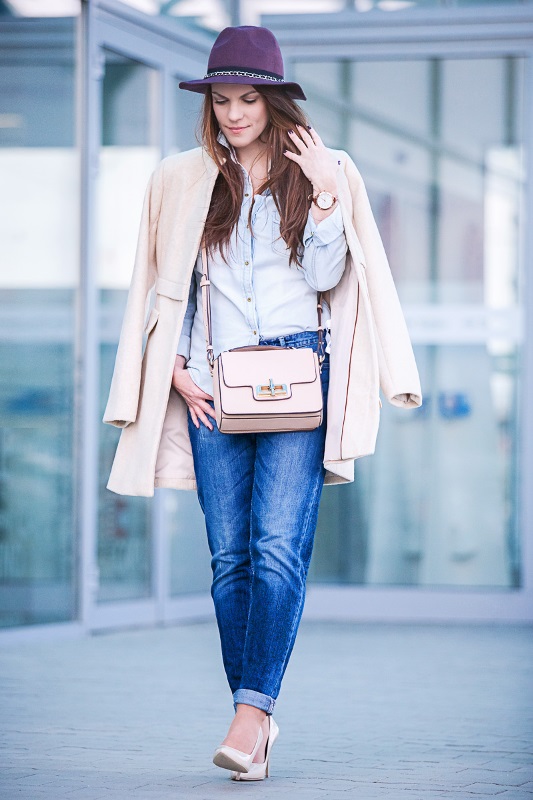 Ahojte a vitajte na blogu. Dúfam, že ste si užili predĺžený Veľkonočný víkend a poriadne si oddýchli. Počasie sa nám konečne trošku umúdrilo a ja sa opäť hlásim s novým článkom. Nielenže, bolo počasie o ničom a fotiť sa veľmi nedalo, ale v poslednej dobe som bola docela vyťažená a na blog som nemala až toľko času, koľko by som chcela. Sľubujem, že sa polepším a budem pridávať články pravidelnejšie.
Dnes mám na sebe riflovú košelu a moje obľúbené boyfriend rifle. Tieto nosím naozaj veľmi rada a je to aj poznať, sú už poriadne vyšúchané. Je to taký vďačný kúsok v mojom šatníku, hlavne vtedy, keď som mamina v pohybe, tak mi prídu veľmi vhod, lebo sú pohodlné a dajú sa skombinovať s hocičím. Moja obľúbená kombinácia je s bielym vyťahaným tričkom a topánkami bez opätku. Dnes som ale vymenila pohodlný výzor maminy, za niečo trošku sofistikovanejšie. Myslela som si, že moj zimný ťavý kabátik tento rok už nebudem potrebovať, no mýlila som sa, ale zas až tak mi to nevadilo. Mohli ste ho už u mňa zahliadnuť tu. Celý výzor som doplnila telovými lodičkami, telovou kabelkou a vínovým klobúčikom. Telová a bežová sú najlepšie kamarátky, tou kombináciu určite nič nepokazíte, čo myslíte vy? Tiež máte v obľube tieto farby, ja rozhodne áno.
Košeľa – Zara
Rifle – H&M
Kabát – Stradivarius
Kabelka – Baťa (podobné tu)
Topánky – Kati (podobné tu)
Klobúk – Promod
Make up – Urban Decay Naked 3 Palette via Feelunique
Fotky: Romana Chudíkova
Ďakujem pekne za prečítanie, každý palec hore aj zdielanie. Dúfam, že sa Vám tento outfit páčil, keď tak mi dajte vedieť do komentu, či radi nosíte riflovinu, boyfriendy, ako ich najradšej nosíte, rada sa dozviem aj ja niečo o Vás. Pekný deň a majte sa krásne. ♥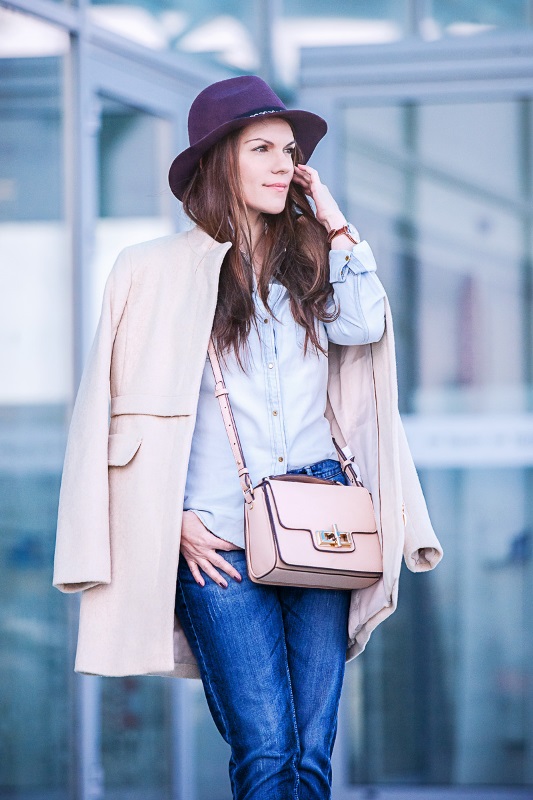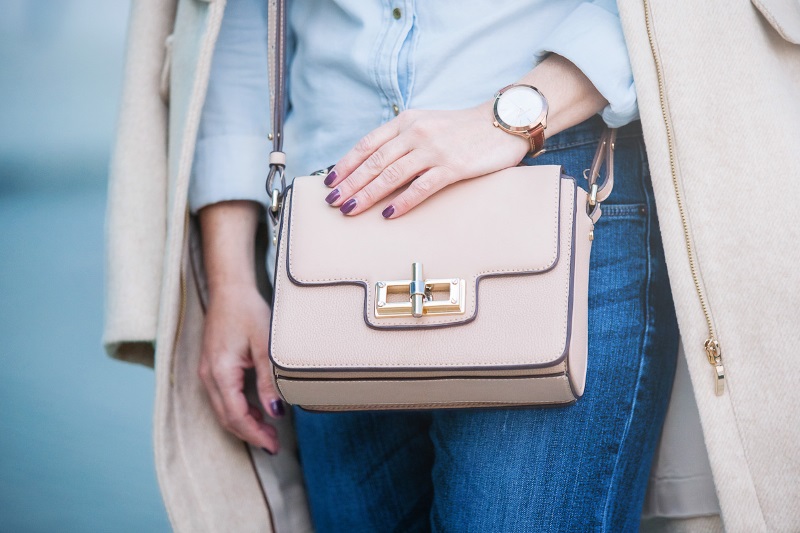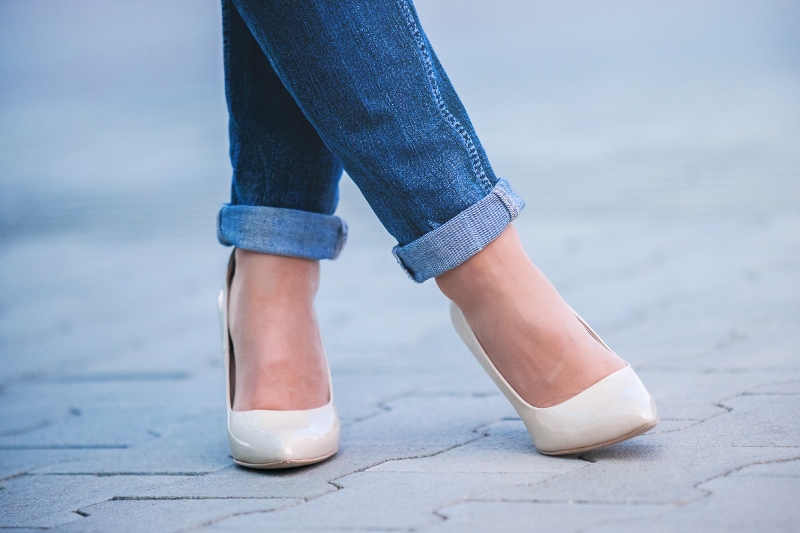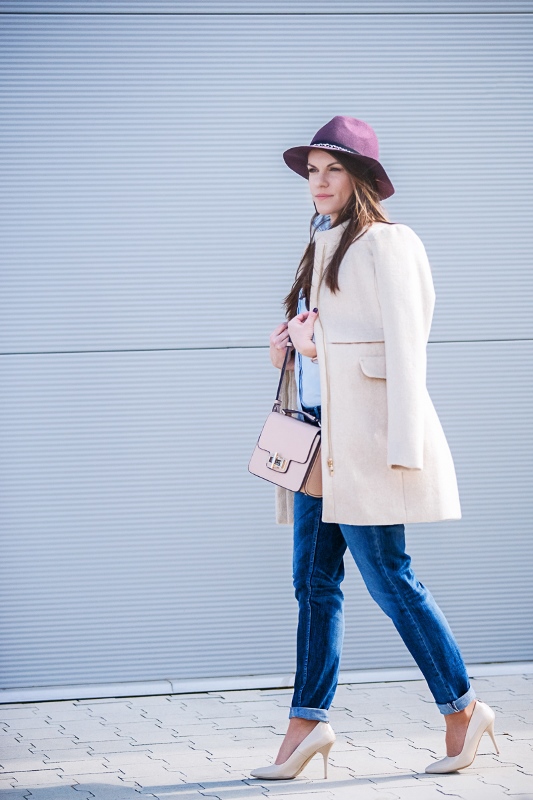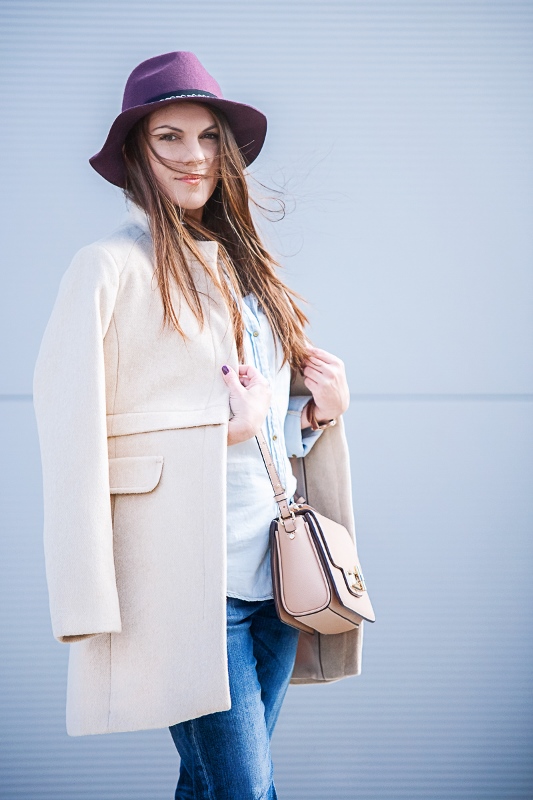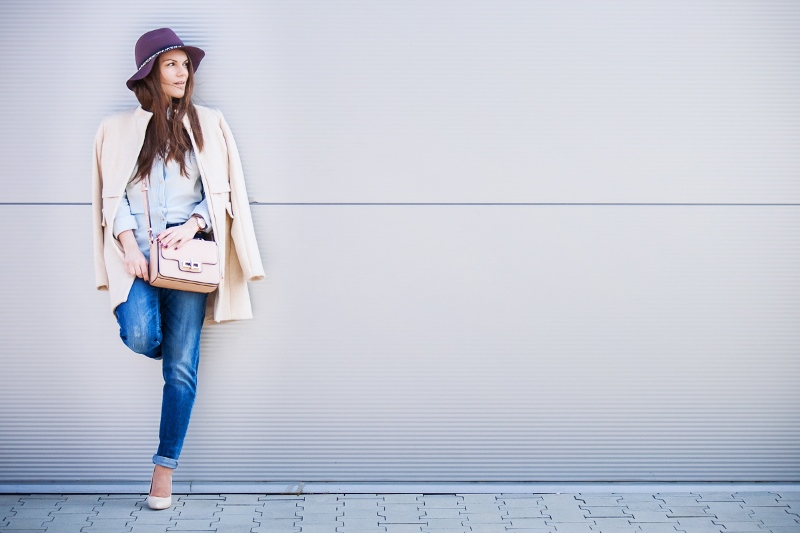 ♦ ♦ ♦ ♦ ♦ ♦ ♦ ♦ ♦ ♦ ♦ ♦ ♦ ♦
Good afternoon and welcome to my blog. I hope you had a lovely Easter break. It's been some time since I post an outfit here. The weather was really crazy, snowing, raining, freezing cold and there wasn't enough time also. I have been busy lately and couldn't spend the time on the blog I wanted. Now since the weather has calmed down a bit I'm here with a new outfit post.I promise I'll get better and post more regularly.
Today I'm wearing washed denim shirt with my favorite item in the closet – boyfriend jeans. I love love how versatile boyfriend jeans are, you can dress it up, dress it down. I really wear it a lot and especially appreciate it when I'm a mommy on the go.  You can tell just by looking it's so washed already. It's so comfy and love to wear it also with baggy white shirt and flats. Today I changed comfortable mommy look for something little bit more sophisticated. I accessorized the whole look with nude heels, nude messenger bag and wine hat. Wine and nude are the best friends, don't you think so? Also I'm wearing my camel coat you could have spotted it already here. I thought I won't need it anymore but I was wrong but I didn't mind that much anyway.
Top – Zara
Bottom- H&M
Coat- Stradivarius
Handbag- Baťa (similar here)
Shoes- Kati (similar here)
Hat- Promod
Make up – Urban Decay Naked 3 Palette via Feelunique
Photos by: Romana Chudíkova
Thank you very much for reading, shaking and liking. I hope you enjoyed this article and if so let me know in the comments section. Do you like denim on denim combination, please let me know if you boyfriend jean fan like me. I'd like to know more about you too. Have a great day. ♥