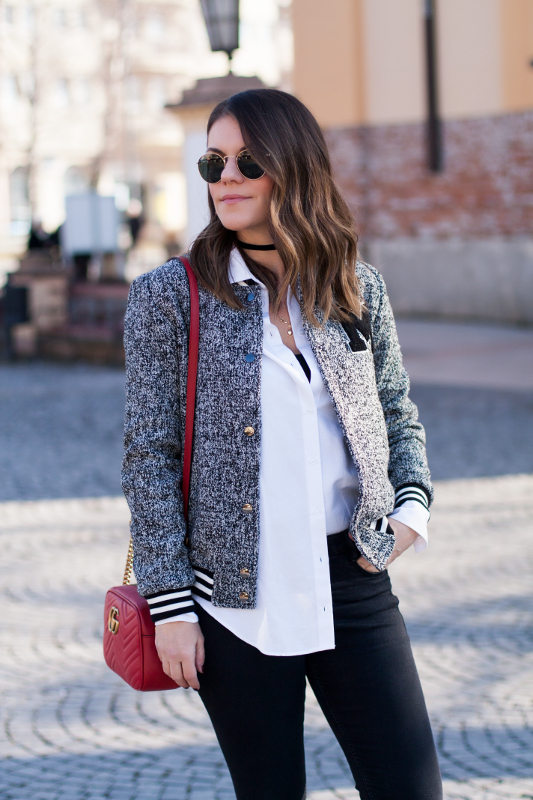 Ahojte a vitajte na blogu. Ako si užívate toto slnečné počasie? Ja si ho veru užívam naplno, v kľude už môžem prevetrať aj moje nové jarnejšie kúsky. Milujem to, keď na seba hodím len niejaký top, bundu, našuchnem topánky a vyrážam. Aj vy to tak máte? Tak dúfam, že nám to slniečko vydrží čo najdlhšie.

V dnešnom outfite hrá hlavnú úlohu basketbalová bunda – baseball jacket a červené moschino mokasíny. V novom roku som si dala predsavzatie, že budem viac experimentovať, vyberať si kúsky do ktorých by som možno normálne nešla. Mám pocit, že si stále kupujem to isté dokola. Bunda sa mi hneď zapáčila, hlavne kôli tomu M-ku na prednej strane, M ako mama. 🙂 Je čierno-biela a tak sa ľahko dá kombinovať s hocičím, ale ja ju kombinujem vačšinou len v tých farbách. Farby teraz neriešim, ale ono to určite zase príde. Skombinovala som ju s bielou košeľou, pod ktorou mám ešte čierne tielko kôli kontrastu. Nechala som si ju naschvál rozopnutú, aby zľahka vykúkalo a tiež aby vynikol aj môj ručne vyrábaný choker. K bielej košeli ako inak než čierne denimové nohavice, a červené lakované mokasíny, ktoré som si hneď zamilovala a kupované v zľave, to chceš! Väčšinou kombinujem čierno-biely look s červenou farbou, je to taká klasika, že?
Top: Zara (podobný tu)
Tielko: H&M (podobné tu)
Nohavice: Zara (podobné tu)
Bunda: Shein
Topánky: Moschino
Kabelka: Gucci
Okuliare: Ray-ban
Fotky: Jefferson Kenji
Ďakujem pekne za prečítanie, dúfam, že sa vám outfit páčil, keď tak mi dajte vedieť dolu do komentu, ktorý kúsok vás najviac zaujal, či niečo podobné nosíte aj vy a ako to kombinujete? Podporiť ma tiež môžete lajkom na Facebooku, alebo srdiečkom na Instagrame. Majte sa krásne. ♥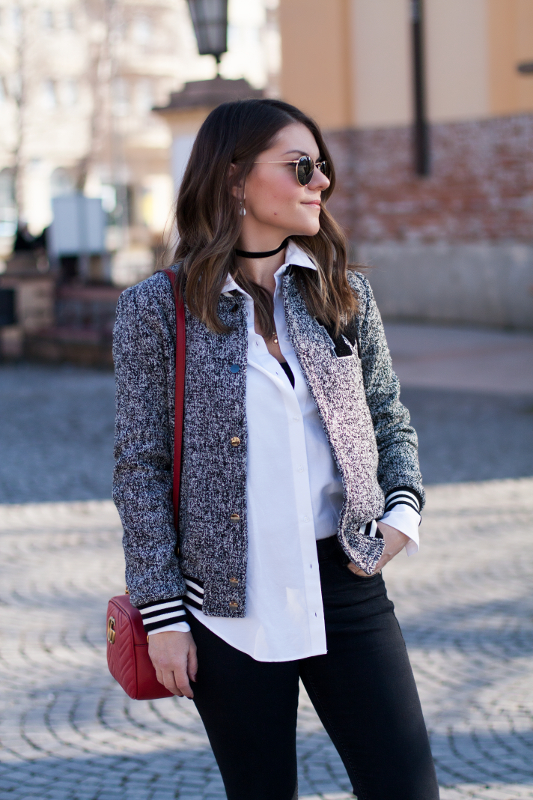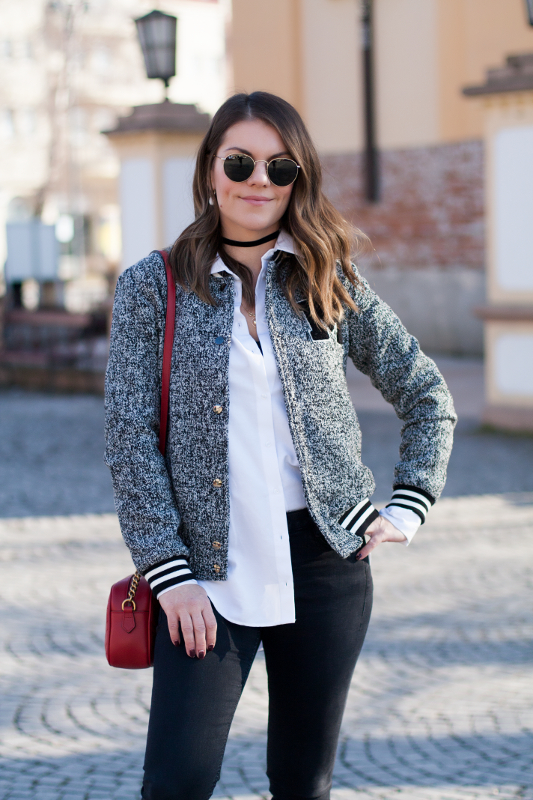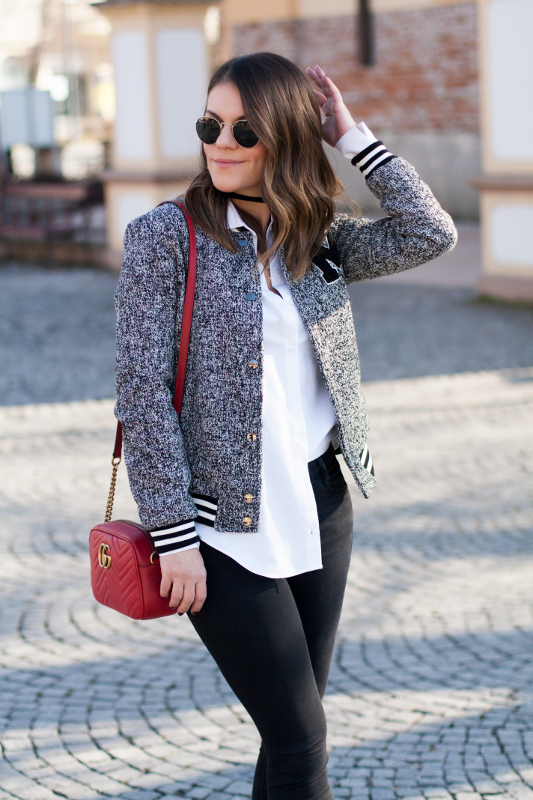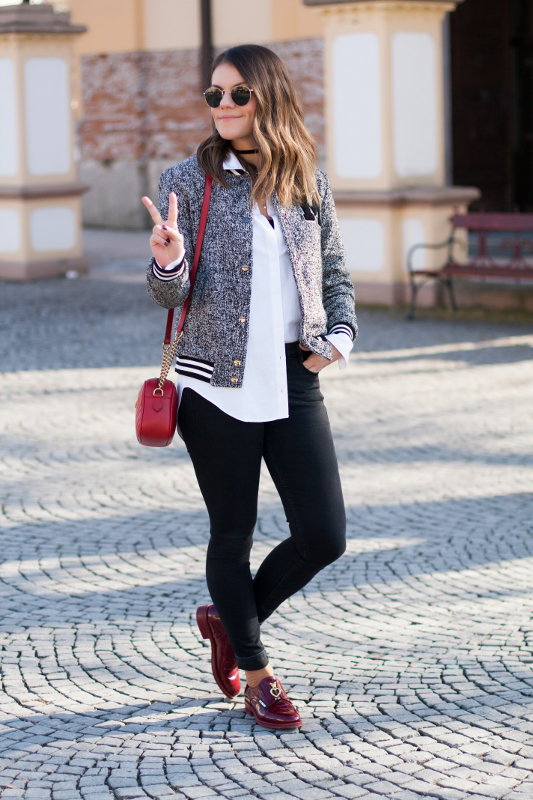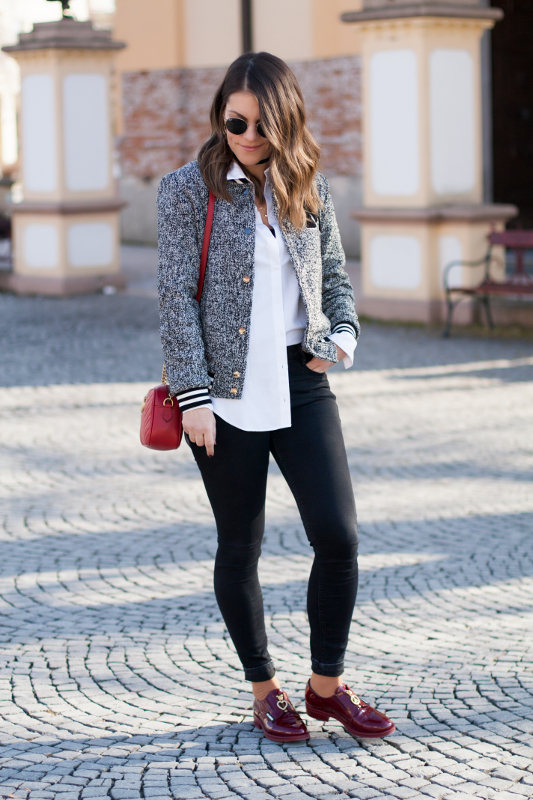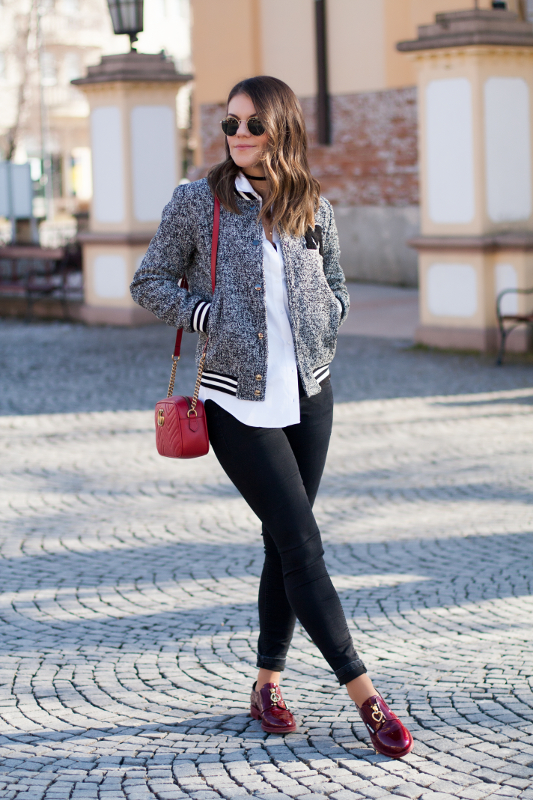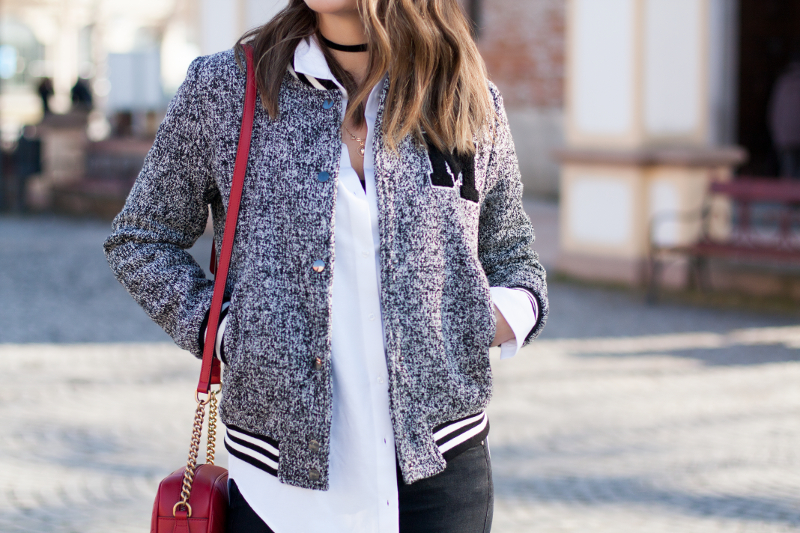 ♦ ♦ ♦ ♦ ♦ ♦ ♦ ♦ ♦ ♦ ♦ ♦ ♦ ♦ ♦
Hello guys and welcome to my blog. I hope you are having a wonderful time and enjoying sunny weather too like me. Finally I could also wear some of my latest spring pieces because it feels like spring already! I love it! Super easy to get dressed without thinking too much. Agree?
In this outfit play the main role baseball jacket and red loafers. I made some new year resolution like post more and also experiment more with different styles and choose more pieces I wouldn't normally go for. So this is the reason why I have chosen this jacket, I love the "M" on the front because "M" for mama. (laugh) I love that is black and white and no any other color, very easy to combine with anything. I will show you more ways how to style it and plus this baseball jackets are now very trendy. So if you don't have one, now it's a good time to get it! I combined it with a white shirt, underneath I wear a black basic vest for contrast and to keep me warm. 🙂 I added some color to it, red is the best with black and white look, or yellow or blue but I like red the best. I fallen in love with red shiny loafers, now I wear it with everything. I am totally obsessed and they are on sale now!
Top: Zara
Vest: H&M
Bottom: Zara
Jacket: Shein
Shoes: Moschino
Handbag: Gucci
Sunglasses: Ray-ban
Photos by: Jefferson Kenji
Thank you very much for reading. I hope you enjoyed this outfit, if so, please let me know in the comment section down below or give me thumbs up on Facebook, or heart me on Instagram. Let me know if this is something you would wear, if you have similar pieces yourself and how do you style it! Have a great day. ♥