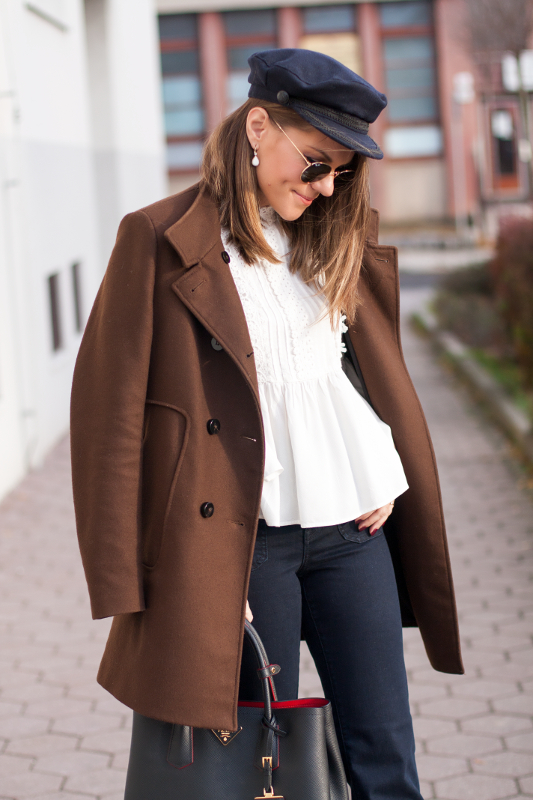 Ahojte a vitajte na blogu. Ako sa máte? Tiež sa tešíte tak ako ja, že je už piatok? Juch! Dnes mám pre vás nový outfitový článok, po dlhšej dobe, ja viem. Január a február máme narodeninový, meninový, veľa osláv a tak sme nestíhali cez víkendy fotiť a nakoniec sme z tých osláv všetci na striedačku ochoreli. 🙂 Som rada, že sa nám už konečne oteplilo a ja vám môžem ukázať aj pár nových kúskov. Tiež už rátate dni do jari?

V šatníku mi pribudli dva nové kúsky, ktoré som si kúpila síce ešte minulý rok, ale vzhľadom k ukrutnej zime som ich vôbec nenosila, takže dnes je ich premiéra. Úplne najviac som si zamilovala námornícku čiapku, ktorá super vyzerá s bielym topom, košeľou, alebo pruhovaným tričkom. Ja som volila biely top, ktorý ste ešte na blogu nevideli. Skombinovala som ju so zvonovými denimovými nohavicami s vysokým pásom, milujem tento look, je jednoduchý a predsa štýlový a tá čiapka mu dodáva jemný námornícky nádych. K tomu som len prehodila kabátik, ale dobre to vyzerá aj s koženou bundou, alebo čiernou vestou. K zvonovým nohaviciam sa mi viac hodí väčšia kabelka, takže som mojou obľúbenkyňou nič nepokazím, pretože sa hodí naozaj ku každému outfitu, dokonca aj k teniskám! 😀 Outfit je vhodný do práce, na rande s kamoškami, alebo brunch s priateľom. Čo naň hovoríte?
Top: Zara (podobný tu alebo tu)
Nohavice: Forever21 (podobný tu)
Topánky: Zara (podobné tu)
Okuliare: Ray-ban
Kabelka: Prada (podobná tu)
Čiapka: Zara (podobná tu)
Fotky: Jefferson Kenji
Ďakujem pekne za prečítanie, dúfam, že sa vám outfit páčil. Ak áno dajte mi vedieť dolu do komentu, prípadne, či nosíte podobné kúsky a ako ich kombinujete vy? Podporiť ma môžete lajkom na mojej Facebook stránke, alebo srdiečkom na Instagrame. Teším sa na vaše reakcie. Majte sa krásne. ♥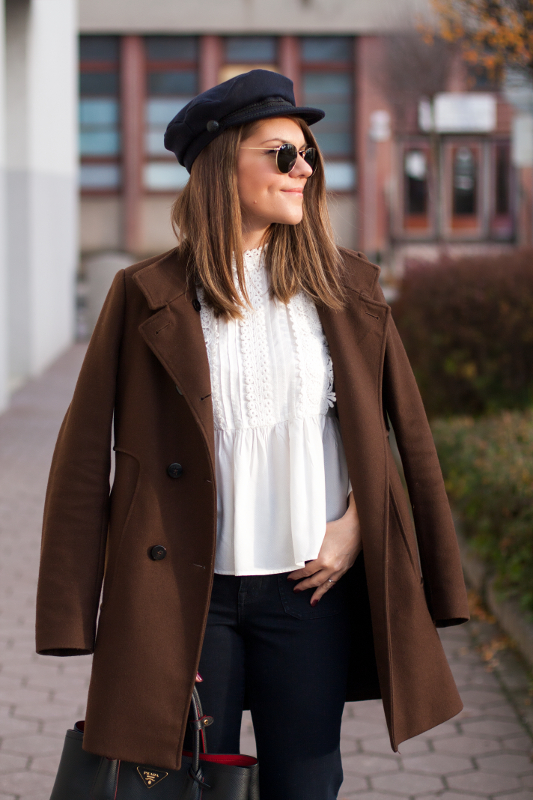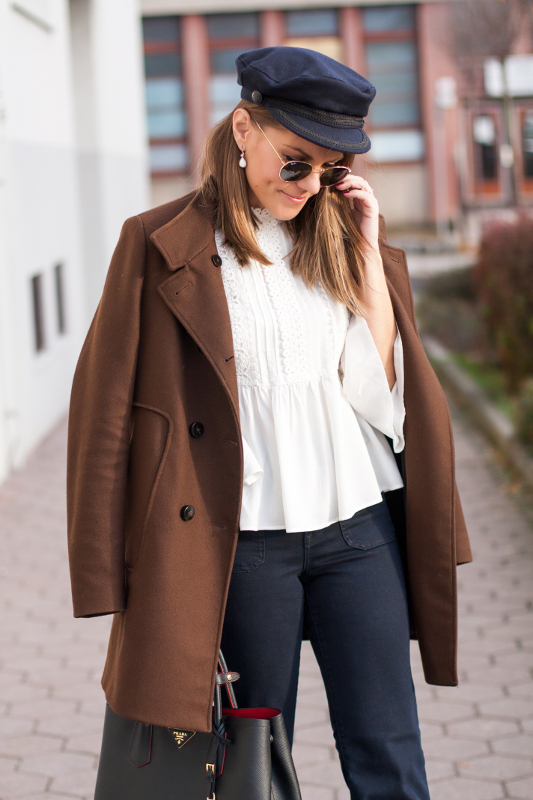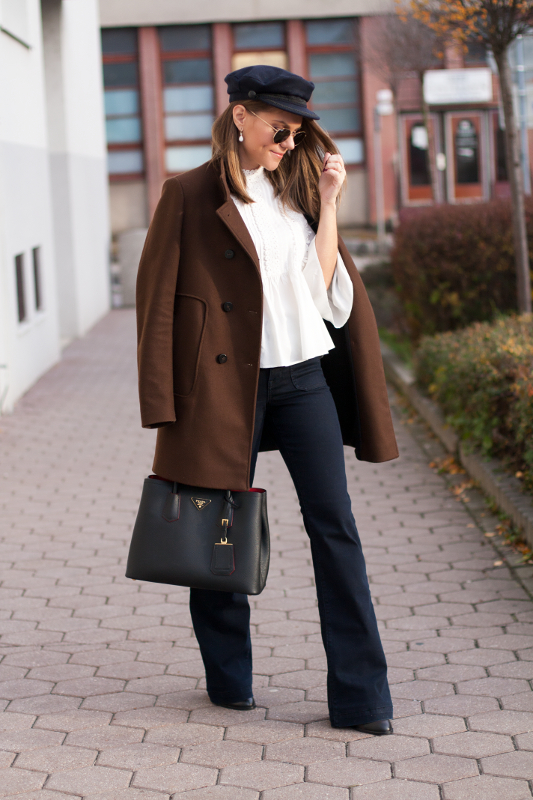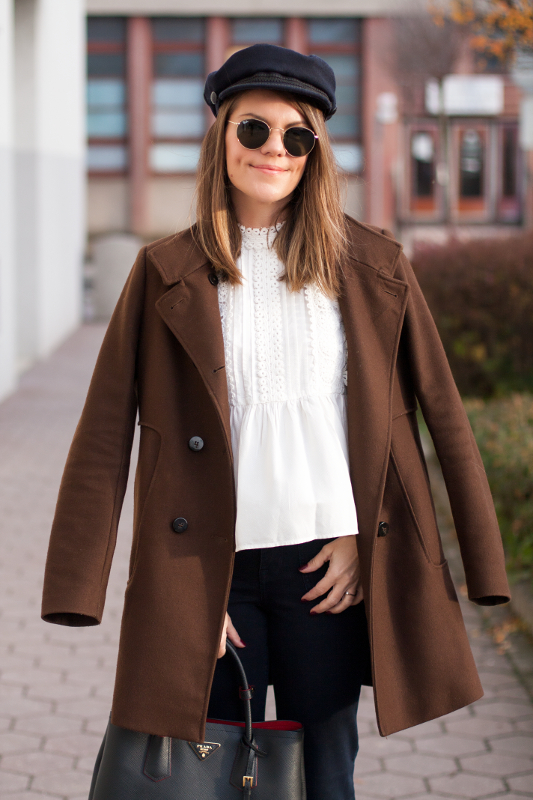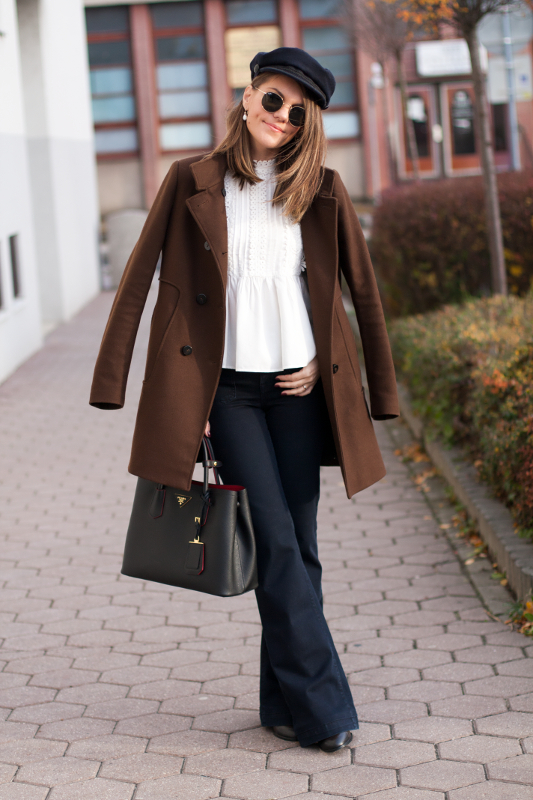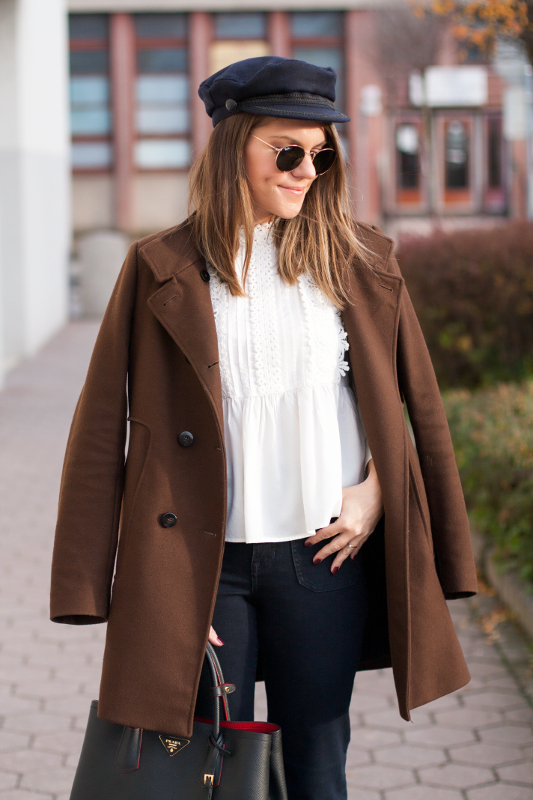 ♦ ♦ ♦ ♦ ♦ ♦ ♦ ♦ ♦ ♦ ♦ ♦ ♦ ♦ ♦
Hello guys and welcome to my blog. How are you doing? I hope all is well with you. Long time, no see. January and February is quite busy at our household, but it got more quite now. 😀 We have celebrated our little one 5th birthday and it requires lots of planning and organizing, also we celebrated my man birthday and my mum's too. Then we all got sick one by one, so you can imagine. Bit of madness. 😀 So today I have a new outfit for you to see, finally I can show you a few new pieces. Like my sailor cap and embroidered top. I absolutely love love my sailor cap, which I bought last year. Unfortunately I haven't been able to wear it yet, so this is my first time! It has been so cold here, no chance!
This sailor cap looks lovely with a white shirt, blouse or stripe shirt. I opted for a white top, which you haven't seen on the blog yet and I combined it with a dark washed flare jeans. I love this look because it is simple, practical but stylish. I paired it with a coat but it looks great with a leather or in the spring or summer you can wear it with a black vest. Gorgeous! I prefer to wear bigger handbags with my flare jeans, so my trusted Prada was the best choice and seriously this bag goes with everything and anything even with trainers! I accessorized the look with rounded sunglasses to give the look make the look more put together. This outfit is great for work, coffee with girlfriends or brunch with your man. So what do you think? Let me know.
Top: Zara
Bottom: Forever21
Shoes: Zara
Sunglasses:
Handbag: Prada
Cap: Zara
Photos by: Jefferson Kenji
Thank you very much for reading. I hope you like this outfit and if so, please let me know in the comment section down below. Write me, if you have similar pieces yourself and how do you style it. You can also support me by liking my Facebook page or heart me on Instagram. Looking forward to your reactions. Have a great weekend. ♥