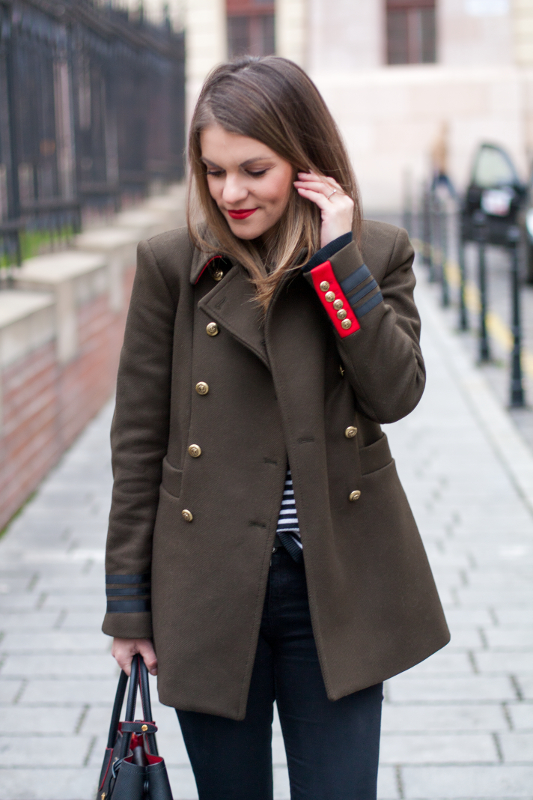 Ahoj a vitajte na blogu, dnes mám pre vás ďaľší outfit, síce ešte z minulého roku, doháňam zameškané. Snáď to nebude nikomu prekážať. Určite stoja niektoré kúsky za zhliadnutie. Dnes si k tomu primyslite teplú čiapku, šál a rukavice. Tie mrazy by už mohli aj prestať, čo myslíte? 😀 Tiež som vám sľúbila, že sa budem snažiť pridávať články častejšie. Koncom roku som mala veľa povinností, takže som nestíhala pridávať články na blog tak ako by som chcela a samozrejme som si chcela aj oddýchnuť počas sviatkov. A tak sa to budem snažiť dobehnúť počas toho roku, tak mi držte palce aby mi to vydržalo. 🙂
Tiež by som tento rok chcela na blogu zaviesť aj niejaké pravidelné články, tak ak máte niečo, čo by ste chceli ste na blogu sledovať pravidelne, dajte mi vedieť dolu do komentu. V poslednej dobe ma okrem  čiernej veľmi baví aj vojenská zelená a vôbec celkovo vojenský štýl, ktorý sa memontálne nosí. Takže ak máte doma parky, bombery, či podobný kabátik, je čas tieto kúsky prevetrať. Najradšej kombinujem olivovú s neutrálnymi farbami ako je čierna, biela alebo hnedá, alebo potom s dyňovou žltou, alebo modrou farbou. V tomto prípadne čierna vyhrala, ktorá je dominantná, aby kabátik vynikol čo najviac. Pásiky to aspoň trošku oživili, aby to nebolo také fádne. Pohodový mestský outfit na bežné nosenie, do práce, alebo kávičku s kamoškou. Čo naň hovoríte? Máte radi vojenský štýl?
Top: H&M (podobný tu)
Nohavice: Zara (podobné tu a tu)
Kabát: Zara (podobný tu)
Topánky: Stradivarius (podobné tu)
Kabelka: Prada
Fotky: Jefferson Kenji
Ďakujem pekne za prečítanie, dúfam, že sa vám článok páčil, keď tak mi dajte vedieť dolu do komentu. Prípadne ma môžete podporiť na mojej Facebook stránke lajkom, alebo srdiečkom na Instagrame. Teším sa na vaše komentáre. Majte sa krásne. ♥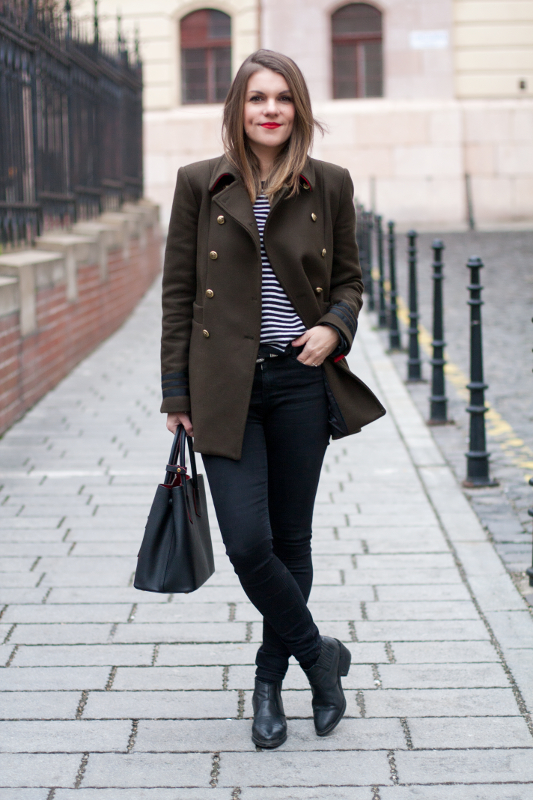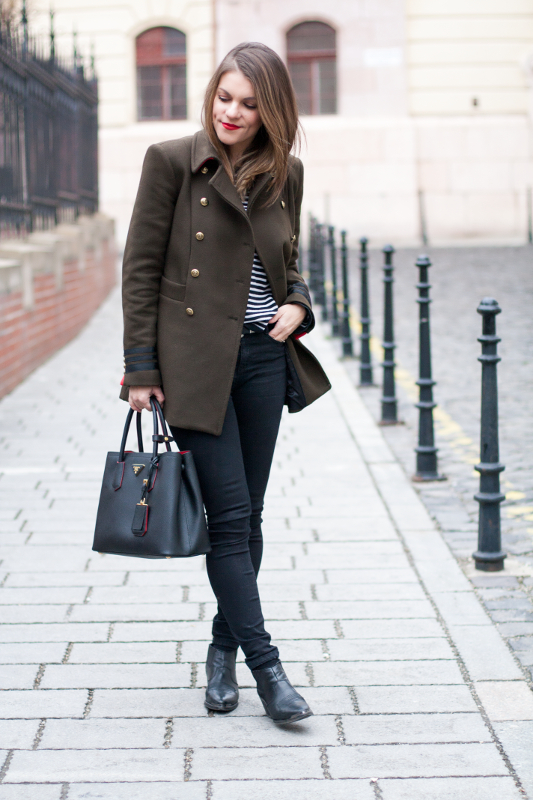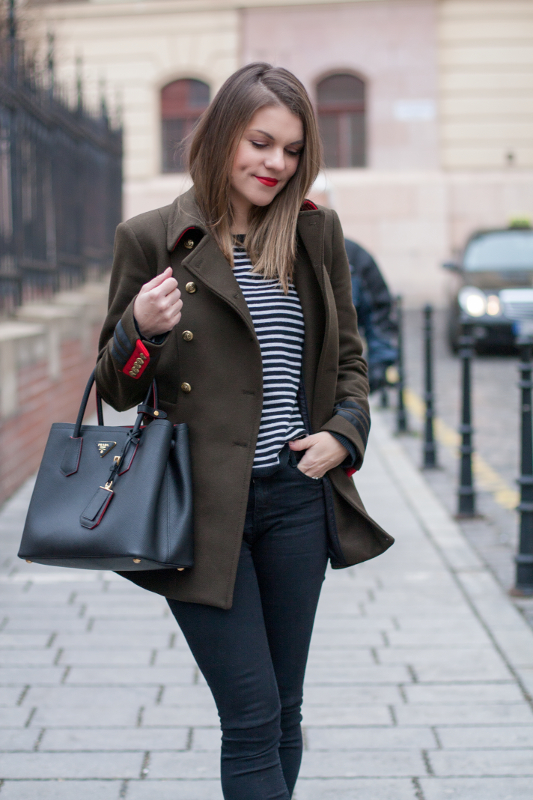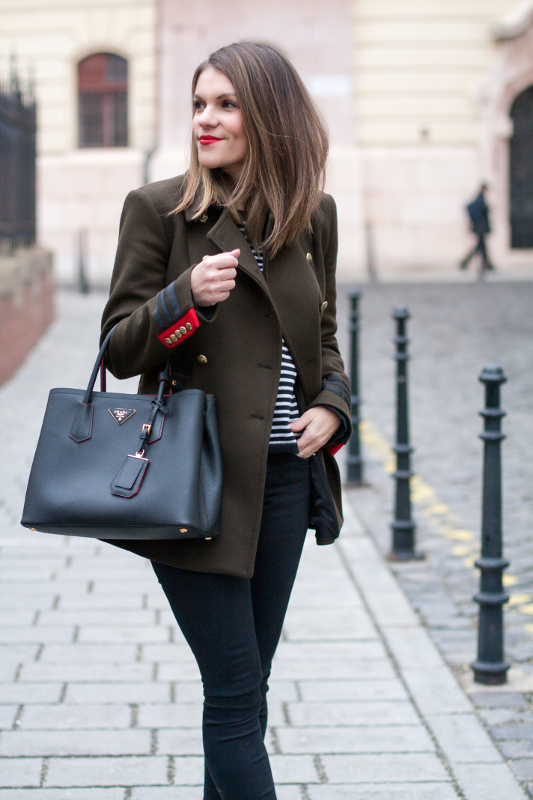 ♦ ♦ ♦ ♦ ♦ ♦ ♦ ♦ ♦ ♦ ♦ ♦ ♦ ♦
Hello guys and welcome to my blog. I hope you are having a great day. I have another outfit for you, even tough photos have been taken last year I hope it is not a big problem. In this cold just add a nice warm hat, scarf and gloves. This freezing cold is getting too much, right? Can't wait for warmer days. I also promised you I will be more active on the blog this year and towards the end of the last year I was too busy to post articles and wanted to relax during holidays so now I will make up for it.
I also want to do some regular articles, so please if you have any suggestion share with me in the comment section down below. If there is anything you want to see on the blog regularly, just throw it in. Now something about this outfit, I got this military towards the end of the year and I have immediately fallen in love with it. I got lost of compliments in shops, from you guys and also my friends on this jacket. I enjoy olive green a lately, apart form the black I wear like all the time and also I love military style that is a big trend right now. I love to pair this color with neutral colors like black, brown and white. Also with another colors like curry yellow or blue and it works fantastic. In this case black won and it is a dominant color in this outfit. I added some stripe jumper to make it more interesting and less boring colorwise. It is a simple, yet very nice urban look for casual days, shopping, meeting with girls or even work. So what do you think? Do you like military style?
Top: H&M
Bottom: Zara
Coat: Zara (similar here and here)
Shoes: Stradivarius
Handbag: Prada (similar here)
Photos by: Jefferson Kenji
Thank you very much for reading, I hope you liked this article and if so, please let me know in the comment section down below. You can also support me on my Facebook page by giving me thumbs up or heart me on Instagram. Have a great day and stay warm. ♥