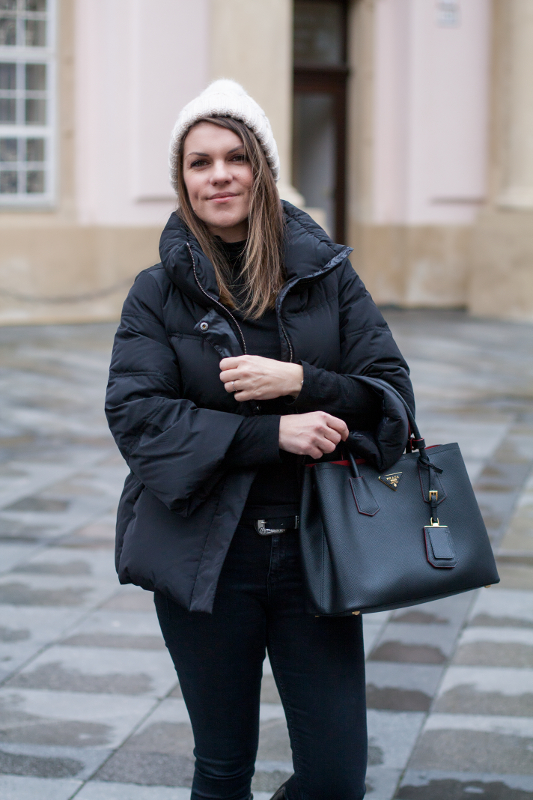 Ahoj, vítam vás prvým outfitovým článkom v Novom roku. Dúfam, že ste prežili sviatky v zdraví a touto cestou by som vám chcela popriať všetko dobré, hlavne veľa zdravia, nech sa vám v živote darí. Ďakujem vám za vašu podporu a priazeň, veľmi ma to teší. My sme mali pokojné sviatky, rodina bola dlhší čas spolu a nie len víkend, toto by som prijala častejšie a zvykať sa mi bude ťažko, čo vám budem hovoriť. Vianoce sme strávili na chalupe, krásne nám nasnežilo ako na zavolanie. 🙂 Hneď na to sme odcestovali na hory kde nás čakala poriadna nádielka snehu. Ako ste trávli voľno vy?

Jeff sa rozhodol po dvoch neúspešných lyžiarskych pokusoch vyskúšať snowboard a musím povedať, že mu to celkom dobre išlo. Konečne si aj on začal užívať našu slovenskú zimu. 😀 Náš drobec už druhým rokom lyžuje a tak som si aj ja mohla bez starostí zalyžovať a užiť si to. Super sme si oddýchli a tešíme sa na ďaľšiu lyžovačku. Silvestra sme trávali na chalupe, nijak extra sme neoslavovali tento rok, ja som zaspala asi o desiatej večer, takže žiadne bujaré oslavy sa nekonali. Asi starnem. 😉 A čo vy, vyrazili ste niekam do ulíc, či mali ste doma pohodičku?
A teraz niečo k outfitu, minule som vám spomínala, že v poslednej dobe nosím často čiernu, šedú, sem tam niečo farebné. Aj tento outfit je celý čierny s výnimkou čiapky, aby to nebolo také fádne. Veľmi sa vám páčila táto nadýchaná prešívaná bunda. Je to starší kúsok, ale prešívané bundy zažívajú momentálne comeback a sú veľmi trendy. Ja túto bundu zbožňujem, aj keď má jednu nevýhodu a tou sú trojštvrťové, mierne zvonové rukávy, ktoré nie sú praktické cez zimu, ale dajú sa vykompenzovať vysokými rukavicami, alebo pulovrom s dlhým rukávom. Mne sa zatiaľ nepodarilo podobné rukavice zohnať, tak to riešim tak, že ju nosím  len vtedy keď viem, že sa vonku nezdržím dlho. Bundu najradšej kombinujem s priliehavými denimovými nohavicami a vysokými čižmami. Ako doplnok som zvolila čapicu s bombrlcom a tak celý look pôsobí uvoľnene. K tomu moju najobľúbenejšiu kabelku, ktorá sa hodí naozaj k akémukoľvek štýlu a môžem vyraziť. 🙂 Ani čierny outfit nemusí byť nuda, ak sa skombinujú rôzne materiály, štruktúry, alebo sa pridá objem, či zaujímavý výrazný doplnok.
Top: Promod
Nohavice: Zara
Bunda: Benetton (podobná tu)
Čižmy: Laura Biagotti (podobné tu)
Čiapka: H&M (podobná tu)
Kabelka: Prada
Fotky: Jefferson Kenji
Ďakujem pekne za prečítanie, dúfam, že sa vám článok páčil, keď tak mi dajte vedieť dolu do komentu, napíšte mi, čo hovoríte na tento trend, je to niečo čo vás oslovilo, alebo tento trend prílš nemusíte? Ak sa fotky páčia, budem rada ak ma podporíte lajkom na Facebooku, alebo srdiečkom na Instagrame. Majte sa krásne. ♥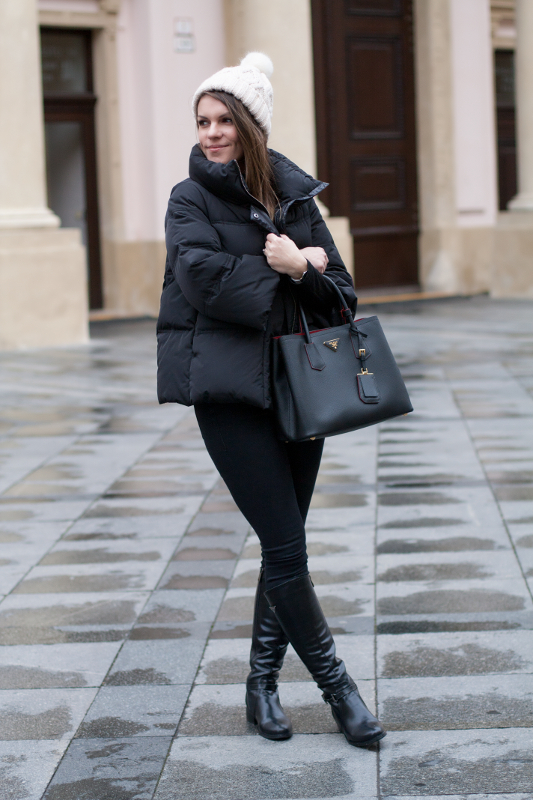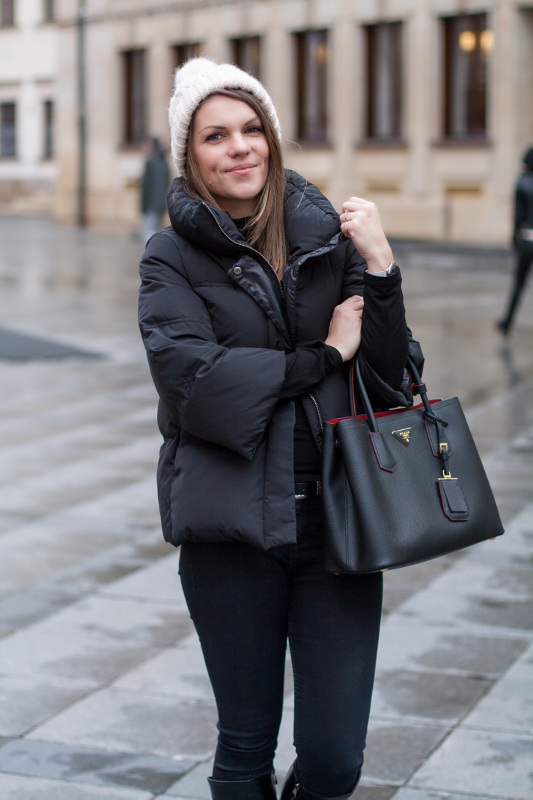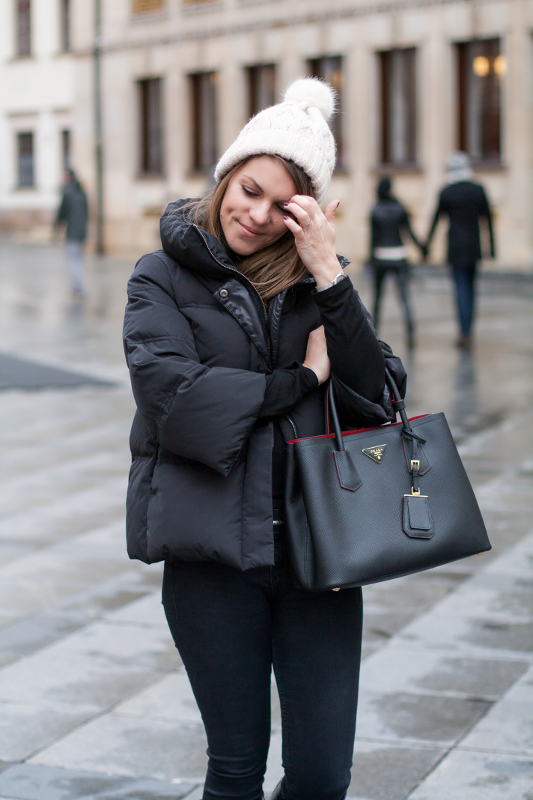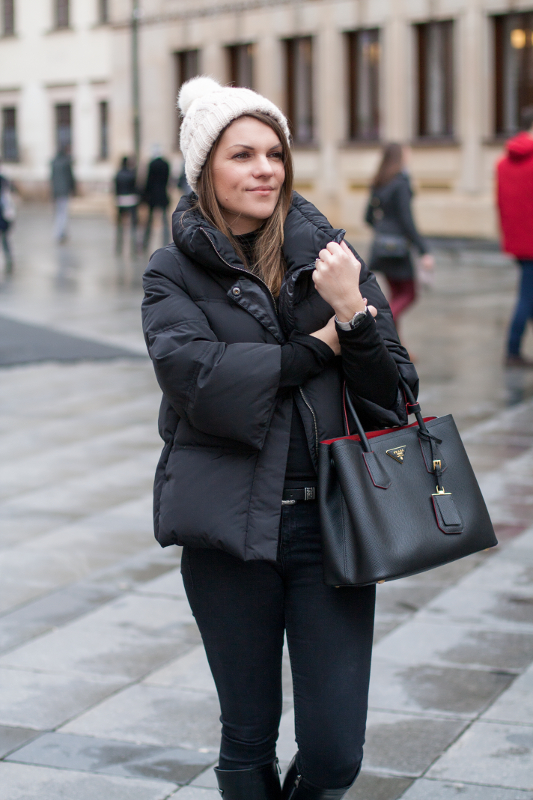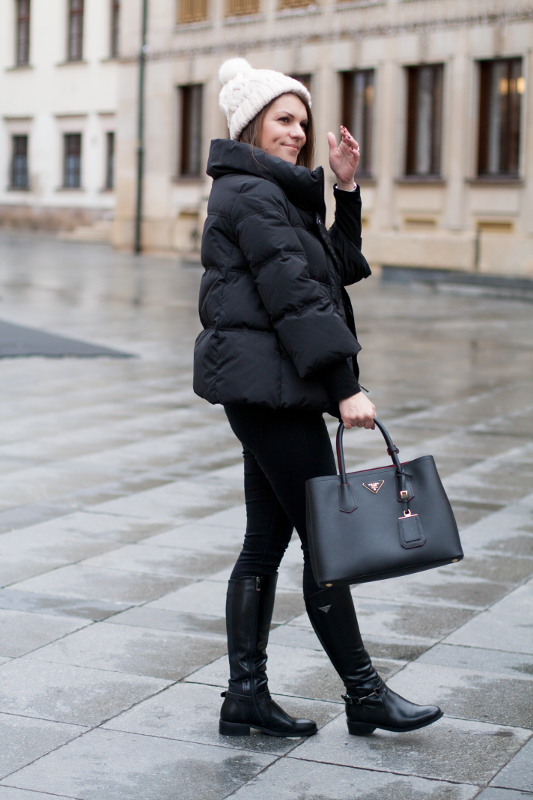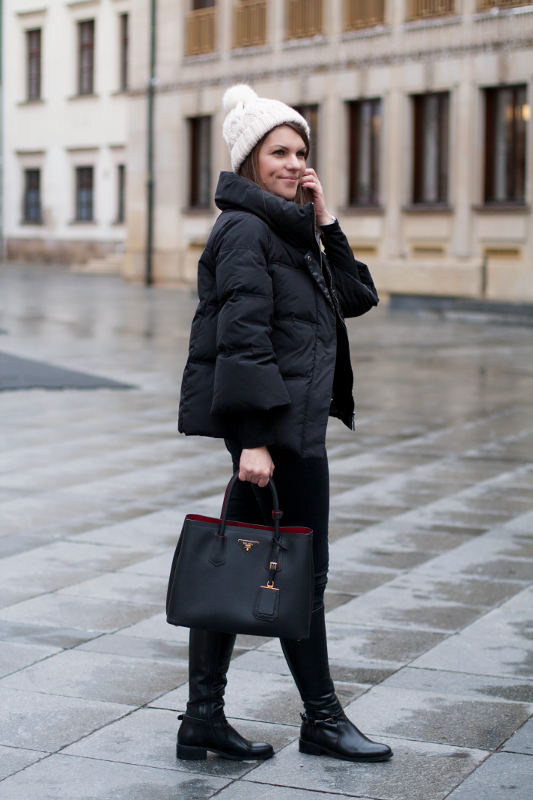 ♦ ♦ ♦ ♦ ♦ ♦ ♦ ♦ ♦ ♦ ♦ ♦ ♦ ♦
Hello guys, how is it going? I welcome you with a first outfit in a New year. I wish you all the best, may your wishes come true. I also want to thank you for your support and love you show me by interacting with me, liking me photos and writing me lovely messages. I really appreciate it. I hope you enjoyed your holiday peacefully and in good health. We spent Christmas at cottage and it was lovely, started to snow and it was magical. After we went to mountains and had lots of fun. After two failed attempts to ski Jeff decided to try snowboard and finally began to enjoy our Slovak winter. 😀 Erik is skiing well second year so I could enjoy myself without worries. I must say I am very proud, he is doing great and Jeff too. I can't wait to go for another trip.
New Year's Eve we also spend on cottage and we didn't celebrate it much, I fallen asleep at 10pm so nothing too crazy was happening. :o) I was happy to rest and relax. I am getting old I think. How did you celebrate it?
Now back to an outfit. Back in the city it was cold and wet. You liked very much my quilted puffer jacket I had lots of positive response. It is an older piece but quilted jackets experience comeback and are very trendy at the moment, so if you have one now it's a good time to dust it off. I really love this jacket because of its cut. It has a three-quarter length bell sleeves, which are not so practical in winter but I still love it and wear it. You can wear a long gloves with it to compensate the length but so far I haven't been able to find any so I just wear it when I know I won't spend long time outside or with a long sleeved jumpers or turtlenecks. It works for me. I like to wear it with a nice pair of skinny jeans, high boots and my favorite statement handbag that works well with any style. I told you I like to wear a lot of black lately so this is my all black except  the hat with pompom. I just wanted to add some relaxed feel to an outfit and I am good to go. Even all black doesn't mean boring if there is a nice mixture of materials, textures or some volume is added, or a statement piece. It works for me nicely.
Top: Promod
Bottom: Zara (similar here)
Jacket: Benetton (similar here)
Boots: Laura Biagotti (similar here)
Hat: H&M
Handbag: Prada
Photos by: Jefferson Kenji
Thank you very much for reading and I hope you enjoyed this article, if so, please let me know in the comment section down below or simply give me thumbs up on Facebook or heart me on Instagram. Let me know how do you enjoy this trend or not. I can't wait to hear from you. Have a great start of the week. Lots of love. ♥