Ahojte a vitajte na blogu. Dúfam, že ste mali pohodový víkend.  Dnes mám pre Vás outfit z minulej soboty. V meste sa konali trhy a nechýbali ani kolotoče, kde si to neskôr užil hlavne náš drobec. My sme sa vybrali na menšie nákupy najskôr na tržnicu, veď to poznáte. Taká klasická sobota. A ja som prevetrala môj najnovší kúsok, vínovú nákupnú tašku.
Už dlhšie som rozmýšľala o väčšej taške, ktorá by sa hodila na menšie nákupy, cestovanie, alebo keď ideme s naším drobcom na ihrisko. Niečo, kde zmestím všetky potrebné veci tak, aby taška nevyzerala príliš preplnená.  A tých vecí nie je málo, treba zbaliť fľasku s vodou, veci na prezlečenie, svetrík keď sa ochladí, vlhčiace obrúsky, autíčka a to nehovorím o svojich veciach. I keď má Erik svoj vlastný ruksak, vláčiť so sebou dve rôzne tašky nie je úplne ideálne, keď ideme k tomu ešte nakupovať. Zrovna sa mi nechcelo investovať do značkovej tašky a tak som sa rozhodla kúpiť si lacnejšiu verziu. Zaujala ma táto vínová, túto farbu mám veľmi rada, hlavne na jeseň. Aj tak to už vonku vyzerá na jesenné počasie. Čo na ňu hovoríte? Akurát mi vadí, že v nej nie sú vnútorné priestory so zipsom. Zahliadla som ju aj v čiernom prevedení. A keďže je elegantná, bude sa hodiť nielen na bežné nosenie, ale aj k vzorovaným šatám, či do práce ku kostýmu.
Top: Zara (podobný tu)
Nohavice: Review (podobné tu)
Sako: Stradivarius (podobné tu)
Topánky: Pieces
Kabelka: Zara
Hodinky: Michael Kors (podobné tu)
Fotky: Jefferson Kenji
Ďakujem pekne za prečítanie. Dúfam, že sa Vám článok páčil, keď tak mi dajte vedieť dolu do komentu, alebo lajk na facebooku, či srdiečko na instagrame. Napíšte mi, či máte podobné kúsky a s čím ich najradšej kombinujete vy? Majte sa krásne. ♥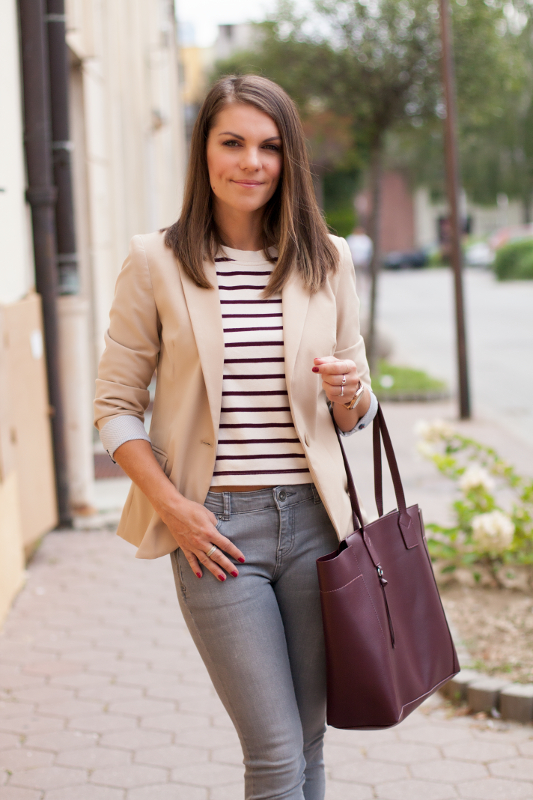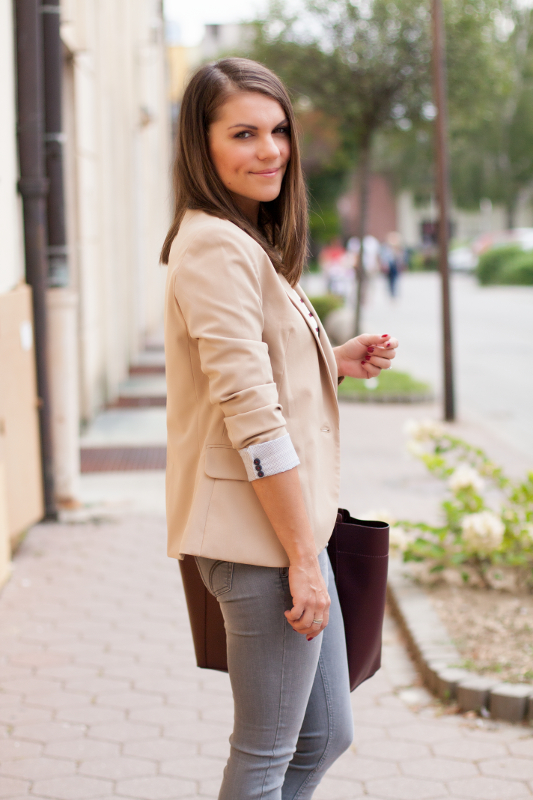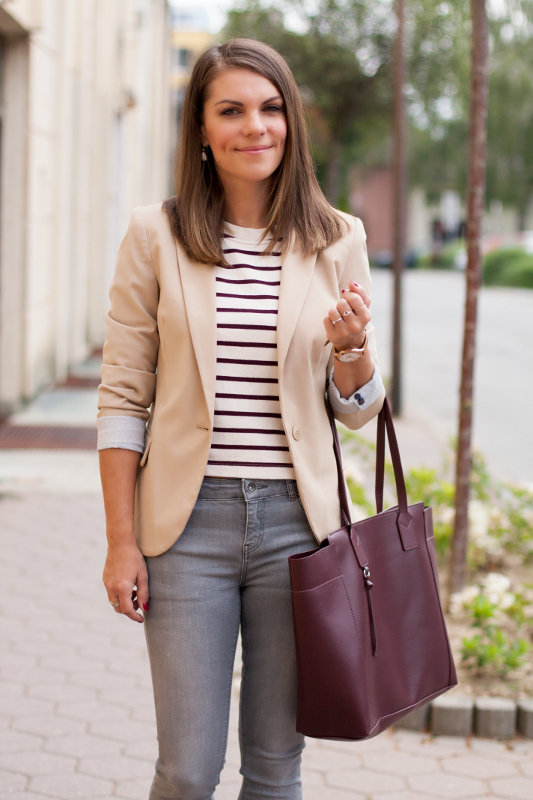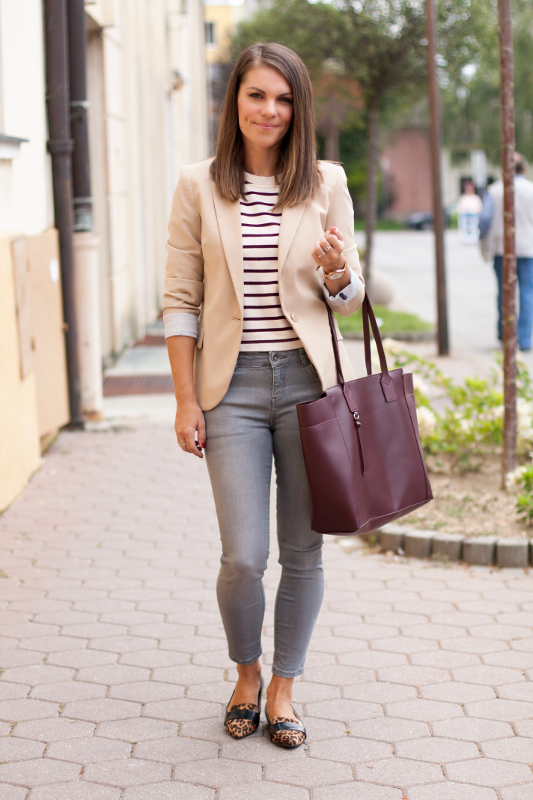 ♦ ♦ ♦ ♦ ♦ ♦ ♦ ♦ ♦ ♦ ♦ ♦ ♦ ♦
Hello guys and welcome to my blog. I hope you had a lovely weekend. Today I have an outfit from last Saturday. There was a market in the city and fun parade for kids, that our little enjoyed later. We went to a different market first though, to buy some veggies and fruits, you know the drill. Typical Saturday. Since I went for a shopping I took my new shopper bag with me.
I was already thinking some time ago of buying bigger bag, my trusted bucket bag can't fit everything sometimes. Something that would be suitable for a small shopping, traveling, or when going out with my son. Something big enough to fit everything I need for whatever occasion necessary without looking overloaded. And there is not only few things I usually carry, when going out with our little one. Even though Erik has his own bag, I can't be bothered carrying two when I don't have to and even more when I go to do more shopping. I didn't want to invest in a designer bag this time, from practical reason since I knew what will I use it for and decide to go with a cheaper version. I really liked this wine-red shopper bag, I love this color especially in fall. Anyway, it feels like Autumn already. The only downfall of this bag is that is hasn't got inside zip pockets, other than that it's a lovely addition to my collection. It is elegant looking and it will also look nicely with a pattern dress or work costume.
Top: Zara
Bottom: Review
Blazer: Stradivarius
Shoes: Pieces
Handbag: Zara
Watch: Michael Kors
Photos by: Jefferson Kenji
Thank you very much for reading. I hope you like this article and if so, please let me know in the comment section down below, or you can give me thumbs up on Facebook or heart me on instagram. Also let me know, if you have a similar items yourself and what is your favorite way to style it? Have a great day. ♥