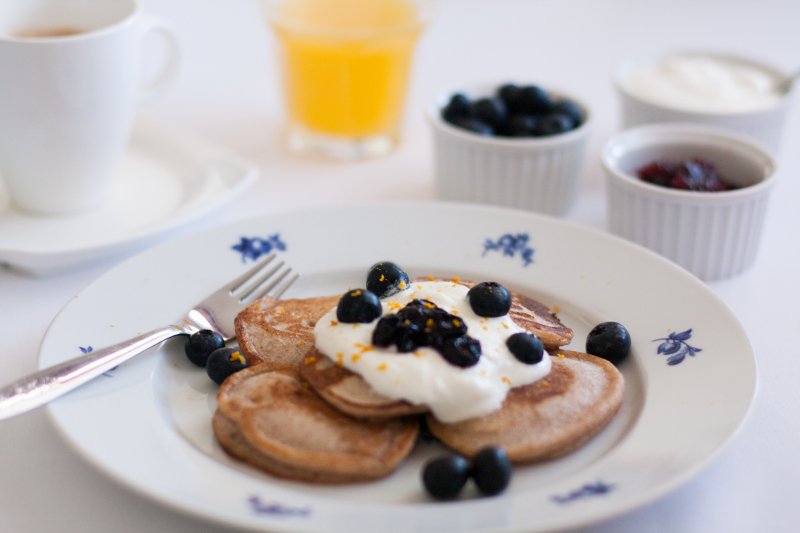 Ahoj a vitajte na blogu. Dúfam, že máte pohodový deň. Dlho som na blogu nekuchtila a tak som si dnes pre Vás pripravila chutný recept na pohánkové lievance. Príprava je nenáročná, lievance si môžete pripraviť na raňajky a pre tých, ktorí si ľúbia pospať tak raňajko-obed (brunch). Sú výdatné, ale zato ľahko stráviteľné. Krásne nadýchané a vhodné pre vegerariánov a tých, ktorí držia bezlepkovú diétu.

Na prípravu potrebujeme:
125g pohánková múka
štipka soli
1ČL bezlepkový kypriaci prášok
2ČL trstinový cukor
2dcl mlieko (dala som mandlové)
1 vajíčko
1 kyslá smotana
čučoriedky
javorový sirup
kôra z bio pomaranča
olej
Postup:
Pohánkovú múku premiešame s kypriacim práškom, pridáme štipku soli, žĺtok z vajíčka, trstinový cukor a mandlové mlieko. Z bielka si vyšľaháme tuhú penu a pridáme do cesta a jemne premiešame. Necháme pôsobiť 8 minút. Na panvicu si dáme olej, podľa chuti rastlinný, kokosový a vytvárame malé lievance. Otáčame keď sú do zlatova. Pripravila som si aj čučoriedkovú omáčku. Na panvicu si dáme pár čučoriedok, podlejeme troškou vody a pridáme štipku trstinového cukru. Na mierom ohni podusíme a zdobíme ňou už hotové lievance. Nakoniec postrúhame kôru z pomaranča a kto má chuť, si ich môže pokapať javorovým sirupom. Dobrota. :p
Dobrú chuť. 🙂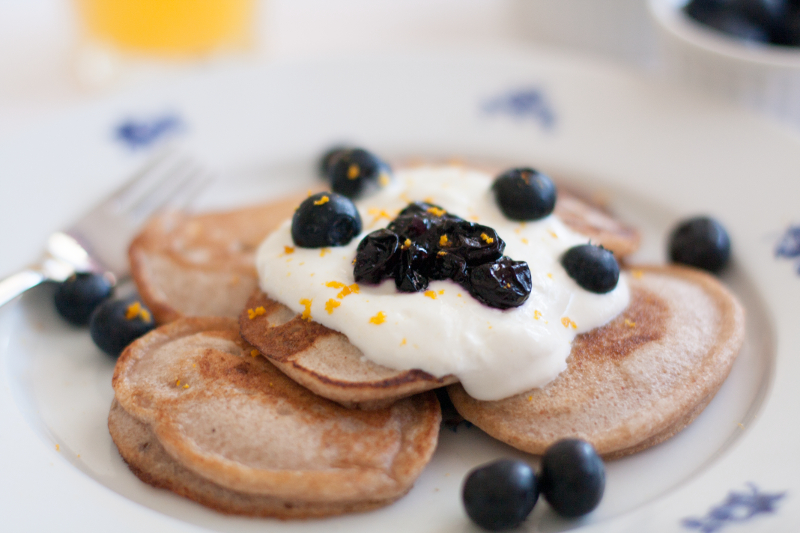 ♦ ♦ ♦ ♦ ♦ ♦ ♦ ♦ ♦ ♦ ♦ ♦ ♦ ♦ ♦
Hello everyone and welcome to my blog. It has been a long time since I cooked something on the blog. Yesterday I was having a sweet tooth so I made a buckwheat pancakes this morning. I told myself why not to share this delicious recipe with you guys. You can make these for breakfast or brunch. It's super easy to make, delicious, filling, yet easy to digest. Suitable for vegetarians or gluten-free dieters.
Ingredients:
125g buckwheat flour
pinch of salt
1tsp gluten-free baking powder
2tsp cane sugar
2dcl milk (I used almond)
1 egg
1 sour cream
blueberries
maple syrup
skin from bio orange
oil
Process:
Mix all buckwheat flour with baking powder, pinch of salt, egg yolk, cane sugar and almond milk together. From egg white make a sold foam and gently mix to a dough. Let me aside for about 8minutes. Heat an oil on the pan and create small pancakes, turn when golden. I also prepared blueberry sauce. Throw some blueberries on the pan, add some water and pinch of cane sugar and simmer until sauce gets thick. Decorate already made pancakes. Lastly, grate an orange skin on the top. For extra sweetness drizzle with maple syrup. Delicious.
Enjoy. 🙂