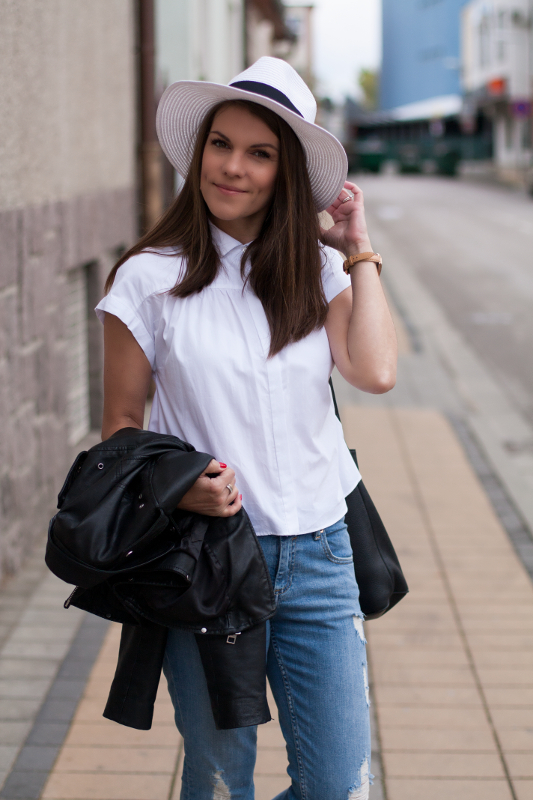 Ahoj a vitajte na blogu. Dúfam, že máte pohodový týždeň. Dnes mám pre Vás ďaľší outfitový príspevok. Celý týždeň premýšľam, či ho mám dať na blog, vzhľadom k rapídnemu ochladeniu. No to by však znamenalo týždeň bez článku.  Cez víkend v sobotu sa má znovu otepliť, tak si myslím, že to nie je až tak od veci.

Biela košeľa patrí medzi zásadné kúsky každého šatníka, či už je to klasická biela košeľa do práce, alebo na bežné nosenie, určite by nemala v šatníku chýbať. Túto sezónu je biela košeľa must have kúsok a ja si tento trend veľmi užívam. Jednak biela je jedna z mojich najobľúbenješích farieb, reprezenuje čistotu, nehu a pokoj a tiež sa dá ľahko kombinovať. Jarná kolekcia ponúka množstvo zaujímavých možností bielych košiel, ako napr. zrezané do pása, bez ramienok, naskladané, šatové košele, zavinovacie a čo ja viem ešte aké. Skombinovať ju môžete s rifľami, navrstviť pod šaty, či pulover, k sukni, alebo ich môžete nosiť ako šaty (tie dlhšie :D). Nech už si vyberiete akýkoľvek štýl, v konečnom dôsledku každá žena v bielej košeli bude vždy pôsobiť pekne čisto a upravene. Čo myslíte? Ako nosíte najradšej bielu košeľu vy?
Ja som ju skombinovala s mojími obľúbenými roztrhanými rifľami a ako doplnok som zvolila panama klobúčik, ktorý je jediný kúsok, ktorý som si kúpila za posledný mesiac. Čuduj sa svete, na nákupy nie je čas. Takýto klobúčik určite dodá každému outfitu to pravé orechové, len si to na chvíľku predstavte bez neho a nebolo by to ono, aspoň pre mňa. Ja milujem klobúky a takmer vždy mám niejaký na sebe, pre mňa to nie je vyslovene dovolenková záležitosť, ale je to doplnok, ktorý nosím aj na každodenné bežné nosenie do mesta, na ihrisko s naším drobcom, na kávu, nákupy a vlastne kdekoľvek vyrazím.
Top: Zara (podobná tu)
Rifle: Asos (podobné tu)
Bunda: Mango (podobná tu)
Topánky: Zara (podobné tu)
Kabelka: Michael Kors (podobná tu)
Hodinky: Michael Kors
Ďakujem pekne za prečítanie, dúfam, že sa Vám článok páčil. Keď tak, dajte mi vedieť dolu do komentu, alebo lajkom na Facebooku, či srdiečkom na Instagrame. Napíšte mi, aký typ bielej košele nosíte a či Vám niečo hovoria kúsky, ktoré sú momentálne dostupné v obchodoch. Majte sa krásne. ♥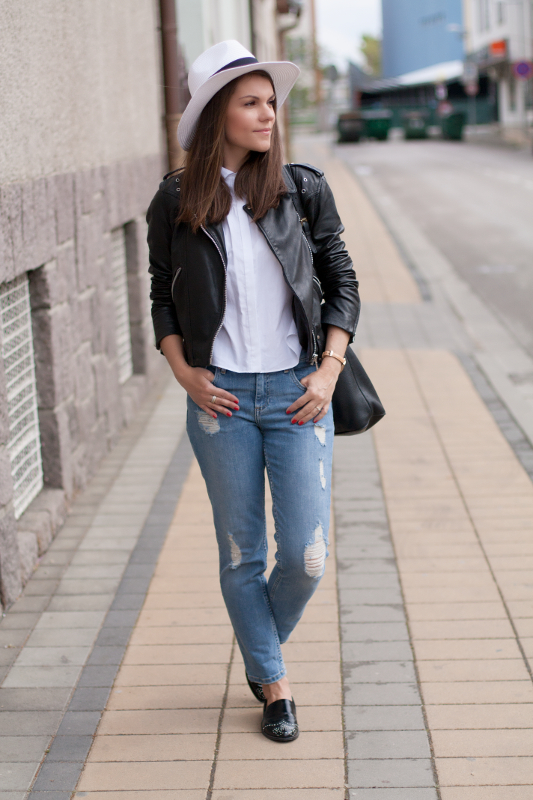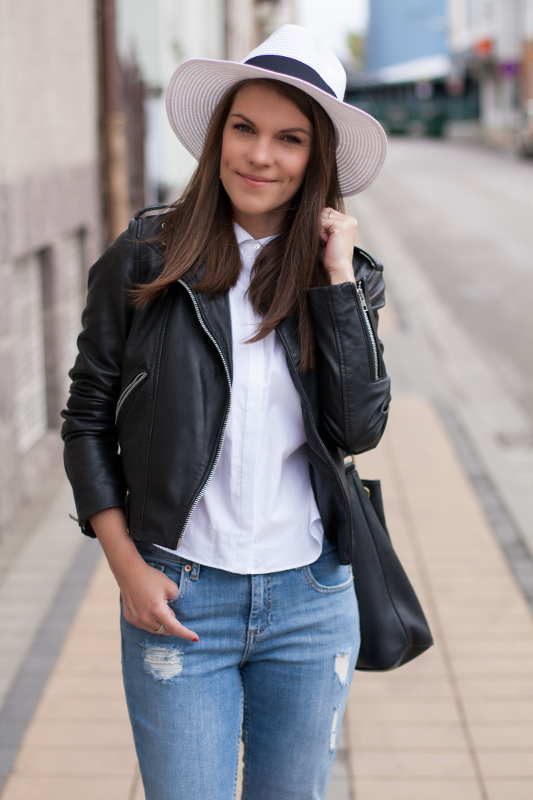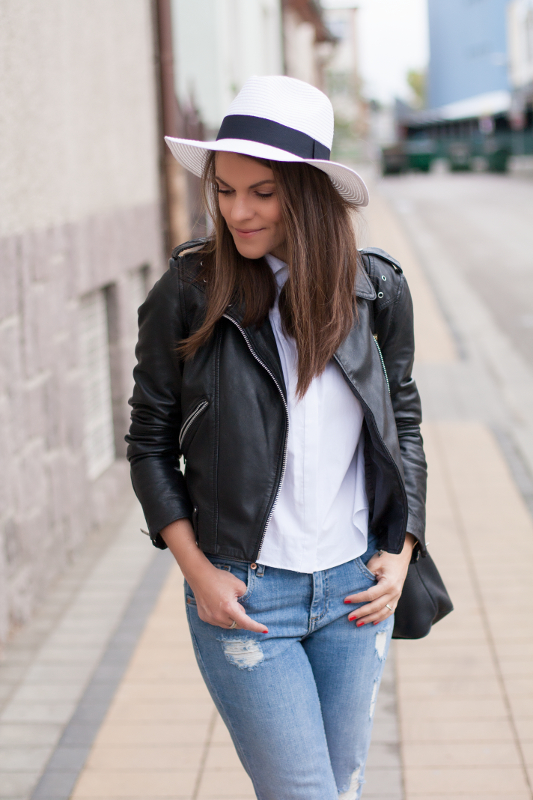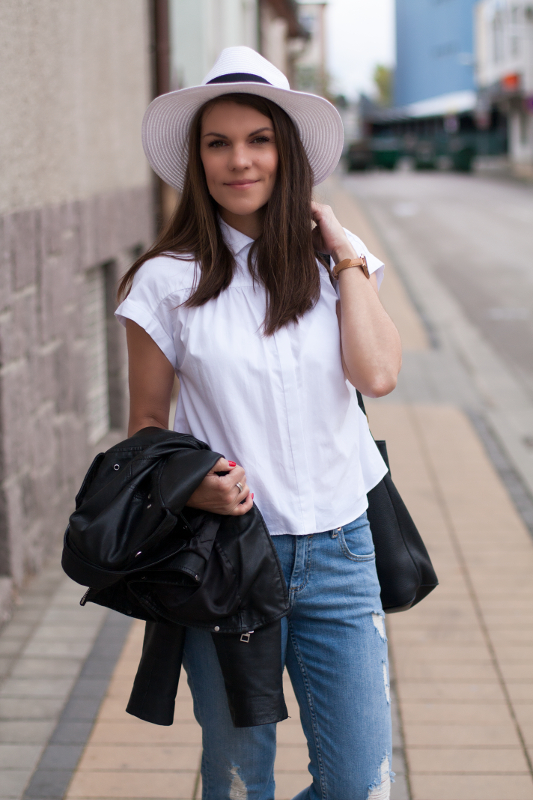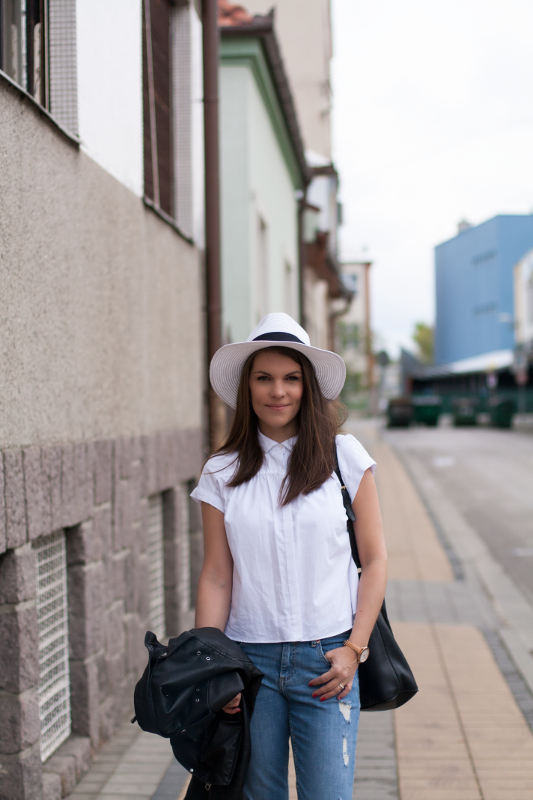 ♦ ♦ ♦ ♦ ♦ ♦ ♦ ♦ ♦ ♦ ♦ ♦ ♦ ♦
Hello guys and welcome to my blog. I hope you are having a wonderful week. The whole time I was thinking whether to post this outfit or not due to rapid climate change. 😀 But it would mean the week without an outfit post and it should be nice and sunny on Saturday so I think it's OK.
White shirt is a ultimate piece in every wardrobe, whether is it classic shirt to work or something less formal. White shirt is definitely a must have piece this season and I really enjoy this trend. Firstly because white is one of my favorite colors, it represents purity, innocence and peace and secondly it easy to combine with anything. Spring collection offers many interesting options like cropped shirt, off shoulder, folded, wrap around shirt or even a white shirt dress. You can combine it with your favorite pair of jeans, layer under the dress or jumper, I also love the combination of a white shirt with a skirt or you can wear it as a dress (longer ones of course :D). Whatever style you choose, you will always look nice and polished in a white shirt. What do you think? How do you like to wear a white shirt?
I have combined it with my favorite pair of ripped jeans and as accessory I opted for a panama hat. It is the only piece I have bought in the past month, believe it or not. There is no time for a shopping lately. I am sure I will make up for it soon. Panama hat or any hat can take any outfit to another level, just try to imagine it without it and it wouldn't be the same. For me panama hat or any straw hat is not only a holiday matter , it is something I wear every day on regular basis while running errands, to a playground with our little one, for a coffee with friends and basically everywhere I go.
Top: Zara (similar here)
Jeans: Asos (similar here)
Jacket: Mango (similar here)
Shoes: Zara (similar here)
Handbag: Michael Kors (similar here)
Watch: Michael Kors
Thank you very much for reading. I hope you liked this article, if so, please let me know in the comment section down below. Or give me thumbs up on Facebook, or heart me on Instagram. Please let me know what type of white shirt you find the most appealing this season. Have a great day. Until next time. ♥