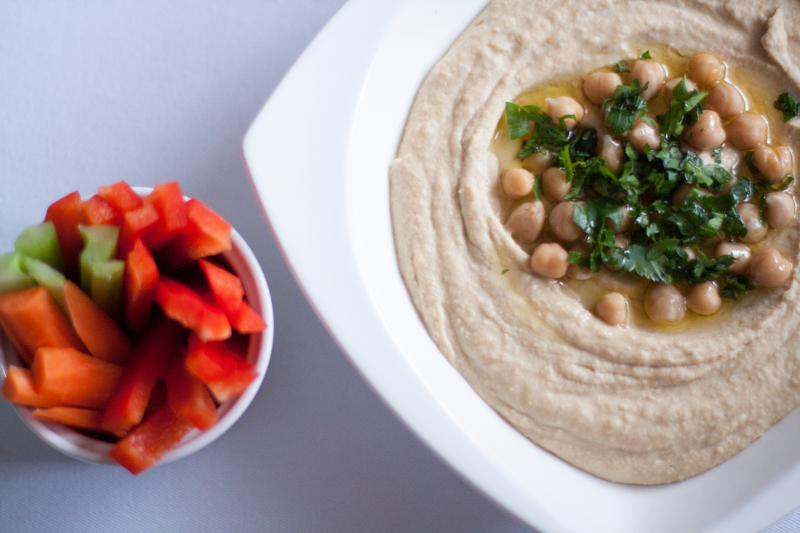 Hummus vyzerá celkom jednoducho, ale nie vždy sa podarí podľa mojich predstáv. Buď je mdlý bez chuti, príliš cesnakový, niečo tomu chýba, alebo je tam navyše. Naučila som sa ho jesť v Anglicku a za tie roky som už vyskúšala mnoho receptov, zlých, dobrých, lepších. Tento mi zo všetkých chutil najviac. Hneď na začiatok napíšem, že pokiaľ chcete dosiahnuť, aby bol hummus naozaj lahodný a krémový bez glociek, uvarte si cícer doma a ošúpte aj šupku. Áno, čítate dobre, ošúpte ju. Ja viem, zdĺhavé, kto má na toto čas? Nie vždy je to možné, berem a tiež niekedy siahnem po plechovke ako teraz (emergency). Kto číta môj instagram vie. Inak si ho vačšinou varím doma v tlakovom hrnci. Len píšem, ak máte chuť povýšiť Váš hummus do vyššej chuťovej dimenzie, smelo do toho! A uvidíte ten rozdiel. Každopádne, aj z plechovky sa dá vyčariť chutný hummus a tento bol naozaj vynikajúci, kyselkavý a moje chuťové bunky zaplesali od radosti. Tak snáď bude chutiť aj Vám.
Ingrediencie:
šťava z 2 limetiek
8 pl olivového oleja
3 pl šťavy z cíceru
4 čl tahini
štipka soli
štipka mletého koriandru (nepovinný)
3-4 kvapky tabasca (nepovinný)
1 strúčik cesnaku
1 plechovka cíceru (ja som dala Bonduelle 425 ml)
Na ozdobu:
petržlenová vňať
olivový olej
cícer (cca 1 pl)
Postup:
Cícer si precedíme a šťavu odložíme stranou. Dobre ho opláchneme pod studenou vodou a odložíme pár bobúľ na finálnu úpravu (cca 1 pl). Do mixéru dáme všetko okrem cíceru a zľahka rozmixujeme. Pridáme cícer a rozmixujeme do hladka. Dáme na hlboký tanier, kde vytvoríme lyžicou jamku. Vložíme zvyšný cícer a ozdobíme nasekanou petržlenovou vňaťou. Pokapeme olivovým olejom a hneď podávame s pitou, chlebom, alebo zeleninovými tyčinkami. Hotovo! Dobrú chuť.
Ďakujem pekne za prečítanie, dúfam, že sa Vám článok páčil. Keď tak mi dajte vedieť dolu do komentu a nebojte sa mi poslať fotky, ak recept vyskúšate. Majte sa krásne. ♥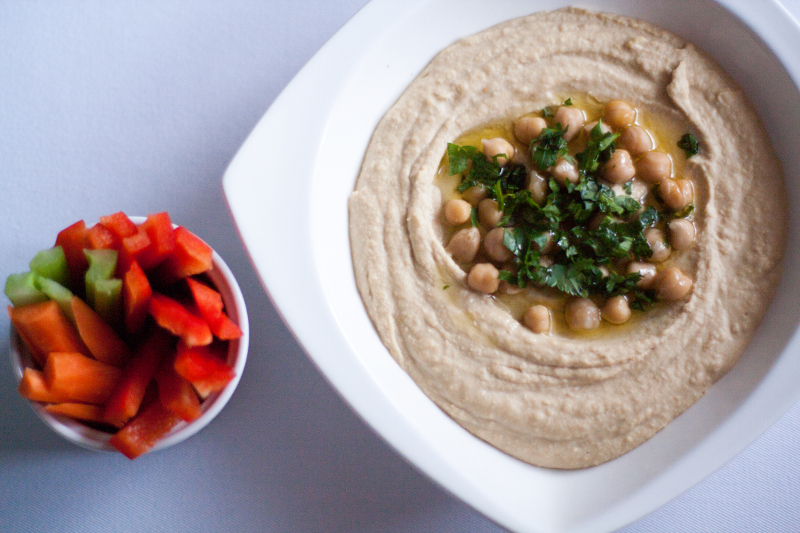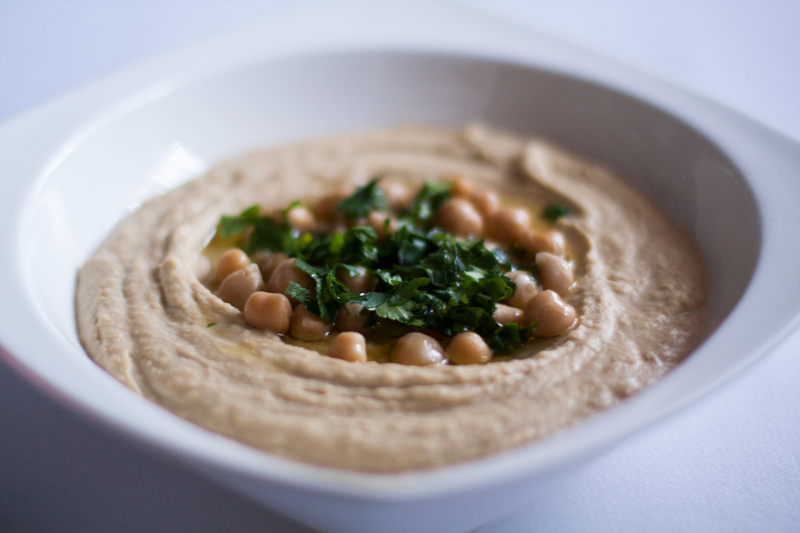 ♦ ♦ ♦ ♦ ♦ ♦ ♦ ♦ ♦ ♦ ♦ ♦ ♦ ♦ ♦
Hummus seems like an easy thing to do but it's not always the case. Either is tasteless, too garlicky, something is missing or something is extra. I learned to eat hummus in England and over the years I tried many recipes. Good, bad and better ones. This one so far was the best I ever made, the closest to a real thing I remember from Mediterranean restaurants. Before anything I want you to know that cooking your own chickpeas is the best. It has more smooth and creamy texture and if you peel off the skin gets even better! Yes that's right, just peel the skin off. I know who has the time in the world to do that? Time consuming I get it, even I reach for a can time to time. In this case I did, we had a little emergency at home. If you read my instagram you know. 😀 So just saying, if you want to upgrade your hummus to another level, go for it! You'll see the difference. However, even from a can you can make a decent hummus and this one was super delicious, tangy flavor from a lime, which I prefer over lemon. It made my taste buds dance! I hope it will make yours too.
Ingredients:
juice from 2 limes
8tbsp olive oil
3tbsp chickpea juice
4tsp tahini
pinch of salt
pinch of grounded coriander (optional)
3-4 drops Tabasco (optional)
1 clove garlic
1 chickpea can (I used Bonduelle 425ml)
Decoration:
olive oil
chickpeas (approx. 1 tbsp )
fresh parsley
Method:
Drain the chickpeas in a colander and save the juice aside you'll need it later. Wash it well under the cold water and leave some chickpeas for the final decoration. Put all ingredients but not chickpeas in a mixer or food processor and mix gently. Add chickpeas and mix until smooth. Put it in a deep dish or a plate. Make a small hole and decorate it with a left chickpeas and finely chopped parsley. Drizzle with an olive oil. Serve with a pita or any bread, or veggie sticks. Done! Enjoy.
Thank you very much for reading. I hope you like this recipe and if so, let me know in the comment section down below and don't be shy to send me a picture if you try it or ask me questions. Have a lovely day. ♥