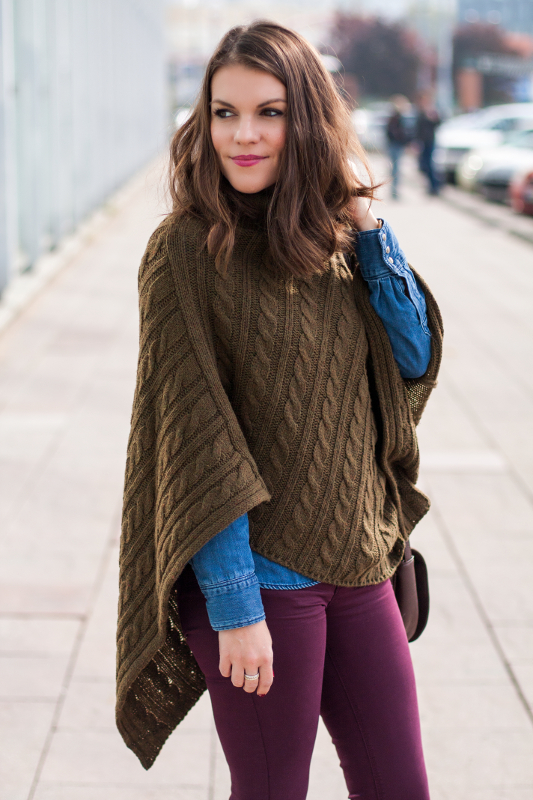 Krásne slnečné popoludnie a vitajte na blogu. Dúfam, že ste mali pohodový víkend. Dnes je na blogu nová outfitová inšpirácia, kde hlavnú úlohu zahrá poncho. Na toto úžasné poncho som natrafila cez víkend a hneď som ho musela prevetrať. Ja zbožňujem pletené kúsky ako sú kardigany, svetríky, čiapky a ponchá. A na toto som ešte využila zľavu, tak ma to teší o to viac. Bol aj béžový kúsok, už som to spomínala na instagrame, ale táto army zelená je moja obľúbená. Poncho je jesenný must have kúsok, horúcim trendom tejto sezóny a nemal by chýbať v žiadnom šatníku.

Vonku krásne svietilo slniečko a vzduch bol svieži a pocitovo nebola až taká zima. Preto som ako základ zvolila béžové tielko a denimovú košelu s vínovými riflami. Celý look som oživila práve týmto army ponchom. Keďže som vedela, že sa nebudem pohybovať dlho vonku, tak mi to úplne stačilo. Ak by som predsa bola dlhšie vonku, ako extra vrstvu by som volila hnedú koženú bundu pod poncho. Určite to bude dobre vyzerať so základným tričkom s dlhými rukávmi, károvanou košeľou a denimovou bundou. Celý outfit je v tlmených zemitých farbách a tak som look doladila hnedou vybíjanou kabelkou so strapcami. Obuv som volila nadkotníkové čižmy, ktoré majú tiež vybíjaný detail. Ozaj čo hovoríte na moju vlasovú premenu?
Tielko: H&M (tu)
Košela: Zara (podobná tu)
Poncho: Lindex (podobné tu)
Nohavice: Stradivarius (podobné tu)
Čižmy: Zara (podobné tu)
Kabelka: Stradivarius (podobná tu)
Rúž: Mac Rebel
Ďakujem pekne za prečítanie a Vašu podporu, vážim si každé zdieľanie, lajky na facebooku, či instagrame, vždy ma to nesmierne teší. Dúfam, že sa Vám outfit páčil, keď tak mi dajte vedieť do komentu, či rady nosíte poncho a ako ho najradšej kombinujete vy. Majte sa krásne. ♥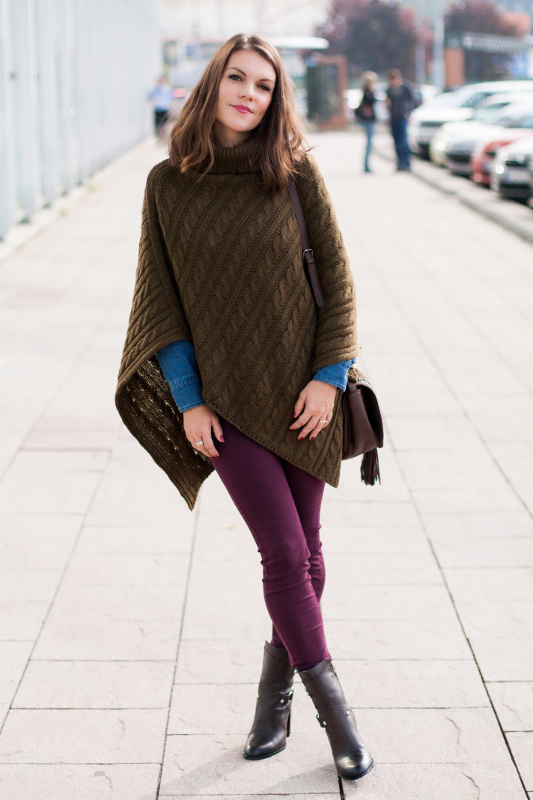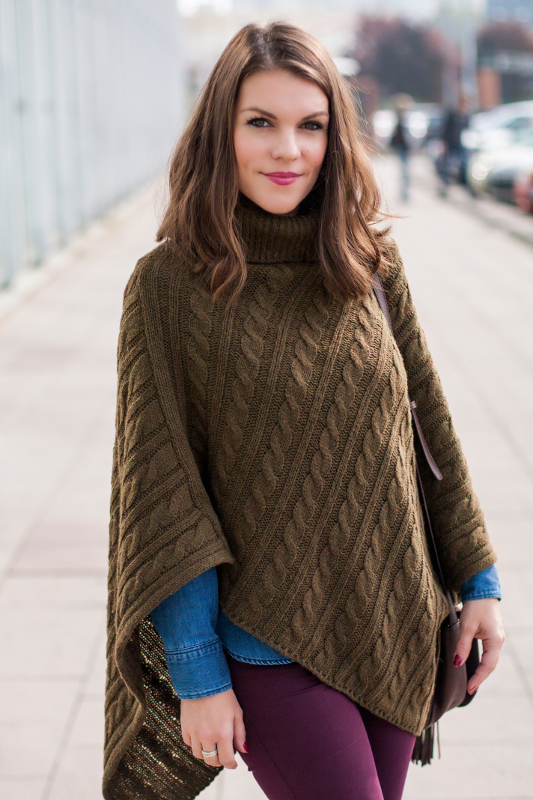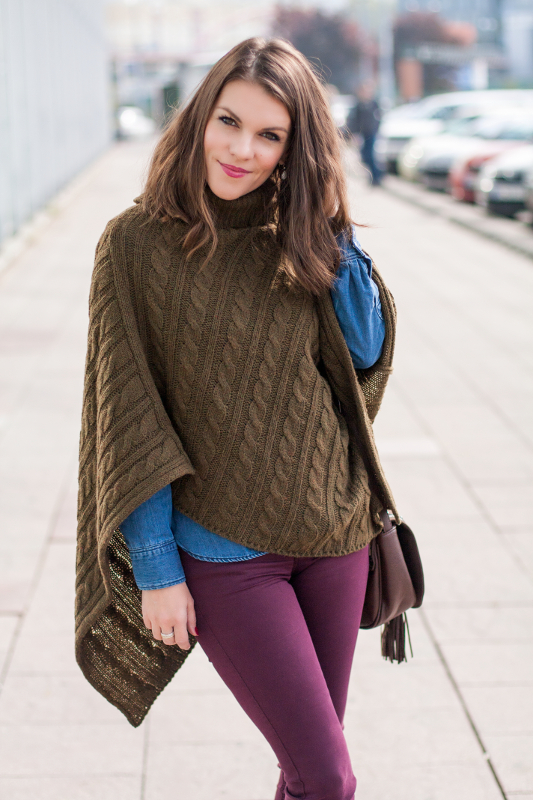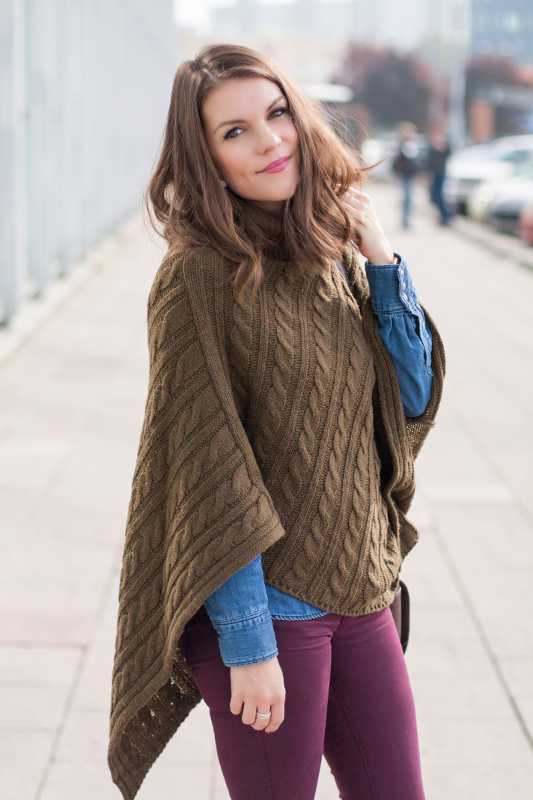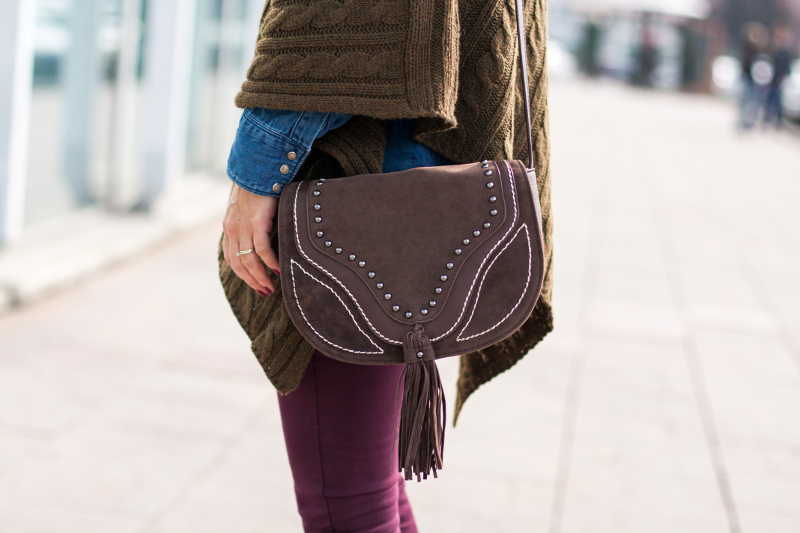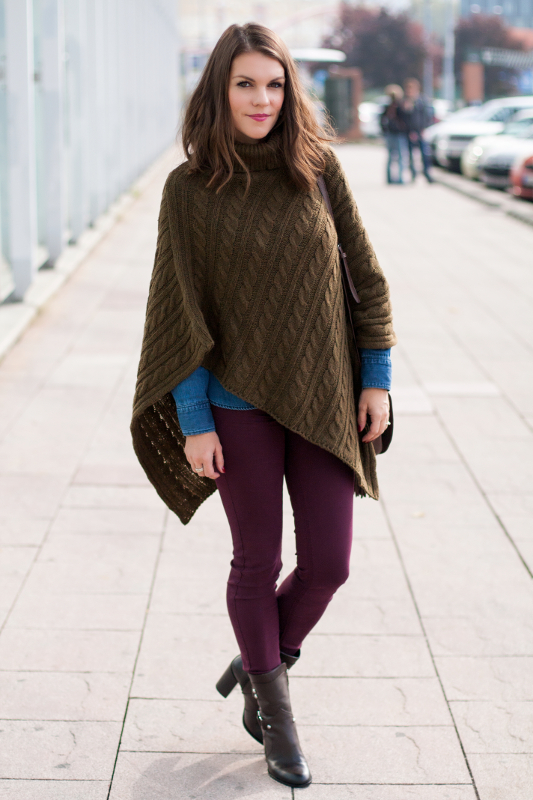 ♦ ♦ ♦ ♦ ♦ ♦ ♦ ♦ ♦ ♦ ♦ ♦ ♦
Hello sunshine and welcome to my blog. I hope you had a lovely weekend. Today there is another outfit inspiration and the main role plays poncho. I found this gorgeous poncho over the weekend and I had to try it on straight away. I looove knitted pieces like cardigans, jumpers, beanies and ponchos of course. I used my discount on it and I got even more happy. As I said previously on my instagram, they have also beige piece but I have so many and opted for an army green version. Because it is perfect for me and I love that color too. Knitted poncho is an autumn must have piece, really hot trend this season and every woman should have one.
It was a fresh sunny day and I didn't feel cold at all. So therefore I opted for a basic vest and denim shirt and combined it with wine jeans. The whole look I brighten up with army green knitted poncho. Since I knew I won't be outside much it was enough layers for me. If I would be staying outside for a longer period I would opted for a brown leather jacket underneath the poncho. I believe it would look great with a basic long sleeve shirt, plaid shirt and denim jacket too. The whole look is in the earth colors, so therefore I accessorized it with a brown suede handbag with an embellishment. The same embellishment like studs appears on the brown above ankle boots also. Oh and what do you think about my new hairstyle?
Vest: H&M
Shirt: Zara
Poncho: Lindex
Trousers: Stradivarius
Boots: Zara
Handbag: Stradivarius
Lipstick: Mac Rebel
Thank you very much for reading and your support, sharing and likes on Facebook or instagram. I really appreciate it and always makes me very happy. I hope you liked this outfit, if so let me know in the comment section down below. Do you like to wear poncho too, what is your favorite way to combine it? Until next time. ♥