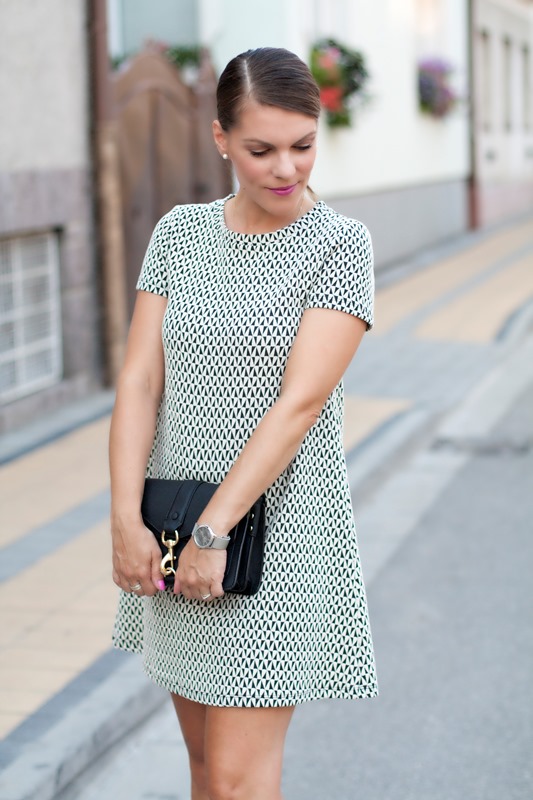 Dobré ráno a vitajte na blogu. Dúfam, že ste mali pohodový víkend. My sme ho trávili ako inak než pri vode, jediný spôsob ako prežiť tieto horúce dni. A večer sme si vyrazili z kopýtka a dobre sa zabavili. Dva dni po sebe sa mi už dlho nezadarilo, ale keď je dobrá partia, tak treba vytiahnuť päty z domu. Tiež sme stihli nafotiť môj piatkový večerný outfit. Vybrali sme sa na večeru do našej obľúbenej reštaurácie, kde sme si oddali kulinárskemu aj vizuálnemu zážitku. Bol to naozaj skvelý večer, plný dobrého jedla a romantiky.
Na piatkový večer som zvolila čierno-biele vzorované šaty v retro štýle. Priznám sa, že mini šaty a vôbec mini nosím zriedka, ale na večer mi prišli ako vhodná voľba. Čo vy a mini? Nosíte rady? K nim som zvolila žiarivo ružové lodičky s poriadne vysokým opätkom. Našťastie sa to zaobišlo bez úrazu. 😀 Toto sú zatiaľ moje najvyššie aké vlastním, svet je hneď krajší s takými opätkami na nohách. Na kabelke som schovala ramienok a vzala si ju do ruky, ďaľšia z variant ako sa dá nosiť. Je naozaj všestranná a hodí sa ku každému outfitu. Vlasy som si dala do chvostu, ale neviem, či mi zrovna takýto účes pristane. Asi zostanem pri rozpustených vlasoch, čo poviete?
Šaty: Zara (podobné tu)
Topánky: Zara (krásne sú tieto tu a tu)
Kabelka: Rebecca Minkoff (podobná tu a tu)
Hodinky: Calvin Klein (podobné tu)
Naušnice: John Lewis (podobné tu)
Prsteň
Fotky: Jefferson Kenji
Ďakujem pekne za prečítanie, dúfam, že sa Vám článok aj outfit páčil. Dajte mi vedieť do komentu ako by ste to prípadne skombinovali vy? Čo radi nosíte na večer? Majte sa zatiaľ krásne. ♥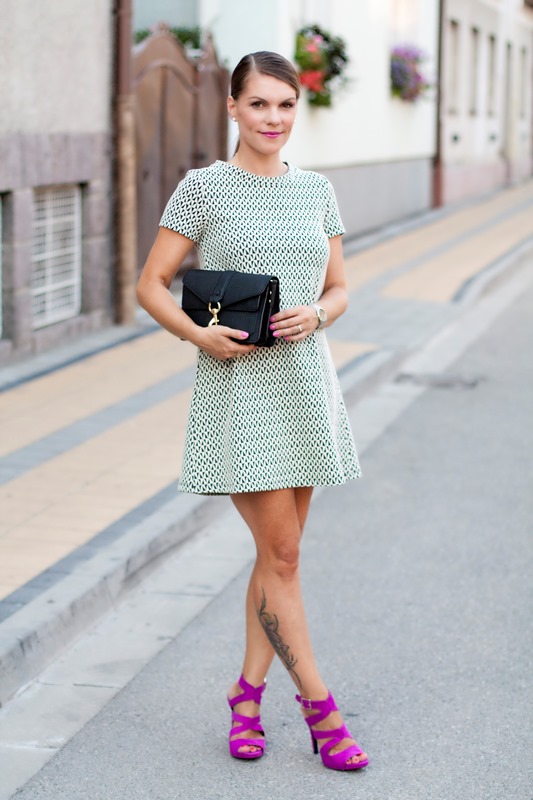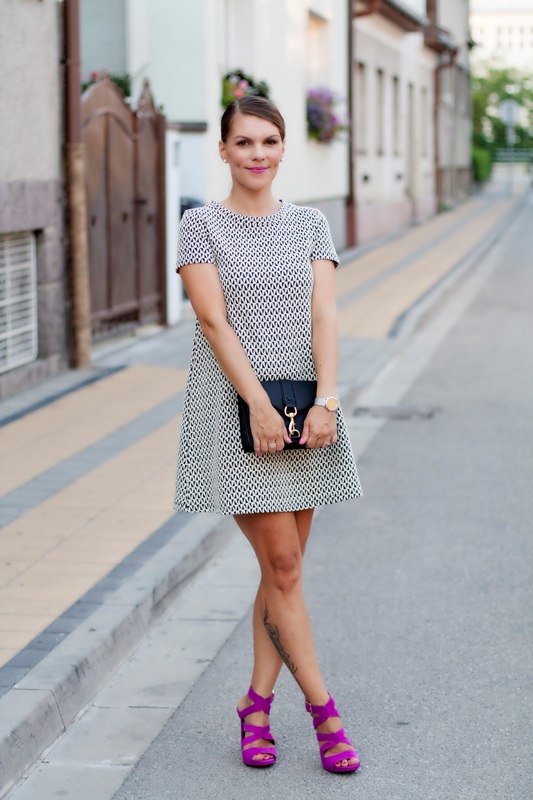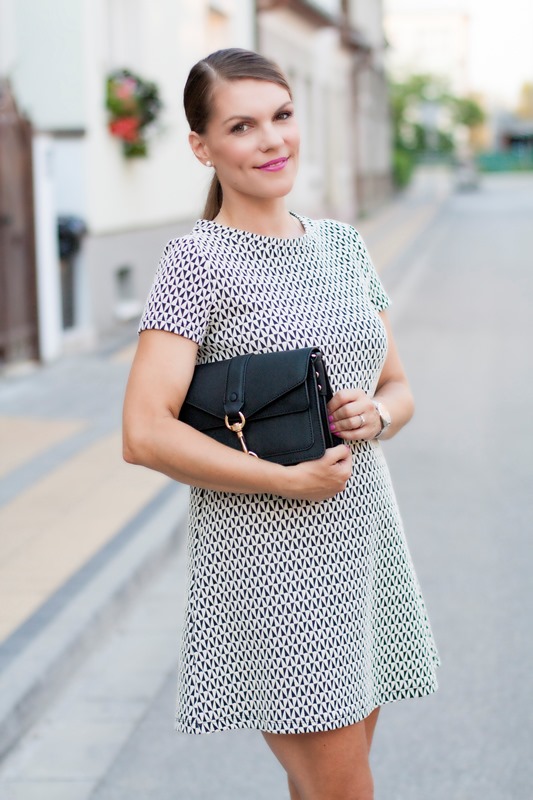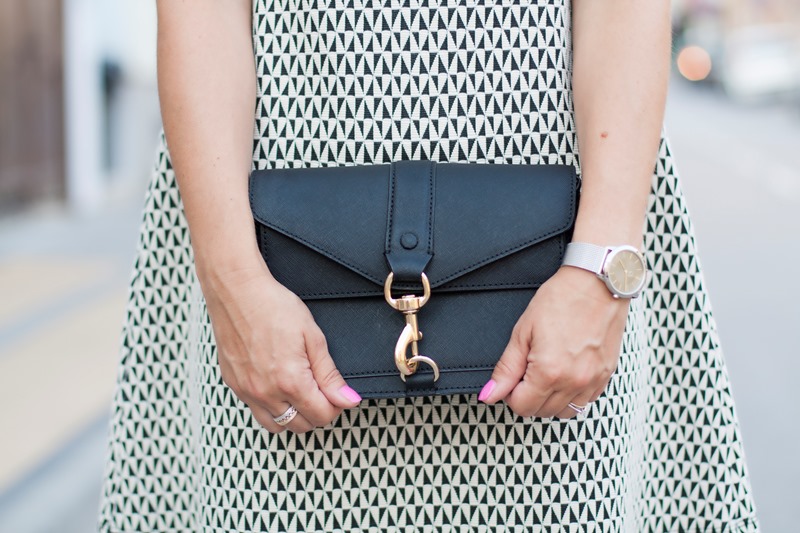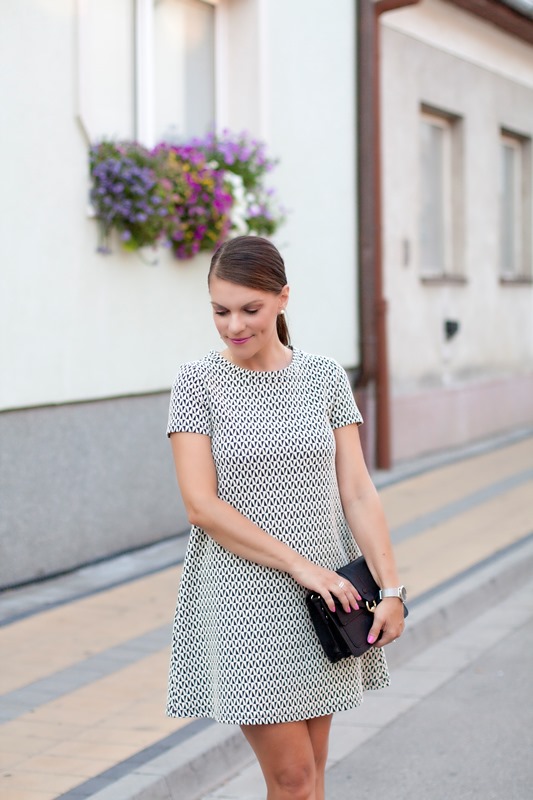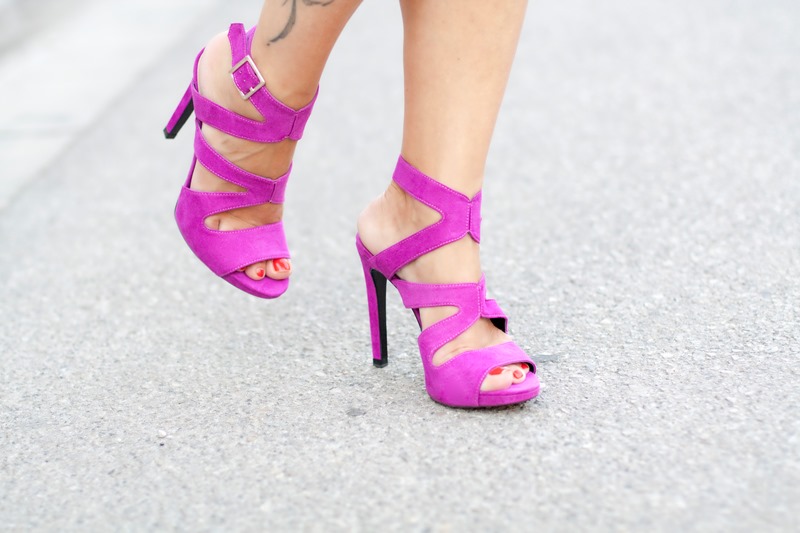 ♦ ♦ ♦ ♦ ♦ ♦ ♦ ♦ ♦ ♦ ♦ ♦ ♦ ♦
Good morning guys. How are you doing today? I hope you had a lovely weekend. We have spent it by the water of course, there wasn't any other way to survive this heatwave. And of course in the evenings we had some fun too. It doesn't happen very often I go out two nights straight but when there is a good company it's worth it even tough you feel like dying the next day. We also managed to shoot my Friday evening outfit. We went to our favorite dinning spot where we truly enjoyed culinary and visual experience. An evening full of romance and entertainment.
On Friday night I opted for black and white A line pattern dress, kind of retro style. I have to say I do not wear mini very often but it seems like a good choice for a night out. What about you? Like mini or not? I paired it with a hot pink heels. Thank God I managed the night without an accident. These ones are the highest heels I own so far. The world looks like a better place with these on. I have hidden the handbag stripe and  made a clutch from a cross-body. Another cool way how to wear this versatile handbag. I love such pieces in my closet. It goes really with everything and I love it. Hairstyle was a little experiment not sure about this low ponytail situation what do you think?
Dress: Zara (similar here)
Shoes: Zara (gorgeous here a here)
Handbag: Rebecca Minkoff (similar here a here)
Watch: Calvin Klein (similar here)
Earrings: John Lewis (similar here)
Ring: Bondiamo
Photos: Jefferson Kenji
Thank you very much for reading. I hope you liked this article and outfit pattern dress. Let me know in the comment section down bellow. What do you like to wear when you go out? Have a great start of the week. Happy Monday everyone! ♥