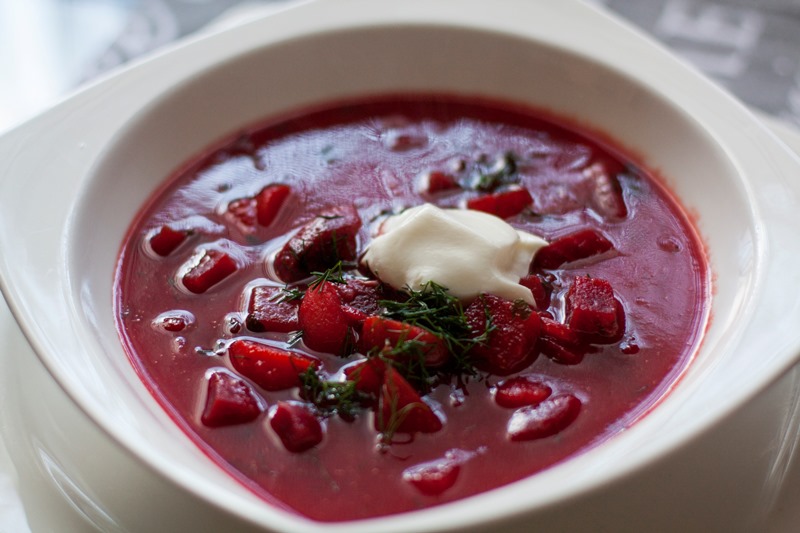 Ahoj a vitajte na blogu. Dlho som už nič na blogu nekuchtila. V záhradke sa nám rozrástla krásna cvikla a tak sme si urobili zeleninový borsch. U nás cvikla ide na odbyt, máme ju veľmi radi, dokonca aj Jeff. Veľmi si ju pochvaľuje, aj keď predtým zeleninu moc nemal v obľube. Na Slovensku sa naučil jesť úplne všetko aj polievky a šaláty. 🙂 Ja ho vždy robím zo zeleniny, z tej čo mám zrovna doma, samozrejme, že vy si ho môžete urobiť aj s mäsom. Je to výdatná polievka, s vyskoým obsahom vitamínov a železa, vynikajúca pri anémii. Má protirakovinové účinky a spomaľuje starnutie. Zaváraná, uvarená, surová, odšťavená v akej koľvek forme je super vitaminózna. Cvikla je jednoducho skvelá.
Na prípravu potrebujeme:
cvikla, mrkva, petržlen, zemiaky,kaleráb,rajčiny,cibuľku,cesnak,kôpor,petržlenovú vňať,bobkový list, čierne korenie,soľ, biely jogurt
Postup:
Najskôr si umyjeme a očistíme všetku zeleninu a pripravíme si bylinky. Cviklu aj zemiaky namočíme do vody.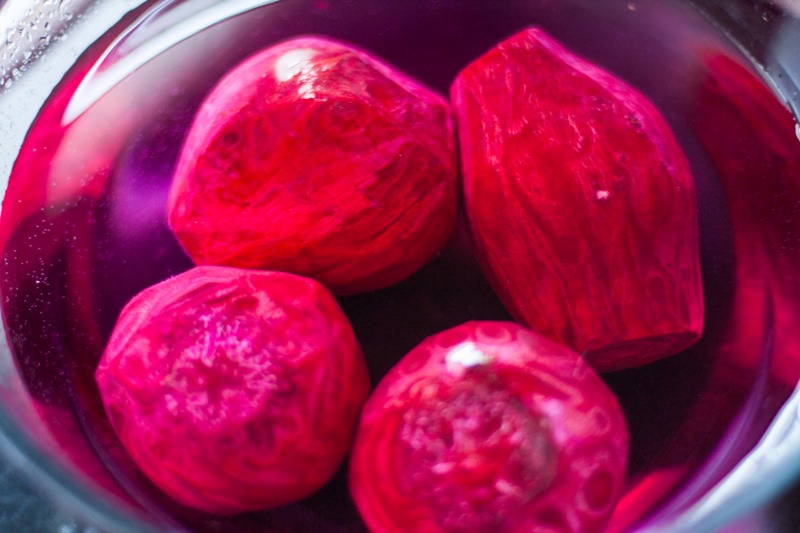 😀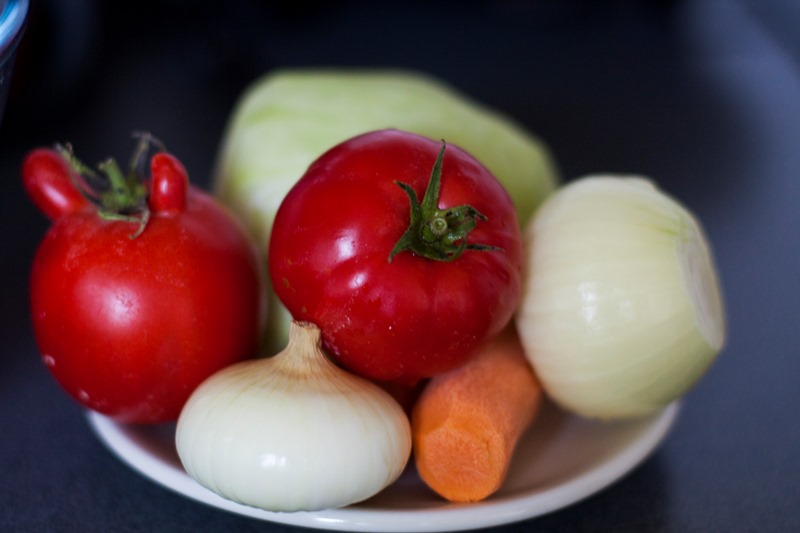 Takáto rajčinka diablica nám v vyrástla v záhradke. 😀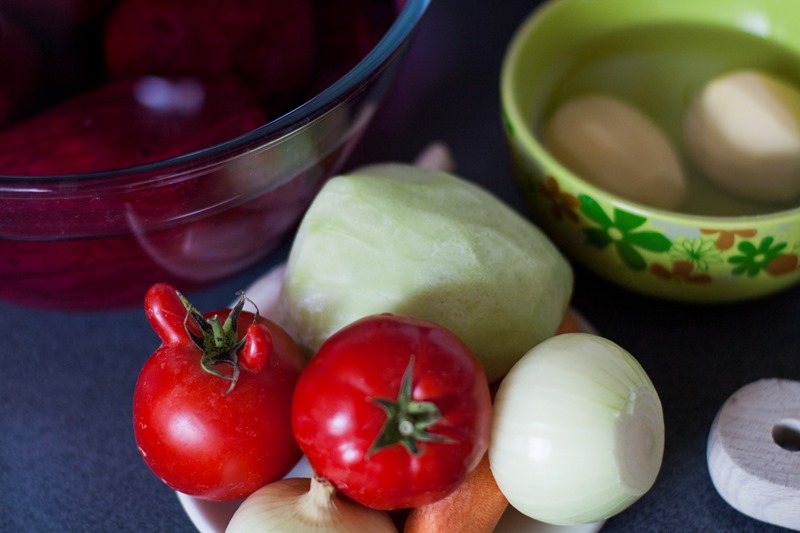 Nakrájame zeleninu na kocky, ak je mrkva malá tak na kolieska.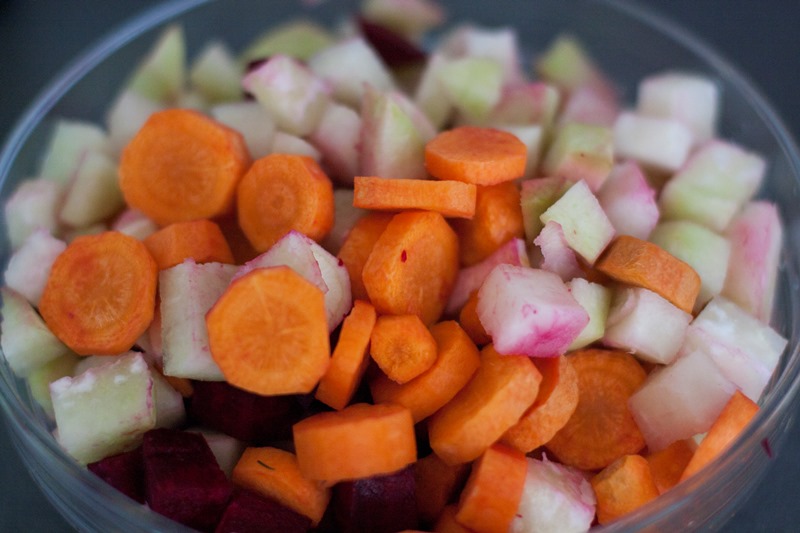 Nakrájame si cibuľku na pásiky a osmahneme na miernom ohni.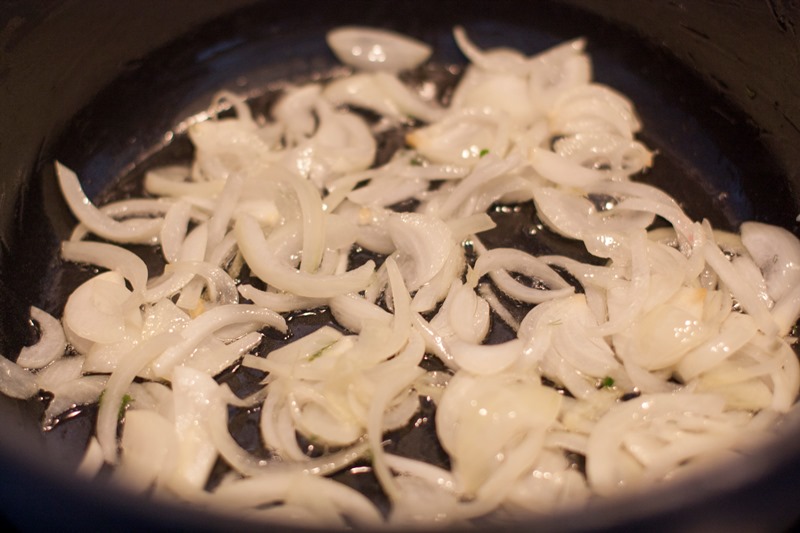 Tá farba, to je nádhera, že? Vitamíny šup ho do tela.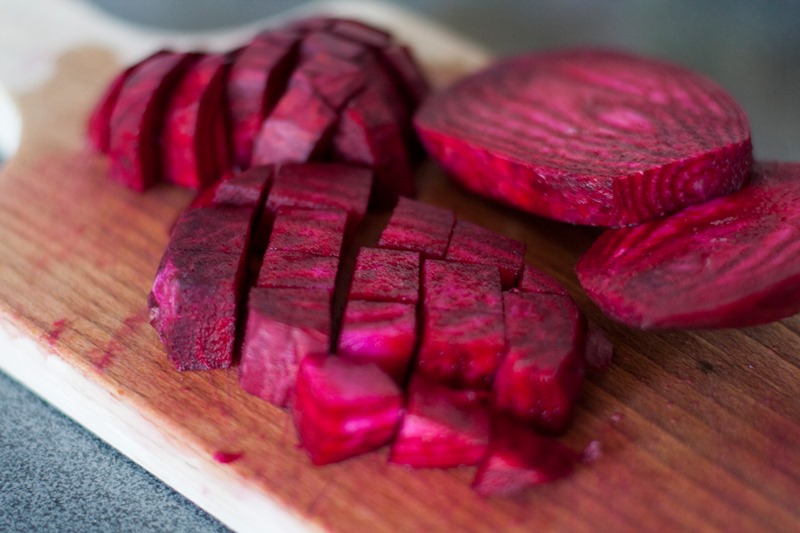 Pridáme nakrajanú zeleninu do hrnca a tiež čierne korenie, soľ a bobkový list a zelejeme vodou. Na miernom ohni varíme do mäkka cca 15min.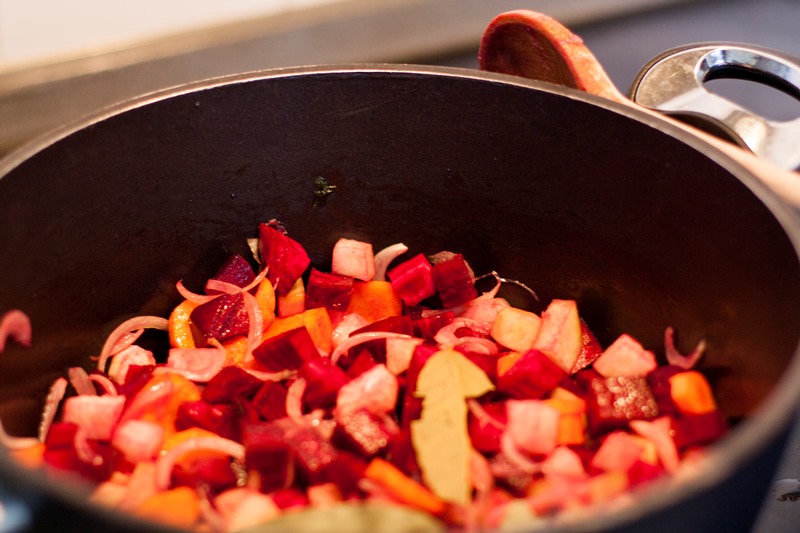 Zatiaľ, čo sa nám zelenina varí, tak si na ugrilujeme rajčiny. Ja ich nezalievam horúcou vodou na olúpanie, ale grilujem, majú lepšiu, sladšiu chuť. Nemusíme lúpať, hneď pasírujeme cez sitko do polievky.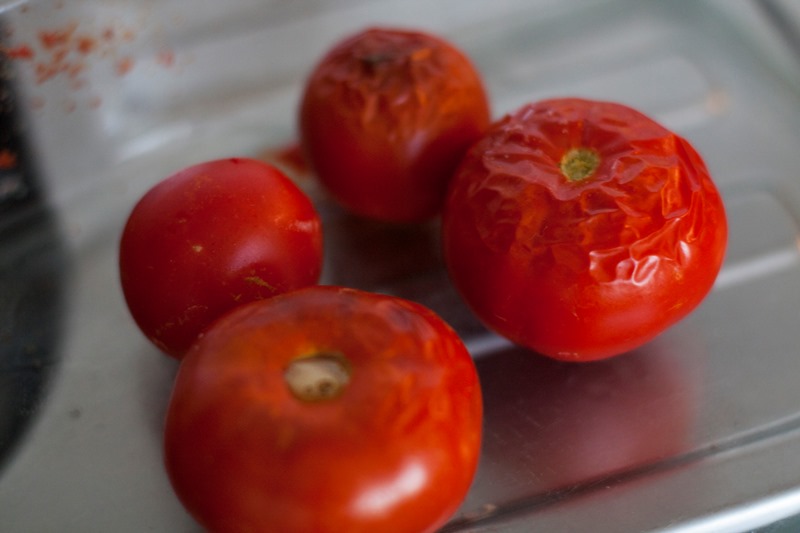 Ak už máme zeleninu pekne mäkkú, pridáme asi tretinu vody z borschu spolu so zeleninou do smoothie makeru a rozmixujeme na hladké pyré.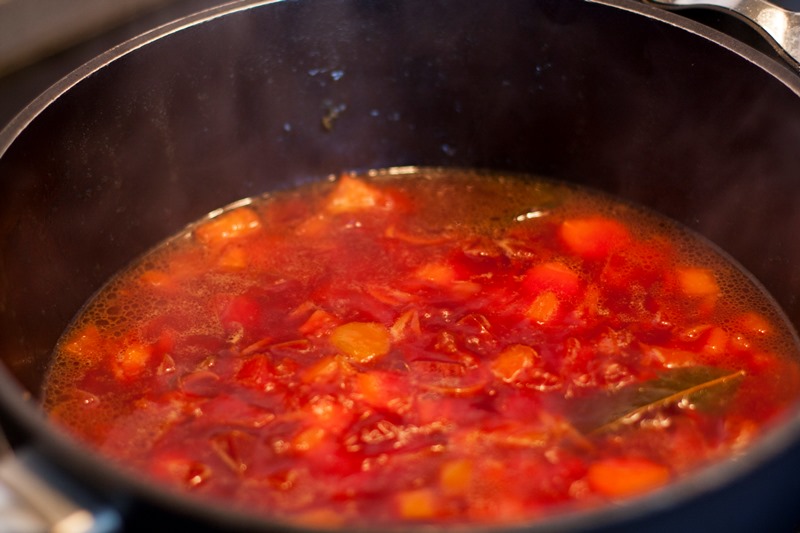 Tým zahustíme polievku. A vymyjeme vodou a pridáme naspäť do borschu, aby nezostalo nič na zmar.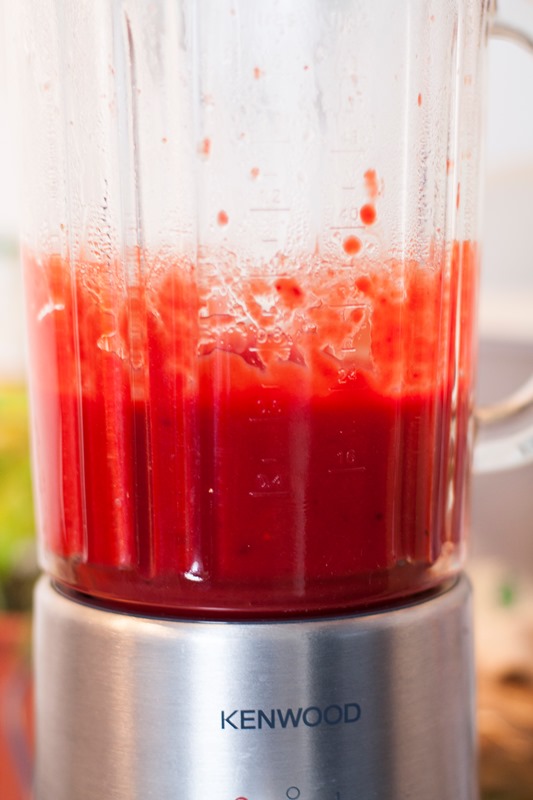 Pridáme cesnak, necháme rozvariť a vypneme, cesnak v polievke dojde. Odstavíme a nakoniec pridáme bylinky kôpor a petržlenovú vňať a môžme konzumovať. 🙂 Moment ešte nie!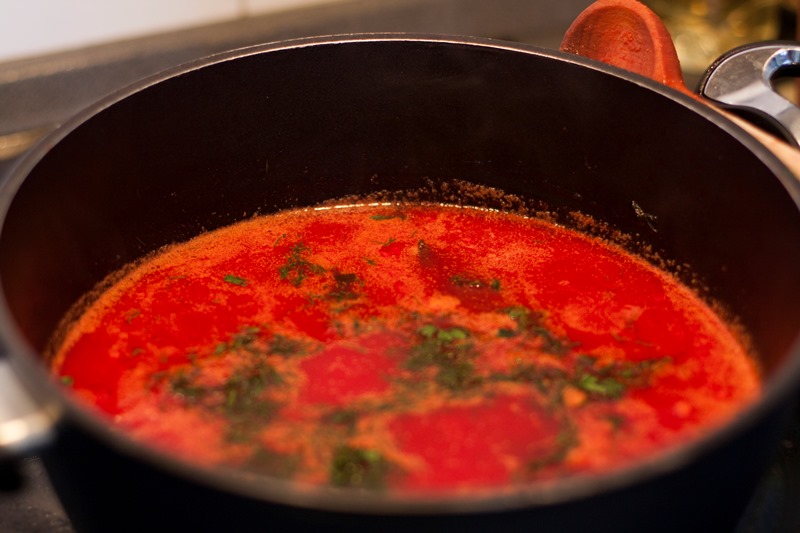 Finálna úprava, pridáme biely jogurt, alebo kyslú smotanu. Dobrú chuť. 🙂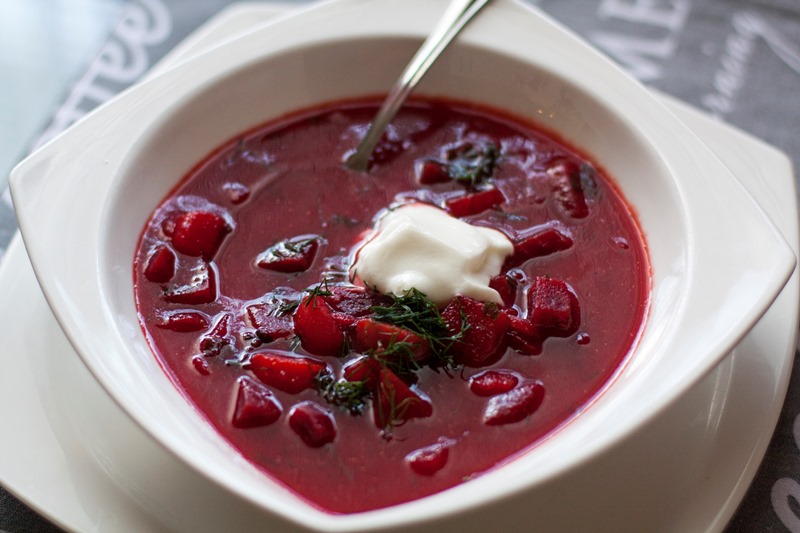 Ďakujem pekne za prečítanie, dúfam, že Vás recept na zeleninový borsch inšpiroval a že ste dostali chuť si ho teraz tiež urobiť. 🙂 Priznám sa, že variť a fotiť zároveň dá človeku poriadne zabrať, hlavne keď Vám v žalúdku už vyhravajú. Ale potom som to s chuťou zjedla a aj náš mrťúsik si veľmi pochutnal. 🙂 Čo dnes varíte vy? Máte radi cviklu? Ak máte niejaký obľúbený recept s cviklou sem s ním. Rada vyskúšam.
Majte sa krásne. ♥