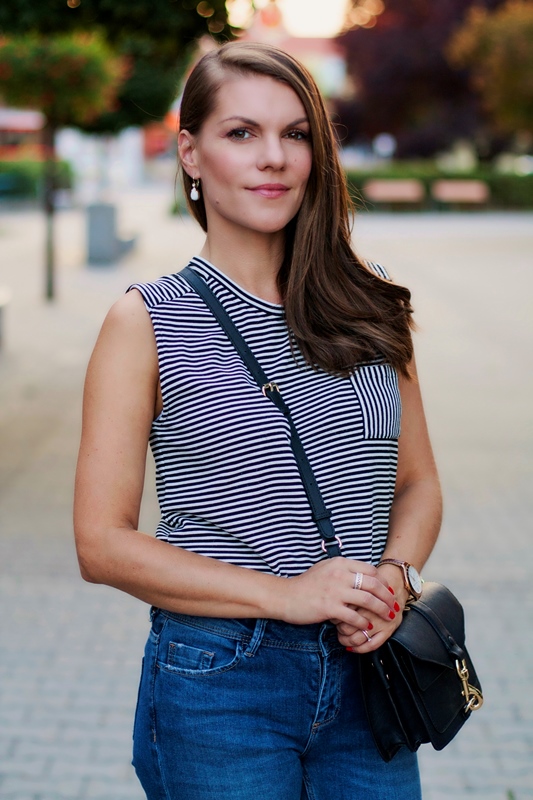 Dobré ráno a vitajte na blogu. Dúfam, že ste mali krásny a pohodový víkend. My sme ho mali celkom vyťažený, ale zato produktívny a tak to mám rada. Tiež sme relaxovali v prírode, kŕmili daniele, grilovali si a užívali čas s rodinou a priateľmi. A samozrejeme sme stihli nafotiť nový outfit.

Moja obľúbená kombinácia rifle, pásikované tričko a červené sametové balerínky na šnurovanie, ktoré sú momentálne horúcim trendom a hodia sa ku každému outfitu. Už z diaľky na seba pútajú pozornosť a oživia tak každý nenáročný outfit a dodajú mu trošku drámy. Ja ich úplne zbožňujem a vôbec všetky topánky, ktoré sa dajú šnúrovať. Čo na ne hovoríte, áno, či nie? Tričko bez rukávov s horizontálnymi pásikmi má zaujímavý detail a tým je, predné vrecko a ramená, ktoré majú vertikálne pásiky. Je to škatuľový štýl a tak som si ho zapravila do riflí, aby aspoň trošku vynikla postava. Kabelku som si dala tento krát cez plece do kríža, aby celý look pôsobil ležérne, ale stále chic.
Top: Mango (podobný tu a tu)
Rifle: Zara (podobné tu a tu)
Topánky: Topshop (lacnejšia verzia tu)
Kabelka: Rebecca Minkoff (podobná tu)
Prsteň
Rúž: Dior Charnelle 459
Fotky: Jefferson Kenji
Ďakujem pekne za prečítanie, dúfam, že sa Vám článok aj outfit páčil. Keď tak mi dajte vedieť do komentu, alebo srdiečko na instagrame, alebo lajk na facebooku. Majte sa krásne. ♥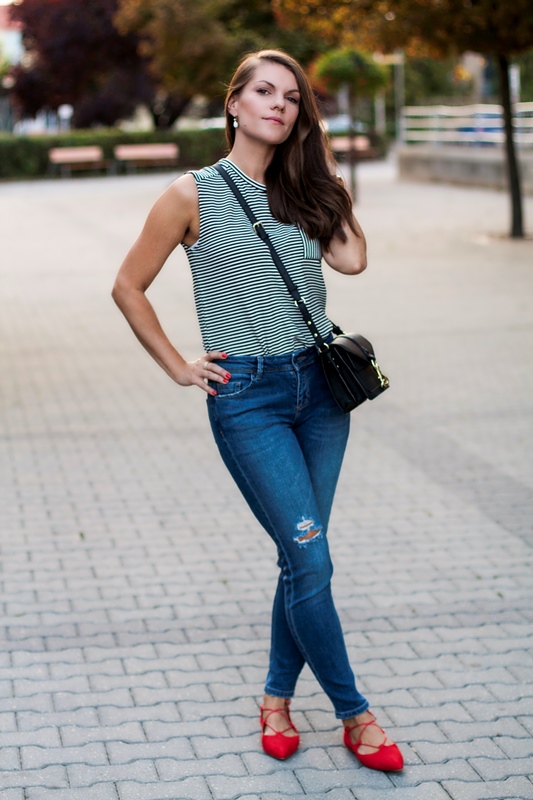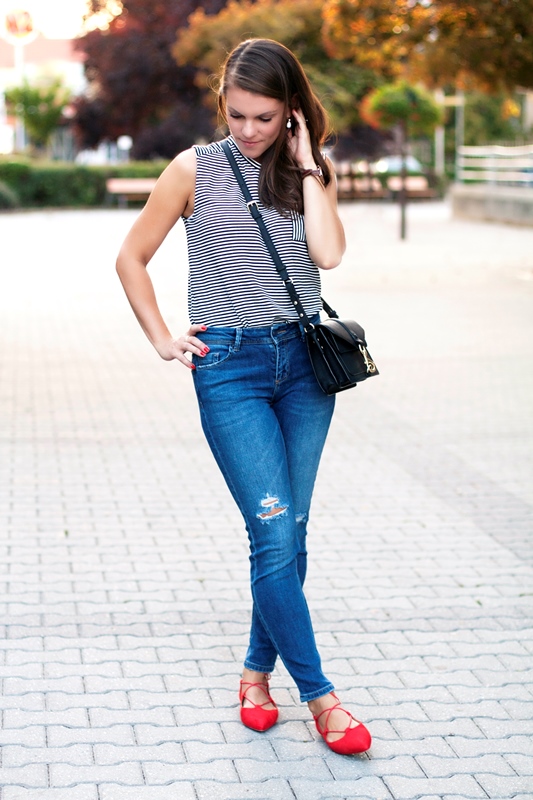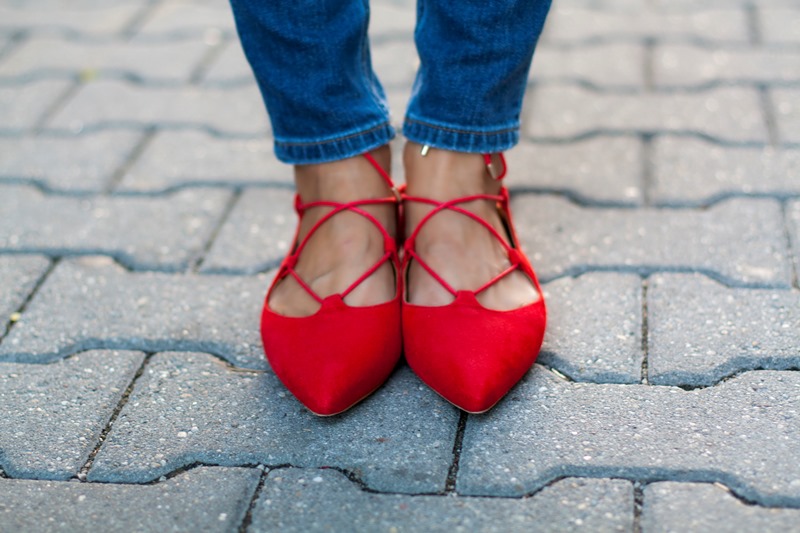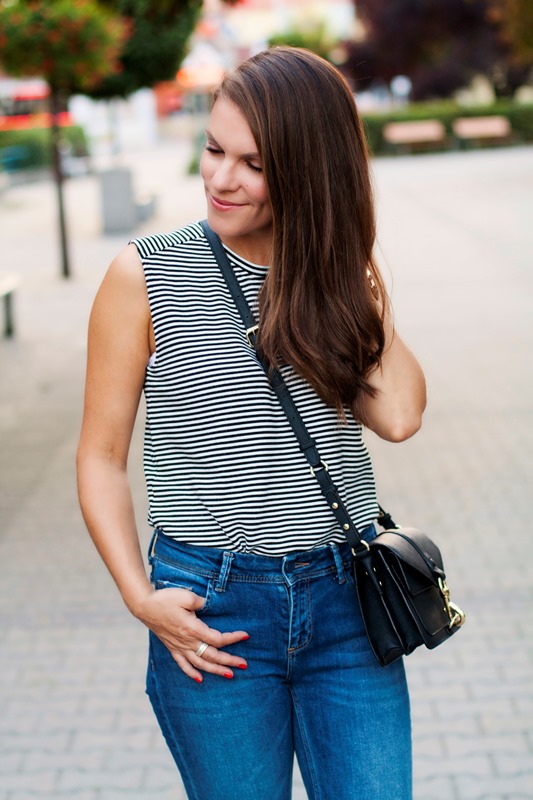 ♦ ♦ ♦ ♦ ♦ ♦ ♦ ♦ ♦ ♦ ♦ ♦ ♦ ♦
Good morning everyone and welcome to my blog. I hope you had a lovely and relaxing weekend. Ours was quite busy but productive, that's how I like it. We managed to get some relax in the nature, feed daniels, did BBQ and enjoyed family and friends. Also we manged to shoot another outfit and I hope you will like it.
Today I have opted for my favorite combination ripped jeans and stripes with red suede lace up ballet flats, which are the hottest trends at the moment. Are you a fan too? They attract attention from far away and brighten up any outfit, it adds a bit of drama to it. I absolutely adore these and every lace up shoes, I think it's very sexy even tough the laces doesn't stay in place if you want to lace it up higher. 😀 No a big deal I still would go for it. Stripe sleeveless shirt with horizontal stripes has a lovely detail on the front pocket and shoulders with vertical stripes. It is a boxy style so I decided to tuck it in to show off the figure a little bit. I paired it with a black cross body bag, that is so versatile and can be worn many ways. It looks more casual this way but still chic.
Top: Mango (similar here and here)
Jeans: Zara (similar here and here)
Shoes: Topshop (cheaper version here)
Handbag: Rebecca Minkoff (similar here)
Ring: Bondiamo
Lipstick: Dior Charnelle 459
Photos by: Jefferson Kenji
Thank you very much for reading. I hope you like this article and outfit. If so let me know in comments down bellow or simply give me a heart on instagram, or like on facebooku. Have a great Monday. ♥