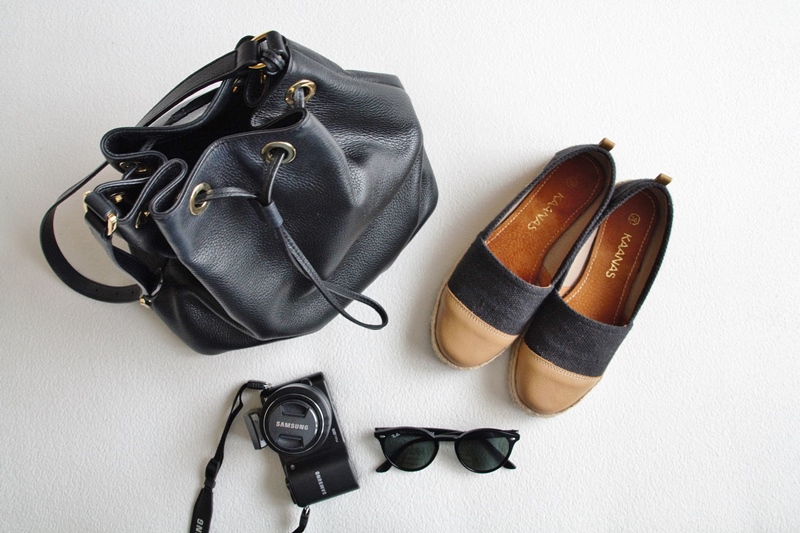 Ahoj a vitajte na blogu. Dnes inšpiratívny článk o mojich najobľúbenejších letných doplnkoch, bez ktorých sa toto leto nezaobídem.

Dizajnérske doplnky kupujem vačšinou online, zo zahraničia. Zatiaľ som nemala žiadne zlé skúsenosti, keď mi niečo nesedí, dá sa to ľahko vrátiť, alebo vymeniť. Som ochotná zaplatiť viac za dobrý a kvalitný doplnok, ako za oblečenie, ale tiež pri nákupoch dizajnérskych kúskoch využívam zľavy. Ako ste na tom vy?
MICHAEL Micheal Kors Large Shoulder Bag – tento batôžtek, na ktorý ste sa ma pýtali, som si objednala z Anglicka. 🙂 Zásielka mi prišla za necelé 2-3 dni, čo ma milo prekvapilo. Veľmi rýchlo som si ho obľúbila a odvtedy nenosím inú kabelku. Dlho som váhala, či mám ísť do plátennej, alebo čiernej kožennej verzie. Krásna je tiež v červenom prevedení. Ja som sa predsa rozhodla pre čiernu a myslím, že som urobila dobre. Plátenný je skôr taký letný, ale čierna je klasika a dá sa nosiť celý rok a hodí sa ku všetkému. Je priestranný, vnútri sú rôzne priehradky na mobil, klip na kľúce a tak ich nemusím v taške stále hľadať. Tiež sa ľahko otvára aj zatvára a zmestím do neho všetko čo potrebujem.
Kaanas Wedge Espadrilles – plátenné espadrilky na platforme s koženkovou špičkou, sú moje najobľúbenejšie z letných kúskov v mojom šatníku. Sú momentálne veľmi trendy. Naozaj veľmi pohodlné a páči sa mi, že majú vyššiu platformu cca 3cm. Ja potrebujem každý centimeter k dobru. Dajú sa skombinovať s hocičím. Najradšej ich kombinujem ku krátkym nohaviciam, šatám a tiež moja obľúbená kombinácia je boyfriend, alebo ripped jeans a biele tričo, či košeľa.  Tieto sú už momentálne vypredané, pretože som ich kupovala tiež v zľave a rýchlo sa vypredali. Podobné a cenovo dostupnejšie sú napríklad tu, tu alebo tu. A tiež tieto sú uchvatné tu.
Ray-ban – slnečné okuliare, som kupovala v obchodíku Kubačka Optika, ja veľmi rada zjednávam ceny a tam sa mi to vždy podarí. Jeff sa za to za mňa hambí. 😀 Ja si nemôžem pomôcť. Tiež radi zjednávate v obchodoch?
Samsung NX2000 – fotoaparát sme kúpili nedávno, dlho sme zvažovali niejaký, ktorý by fotil pekné fotky a robil aj kvalitné videá a zároveň bol aj cenovo prijateľný. Ja som Vám na začiatku niejaké videá sľubovala, ale v tom čase sa mi môj zrovna pokazil, ako na potvoru. Dlho sme na nič, čo by nám vyhovovalo nenatrafili až nedávno. Robí celkom fajn fotky, aj videá. Ešte sa s ním pomaly zoznamujeme, tak dúfam, že kvalita fotiek aj videí sa časom zlepší. Máte s ním niekto skúsenosti?
Ďakujem pekne za prečítanie. Dúfam, že sa Vám dnešný článok páčil. Napíšte mi či Vás niešo zaujalo, aké sú Vaše obľúbené letné kúsky, či trendy tohto leta. Bez čoho sa jednoducho nezaobídete. Majte sa krásne a pohodový víkend. ♥
♦ ♦ ♦  ♦  ♦  ♦  ♦  ♦  ♦  ♦  ♦  ♦  ♦  ♦
Hello guys and welcome to my blog. I hope you are having a wonderful end of the week. This article about my summer essentials or summer's favorite items. Some of you have asked me where are these from. Especially the espadrilles and bucket bag. I buy designer items over internet online from abroad. I prefer to spend more on quality accessorize than clothing. I also like to shop designer items on sales as well. How about you?
MICHAEL Micheal Kors Large Shoulder Bag –  this cute bucket bag, that many of you have asked me about,became the extension of me I wear it all the time and everywhere. I bought it online from England and it arrived in 2 -3 days. I was so pleased! It was as I expected it to be. I couldn't decide between the canvas and black leather at first. I'm glad I have chosen the black version. Even in a red is gorgeous also. It's easy to maintain, spacious and it goes seriously with everything. It has a lot of inside pockets and clip for keys, finally I don't have to look for them anymore. Also it's easy to open and close and I fit everything  in it I need on a daily basis.  I think it's great for summer and all year around.
Kaanas Wedge Espadrilles –  are one of my top favorite item this summer, so cute and trendy and very comfortable too. I love the platform, which is about three centimeters since I'm not so tall. Every centimeter plus is good to me. I love how versatile these are. I like to pair it with a short, skirt, dress and my favorite combination of all time must be boyfriend or ripped jeans and white shirt. These are currently sold out since it was bought on sales it went pretty quickly. I have found similar for a fair price here, here or here. I also adore this one here.
Ray-ban sunglasses I have bought these in a local glasses shop Kubačka Optika, where I always bargain the price with an owner. My fiance is embarrassed and I can't help it. I like to bargain when I know I can. How about you do you like to bargain the price in the shops?
Samsung NX2000 – we've got this camera only recently, we wanted something that would make a quality videos and photos for a reasonable price. I know I have promised videos to you long time ago, but my previous camera has broken down at that time. Finally we found what we wanted and slowly getting to know it better. If you have any experience with it, let me know.
Thank you very much for reading. I hope you liked this article. Let me know if you like or own anything similar. Which is your favorite summer items or trends this summer. Have a great weekend! ♥